Compress Videos
1. Compress Video in Different Formats

+

2. Compress Video from Devices/Apps

+

3. Compress Video with Different Apps

+

4. Compress Video for Different Purposes

+

5. Other Tips & Tricks

+
3 Best Online MP4 Compressor: How to Compress MP4 Online Free
How to compress an MP4 file Online and maintain its quality?
Today, it is very easy to reduce the file size thanks to different online free solutions. These online video compressors help shrink the size of files to be easily uploaded to social media, sent by email, or simply free up disk space. In this article, you will learn how to reduce MP4 file size online and the solution to shrink MP4 videos without any limitation.
Part 1. Compress MP4 Video to Smaller Size in 30X Speed Than Online MP4 Compressor[Unlimited Size]
Large video files can be slow to load and download when we use an MP4 video compressor online. One of the most popular tools that can significantly reduce file size without losing quality in a short time is Wondershare Video Converter Ultimate.
With Wondershare Video Converter Ultimate, you can convert your videos to almost all formats available, either in audio or video in very fast and simple steps. You can also add subtitles to the videos or share them to your social networks. Also it highlights when it comes to converting videos for YouTube, even in MP4 format at 4K resolution.
Key features of Wondershare Video Converter Ultimate :
Your Best Video Compressor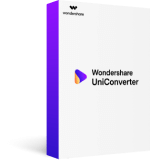 Compress video without causing any harm to its quality.
Quite fast during compression and conversion of any format.
You can customize video in terms of resolution, bitrate, frame rate and much more.
Edit, enhance & personalize your videos.
Burn video to playable DVD with attractive free DVD template.
Download or record videos from 10,000 video sharing sites.
Versatile toolbox includes fixing video metadata, GIF maker, casting video to TV, VR converter and screen recorder.
Supported OS: Windows 10/8/7/XP/Vista, Mac OS X 10.14 (Mojave), 10.13, 10.12, 10.11, 10.10, 10.9, 10.8, 10.7, 10.6.
Security Verified,
5,481,347
people have downloaded it.
Steps on how to compress MP4 with online MP4 reducer alternative:
Step 1

Upload MP4 videos to the online video compressor alternative.

Firstly, you need to download, install and register in Wondershare Video Converter Ultimate to convert MP4 to smaller file size. After this, open the software and first click on Convert > Converting, and then click on Add Files to select your video for the pop-up window.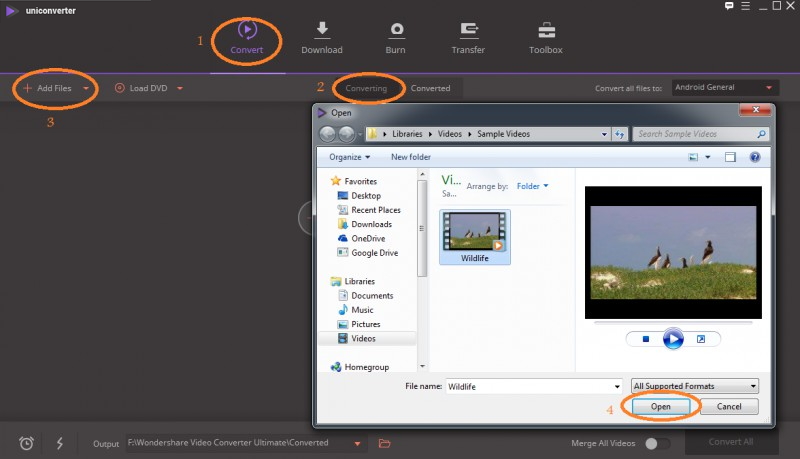 Step 2

Optimize MP4 to smaller file size offline.

Beside Convert all files to, you will see a drop-down icon, do a click there to open the formats available. Then click on Video tab and select MP4. To adjust some parameters, click on Create custom and it will show you the Settings window. There you can change the resolution, frame rate and more. Or you can select Small Size and see how the file size reduces intelligently. Click on Create to build the new customized format.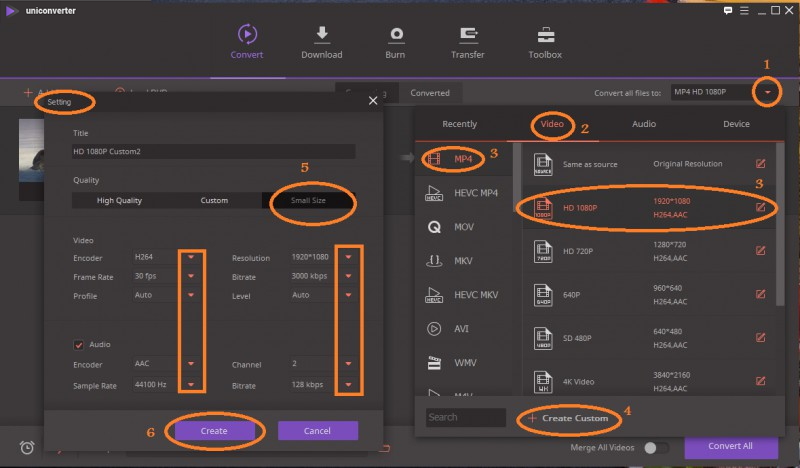 Step 3

Start compressing MP4 video to smaller size offline.

When you are finished with the Settings, click on Convert All and it will convert video to MP4 online free in just a few minutes. If you want to open your converted video, just click on Output icon to find the compressed video.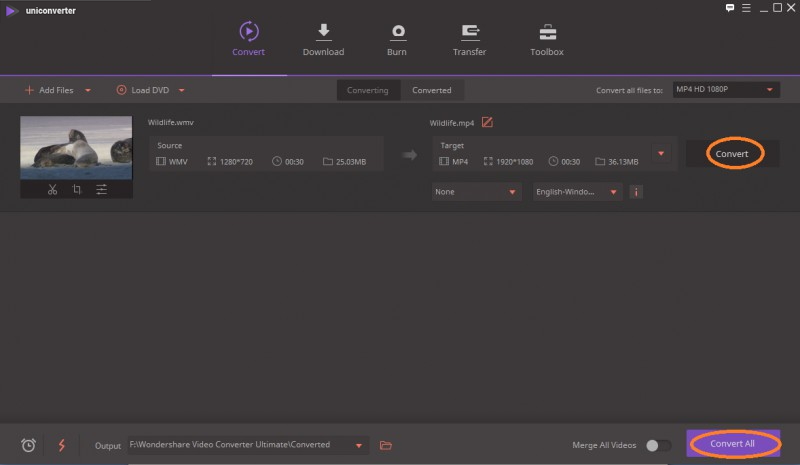 Now enjoy this online MP4 compressor alternative whenever you need because it is really easy to compress MP4 video offline.
Test results with this MP4 video compressor online alternative:
The time it took to compress MP4 offline: 1 min 05s
Input: MP4 video, 3 min 41s,386.68MB, 3846*2160(16:9), 30 FPS.
Output: FLV video, 3 min 41s, 82.49MB, 1980*1080p(16:9), 25 FPS.
Computer: Windows 7, 3.4GHz Intel Core i5, 16GB
Related articles you may concern:
Part 2. How to Reduce Video File Size Online Free [Limited Size]
Sharing digital videos through different social media by uploading them is something very common among your people, is something they do on a daily basis. The most used digital video format is MP4. However, this format provides DVD quality images which means that the files are too large to upload them online or send them to other people via email. So, is there any way to compress MP4 video to a smaller size? Yes and we want to show you several different tools to compress MP4 video to smaller size online .
1. Clipchamp Video Compressor
Clipchamp is a very useful online video compressor that allows us to reduce MP4 video size online without having to install any software on your computer. This free video compressor is very useful for those cases in which we want to compress video for YouTube or compress video for email. With this option, you will compress MP4 online free whenever you need it. If you need to compress with the free version, you have 5 videos free per month, if you need more, you need to pay the US$ 7.5 monthly. To use Clipchamp, you need to sign up with a valid email address or create one account to have access to you free compression and you will record with your webcam for 5 minutes, the maximum input video length and input video size are unlimited, you will edit your videos, with an input resolution up to 4K also if you are a free user.
It is an online MP4 video compressor that helps you to reduce your file size. It is available in nine different languages and supports MP4, MOV and more formats. It has many other features that you can use online in a moment without installing any software like the conversion from documents into PDF files, extract audios from videos, upload files up to 500 MB. So it makes the problem of how to compress a video file to make it smaller become easy.
This is another good option to compress MP4 video online without installing any application on your device. Cloudconvert allows you to compress different files at the same time and making them be ready to send through email without a problem. Now you can compress MP4 video to smaller size online free.
How to compress MP4 video free online using online MP4 compressor?
Here we will Clipchamp video compressor for example, learn the step by step as below:
Step 1: Go to Clipchamp website and do a click in the Clipchamp menu (red circle).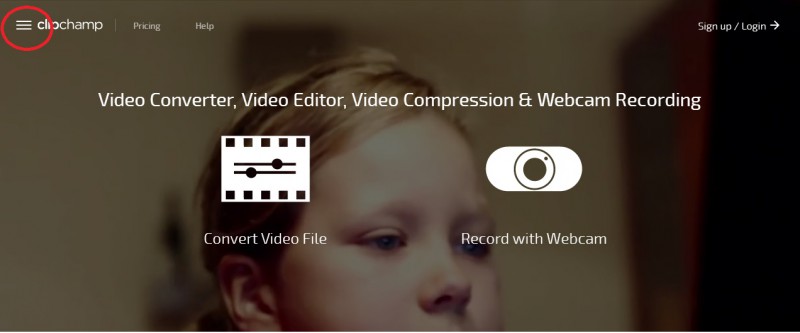 Step 2: Once you open the menu, you will see a small window with options. To compress MP4 video size online, do click in the Compress icon.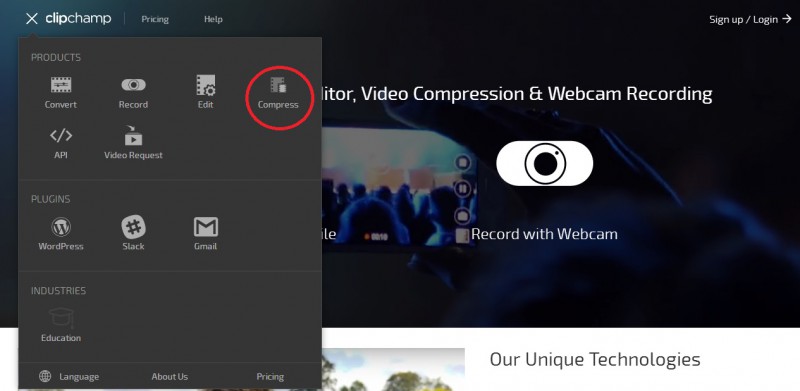 Step 3: It Will show you another window. Do click on Compress a video now.
Step 4: Choose a Facebook, Google account or if you want to sign in with an email address:

Step 5: Once you sign in with an account, you have to do a click in Compress my Videos (right option) and will open a window to locate your video file. Once you chose it just select it and click on "open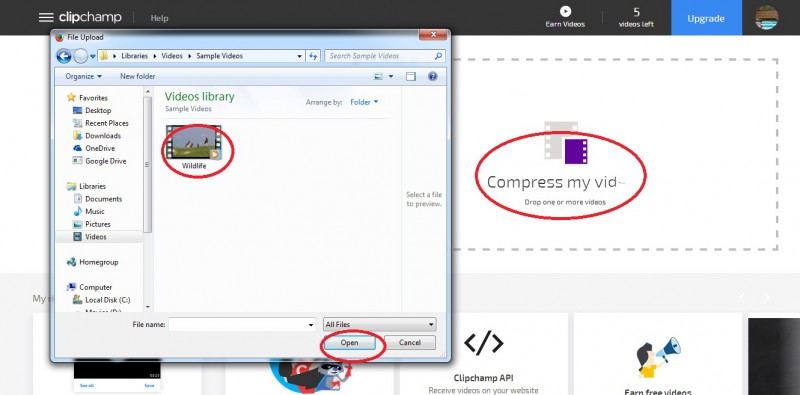 Step 6: After a while, you can choose I want to optimize for icon and select an option: Facebook, etc. and press Start.
Step 7: Wait to process your video to Upload & Share or Save it directly in your device. It is a helpful online video compressor MP4.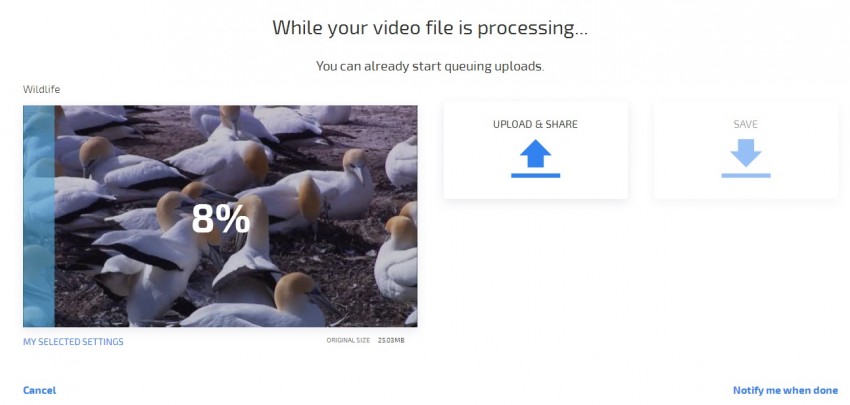 Test results in compressing online videos with Clipchamp:
The time it took to compress MP4 offline: 45 mins
Input: MP4 video, 3 min 41s,386.68MB, 3846*2160(16:9), 30 FPS.
Output: FLV video, 3 min 41s, 82.49MB, 1980*1080p(16:9), 25 FPS.
Computer: Windows 7, 3.4GHz Intel Core i5, 16GB
Pros for the MP4 online compressor:
Really easy and fast to use.
Doesn't need any extra software.
Different languages access.
Can record with a webcam.
Can convert videos.
Can compress videos.
Can edit your videos.
Change video resolution.

Cons:

Just can compress 5 videos for free per month.
The free version permits less time to record a video with the webcam.
The free version doesn't allow multiple user access.
It will cost a long to compress video.
Internet connection required.
Part 3. The Comparison Between Desktop MP4 Compressor and Online MP4 Compressors
Nowadays the capacity is no longer measured in Megabytes but in Gigabytes and more in Terabytes and also has increased the size of everything like the photos of mega-megapixels, games that occupy medium hard disk, programs that need more space than the system operational, and compression is still necessary. We can compress MP4 video online 390 or download a software to your device, it will depend on many things.
We want to show you a comparison table between desktop MP4 Compressor and Online MP4 Compressor:
| | Wondershare Video Converter Ultimate | Clipchamp | VideoSmaller | Cloudconvert |
| --- | --- | --- | --- | --- |
| Video compressor formats | More than 1000 formats like MP3, MP4, AVI, MOV. | MP4, MOV, WMV, FLV | MP4, AVI, MOV, MPEG | MP4, AVI, M4V, MPEG |
| Speed | 30X faster | Depends on your Internet connection | Depends on your Internet connection | Depends on your Internet connection. |
| Video size limitation | No | Yes | Yes | Yes |
| Allows batch compression once | Yes | No | No | No |
| Without Internet limitation | Yes | No | No | No |
| Edit videos | Yes | Yes | No | No |
| Convert videos to audio | Yes | No | Yes | No |
| Fix video metadata | Yes | Yes | No | No |
| Video recording | Yes | Yes | No | No |
How to compress video files is one of the most common questions when you want to upload it to the Internet or export it to a social network. There are several very good programs to compress video files that are very easy to use, you just have to choose the one that best suits your needs to convert MP4 to smaller file size online or compress MP4 online. Or use the best online alternative to save your time - Wondershare Video Converter Ultimate.