Compress Videos
1. Compress Video in Different Formats

+

2. Compress Video from Devices/Apps

+

3. Compress Video with Different Apps

+

4. Compress Video for Different Purposes

+

5. Other Tips & Tricks

+
Free Video Compressors: How to Compress A Video with Different Solutions Easily
If you are a movie buff, then you definitely know the research, time and patience that are needed to create a collection of your favourite videos over the years. So now when you have a huge collection of videos that surpasses your PC storage, what do you do? Delete some old favourites to accommodate a few new ones, but this is only a temporary solution. Do not fret as you can compress video and keep the old and add the new ones as well. Video compression also becomes necessary when you want to upload your video to a site where there is a limitation to the size that can be uploaded. Moreover, compressed videos consume less Internet data while uploading and the overall process is quick. Considering the above benefits, reducing the file size seems to be of utmost importance. Looking for ways on how to compress a video, like compressing MP4, compressing MOV, etc.? We have the best video compression solutions listed in the below part of the article.
Part 1. How to Compress Vidoes in Batch with Best Video Compression Software for Windows and Mac
Most people know online compression sotware is good for occasional use which are simple and free. But on the flip side, they have their share of limitations and not a very good option for professional use. First of all, these online video compressors are dependent on network and bandwidth, so in situations of slow or no network, their functionality gets affected. Since the majority of these tools are free to use, they have advertisements on their page which may pose a virus or bug risk to your PC. Additionally, many of these tools have limitations with respect to formats and file size. Thus if you wish to enjoy uninterrupted, safe, feature packed and quick compression of your video files, a professional video compressor like Wondershare Video Converter Ultimate is the answer. The software can be considered as a complete tool-box for all your video related needs and packs some excellent features as enlisted below:
Your Complete Video Toolbox with Video Compressor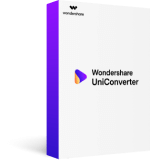 Allows compressing videos to smaller size formats in 1000 formats.
Allows reducing file size by changing its parameters like size, resolution, frame rate, and bitrate.
Allows compressing video files by cropping and trimming.
Facilitates batch processing of multiple files at a time.
The APEXTRANS technology makes it 30 times faster than other software.
Lossless video compression.
Facilitates detecting video files from multiple sources including local files, DVDs, camcorders, external hard drives, USB, and smartphones.
Versatile toolbox includes fixing video metadata, GIF maker, casting video to TV, VR converter and screen recorder.
Support file compression that best suits specific devices like iPhone, Apple TV, XBOX, PSP, and others.
All-in-one tool: includes video converter, downloader, recorder, DVD burner, and more.
Supported OS: Windows 10/8/7/XP/Vista, Mac OS X 10.14 (Mojave), 10.13, 10.12, 10.11, 10.10, 10.9, 10.8, 10.7, 10.6.
Security Verified,
5,481,347
people have downloaded it.
Watch Tutorial Video to Compress Video in Batch
Steps to compress videos in batch using Wondershare Video Converter Ultimate:
Step 1

Launch the video compressor and add video files.

Install and launch the Wondershare video compressor on your PC/Mac. On the primary interface, page click +Add Files to add the video files that you want to compress, they can be in different formats. Alternatively, you can just directly drag and drop your videos to the compression software.
Step 2

Open video Settings window.

On the right-hand size of the interface, click drop down icon next to Convert all files to and select desired output format and resolution under the Video tab. Click editing icon beside selected resolution to open the Settings window.

Alternatively, you can also click +Create Custom to open the Settings window.
Step 3

Customize Settings to reduce video size.

From the pop-up Settings window, set the default Custom tab to Small Size and this will automatically reduce the bitrate of the file. You are also optional to change the resolution, bitrate, frame rate, codec manually to shrink the file size if you need. Once Settings are done, click Create to finish creating the new format, and then select the newly-built format.
Step 4

Start video compression.

After you have set and selected the output format, the size of the videos can be previewed on the main interface. Finally, click Convert All to start the compression process for all the videos soon.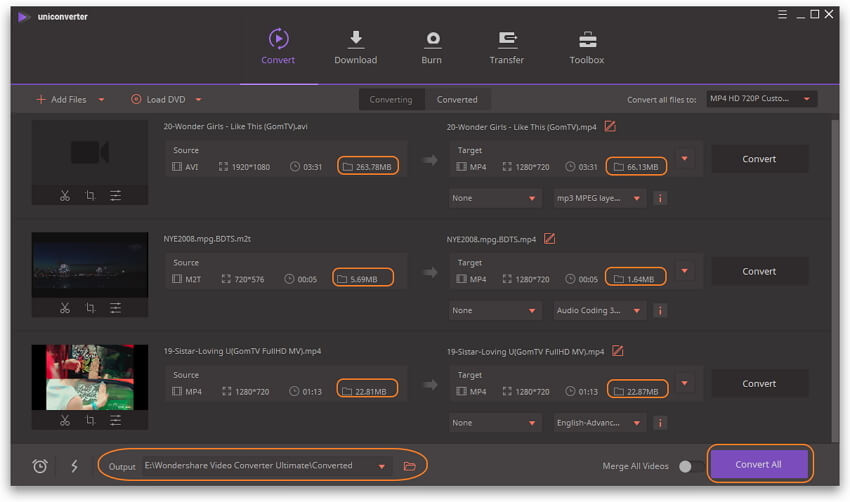 Once the compression is complete, the files can be managed from the Converted tab or just click the Output icon at the middle bottom of the Converting interface.
More tips: you want to know full guide to compress video here >
Part 2. How to Compress A Video Online with Different Free Video Compressors
There is no dearth of free video compression software when you are looking for ways on how to compress video files. Among all the available options, free video compressor online is best for users who need to reduce video size for a few numbers of files occasionally. These free online video compressors are quite decent with respect to their interface, features, and speed. Top 5 tools to compress video size online are listed below for your reference.
1. VideoSmaller
URl: http://www.videosmaller.com/
VideoSmaller is a free method to reduce video size online without compromising on its quality. The program allows reducing the size directly from the browser and supports an array of formats including MP4, AVI, MPEG, and MOV. After the compression task is completed, the files are automatically removed after a few hours.
Pros:
Support decent file format.
Easy to use and understand interface.
Cons:
Maximum 500MB of files can be uploaded for compression.
How to compress a video using VideoSmaller:
Step 1: Open http://www.videosmaller.com/ on your PC browser.
Step 2: Click "Browse" and add desired video file from your PC.
Step 3: Select Video Width and click "Upload Video".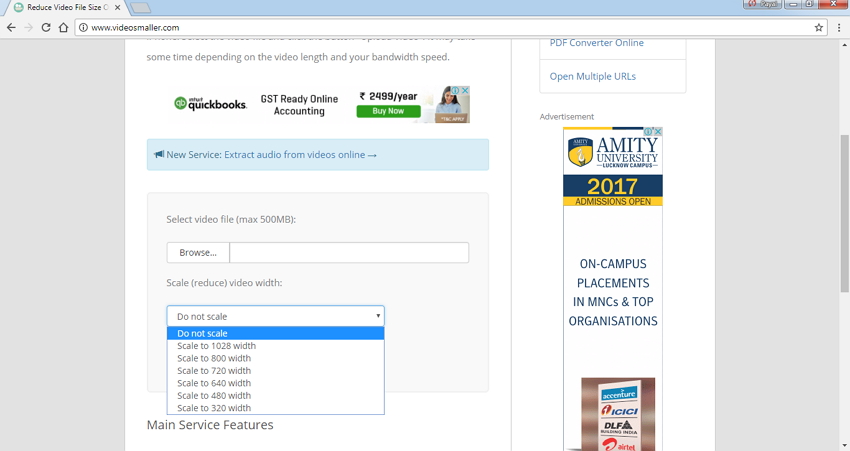 With above steps, you can reduce video size online and it will be available for download.
2. Clipchamp
This is a popular online video size compressor that is used by a large number of people to compress large files to small size as it is free and comes packed with an array of features. There is no restriction on the size and number of files that can be uploaded to the program. The tool has a preset feature for reducing file size which is best for web, social media or online use. Manual settings for compression can also be made. Multiple file compression is supported for a quick process. The program supports the wide range of resolution and formats as input and supports multiple output video resolution and formats. Clipchanp also features in-built integration with YouTube, Vimeo, Google Drive and Facebook.
Pros:
No limitation on file size.
Comes with preset options for The Web, online use, and social media.
Features built-in integration with Facebook, Vimeo, and other platforms.
Video is locally compressed on the browser.
Cons:
Users need to log in with their accounts to start the compression process.
Limited output options.
For one account, you can only compress 5 video files for free.
How to compress a video using Clipchamp:
Step 1: Open https://clipchamp.com/en/video-compressor on your PC browser.
Step 2: Click Convert Video File button and then login with your Google account, Facebook account or create one. Click Compress my video and add video(s) from your PC.
Step 3: Select preset settings or you can also do the manual ones. Click Start to initiate the process.
Once files are compressed you can either save them your system or can even upload or share on YouTube, Vimeo, Google Drive, or Facebook.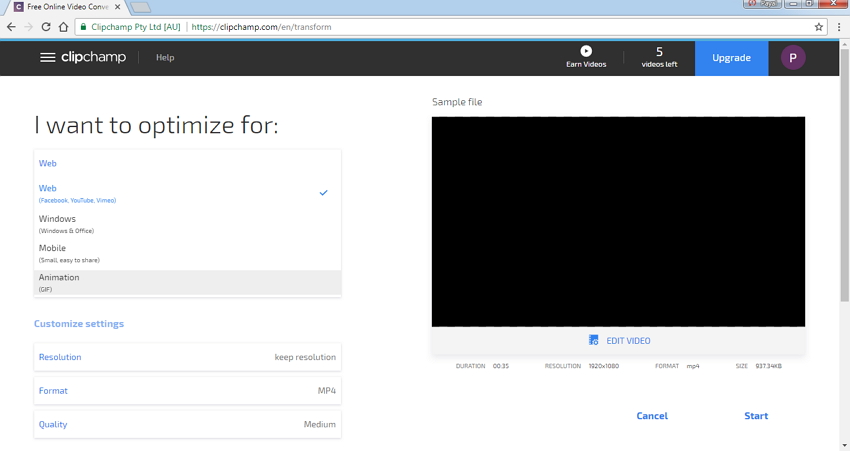 3. AConvert
URL: https://www.aconvert.com/video/
AConvert is a decent free online videos compression tool that allows shrinking your video by editing their bitrate, size, frame rate, and aspect ratio. The tool is free to use and has a simple interface. In addition to compression, it also supports converting your videos to an array of other video formats. Converted files can be saved on the local system, Google Drive or Dropbox.
Pros:
Simple interface.
Support multiple file formats.
Cons:
File size limitation to 200MB.
Steps to compress video size online using AConvert:
Step 1: Open https://www.aconvert.com/video/ on PC browser.
Step 2: Click "Choose file" or "URL" to add the desired video file.
Step 3: Under "Options" tab, select "change size, bitrate or frame rate" from the drop down menu. Select settings for various parameters.
Step 4: Click "Convert Now" to start the process.
The video file will be successfully compressed and can be downloaded.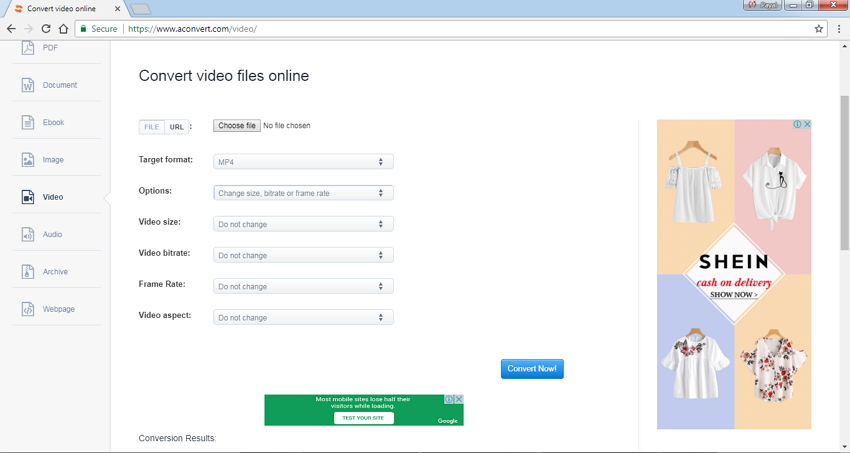 4.CloudConvert
URL: https://cloudconvert.com/
This is a popularly used online tool that allows video file resizing without hampering the quality. The file compression can be done b editing aspect ratio, bitrate, resolution, and other parameters. All popular video file formats like MP4, OGG, WMV, MKV, FLV, AVI, and others are supported by the program. CloudConvert also allows processing multiple files at a time and can convert them to other file formats. In addition to the local system, compressed files can also be saved to the cloud like Dropbox, OneDrive, Google Drive, and box.
Pros:
Support multiple file formats.
Allows saving compressed file to cloud.
Support converting files to other formats.
Cons:
No video editing features.
Steps to reduce video file size online using Cloud Convert:
Step 1: Launch https://cloudconvert.com/ on PC browser.
Step 2: Click "Select File" and add the video files from PC, Dropbox, and other mentioned sources.
Step 3: Select Output format and click editing icon to open pop-up Conversion Options window. Make desired video settings and click "Okay".
Step 4: Click "Start Conversion" to initiate the process.
Once files are successfully reduced in size, they can be saved at the local system or cloud storage as desired.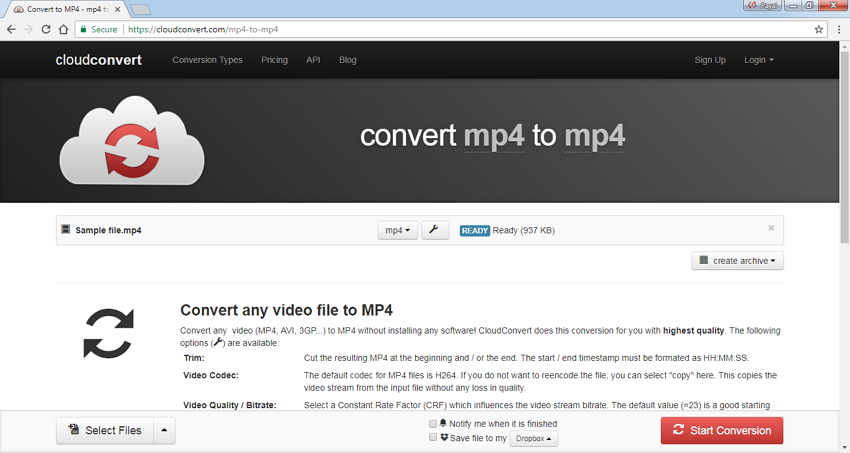 5. Zamzar
URL: http://www.zamzar.com/
Zamzar is a known name when it comes to video files conversion and compression. This online tool is free to use and has a simple interface. The program allows adding files up to 50MB and supports all popular file formats and video codecs. Device specific formats are also supported by Zamzar. You can add the local files from your PC or can also provide their link. Once compressed, the download link of the files is sent to the provided email address.
Pros:
Supports wide range of video formats and codecs.
Simple interface.
Cons:
50MB of file size limitation.
Link for compressed file is sent through email.
How to compress a video using Zamzar:
Step 1: Open http://www.zamzar.com/ on your PC.
Step 2: Click "Choose Files" to browse and add video files from PC. You can also drag and drop the file or add their URL.
Step 3: Click drop down menu beside "Convert files to:" and select format that will lead to reduced video size.
Step 4: Enter email address and click "Convert".
The added video will be compressed and its link will be sent to mentioned email ID.
Part 3. The Comparison Table for You to Select the Proper Video Compressor
Below given is a comparison table between above listed 5 online compressors and Wondershare video compressor. The table will help you to decide the method that best suit your requirements.
Software/Features

Wondershare Video Converter Ultimate

VideoSmaller

Clipchamp

Aconvert

CloudConvert

Zamzar

Free/Paid

Paid software with free trial version

Free

Free

Free

Free

Free

File Upload size limitation

No limitation

500MB
No limitation
200 MB
No limitation
50MB
Supported input formats

Support more than 1000 formats

MP4, AVI, MPEG, and MOV.

All popular formats including AVI, MOV, DIVX, FLV,3GP, MP4, WMV, VOB, MKV

All popular formats

All popular formats including MP4, OGG, WMV, MKV, FLV, AVI

All

popular formats and codecs including MP4, AVI, FLV, MOV, and others

Quality after compression

Excellent lossless quality
Good
Good
Good
Good
Good

Conversion Speed

Very fast (30X faster)
Decent
Decent
Decent
Decent
Slow
Batch processing
Yes
No
Yes
No
Yes
No
Video Editing features
Yes
No
No
No
No
No
Burn videos to DVD
Yes
No
No
No
No
No
Convert files to other formats
Yes
No
No
Yes
Yes
Yes
Part 4. Extended knowledge on Video Compression
To make your video file compression task easy read below to know the basics of video file size, factors affecting its size and related details.
1.Importance of Video file size
Talking in very general terms, a file format defines the structure in which file information is stored. When it comes to video files, they are generally large in size as they need large data to depict the video signal accurately. There are many different types of video file formats available, but all the files feature characteristics including – a container type, video signal, audio signal and a codec. Size of the video file is important as it determines the time and data needed for downloading as well as uploading. Moreover many social networking and video sharing sites have limitation to the size of the video that can be uploaded to their site. The video size also decides the amount of space it occupies on your PC storage. Larger the file size, larger the space needed.
2. Factors affecting video file size
There are various factors that affect the size of a video file:
Bit rate (data rate): Bit rate is the amount of data that is used by each video file and it is generally measured in kilobits per second. The size of the bit rate is directly proportional to the video file size. Thus higher the bit rate better is the video file quality.
Frame rate: Frame rate is defined as the number of the frames per second and videos are generally recorded in 24 or 30 fps. The frame rate is directly proportional to the video file size, larger the frame rate, larger is the file size.
Resolution: Another important aspect that decides the video file size is its resolution which is the size of the output video and measured in pixels. Higher the file resolution better is the video quality.
3. Benefits of compressing videos
Video file compression has become necessary owing to multiple reasons as enlisted below:
Reduced file size occupies less space on your PC storage and thus creates an additional room to add more videos.
Compressed files are easy and quick to share and transfer through mails.
Smaller sized files can be easily and quickly uploaded to social networking and video sharing sites.
Lot of video sites have restriction to the size of the file that can be uploaded and thus file compression becomes necessary.
To make your favorite videos fit perfectly on the small screen of your smartphone or tablet, you need to compress its size as large size videos will not play properly.
So no more worries if you do not know how to make a video file smaller. The above topics will help you to find the most appropriate way to shrink video file size.
Related articles you may concern:
Choose Language: