MP4
1. Convert Other Format to MP4

+

2. Convert MP4 to Other Format

+

3. Other MP4 Tips

+
All Ways to Reduce Size of MP4 Videos (MPEG/MPG Included) on Windows/Mac
"What is the quickest (and free) way to compress an mp4 video to 30mb or less so that online sites can upload it?" - from Quora
If you have a large MP4 video file, you'll definitely want to reduce MP4 file size for your different uses, like saving on your mobile, sharing on YouTube, etc. On occasions, the MP4 reducer provides you options to make your MP4 file smaller so that you can use it at will. In this article, we're going to introduce how to reduce the size of MP4 files with several helpful methods.
Part 1. 3 Common Reasons for Compressing MP4 Files
Besides the lack of storage space on the hard disc and mobile phones, there are other reasons as well when you need to compress the size of your MP4 file, such as:
Sending videos via email - large MP4 files cannot be sent via email attachment. Therefore you'll need to reduce the size of your MP4 file and then send it.
Uploading to YouTube - YouTube has become the most popular video sharing site all over the world, and it allows you to upload your video to the platform with ease. But a large video will cost you a large amount of traffic, so you can compress the video file size to make it easier to be uploaded.
Playback on Mobile - If you are using a small screen device or a limited-storage tablet, compressing your video file size will help you save the storage of your device.
Part 2. Ultimate Solution to Reduce MP4 File Size
If you want to reduce the MP4 file size, the powerful tool – Wondershare UniConverter helps you to get the work done with easy steps. It is a complete video toolbox for your video live, and it helps you to compress, convert, edit videos, and save online videos. In this part, we'll introduce how to compress MP4 with Wondershare UniConverter.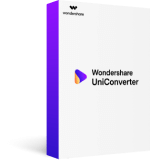 Reduce MP4 videos to the right size for your different purposes.
Support 1,000+ video formats, including MP4/MOV/MPEG/AVI/WMV for compression and conversion.
Edit MP4 videos with features of Crop, Trim, Rotate, Watermarks, Effects, Subtitle, etc.
It has a 30X super faster speed than any other video compressor and converter.
Support batch compression with a single click.
It has a toolbox with additional functions like Screen Recorder, GIF Maker, Fix Media Metadata, Cast to TV, and more.
Supported OS: Windows XP or later, Mac 10.9 or later.
Security Verified.
5,481,347
people have downloaded it.
How to Reduce the Size of MP4 Videos With Wondershare UniConverter:
Add your MP4 videos.
Start reducing the size of MP4 by setting bitrate, resolution, etc.
Save the new compressed MP4 file.
Step 1

Choose Video Compressor icon in Toolbox.

After you install and run this video reducer, choose Toolbox and click the Video Compressor icon.
Step 2

Add your MP4 video into the video compressor.

After clicking the Video Compressor icon, you'll see a pop-up window. Now you can click the Add Files icon to add your MP4 video from your local computer.
Step 3

Start reducing MP4 video size.

Now you can set up the desired file size, quality, and other parameters. After making up all the settings, you can click the Compress button to start reducing the MP4 file size.
This is how Wondershare UniConverter reduces the MP4 file size to meet your requirements. Wondershare UniConverter is more than a video compressor, and it enables you to convert videos with ease. When you want to convert MP4 to AVI for your purpose, you can get the work done easily with Wondershare UniConverter. Also, this program enables you to edit videos, download videos, transfer videos, burn DVDs, and more.
Part 3. How to Reduce MP4 File Size with 3 Different Ways
In this part, we're going to introduce how to reduce MP4 file size in 3 different ways. These methods can be a little tricky but will help you achieve your goal.
Method 1: Reducing MP4 to smaller size formats
One of the simplest and most straightforward ways to reduce MP4 files is converting MP4 to a compressed video format like WMV, FLV, and others. Given below is the list of formats that you can consider for compressing MP4 files. The below table shows you the differences between these formats.
| Video Formats | Pros | Cons |
| --- | --- | --- |
| FLV | It is a format that is suitable for web videos. You can use this format to compress MP4 files when you need to upload files to the web. | Creating an FLV format is an expensive as well as time- consuming process. It takes a long time to access the web page with Flash. |
| AVI | This format is compatible with a variety of media players and is the most common compressed format that features an array of codecs. | The format is too large to compress. |
| WMV | This is a tightly compressed format that needs very less storage space as compared to MPEG-4, it has two times better compression. The format is perfect when you need to save space on a hard disk or email your videos. | The format has poor compatibility when it comes to non-windows devices and platforms like iPad, iPhone, and other Apple products. |
| MKV | It is an open-source format that features a menu for including audio tracks in a different language. | The format does not work universally across different devices and media players. It generally has a large file size of up to 40GB. |
Consider the above table of formats with its pros and cons; it can be concluded that WMV and FLV are smaller sized formats that can be regarded as for compressing MP4 files. You can make use of professional software like Wondershare UniConverter (originally Wondershare Video Converter Ultimate) or a free converter to convert MP4 to WMV, FLV, or other formats.
Method 2: Edit parameter settings with respect to frame rate, bit rate, and resolution for compressing MP4 files
The next way for reducing MP4 files is by changing and editing the parameter settings.
Changing Bit Rate:

The size of the video file can be decreased by lowering its bitrate. Bit rate size is directly proportional to file size, and thus, reducing one will reduce the other as well. But here it needs to be understood that too much lowering of the bit rate will reduce the quality as well. Thus reducing the bit rate by 20-30% of the original size is a good choice.

Changing the resolution of the file:

The resolution of any file determines its size as well as quality. A high-resolution file will have good quality and larger file size. Thus, if you are aiming to reduce file size, reducing the resolution with a video resolution reducer will do the trick. If you have HD videos with a high resolution of 1080P, you can reduce it to a lower resolution to reduce the file size.

Changing frame rate:

Another aspect that can be considered while reducing MP4 file size is to reduce the frame rate of the file. The frame rate is directly related to file size, and thus, reducing one will directly affect the other.
So if you considering changing the frame rate, bit rate, and resolution for compressing MP4 files, below listed are suggested settings of an MP4 file for Vimeo and YouTube. The file can be kept at 23.97 fps to reduce the size of the file before compressing it.
| Parameters | Compression Settings for YouTube | Compression Settings for Vimeo |
| --- | --- | --- |
| Codec | H.264 (This offers a higher quality of video for smaller sized MP4 file) | H.264 |
| Bit Rate | 1000 kbps (360p), 2500 kbps (480p), 5000kbps (720p), 8000kbps (1080p), 10Mbps (1440p), 35-35kbps (2160p) | 2,000 – 5,000 kbit/s (SD)/5,000 – 10,000 kbit/s (720p HD)/10,000 – 20,000 kbit/s (1080p HD) |
| Resolution | 426x240(240p), 640x360 (360p), 854x480(480p), 1280x720 (720p), 1920x1080 (1080p), 2560x1440 (1440p), 3840x2160(2160P) | 640 pixels wide (SD) or 1280 pixels wide(HD) |
| Frame Rate | Keep it as the original one | 24, 25, or 30 FPS as the value about 20 does not make any difference. |
Method 3: Trimming and removing unwanted part for reducing video file size
Another common solution to compress the size of the MP4 file is by trimming and cutting its unwanted parts. If you have huge MP4 clips, you can do some editing by reducing unnecessary parts that will reduce the size of the file. There are plenty of editing tools as well as professional converter software available that will help you to do the task of editing and trimming.
Part 4. How to Reduce Size of MP4 Video Online
If you are looking for an easy way to reduce MP4 file size online without downloading and installing any software, Online UniConverter (originally Media.io) is your best choice. This online video compressor and converter can help you compress MP4 file size with converting formats, changing video resolution, and customizing file size without watermarks and ads. You can finish the compression process within three simple steps.
Step 1: Open Online UniConverter (originally Media.io) (https://www.media.io/video-compressor.html) in your browser, and you'll come to the interface to add videos. Click on the + icon to add an MP4 file on your computer.
Step 2: After the MP4 video is added, choose Resolution, Output Size, and Output format as you like from the given options.
Step 3: Click on the Compress button to start reducing MP4 file size easily and quickly. After compression, you can download the file by clicking on the Download button.
Part 5. Another 4 Free Ways to Reduce MP4 File Size
If you are considering free video size reducer software for compressing your MP4 and other files, listed below are the best tools that work on Windows and Mac platforms.
1. the Best way to shrink MP4 file size free: Wondershare Free Video Converter
Wondershare Free Video Converter is the free version of the best MP4 file reducer, Wondershare UniConverter, which has a similar interface and functions as the full version. It also supports 1000+ video and audio formats, and you can compress MP4 file size without any quality loss. Video resolution, bit rate, file size, format, and other parameters can also be changed here. But like most freeware you can find, it has a watermark on the output video.
2. Free video size reducer to reduce video file size Mac: HandBrake
HandBrake is a decent movie file size reducer for Mac users that allows reducing MP4 files and other files. The program enables adjusting parameters like frame rate, bit rate, resolution, and others so that it can reduce movie size quickly.
3. Free Windows video file size reducer: Windows Movie Maker
For Windows users, Windows Moviemaker is an excellent MP4 compressor to reduce video size. The software allows shrinking an MP4 video by selecting the size of the finished video. The program features a decent interface and supports other formats like WMV, MPEG, H264, MP3, AVI, MOV, and WMA formats.
4. Free MP4 reducer for Mac users: iMovie
iMovie from Apple is another decent tool to reduce video file size mac, which can be used to mitigate different file formats, including MP4, AVI, MOV, and MKV. The selected file can be compressed by changing the frame rate, bit rate, output format, and resolution.
Conclusion: No matter which way you choose to reduce MP4 file size, finally, Wondershare UniConverter proves to be the full solution on how to reduce video file size. Just download it to have a free trial now.