Compress Videos
1. Compress Video in Different Formats

+

2. Compress Video from Devices/Apps

+

3. Compress Video with Different Apps

+

4. Compress Video for Different Purposes

+

5. Other Tips & Tricks

+
How do I reduce QuickTime recordings file size? On my Mac, they take up so much space, like 1 GB for a 2-minute movie or screen recording. iPad recordings take up much less space and are of higher quality. Anyone know how to reduce the file size or at least tell me why they use so much space? I've only got 128GB. ---From Apple Website
There are times when you feel the need to compress a video while sharing with your friends or uploading a file. The procedure for reducing the size of a file generally includes, for example, changing the dimensions of a video, trimming the video etc. Hence in this article today, we will discuss how to compress QuickTime movie using two of the best available tools in the market.
Part 1. Best Tool to Compress QuickTime Video
QuickTime is a popular multimedia player, easily accessible and with a minimalist interface, developed by Apple. It is the default player used by all Mac users as it comes inbuilt with the system. This application works with most known formats and is also the only one capable of playing MOV files. MOV is an exclusive format for high definition videos and, in fact, marked the origin of this application some time ago. You can easily compress QuickTime movies. One of the best tools to compress QuickTime Video is to use Wondershare Video Compressor Ultimate. This is a complete conversion/compression, recording and downloading tool capable of working with any video format, including the 3D format.
Here are the best Wondershare Video Compressor Ultimate features:
Your Complete Video Toolbox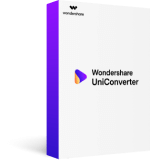 It allows you to compress the video file by changing its resolution, bitrate, and frame rate.
Can compress a video file by changing the output format.
30X faster conversion speed than other common converters.
Can edit videos, it means that you can trim video to reduce the video file size.
Supports video to audio conversion, audio formats like iTunes, MP3, AIFF, AU, SD2, WAV, SND and more.
Burn video to playable DVD with attractive free DVD template.
Download or record videos from video sharing sites.
Versatile toolbox includes fixing video metadata, GIF maker, casting video to TV, VR converter and screen recorder.
Supported OS: Windows 10/8/7/XP/Vista, Mac OS 10.14 (Mojave), 10.13, 10.12, 10.11, 10.10, 10.9, 10.8, 10.7, 10.6
Security Verified,
5,481,347
people have downloaded it.
How to use Wondershare Video Converter Ultimate to reduce QuickTime file size? Follow these detailed steps:
Step 1 Upload video file to QuickTime video compression tool.
Once you are done with the download, installation of Wondershare Video Converter Ultimate, you just need to open the software, by default you will go to the Convert > Converting window, there you need to click on Add Files, a pop-up window will appear, choose your video to load. Or simply drag and drop your QuickTime video to the program.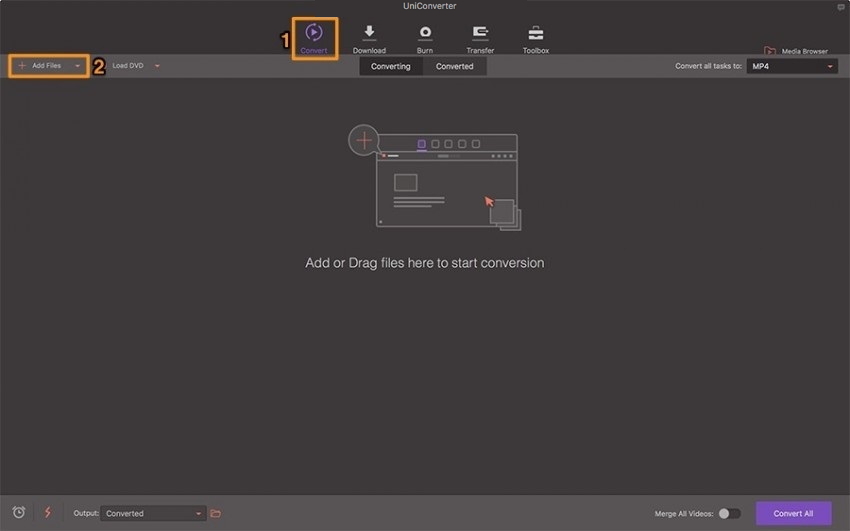 Step 2 Choose the output format.
Next go to Convert all tasks to, click on Video and then from there you can choose your desired format for the compression process such as MP4.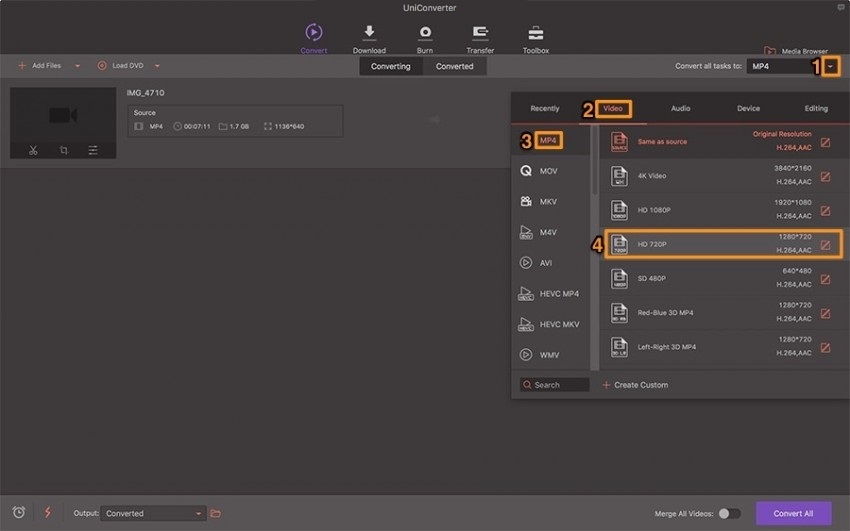 Step 3 Edit the video for QuickTime video compression.
After that, you can click the Settings icon beside the resolution to enter the pop-up window, click Small Size or else you can do the manual settings also and then click on Create.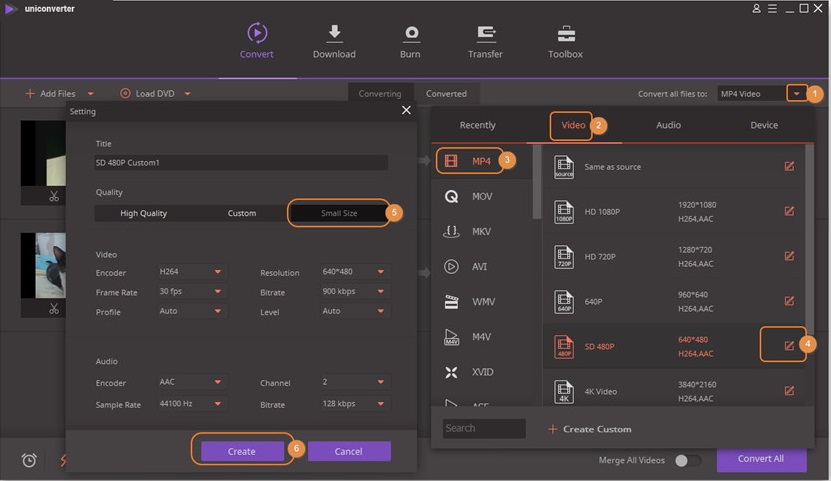 Step 4 Start compressing a QuickTime video.
After you are done with all the editing tasks, go to Convert All option that will start the process of conversion. Further, you can view your compressed file by tapping the Output icon at the bottom of the Converting interface.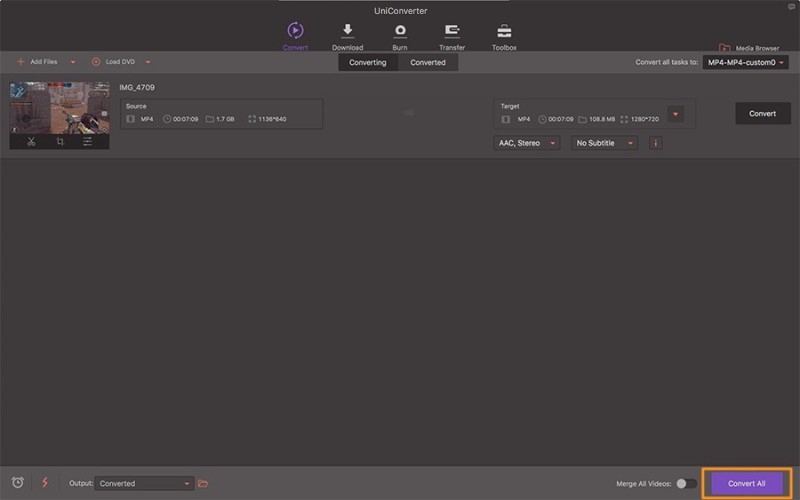 Doing so will result in giving you the desired result for compressing QuickTime video.
Part 2. How to Reduce QuickTime File Size Using QuickTime Player
As we said before, QuickTime is a multimedia player and it is a highly compatible player with the most popular formats on the internet so for to open a video we can use QuickTime Player to reproduce it or if we want to see our photos too. Using QuickTime compression is really easy.
QuickTime has two available versions: QuickTime and QuickTime Pro. The first one is free whereas for the second one we have to pay.
QuickTime/ Player: it is available for the public but it has limited features such as it does not allow us to get a full-screen view, cannot edit videos and cannot compress videos.
QuickTime Pro: is the paid version and with it, you can compress videos, save videos from the Internet and can edit your videos too. You can learn how to make a QuickTime movie smaller with this version too. It is priced at $ 30.
To learn how to compress a QuickTime file, follow the next step by step:
Step 1: Download QuickTime.
Go to https://support.apple.com/kb/DL837?locale=en_US and download the QuickTime Pro version for Windows or Mac on your computer and then proceed to register.
Step 2: Add files to the software.
Now go to the File menu and click Open File. Now, you can browse the file and open a video to play on it. This video will be used as a video input to compress the operation.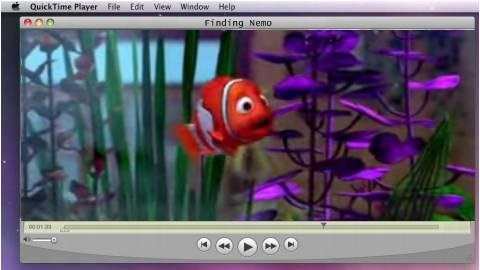 Step 3: Synchronize sound with video.
Play your movie and make sure the sound syncs with the video. When you synchronize your audio and video is ready to export the file for use on the web.
Step 4: Export the video.
Click on the File tab and select Export to open the Save Export File As screen. Now click the Export and select the Movie to QuickTime Movie setting for audio and video.
This will take you to the next section where you can enter the newly filmed filename. Click the Options button at the bottom for audio and video settings.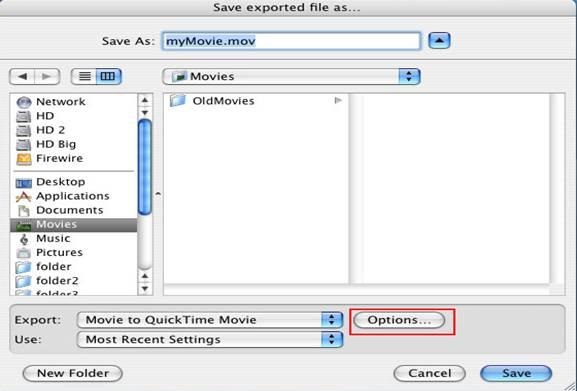 Step 5: Change settings.
After clicking the Options button, the following screen will appear. Here, you must change the Video and Sound selection parameters for efficient compression.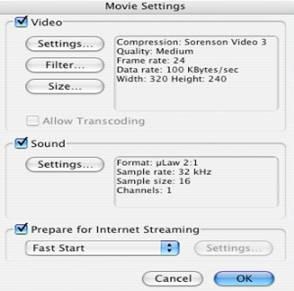 Step 6: Change the compression type..
Now select the "Settings" button to change the "compression type" of your video to one with a lower bitrate.
To change the video dimensions and frame size, click the Size button and select one of the smaller size options.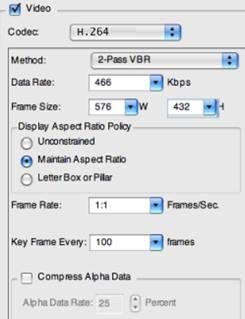 For the Audio section: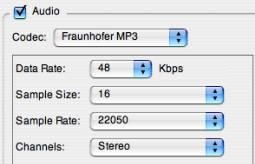 Step 7: Start the compressing process.
Click OK and return to the Save Export File As screen. Enter a new name for the generated compressed file and set a location on the computer's hard disk to save it. Then press the Save button to start compressing and exporting the video. Now you can reduce QuickTime file size and compress QuickTime video for email.
When we want to send several files over the Internet or simply want to reduce the size of one, we usually opt for compressing it. With this technique, we can not only save space but easily send files to other people through the Internet. One good option to compress QuickTime videos is Wondershare video converter ultimate.
In this article, you learned 2 ways on how to compress QuickTime video and reduce QuickTime file size. We would really want to be your guide to help you to compress QuickTime file and help you to use Wondershare Video Converter Ultimate according to your requirements. So watch out this space for more!