MD File: What is MD File and How to Open MD File
You can easily identify an MD file since it has the .md extension. After identification, the next step is how to read MD files, a process that involves certain applications. The information below will help you understand what is an MD file, and how to open it correctly on Mac and Windows computers.
Part 1. What is MD File
If you are familiar with Hypertext Markup Language (HTML), then you ought to know what an MD file is. MD file refers to a file extension created using the Markdown language software. Therefore, text files made with Markdown language dialects contain.MD or.MARKDOWN file extension.
Markdown language was invented in 2004 by John Gruber and Aaron Swartz because they found need to have an easy way to write and read plain text format, as well as convert it to HTML or XHTML. The inventors' goal was readability; the language is readable if you ignore tags and formatting instructions added. Since its creation, many users have re-implemented Markdown alongside other programming languages.
An MD text file can be used as a Markdown documentation file. The lightweight markup language, Markdown, comes with a plain text formatting syntax that allows it to be transformed into multiple output formats. Hence, the MD file creation purpose is plain text documentation authoring, which eases, by describing, conversion of a text document to HTML. Using a Markdown program such as Dillinger, it is easy to convert an MD file to HTML. This means that the original tool carrying the same name only provides support for HTML and does not replace it since it has very small syntax and HTML tags subsets. During conversion, Markdown applications use Markdown processor, which is also known as implementation or parser, to output Markdown-formatted text as HTML format. The process takes place in the following steps;
First, is the Markdown files created using a Markdown application with .md extension,
A Markdown application is then used to open the Markdown file.
Conversion of Markdown file to HTML document, through Markdown application, follows.
Then the HTML file is viewed in a web browser.
Alternatively, the Markdown application can be used to transform the HTML file to another file format, such as a PDF.
According to various information technology experts, the HTML conversion aspect of creating easily writable and readable files makes MD files developer files. You may consider that while Markdown is the writing format, HTML is the publishing format. Additionally, MD files are more useful to HTML documentation systems than binary files because the historically revised human-readable text can be compared.
So, Markdown is intended to be used to set-up text on the web using plain text formatting syntax. Basically, it makes it easy to write, read, and edit prose. As a result, an MD file is saved in plain text format using Markdown language, which explains the presence of table formatting, headers and fonts, indentations, and inline text symbols.
Part 2. How to Open MD File
Considering that it is readable, you may have to open the MD file at some point. This means that after creation, you need to learn how to open the MD file. The MD file extension is used by various different file formats, and so applications to open an MD file may differ. Nevertheless, the process of how to open MD remains the same and is as follows:
Launch the .md file on your computer by double-clicking it.
With correctly set up associations, the respective application that should open an MD file will open the file. Here, you must purchase or download the right program for the task.
If you already have the correct application that is not associated with the MD files, you can instruct Windows or Mac on the right tool to use.
Eventually, you should have your MD file opened.
There are specific applications that are great at how to read MD files. It is important to acknowledge them because they make how to open an MD file easily and fast. They include the following:
Apple TextEdit is a program managed by Apple's Advanced Typography. It is not only a text editor program but also an open-source word processor as well. It is integrated into the recent Mac OS X versions, although it was first used in OPENSTEP and NeXTSTEP. It is also useful in other Unix based operating systems such as Linux computers since it can function as a GNUstep application. The main purpose of TextEdit software is reading and writing documents in plain text as well as Rich Text Format Directory, Rich Text Format, and HTML formats. It has features such as the addition of animations, graphics, and other multi-media contents, formatted text support, automatic letter-spacing adjustment, and writing and reading support of character encodings.
The basic text editor, Notepad, creates plain documents. It is also useful in viewing and editing MD files and other .txt files. Since it can create Web pages, it may support basic formatting in HTML documents. Additionally, it may change HTML or other text with markup. If you are using the newer versions of Windows, you should use Notepad to open the MD file, since it is updated and has search and replace functions.
Notepad2 is the advanced version of Microsoft Notepad discussed above. Created for Windows by Florian Balmer, this program is a more advanced text editor that is smaller, faster, and more effective. It comes with many features that make opening and reading MD files interesting. They include syntax highlighting, which allows the display of source code in different colors and fonts, auto-indentation, bracket matching, encoding conversion, newline conversion, and multiple undo and redo features, among others.
Conclusion
The Markdown language enables you to save an MD file in plain text and also includes headers and fonts, among other aspects. You must know how to open the MD file with the right application so that the plain text display can be correct.
Wondershare UniConverter - Best Video Converter Mac/Windows (Catalina Included)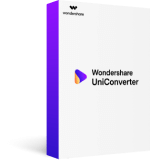 Convert video files to MP4, AVI, WMV, FLV, MKV, and other 1,000 formats with several simple steps.
Convert multiple video files to MP4 in batch without any quality loss.
Convert video files to optimized preset for almost all devices, like iPhone, iPad, Huawei phone, etc.
It has a 90X faster conversion speed than common converters with unique APEXTRANS technology.
Powerful editing tools help customize your videos, like trimming, cropping, adding watermark, subtitles, etc.
Burn and customize videos to your DVD or Blu-ray disc with free DVD menu templates.
Download or record videos from YouTube and other 10,000+ video sharing sites.
It supports transferring videos from computer to iPhone, iPad, and other devices directly and vice versa.
Versatile toolbox: Add video metadata, GIF maker, video compressor, and screen recorder.
Supported OS: Windows 10/8/7/XP/Vista, macOS 11 Big Sur, 10.15 (Catalina), 10.14, 10.13, 10.12, 10.11, 10.10, 10.9, 10.8, 10.7, 10.6.
Security Verified.
5,481,347
people have downloaded it.