Compress Videos
1. Compress Video/Audio in Different Formats

+

2. Compress Video from Devices/Apps

+

3. Compress Video with Different Apps

+

4. Compress Video for Different Purposes

+

5. Other Tips & Tricks

+
10 Recommended Video Compressors to Easily Compress Videos on Mac
"How do I reduce the size of a video on Mac?"
The need for video compression arises with the development of 4K videos and HD videos technology. Smaller sized videos are easy to manage, share over email, internet and other means, and also create additional storage space for smart phones and computers. On your Mac system, whatever might be the storage, you will frequently face memory issues. To create more space on your Mac, it's necessary to compress video on Mac using professional tools. The following part of the article discusses the top 10 video compressor Mac free online and desktop with pros and cons.
Part 1. Easiest Way to Compress Videos on Mac in Batch and No Quality Loss
There is myriad of options available when it comes to video compression tools and one of the best in the list of Wondershare UniConverter (originally Wondershare Video Converter Ultimate). This is a complete video toolbox that performs an array of functions like video conversion, video compression, video transfer, DVD burning, video editing and video downloading. The program supports over 1000 formats for conversion and also facilitates device-specific format conversion. This video compressor app Mac compresses video by changing its size, bit rate, resolution, and frame rate.
Wondershare UniConverter - Best Video Compressor for Mac (Catalina Included)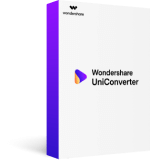 Convert videos in batch on Mac in 1000+ formats including MP4, MOV, WMV, FLV, AVI, MPG, etc.
Compress video size automatically or manually by adjusting video parameters for Mac.
Reduce video size by customizing video resolution, file size, bitrate, quality, format without losing quality.
30X faster conversion and compression speed than any conventional converters.
Edit, enhance and personalize your video files before compression.
Burn video to playable DVD with attractive free DVD templates.
Download or record videos from 10,000+ video sharing sites like YouTube.
Versatile toolbox combines fix video metadata, GIF maker, cast video to TV, DVD burner, and screen recorder.
Supported OS: Mac OS 10.15 (Catalina), 10.14, 10.13, 10.12, 10.11, 10.10, 10.9, 10.8, 10.7, 10.6, Windows 10/8/7/XP/Vista.
Security Verified,
5,942,222
people have downloaded it
Steps to Compress Videos on Mac in Batch and Without Losing Quality
Step 1

Launch Best Video Compressor for Mac and Add Files

After downloading and installing Wondershare UniConverter on your Mac, open the program. From the Convert tab, click + Add Files. A file explorer window will open from where you need to browse and add desired video files from your Mac. Multiple files can be added here.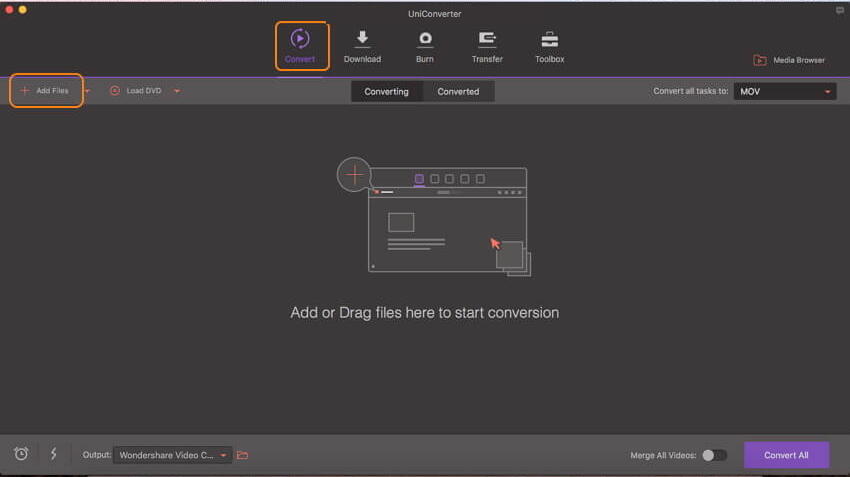 Step 2

Select Output Video Format and Compress Settings

The added video files will appear on the program interface. Next, select your desired video format by clicking the drop-down icon beside Convert all tasks to: at the top-right corner. Then click the editing icon next to the resolution of output video format.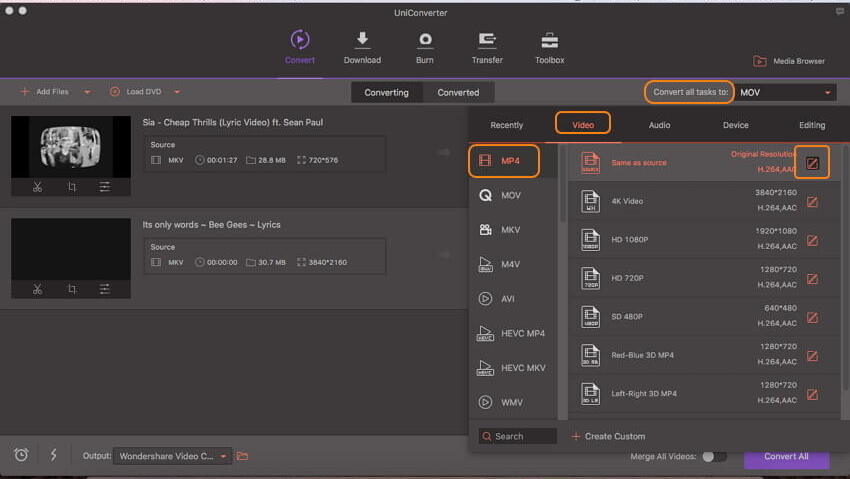 A new setting window will open. To compress video you can either directly select the Small Size under the Quality tab or manually reduce video file size by changing file resolution, bit rate, or frame rate. Click Create to save the settings.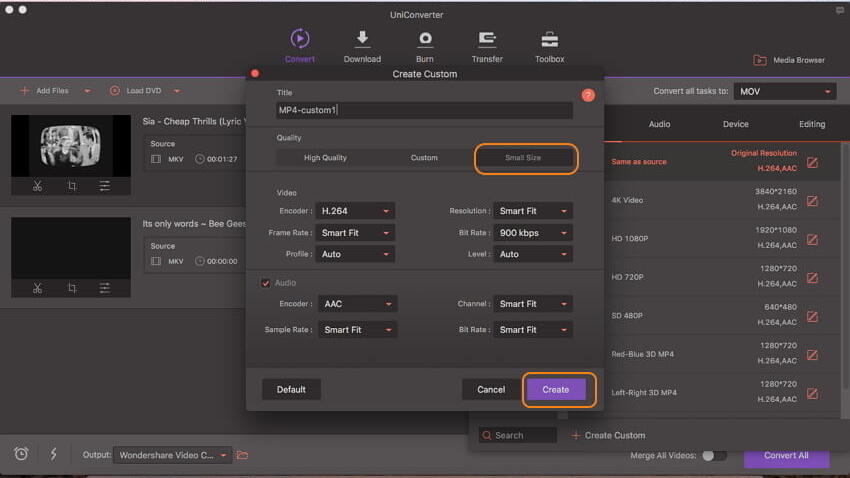 Tips: The step above can change all added files settings for batch compression, if you want to customize the video compression settings separately, click the Compress icon on the Target tab and you'll get a small window to reduce video size. From where, you can compress the video size by changing video resolution, bitrate, output size, and more others.
Step 3

Convert and Compress Videos on Mac

Now you can clearly see the change in video size. If you're satisfied with the output video size, then go to the Output tab, select the location on Mac where you want to save the compressed video file. Finally, hit Convert All to start compressing the video on Mac.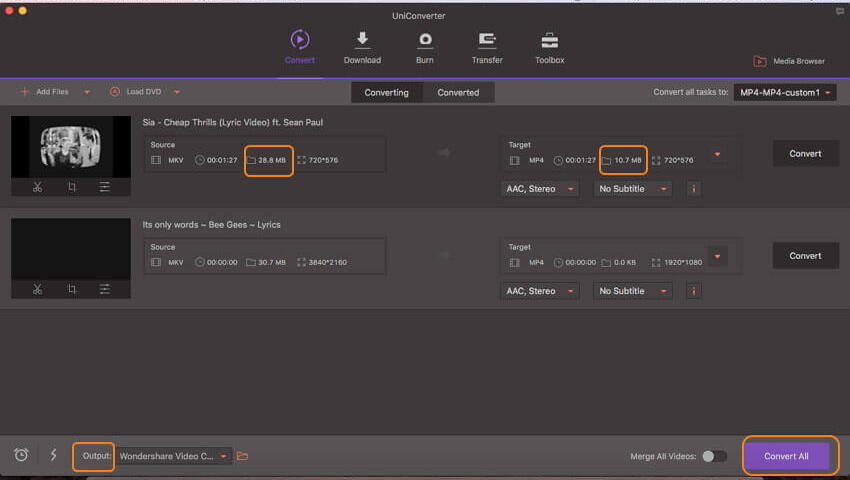 Part 2. Top 4 Free Video Compressor for Mac
Besides professional software, there are a number of free video compressors for Mac available as well. These free tools are pocket-friendly and support decent video compression features. Below recommended are some free video compression tools for Mac.
1. Mac Finder
If you are looking for a simple, easy and straightforward solution to compress your video files, Mac Finder is a good choice. This built-in Mac tool is majorly used for accessing different programs of Mac, but there is a lot more that can be done using this app including video compression. Using Mac Finder, you can change the bitrate, frame rate, resolution, codec, and the quality to shrink the video size. Mac Finder is a fast video compression method that also allows video customization and other functions. It has to be noted here that Mac finder allows converting and compressing only MOV files.
Steps on how to compress video with Mac finder
Step 1: Open the Mac Finder app on your Mac system. You can either click on the app icon present on the desktop to launch a new window or use the Command tab and then Command-N to open the window.
Step 2: Next, you need to locate the video files that you want to compress. Either enter the file name and use the search option or browse through the files in different folders using the tabs present on the left column.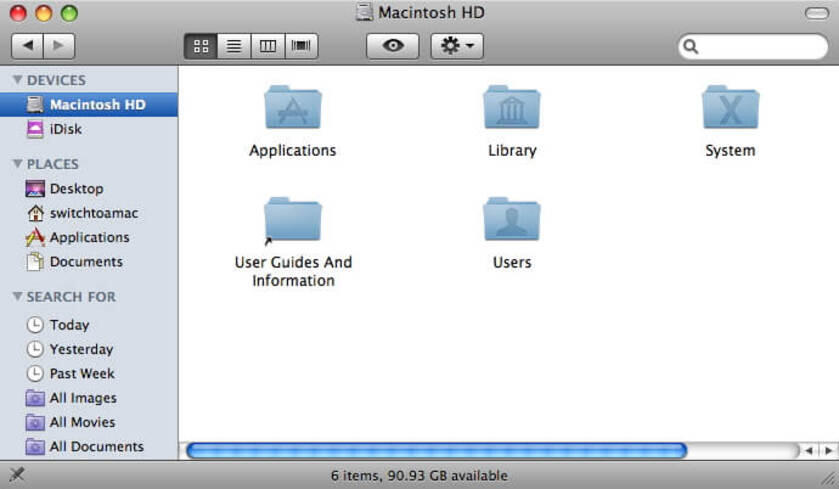 Step 3: Once you have found the desired files, you need to open the menu options by hitting Control + click on the file. From the available options, select Encode selected video file.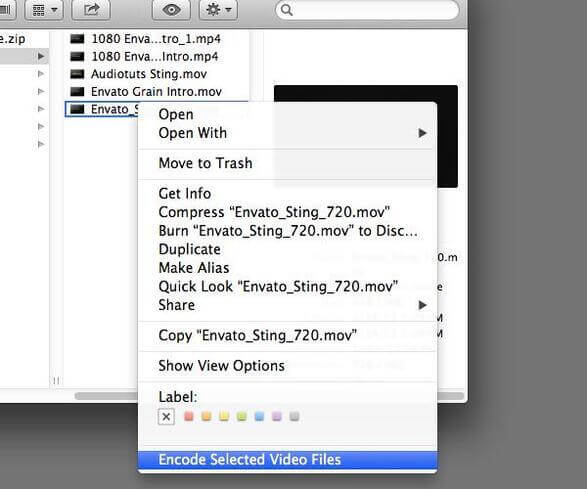 Step 4: A new Encode Media window will open to set the output video options. Change the file parameters from given options in their drop-down menu. Change the resolution or select from converting to Apple ProRes or audio only format. Here you also need to select the destination folder of the file. If you intend to keep the same folder check same as source file box. After you are done with all setting click Continue to proceed.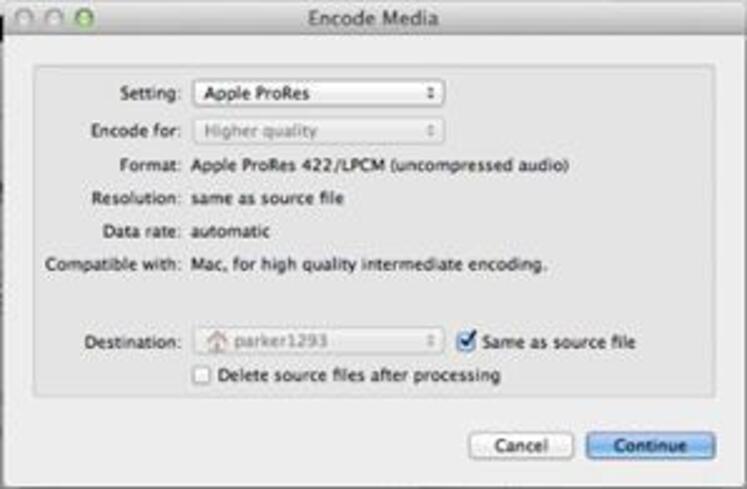 Step 5: Finally click OK to start the file conversion and compression process. Depending on the file size, pixels, quality, audio rate, bitrate and codec the speed and rate of the process will vary. Once the compression is complete you will be notified of the same.
2. Handbrake
Handbrake is another commonly used tool that allows performing an array of functions including video compression. It is a cross-platform program that works on Mac, Windows and Linux system. Handbrake is a free and open source program that facilitates video compression by either selecting the video presets or changing the file parameters manually.
Steps to compress video Mac handbrake
Step 1: Download, install, and launch video compressor Mac handbrake on your system. Click the Source button on the top-right corner to browse and add the desired video files.
Step 2: Once the file is added to the program interface, click Browse under the Destination tab, select the output file name and the location where you want to save the file. Click Save to confirm.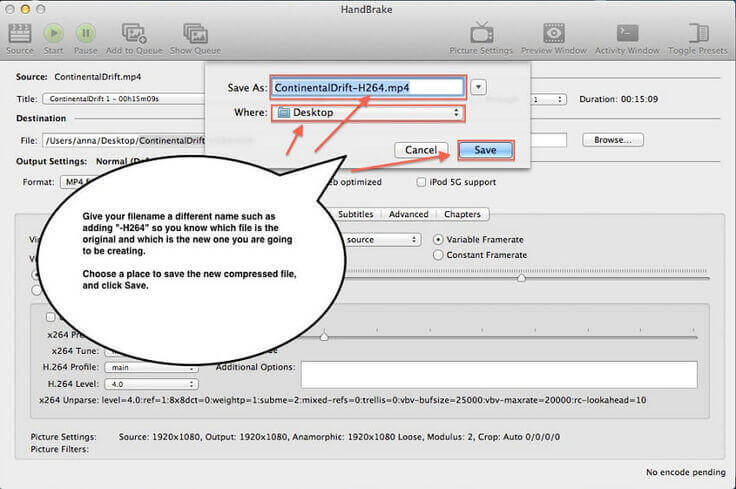 Step 3: At the Output Settings: option select the format of the output file. Next, select the video codec from the given options. From the Presets Drawer, select the High Profile preset. Alternatively, you can also open it from the top menu bar by clicking Window > Presets Drawer. Next select the Frame rate, average bitrate and other parameters.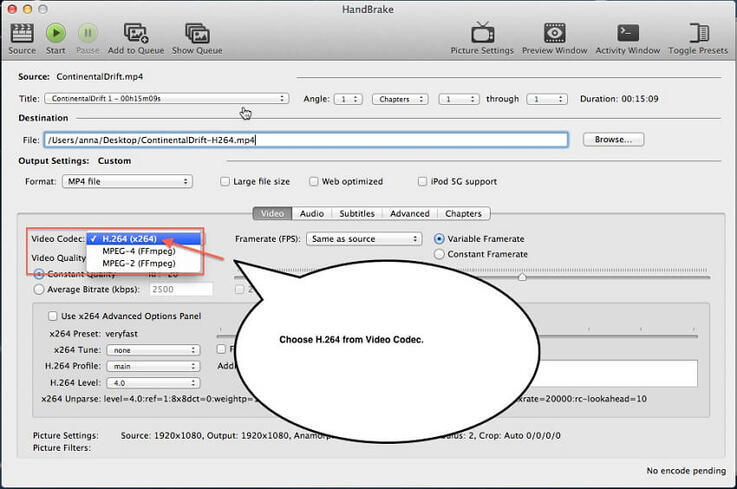 Step 4: In order to change the resolution or the frame size of the video, click Picture Settings that will open a new dialog box.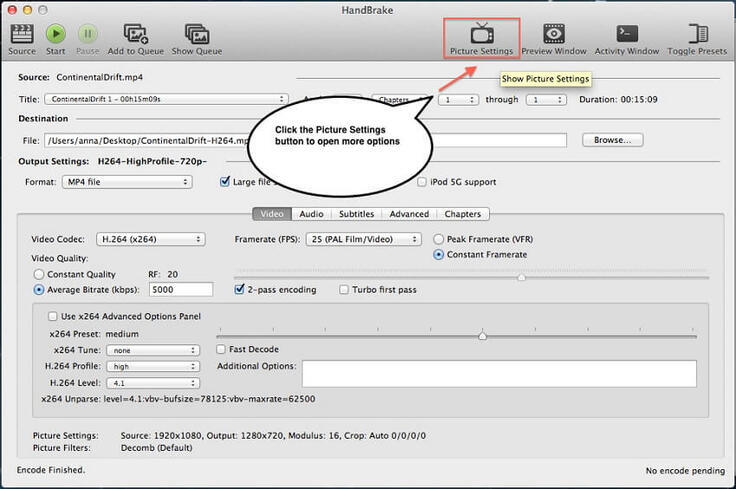 Step 5: Once all settings are done, click the Start the button on the top menu bar that will start the video compression process. Once the process is complete, you will be notified for the same.
3. QuickTime Player
QuickTime Player is a popularly used app on Mac and in addition to view the videos, the program also supports shrinking them. This free video compression method is simple and easy to use.
Steps to compress video using QuickTime Player
Step 1: Open QuickTime Player of QuickTime Pro app on your Mac system. If it is already not present, you can download and install the same.
Step 2: Open the video that you want to compress on your QuickTime Player. Click the File Menu from the top bar and select Share option.
Step 3: A new dialog box will open from where select the Email tab. At Name: option, select the desired name of the output file. Under the Size: tab, select the desired option from the given options. A summary of the output video on dialog box will appear showing FPS, compression codec, audio compression type, and others. The estimated post conversion size of the video will also be shown.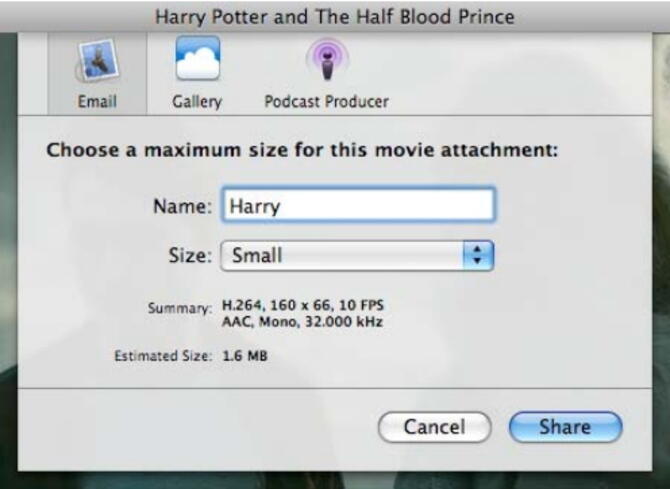 Step 4: Once all settings are done and you are fine with the same, click Share to start the process. A progress bar will also appear.
Step 5: Once the video is successfully exported in QuickTime Player, Mac Mail will automatically open as Email option was selected. The converted video will be embedded in the email message body. In order to extract the video as a usable file, you can either drag and drop it from your email to your desired location on Mac or can choose the file and select Save Attachment to store it on your Mac.
4. iMovie
iMovie is a popularly used video editing tool for Mac and iOS devices. The program also facilitates shrinking your videos in a simple and quick manner. This app is included for free in all your Mac systems and thus proves to be a free compression tool.
Steps to compress video Mac iMovie
Step 1: Launch iMovie app on your Mac system. Search for Projects/Library menu and click + button. Next, select the Movie option and then select the desired theme or No Theme option. Give a name to your file.
Step 2: To add the video that you want to compress click the downward facing arrow on the upper left-hand corner. Alternatively, you can also hit Import Media button and the browse and add the desired files.
Step 3: Next, to compress the added video, click the box with arrow sticking out of it on the top-right –hand side corner and select File from the options. Alternatively, you can also use menu bar by clicking File > Share > File option. Now select the settings for the video. to shrink the file size, lower the quality and the resolution. Click Next to move ahead.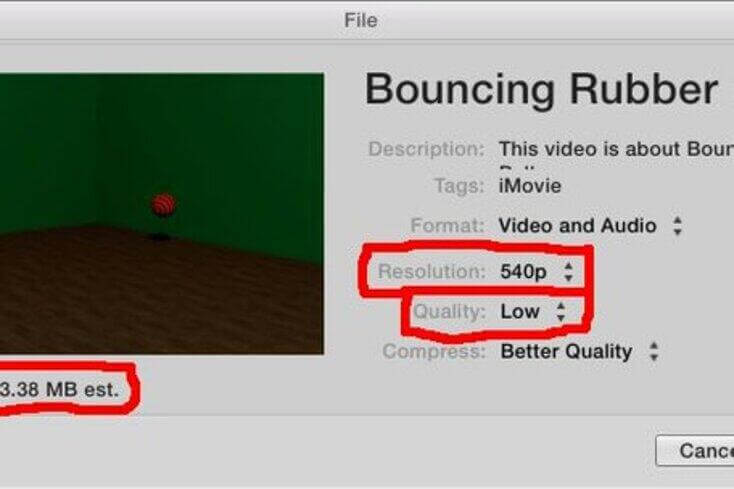 Step 4: Give a desired file name and choose the location where you want to save the compressed file. Click Save. The added video will be compressed and saved at mentioned Mac location.
Part 3. 5 Online Video Compressor for Mac
If you occasionally need to compress videos and do not want to download or install software on your Mac, online tool proves to be a good alternative. The online programs are simple, needs no installation, can work from your browser directly and are mostly free to use. To help you make a choice, roundup of top video compressor Mac online is listed below.
1. Ezgif
URL: https://ezgif.com/resize-video
This simple to use online video resize is free and facilitates compressing an array of video formats including WebM, MOV, FLV, MP4, and others. You can either add the videos from your Mac or even paste its URL for compression purpose.
Steps to compress video: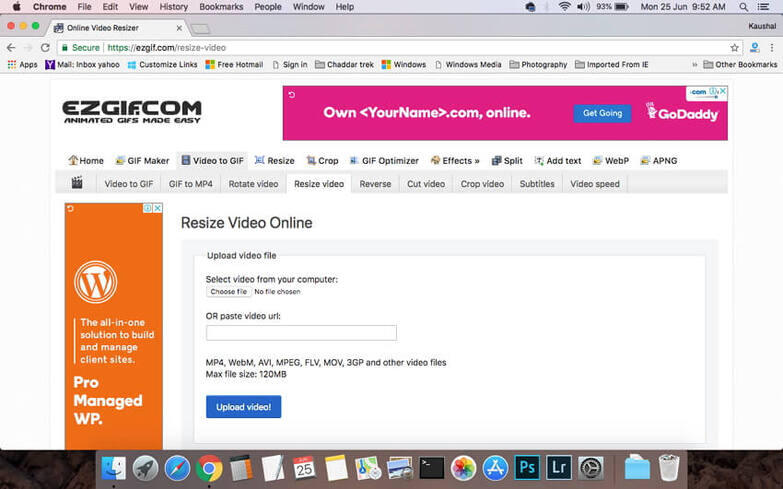 Step 1: Open https://ezgif.com/resize-video on your Mac browser. Click Choose file to browse and add video from your system. You can also paste the video URL if needed.
Step 2: Click

Upload video!

Once the video is successfully uploaded, a new window will open. Select new width, height, and percentage of the video. Also select Output format and encoding option from drop-down menu.
Step 3: Finally click

Resize Video!

to start video compression process.
The link for uploading compressed video will appear on the software interface itself.
2. CompressVideo
URL: https://clideo.com/compress-video
This is another commonly used online compressor video Mac that allows reducing file size of AVI, MP4, WMV, MKV, and other file formats while maintaining decent quality. The program helps to shrink file size by reducing its bitrate and scaling its width. The program is quick and features simple interface. Maximum 150MB of files can be uploaded to the program.
Steps to compress video:
Step 1: Open https://clideo.com/compress-video on your Mac browser.
Step 2: Click Browse to search and add videos from your system.
Step 3: Select to reduce video width from options on drop-down menu. Click Compress Video and the process of file uploading and compression will start.
3. Clipchamp
This is a commonly used online video shrinker Mac that is easy to use and comes with an array of features. The program supports adding videos up to 20GB size for compression. There are a number of presets available which automatically resizes files for social media, web, and other use. An array of file formats and resolution is supported by online converter and the program never has access to our videos, thus maintaining your privacy. Batch processing is also supported.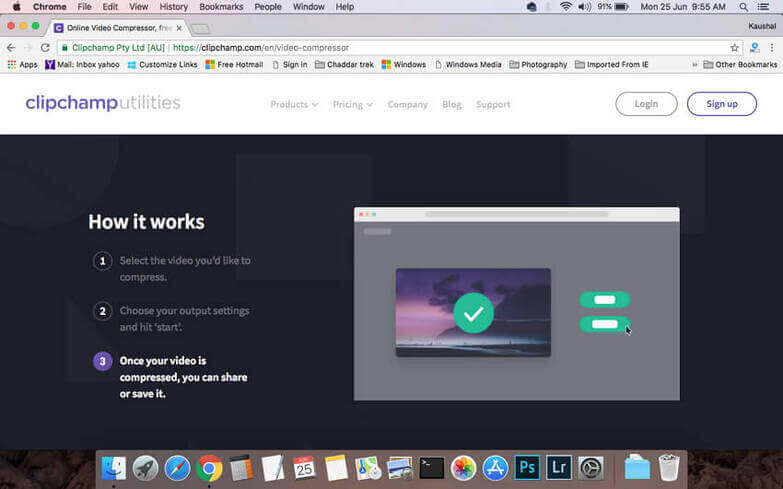 Steps to compress video
Step 1: Launch ClipChamp on your Mac system. Import the video from your Mac that you want to resize.
Step 2: Select the Output settings that leads to file size reduction.
Step 3: Hit Start to begin the compression process.
Once the file is resized, you can save it or also share it as needed.
4. Videosmaller
URL: http://www.videosmaller.com
VideoSmaller is another free to use video size compressor Mac that allows shrinking different video formats in decent quality output. Maximum of 500MB file size can be uploaded to the interface for video compression. The tool also has an option to use low compression level and shrinks video by reducing the width.
Steps to compress video:
Step 1: Run http://www.videosmaller.com/ on your Mac browser. Hit Browse to search and import videos to be compressed.
Step 2: From drop-down menu, select the file width to resize it. Also enable to use low compression level if needed. There is also an option to remove the audio from video.
Step 3: Click Upload Video. The program will start uploading the video and the file compression process will start.
On process completion, compressed file can be downloaded from the interface.
5. AConvert
URL: https://www.aconvert.com/video/
AConvert is an online tool that facilitates video compression by changing size, bitrate, and frame rate of the video. Maximum of up to 200MB file size can be uploaded to the program interface. In addition to Mac, the converted and compressed file can also be saved on online storage service like Dropbox or Google Drive.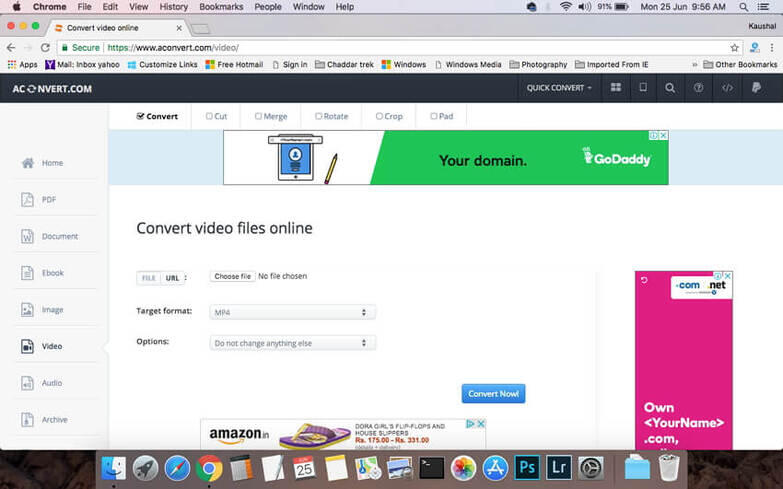 Steps to Compress Video
Step 1: Launch https://www.aconvert.com/video/ on your Mac. Click Choose file to add videos from your Mac. You can also add the file URL for conversion.
Step 2: At Target format: option, select the format of the output file. Select from options at drop-down menu.
Step 3: At Options: tab, select Change size, bitrate or frame rate. Next, manually enter values for video size, video bitrate, Frame Rate, and video aspect that lead to reduced file size. Finally, click Convert Now to start uploading and video shrinking process.
Part 4. External Tips for Mac Video Compression Settings
Generally, video shrinking or compression means getting rid of the unwanted or unnecessary part of your video so as to reduce its size. The quality of the original video is considerably affected on reducing its size. So if you are looking for ways to shrink your video size without affecting its quality, listed below are some useful tips.
Tip 1: Compressing your videos to smaller-size formats is a good way to maintain video quality while reducing its size. Some recommended formats are HEVC H.265, H.264, M4V, and MOV.
Tip 2: Another way to maintain video quality during compression is to adjust the slidebar of LQ-HQ. You can also opt for Use High Quality Engine option in the advanced setting area.
Tip 3: As compared to the default video, lower the video resolution and its bitrate by 20-50%. A smaller sized video has a lower bit rate.
Wondershare UniConverter is the best video compressor for Mac, as it not only provides a faster speed and better quality, but also gives more related functions such as video editing. Enjoy compressing video size on Mac without any limitation using Wondershare UniConverter.