DVD
1. Convert Video to DVD

+

2. Convert DVD to Video

+

3. Convert to/from ISO

+

4. DVD Burning Software

+

5. Convert Other Formats to DVD

+

6. Other DVD Tips & Tricks

+
How to Burn DVD using Adobe Premiere
Adobe Premiere is one of the best Movie and multimedia editing tool available in the market today. It can be used to perform a wide variety of tasks from video and content creation, logging, to editing and effects, to audio through to exporting and delivery.
Adobe Premiere pro CS6 comes with Encore already integrated into the system to ease the process of creating a DVD or Blue-ray media disc. This feature allows creating and authoring DVD or Blue-ray disk from within the application. It can be used to burn DVD and Blu-ray Disks. Authoring DVD or Blu-ray Discs or direct burning requires exporting media, in the earlier version, then stating the encore from the programs menu (Windows) using Adobe Premiere Pro CS6, exporting a movie or any other contend can be done using Encore. This document assumes that you have already you know how to edit the movie and add content to the movie timeline and work with movie effect. It hence explains how to burn Premiere to DVD.
To create encore project, follow the part 1. Then following part 2 mainly talks about how to burn the project to DVD using encore. If it doesn't work, find the solution in part 3.
Part 1. How to Prepare The Project
This section demonstrates how you can get started with creating an encore project. It uses CS6 version of Adobe Premiere Pro.
Step 1. Download, install, and start Adobe Premiere Pro.
Step 2. Once the main window appears, select File menu.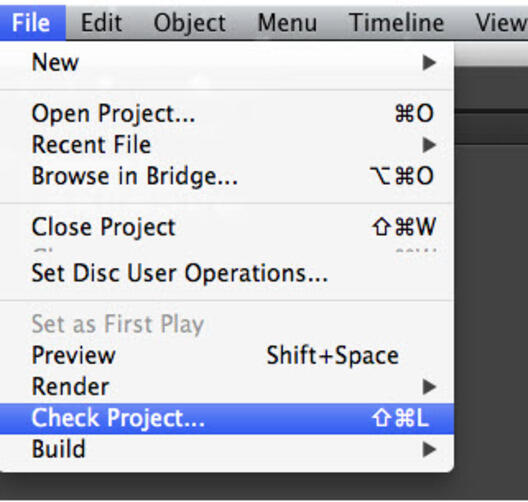 Step 3. Select Adobe Dynamic link from the file menu and choose Send to Encore this opens the screen bellow: (encore-dialog.png image).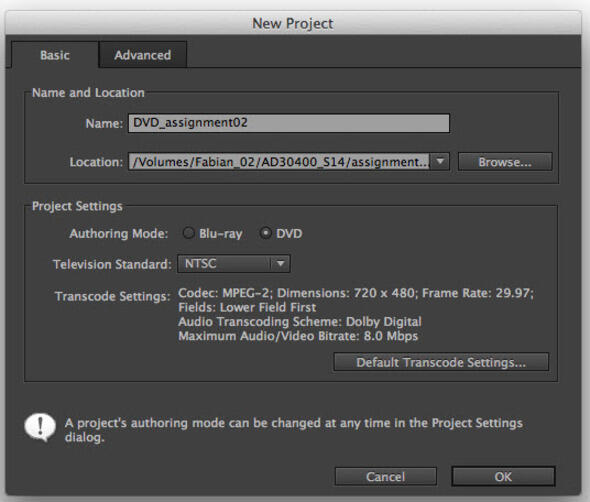 Note: step three can also be carried out by selecting File menu, then Export then Media. Select the required setting from the setting. Once export is done, you can open the project from encore. CSS6 comes with the adobe dynamic link which simplifies the process.
Step 4. On the Basic tab, in the New Project dialog, type a name for the disc into the name input box. You can also change the name of the project from Name input box.
Step 5. Change the location to save the Encore project by clicking on the Browse button and selecting the location where you want the project saved. You can create a folder or select an existing folder where your project will be saved.
Step 6. Select the Authoring mode from the Setting area. Note that this will depend on whether you are authoring a Blue-Ray or DVD. (This mode can be changed from the Project Setting in future if desired).
Step 7. If you want to transcode the media before writing to the DVD, Click on the default transcode setting. Button and Change according to your required needs. The default setting can be maintained if there is no special effect intended. You can also alter other settings from the advanced tab.
Step 8. Click OK button once you are done setting all the desired settings in the encore window.
From the New Encore Project dialog, you need to set the file format you would like to use for the target media (DVD or Blue-ray) and also set location to save the file after you export. Under project setting, select the authoring mode and other desirable features. The following options are available:
For single-layer DVD or Duo-layer, select MPEG2-DVD. This can be done from the setting dialog box.
For single-layer or multiple-layer Blue ray Disc, select either MPEG2 Blue-ray or H.264 Blue-ray.
Note: Select the format is dependent on the available disc space and the type of disc that you intend to use in your project. The two options available are DVD and Blue-ray discs. This should be selected such that it is ideal for the target audience. I would advise using MPEG2 Blue-Ray for video or movie that is below 1 hour 45min. This fits in the available space without wasting or running out of storage space or losing the required clarity of the scene. The above settings can be altered under the settings table on the working space.
Once you complete the above, the window should be as the one below: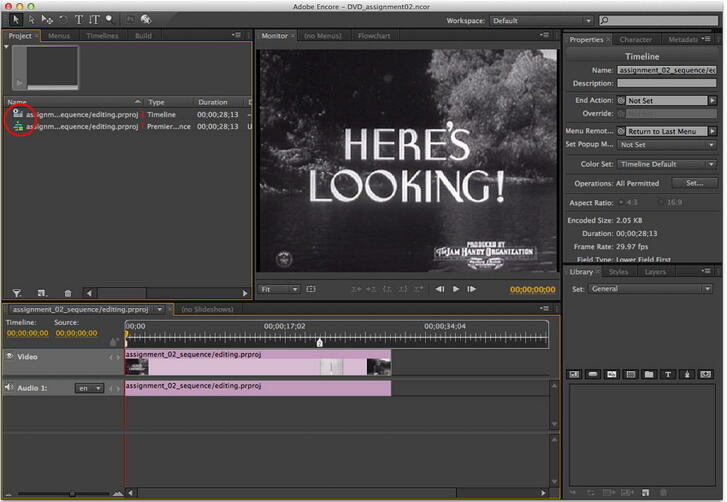 Edit your movie as you wish. Applying effects and altering timeline and video to suite your objective. Also add DVD menu as required for easy navigation through your movie.
You can also rename the time-line container by clicking on the properties tab on the right pane of the editor and making changes as requires. The properties window is as shown on the right.
You can also change other properties such as character (from Character tab) and metadata (from Metadata tab)
Part 2. How to Burn Adobe Premiere to DVD
Step 1. If you created DVD menu, check on the Menu tab on the project window to see that.
Step 2. They are named as desired. Also ensure that the speed is set to acceptable frequency.
Step 3. You can preview the DVD by clicking on the preview button.

Step 4. This will enable you to know and determine whether everything is working as expected and the menu (if available) are in the correct order. The snapshot bellow shows a sample DVD simulation.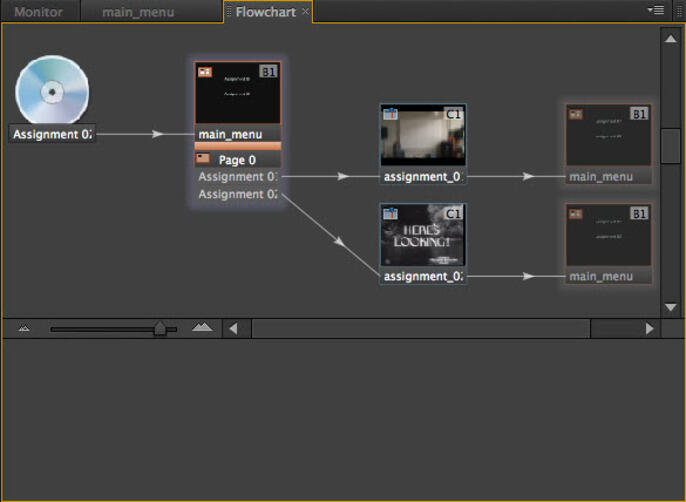 Step 5. Once you preview, you can check the disk for any expected write errors by click on File menu, select Check Project. Once the check is complete, it will give a warning or error which you need to attend to before you continue to the next step.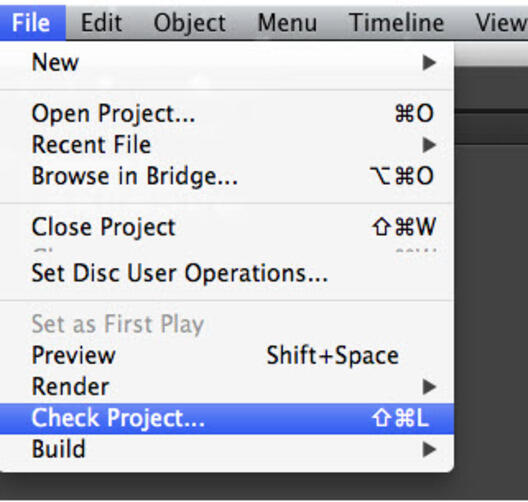 Step 6. Once everything is set and working, you are ready to burn your DVD files. This will be the last step.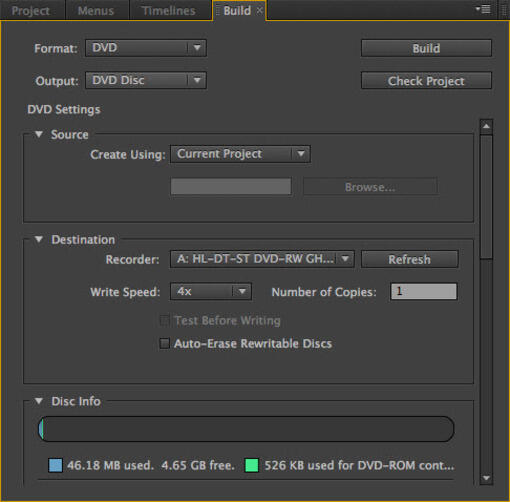 Click on the Build tab on the right pane. (Get the following tab contents). Alternatively you can Click File the select Build. To access the build project options available.
Select/set the required options from the available option.
Once certified with the project, insert DVD/blue-ray disc into the DVD drive.
Click Build button from the right pane.
Once you finish the above procedure, Encore will burn the menus and videos onto DVD/Blu-ray disc. Note that the process may take some time to complete; all you need is to be patient and wait. Of course this will depend on the size of your project and type of media you are recording on.
Part 3. Solve the Unknown Error for Compiling The Movie
It's not straightforward and easy to burn your video files onto a DVD with Adobe Premiere for non-technical guys. Furthermore, there might be times where you were prompted an error message indicating that there is an unknown error for compiling the movie.
If that ever happens, just double-check if there is any red line above your videos in the timeline. If yes, that would mean there is a mismatch between your video and project. Try exporting your video files again and see if it works. For your information, Adobe would be discontinuing the Media Encoder soon and hence, you will need to look out for an alternative. My suggestion is Wondershare UniConverter (originally Wondershare Video Converter Ultimate). Other than giving you the option to burn your video files onto a DVD, you can also edit them however you want it. UniConverter certainly has more unique features bundled together to suit your need.
Wondershare UniConverter - Best Premiere to DVD Converter for Windows 10 / Mac (Catalina Included)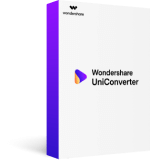 Allows burning videos to DVD folder, ISO files, DVD or Blu-ray disc.
Built-in video editor allows customizing videos before burning with features like cropping, rotating, trimming and others.
Allows setting free DVD menu templates with various themes.
Facilitates adding personalized background image and music for DVD.
Enables real-time preview of all the changes and adjustments.
Works as DVD burning software for Windows 10/8/7/XP/Vista and Mac OS 10.15 (Catalina), 10.14, 10.13, 10.12, 10.11, 10.10, 10.9, 10.8, 10.7, 10.6.
Convert videos to any format in batch with less quality loss.
Download or record videos from YouTube and other 10,000+ video sharing sites.
Transfer converted DVD videos to devices and external hard drives directly.
Versatile toolbox: Add video metadata, GIF maker, cast video to TV, video compressor and screen recorder.
Security Verified.
5,481,347
people have downloaded it.
Step 1 Add files to the Premiere to DVD converter.
Once you have downloaded and installed Wondershare UniConverter, go to the Burn tab, simply drag and drop your videos to the software as it support almost any type of files. If you wish to edit the videos like trimming, cropping, adding subtitles, etc., just click one of the Edit icons beside the video thumbnail. Preview your edits easily and in real-time so that any unsatisfied changes can be reset immediately.
Step 2 Select and customize DVD menu template.
You can now choose your favorite template by clicking the right or left arrow from the provided list, besides, you can click Edit icon to customize the template by adding your own background picture and even music. Just name your DVD after that and select the quality, aspect ratio or etc for it.
Step 3 Burn Adobe Premiere videos to DVD.
Select the target DVD at Burn video to:, select the DVD type and click the Burn button to start burning Premiere to DVD soon.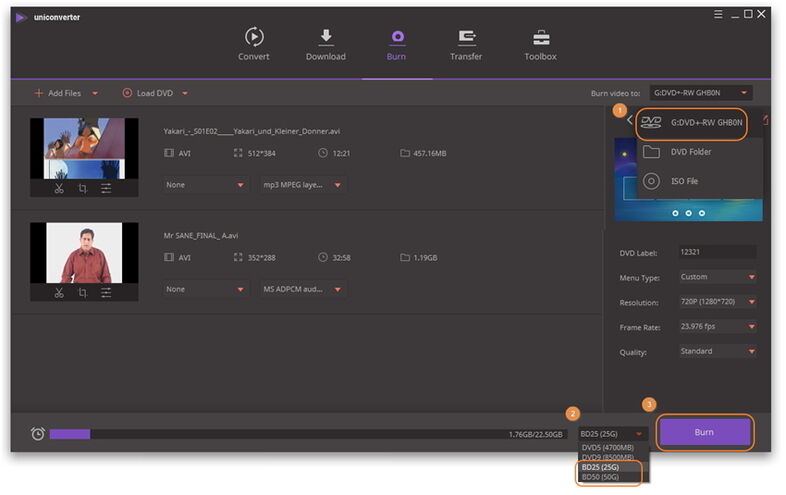 It is much easier to burn videos to DVD with Wondershare UniConverter, right? Don't wait, just try it now.