Social Media
1. Adobe Premiere Tips

+

2. Youtube Tips

+

3. Facebook Tips

+

4. Instagram Tips

+

5. Twitter Tips

+

6. Whatsapp Tips

+
What is the Best YouTube Video Format for Uploading
You would be surprised to know the fact that on the most popular video-sharing platform YouTube, more than 500 hours of video gets uploaded every minute daily by billions of users. After all, it gives users the freedom to upload videos in various formats. Now, unfortunately, the YouTube video format is available in limited numbers. If you try to upload the video file with an unsupported YouTube video format, the chances of getting errors are high. You will lose time and energy without getting the proper result. This piece of content will educate you on the best video format for YouTube besides familiarising you with the different ways to change a YouTube format.
Part 1. What is the Best Video Format for YouTube Uploading
Creating videos and running vlogs has become a passion for youngsters. YouTube has become a significant medium for them to let the world know what they are capable of doing. People upload videos in different types of format that is somewhat dissimilar. Hence, the YouTube video file you want to upload must be compatible with YouTube format. It's common to get an 'invalid file format' error message while uploading an incompatible YouTube video format.
You can learn to deal with this problem by knowing the best format for YouTube. YouTube mainly supports 14 video formats,including.MOV, MPEG4, MP4, AVI, WMV, MPEG-PS, FLV, 3GPP, WebM, DNxHR, ProRes, CineForm, (h265).
Let us get to know about each of these formats:
MOV

– It stands for multimedia container file format the Apple QuickTime multimedia file format designed for windows as well as Macintosh platforms. It employs MPEG-4 codec for compressing the video files.

MPEG4

- Developed by a group formed by Touradj Ebrahimi and Fernando Pereira, it features both audio and video data.

MP4

- MP4 is a multimedia container format standard functioning based on QuickTime File Format (QTFF). This video format has grabbed massive popularity for its simplicity.

AVI

- AVI refers to Audio Video Interleaved, created by one of the world's top companies 'Microsoft.' This YouTube format has the potential to store audio and video in multiple codecs. You can convert MP4 video to AVI free online.

WMV

(Windows Media Video)- WMV works on the ASF container format compressed by using Windows Media Compression.

MPEG PS

– MPEG-PS stands for Moving Picture Expert Group - Program Stream. The purpose of this container format is multiplexing digital audio, video, and more.

FLV

- Flash Video is an open format that comprises a header, interleaved audio, video, and metadata packets

3GP

- 3GP points out to multimedia file defined by the Third Generation Partnership Project especially for 3G UMTS multimedia services

WebM

- This is an open-audio visual media file format.

DNxHR

-Digital Nonlinear Extensible High Resolution empowers the creator to make videos of higher than HD resolutions.

ProRes

- A flexible codec that supports any frame size.

CineForm

- An open-source video codec created by David Taylor, David Newman, and Brian Schunck.

(h265)

- High-efficiency video coding is the successor of Advanced video coding.
Part 2. What is the Best Video File Export Settings for YouTube
Now, YouTube optimizes your video content to deliver impressive streaming performance to the users. So, keep in mind to upload your video after setting up everything appropriately. Also, if you know the best file type for YouTube, that's not enough, as you have to understand some video and audio settings for format YouTube.
File Size
Larger files take longer to upload, but an updated version of a browser will allow you to upload a YouTube video file of over 20 GB. The maximum limit of file size is 128 GB or 12 hours. Keep the video length less to for reducing the file size.
Duration
The default video length of YouTube is 15 minutes. Do not try to upload files of duration more than that. However, users can upload the data for a more extended period by getting their accounts verified.
Deinterlacing
Maximize your video quality by deinterlacing the interlaced videos. Most of the users view YouTube in their smartphones or PCs. Interlaced videos are for televisions, DVD titles, and Blu-ray discs. Thus, it is essential if you want your content to reach a lot of persons. The suggested deinterlacing from 60 interlaced fields per second is 30 progressive frames per second.
Format
YouTube recommends uploading the video file in MP4 format. It is the best video format for YouTube 1080p. By using this format, you can maintain good video quality.
Audio
The perfect audio channels ideal for your video is Stereo or Stereo + 5.1and the sample rate should be between 96 kHz or 48 kHz. Also, the audio must be of MP3 or AAC format.
Codec
According to YouTube, the suitable video codec for your video is . It compresses the video before exporting.
Resolution
Give a fantastic video streaming experience to your viewers by using the resolution of 1280 x 720 (16x9 HD) and 640 x 480 (4:3 SD). YouTube hasn't fixed any minimum resolution, so you are free to choose the video of any resolution. Videos having a larger resolution improves video quality. 
Aspect Ratio
Utilize the standard aspect ratio, which is 4:3 or 16:9. Avoid the use of horizontal black bars. The player manages the aspect ratio to the video size.
Frame Rate
The frame rate of the uploaded video must be the same as the recorded one. There is no need for resampling. 
Bitrate
Bitrate and codec are associated with each other, and there is no minimum value for this. Creators uploading a 4K MP4 video at the standard frame rate of (24, 25, 30) will have to keep the bitrate of 35-45 Mbps and 53-68 Mbps when the frame rate is higher. It is only for SDR uploads. The following table sourced from the official Google YouTube guidelines will tell you more.
HDR uploads
Type

Video Bitrate, Standard Frame Rate
(24, 25, 30)

Video Bitrate, High Frame Rate
(48, 50, 60)

2160p (4k)

44-56 Mbps

66-85 Mbps

1440p (2k)

20 Mbps

30 Mbps

1080p

10 Mbps

15 Mbps

720p

6.5 Mbps

9.5 Mbps

480p

Not supported

Not supported

360p

Not supported

Not supported
SDR Uploads
Type

Video Bitrate, Standard Frame Rate
(24, 25, 30)

Video Bitrate, High Frame Rate
(48, 50, 60)

2160p (4k)

35-45 Mbps

53-68 Mbps

1440p (2k)

16 Mbps

24 Mbps

1080p

8 Mbps

12 Mbps

720p

5 Mbps

7.5 Mbps

480p

2.5 Mbps

4 Mbps

360p

1 Mbps

1.5 Mbps
Part 3. Best Video Converter to Convert File Formats for YouTube
Among the plethora of tools and software available online, Wondershare UniConverter is by far the best tool for the video makers. Initially, it was Wondershare Video Converter Ultimate. So, if your eyes were seeking a remarkable means to convert video to YouTube format; your search will lead to this software. The UniConverter from Wondershare is available for Windows and Mac OS systems and is undeniably a great and versatile application, especially for YouTube lovers. The tool provides an efficient way to convert video to YouTube format and is full of features that are useful for YouTube artists.
Wondershare UniConverter - Convert Videos to YouTube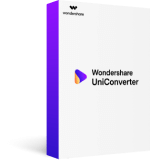 Convert video files to YouTube compatible formats and upload them to YouTube by one-click.
Support 1000+ video formats including MP4, MTS, MOV, WMV, FLV, AVI, MKV, MPEG, etc.
Convert video files to optimized preset for almost all devices, like iPhone, iPad, Huawei phone, etc.
90X faster conversion speed than common converters with unique APEXTRANS technology.
Edit videos with trimming, merging, adding watermark, editing subtitles, etc.
Download or record videos from YouTube and other 10,000+ video sharing sites.
Transfer videos from computer to iPhone, iPad and other devices directly and vice versa.
Versatile toolbox: Add video metadata, GIF maker, video compressor and screen recorder.
Supported OS: Windows 10/8/7/XP/Vista, macOS 11 Big Sur, 10.15 (Catalina), 10.14, 10.13, 10.12, 10.11, 10.10, 10.9, 10.8, 10.7, 10.6.
Security Verified.
8,164,609
people have downloaded it.
Step 1

Download the Application and Import the Video.

First of all, install the Wondershare UniConverter in your device and run it. It's the only tool that you need for the conversion of one format to another. Import the video file you want to convert to the best format for YouTube. Transform it into one of the compatible formats. Choose the
directly by clicking on the Add or drag here to start conversion. You can add multiple files too. 
Step 2

Change the File Format of the Video.

In this step, you need to convert incompatible YouTube format to a compatible one. Change the best file type for YouTube by moving cursor below the file name in the target box where there is a file extension. As the new pane will open, select the YouTube video file format. At last, click on the Start All.
Step 3

Share the Video on Youtube.

Go to the Finished video option if you want to upload the video to YouTube. It's the time to share your converted video to YouTube by clicking on the share icon, as displayed in the screenshot.
Conclusion
So, always ensure you are uploading video content in the YouTube supported video formats only for best results. Make productive use of YouTube for showcasing your talents and creativity. Lastly, choose Wondershare UniConverter to convert your work to the best file type for YouTube; so that the viewers can enjoy a seamless watching experience.
* Some of the above codec formats may need to be supported by system.