iPhone Tips
1. Transfer Tips

+

2. Edit Photos on iPhone

+

3. Edit Videos on iPhone

+

4. Convert Video to iPhone

+

5. Other Tips

+
12 Best Youtube Video Downloader App for iPhone
Nowadays, people watch videos not only at their desks staring at the PC but also on the go. If you are planning to travel a long distance and need to download videos to enjoy your journey, then you must learn about some of the best and most free YouTube downloaders or video downloaders. But unlike Android, iOS does not have a downloader built-in, thus making things complicated. iPhone has highly advanced security systems, which also prevent you from downloading music or video from any third-party sites or channels that video lovers can take as a disadvantage. Today, we are here with this article to introduce you to the top 12 YouTube video downloader apps for iPhone.
Part 1. Which Program is Best for YouTube Video Download for iPhone
When talking about the best YouTube video downloader for iOS platforms, the first app, whose name strikes us, is Wondershare UniConverter (originally Wondershare Video Converter Ultimate). Wondershare Technology is a global leader in application software development.
Wondershare UniConverter is committed to providing you with simple ways to download your desired videos and watch them offline. It also encourages you to work on more than a thousand formats of videos at a super speed than any other conventional editor. What makes this app more elegant is its wide array of features that enables its users to format the videos without threatening the video quality. You can easily download video playlists from various channels such as YouTube, Lynda, Vimeo, Dailymotion, Udemy, and others without a single trouble. Wondershare UniConverter makes the online files available for offline playback and other purposes for the users with just a few necessary steps.
Wondershare UniConverter - Your Complete Video Toolbox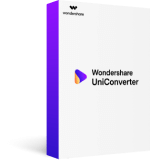 Supports downloading videos from over 10,000 sites, including YouTube, Dailymotion, Vimeo, and others
Allows downloading 4K/HD videos in excellent quality
Allows downloading YouTube playlist in One Go
YouTube to MP3 conversion in a single click
Lossless quality video download at a super-fast speed
YouTube downloaded videos can be converted to over 1000+ formats, like AVI, MKV, MOV, MP4, etc.
It supports transferring videos from a computer to an iPhone, iPad, and other devices directly and vice versa.
Security Verified,
5,942,222
people have downloaded it.
Part 2. How to Download Youtube Video with Simple Steps
As mentioned earlier, downloading videos from any channel using Wondershare UniConverter is genuinely comfortable and swift because of the simple steps that this app provides to its users. With the high-speed downloading technology of this tool, you can directly convert YouTube to M4V, which the iPhone supports.
Here is a step-by-step guide that will help you understand how to use Wondershare UniConverter for downloading YouTube videos, and that too in a simple way. This all-in-one video toolbox allows you to download a single video, an entire playlist, and the audio part only as an MP3 file. Though you cannot directly download the YouTube video on iPhone devices, you can download it on your PC (both Windows and Mac) and then transfer it to your smart device. You also can add an M4V video in iTunes to transfer it to the iPhone.
Step 1

Find the Download tab and get the video link.

Open Wondershare UniConverter software on your PC and go to the Downloader tab from the Home screen.
Now, on YouTube, search for your desired video. Copy the video link after opening it. To download an entire video playlist, search for it, and copy the link.
Step 2

Download the videos.

Press the
button on UniConverter. Click on the Playlist if you want to download one.
If you are downloading a single video, a dialogue box will pop up on your screen, asking for your preferences, as shown below.
A dialogue box asking for confirmation for all the videos will pop up if you download a playlist. Select/deselect accordingly; if needed, you can also change the quality of the videos. Then click Download.
Now, you can check the real-time downloading status of the videos. You can also Resume or Pause the videos, along with turning on High-Speed Download, as needed.
Once over, you can find the downloaded videos under the Finished tab.
If you want to check all your playlist videos, click on the Folder icon beside the playlist bar to open your file's location.
Step 3

Add the videos to transfer.
Step 4

Connect your iOS device and transfer the videos.

Go to the Tools > Transfer tab and connect your iOS device to your PC to install the driver.
To access your device on the tool, enter the password.
To proceed to transfer the video, click on Trust on your iOS device.
As you had added the videos to Transfer in Step 4, the below-like interface will display under the tab. Click on the Transfer button beside each video or Transfer All. You can check the transfer status.
The transferred videos will automatically get saved on your iOS device under Videos. If the files are audio, then they will be saved under Music.
NOTE: In the case of U.S. users, the files will save under the TV app.
Part 3. 5 Best Video Downloader App for iPhone Recommended
In this part, we will present you with five top video downloaders for iPhone to download your favorite videos or movies.
Cloud

Video Player
Link: https://apps.apple.com/il/app/cloud-video-player-play-videos-from-cloud/id937620952
This app encourages you to download videos from any website and that too, in simple steps. It also supports different video formats, and one of its added benefits is that you can play the downloaded videos on other Apple devices because of the cloud facility. You can also set a passcode and change your videos' formats, depending on your requirements.
iDownloader
Link: https://apps.apple.com/us/app/idownloader-fast-and-elegant-file-downloader/id1220730126?mt=12
Unlike other downloading apps, iDownloader is not an ordinary video downloader app, but it also consists of an exciting feature. It lets you download essential documents and audio files on your iPhone as well. It allows you to download more than 50 videos at a time.
Best Video Downloader
Link: https://itunes.apple.com/app/id560358913
The name proves it all. This app gives a real-time background download feature along with a playback option. The app also gifts you a cool feature named sleep mode, used to stop the video once the timer is over.
Downloader Pro
Link: https://apps.apple.com/us/app/downloader-pro-multitab-browser-downloader/id1237716421
This application has a multi-tab browsing facility that lets you easily download videos. And It is compatible with all YouTube-like sites. Thus, it is the best YouTube video downloader app for iPhone.
Video Saver PRO+ Cloud Drive
Link: https://apps.apple.com/us/app/video-saver-pro-cloud-drive/id1297144302
This top video downloader for iPhone is a powerful media toolbox where you can not only download videos to enjoy them offline, but you can manage them in several ways with its advanced features. You can download as many videos as you want simultaneously.
Part 4. 6 Best Free YouTube Video Downloader App for iPhone
Now, if you are searching for free video downloaders for iPhone X and other iOS devices, too, here is the list.
Documents by Readdle
Link: https://apps.apple.com/us/app/documents-by-readdle/id364901807
This app is one of the most advanced free YouTube video downloaders for iPhone. Well, to be precise, this application downloads videos plus any type of content available on the Internet. Its quick and user-friendly interface has made the app a top choice for iOS users.
DownloadMate
Link: https://apps.apple.com/us/app/downloadmate-music-video-file-downloader-manager/id794829634
This application is indeed the perfect mate for you to download online videos. You can check the downloading progress and can even set the saving path according to your requirement. It deals not only with videos but with documents and images.
QWE
Link: https://apps.apple.com/us/app/qwe/id935520103
This application has made a remarkable move in the tech industry with the cloud support facility. Its unique feature of managing files has made the app go a long way with the users. It is also amazingly safe to use because of its passcode protection.
Video Manager - Offline Play
Link: https://apps.apple.com/us/app/video-manager-offline-play/id1349078968
It works just like a manager for your offline videos while supporting various formats. You can work on multiple videos simultaneously with this top video downloader for iPhone. It is also built-in with a player that lets you check the videos instantly after the download.
YTD Video Player
Link: https://apps.apple.com/us/app/ytd-video-player/id632616854
Well, though it is a famous YouTube downloader and deals with many other video platforms as well. This application works on its integrated browser making your tasks easier than ever before. It has been amongst the favorites list of users.
VidMate
Link: https://apps.apple.com/us/app/vidmate/id1249198808
This application lets you have more than one account and switch between them when needed. Access to the cloud allows you to enjoy offline videos on any device. It is not only powerful but also easy to use.
Conclusion
As an iOS user, you must have always been too tired of all those restrictions that barred you from downloading online videos. Thus this article has aimed to diminish your worries by bringing you the best YouTube video downloader apps for iPhone. They are all safe to use and amazingly efficient. However, unlike Wondershare UniConverter, they are not an all-in-one video toolbox allowing you to do all the creativity with your videos. But all of them have their own potential too. So, download as many videos as possible and stream them offline anywhere you want.