Convert MP4 to Other Format
1. Convert MP4 on Windows

+

2. Convert MP4 to Other on Windows

+

3. Convert MP4 to Other on Mac

+

4. Convert MP4 to Other Online

+
We all are well aware that YouTube is one of the most eminent video sharing websites where you may find almost anything and everything in a video format. It is equally beneficial for people from all walks of life. So if you are a professional, you may find any of the professional guides from the recorded interviews by the successful people of the relevant field, video tutorials, presentations on different projects and much more. Similarly, if you are a student you may find an endless collection of the educational aids over the YouTube. On the other hand, if you are a house lady and you want to run a home-based business like opening a beauty salon, hair salon, cookies baking or gardening etc, you will find countless helpful videos that will help you out to make your dreams come true. In short, YouTube has a lot of benefits and it has a greater collection of videos.
You can freely stream, watch, upload the videos. But sometimes, you must have noticed that while you try for uploading a YouTube video, you come across a variety of troubles that end in a restricted or unsuccessful file uploading. Yes, that truly is embarrassing and when after a number of trials you finally get no fruitful results, it gets highly irritating as well. Hence, if you have ever faced such problem or you are currently looking for some true solution for this agenda that you can't upload MP4 to YouTube, then you are on the right track because this piece of writing has got some really effective solution to address your problem.
Part 1. Why Can't I Upload MP4 to YouTube Video
You will find a considerable number of people who say, "Why can't I upload MP4 to YouTube video?" What people often find while trying to upload a video on YouTube includes:
Unnecessary delay in uploading file.
After a long time of the initial trial for uploading file, a line appears on the screen saying, "Unsuccessful uploads", "Request Timed-out", "Error" and some others.
Sometimes you find a statement which appears on the screen and says, "File format not recognized".
Reasons for such setbacks are well elaborated in the following passage. However, before we move towards them, make it certain that you have got an efficiently working internet connection because without that you cannot even dream about uploading any of the file like MP4 to YouTube.
Reason 1: MP4 Codec is not Supported by YouTube
Out of all the reasons for an unsuccessful uploading of MP4 to YouTube, one is the codec of the file. Mostly the YouTube accepts MP4 files but that requires a certain codec for the file. So, if you are trying to upload a file to the said website (YouTube) and it is in MP4 format but the codec for the video or audio is not suitable for the accepted one then it will cause such troubles of unsuccessful or no uploading, at all.
Solution: Using Wondershare UniConverter (originally Wondershare Video Converter Ultimate)
Change the file format to the YouTube supported format. Many of the online and downloadable file converters are available to do this task effectively for you. One of the reliable file converters of the time is "Wondersahare UniConverter (originally Wondershare Video Converter Ultimate)". It supports more than 150 File formats and YouTube format is one of these 150 or more file formats.
Reason 2: The MP4 file is too big.
Size of the video also affects the file uploading. Bigger is size, longer will be the time period for uploading and if during this uploading process, internet connection is lost then automatically the file uploading will get interrupted or stopped.
Solution: Wondershare UniConverter (originally Wondershare Video Converter Ultimate) is not only a converter that changes the file formats but it also is a complete package that will be a genuine help for you to cut the size of the video that you are trying to upload on YouTube or any other site and if you do not want to cut it then you are also offered with a choice of compressing the video.
Reason 3: The MP4 file is broken.
If MP4 video file is not intact and it is broken somehow then definitely YouTube will refuse to upload it. There are a lot of reasons that result in a broken MP4 video some of the reasons include; bad file header, inappropriate storage media, and many others.
Solution: Wondershare UniConverter (originally Wondershare Video Converter Ultimate) has the capability of repairing some broken files. So, if you have such a file then import it to Wondershare UniConverter (originally Wondershare Video Converter Ultimate), and you can try to regenerate the file to recode it improve the video quality. Now, you have an intact video and now you can easily upload this MP4 to YouTube.
Part 2. How to Convert MP4 to YouTube Format
As it has been described in the above mentioned text that if you are facing any of the difficulty in uploading some MP4 to YouTube then there may be several reasons behind this trouble but the single and well rusted solution to all is "Wondershare UniConverter (originally Wondershare Video Converter Ultimate)". So, if you want to convert the MP4 file to a YouTube format and you are not pretty sure about how to do this then here is a complete guide for you, in a few simple steps to be followed.
Your Complete Video Toolbox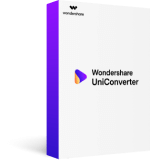 Convert video to over 1000 formats like AVI, MKV, MOV, MP4, etc.
Convert video to compatible formats for social networks like YouTube.
Convert video to optimized preset for almost all of the devices.
30X faster conversion speed than other common converters.
Edit, enhance & personalize your videos by trimming, croping videos, add subtitles and watermark etc.
Burn video to playable DVD with attractive free DVD template.
Download or record videos from YouTube and other 10,000+ video sharing sites.
Versatile toolbox includes GIF maker, casting video to TV, VR converter and screen recorder.
Supported OS: Windows 10/8/7/XP/Vista, Mac OS 10.15 (Catalina), 10.14, 10.13, 10.12, 10.11, 10.10, 10.9, 10.8, 10.7, 10.6
Security Verified,
5,481,347
people have downloaded it.
Watch Video Tutorial to Convert MP4 to YouTube-Compatible Format
Steps on how to convert MP4 to YouTube compatible format:
Step 1 Download and install Wondershare UniConverter (originally Wondershare Video Converter Ultimate).
First of all you need to download this converter and install it on your device. This converter is available free of cost for trial version on Internet, it is quite easy to install and you will get done with successful installation in a few clicks.
Step 2 Import MP4 to this MP4 to YouTube converter.
The second step of this process is to import the MP4 to Wondershare UniConverter (originally Wondershare Video Converter Ultimate). It is again a much simple task. You can simply drag the file to the converter interface or you may click

and select the file from the folder and click Open.
Step 3 Choose YouTube as the output format.
Once you have imported the file to the said converter, the next step is to start conversion. Before you actually go for the video conversion, select the resulting file format that will be a YouTube format, of course.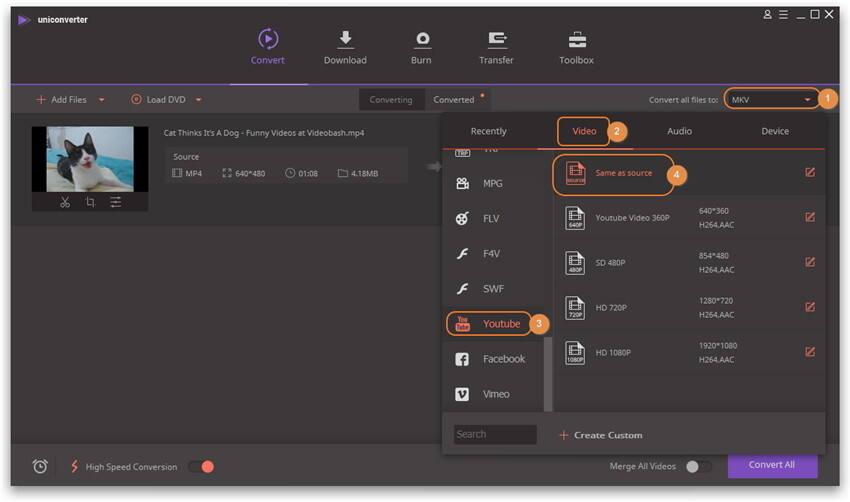 Step 4 Convert MP4 to YouTube format and upload it to YouTube Website.
Once you are done with all the above mentioned steps, click Convert All to start the conversion.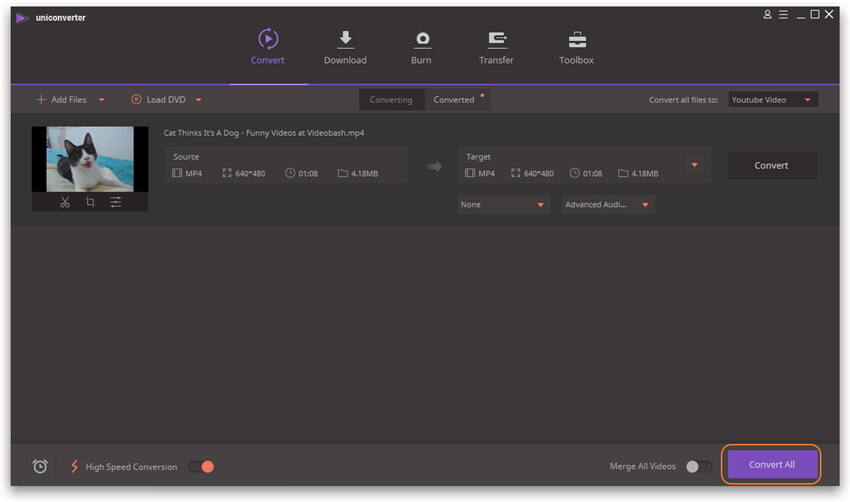 After a while, you can find the converted video by clicking the Open File Location icon in the Converted tab and upload the video to the YouTube website easily.
Part 3. If Video Is too Long, Cut MP4 Video
One of the reasons for an interrupted or a failed file uploading on YouTube is the size of that video. Solution is to cut the unwanted or unnecessary parts of the video to reduce the size for a successful uploading.
There are a lot of video cutting tools but Wondershare UniConverter (originally Wondershare Video Converter Ultimate) is well known for its best, quick and admirable results. The whole process is well elaborated as below.
After you have downloaded and installed Wondershare UniConverter (originally Wondershare Video Converter Ultimate) on your computer and add the target MP4 video.
Step 1 Add MP4 files to the converter.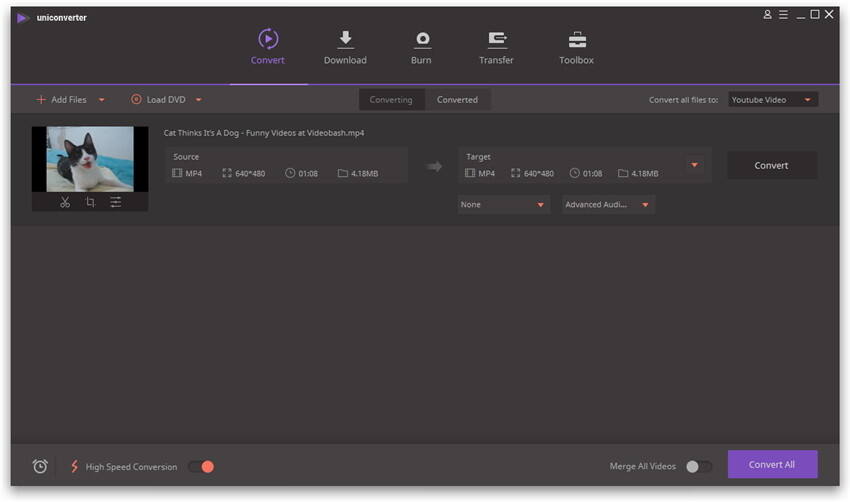 Step 2 Cut MP4 to a new MP4 video, which won't change the original video quality.
As, here, the basic motive of using the Wondershare UniConverter (originally Wondershare Video Converter Ultimate) is to cut the video, select the Trim icon to enter the trimming window. Select the segment you want to cut by clicking the Cut button, and then click Delete button > check the option Merge into one file > click Save to get the final video. Learn more detailed trimming knowledge from here.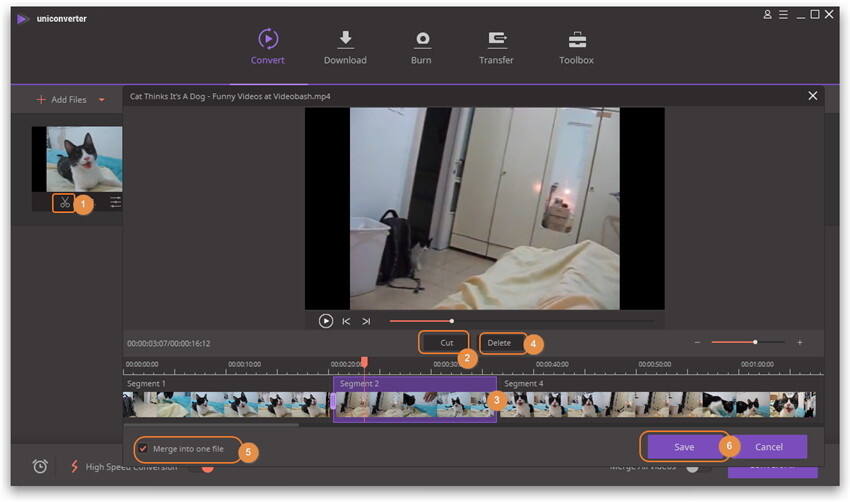 Step 3 Export cutted MP4 video to YouTube format.
Now the next step is to export the file to the YouTube format. It is quite simple that you choose the file format from the Output Format window and click Convert All on the Converting interface, File format will be changed to the YouTube supported configuration. And you can find the converted files in the Converted tab.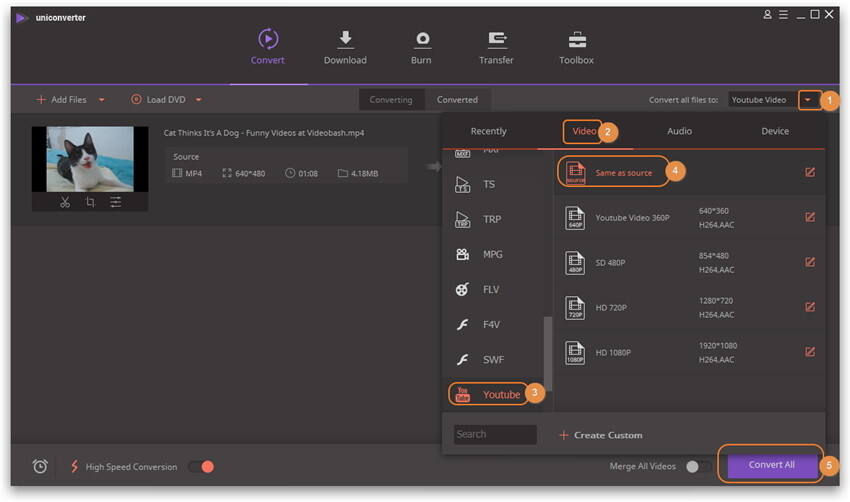 Step 5 Upload MP4 to YouTube website.
The final step is to upload MP4 to YouTube, you can sign in the YouTube with your acount and password, and then upload the converted MP4 to YouTube.
Video Tutorial: Wondershare UniConverter (originally Wondershare Video Converter Ultimate) - Trim MP4 Video
Part 4. Helpful Tips for You to Upload MP4 to YouTube
Tip No.1 Log in with Your Google Account
YouTube won't allow you to upload MP4 to YouTube unless you're logged in. If you have a Google account already, then you can sign in directly to YouTube by using your Google Account. Once you have logged in to YouTube you can easily upload MP4 to YouTube without any issue.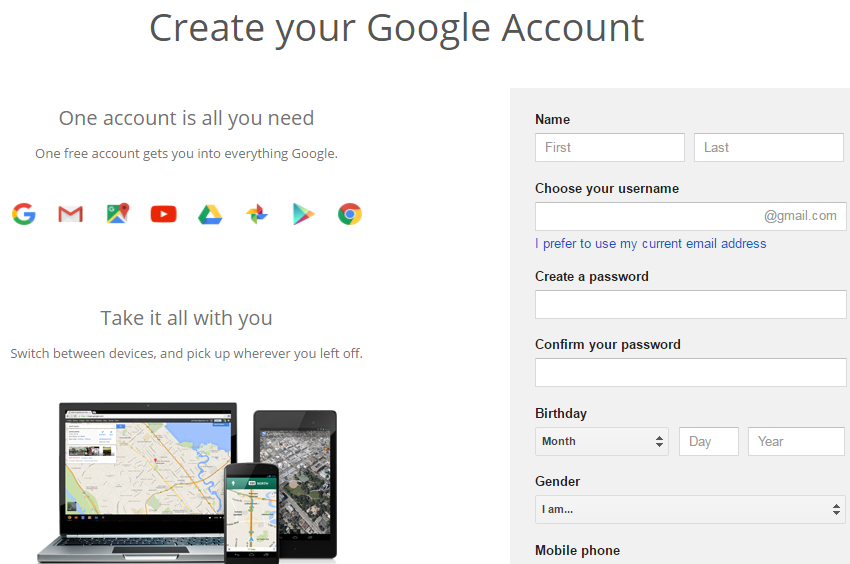 Tip No.2 What If I Want to Upload Long Video to YouTube
YouTube allows users to upload 15-minute videos by default. So if you want to upload a long video, you'll need to visit https://www.youtube.com/verify to extend the time duration.
Tip No.3 Can I Upload a Large Video to YouTube
YouTube allows you to upload a 2GB video to YouTube directly if you are using a standard account. If you want to extend the size of the video, you can also visit the page mentioned above to maximize the video size to 128GB.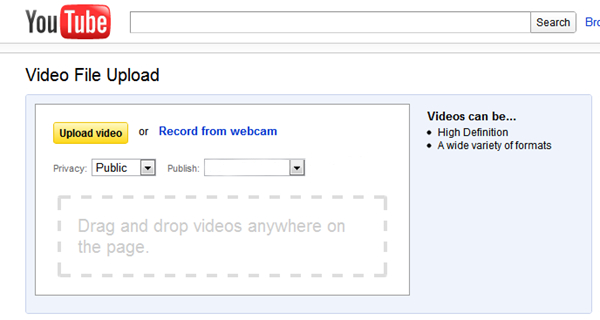 Tip No.4 Good Internet Connection Counts
Good Internet connection ensures that you can upload the video to YouTube smoothly. In case that you are using a not-so-good Internet, you may want to convert your video to an average video size for uploading to YouTube.