Convert MP4 to Other Format
1. Convert MP4 on Windows

+

2. Convert MP4 to Other on Windows

+

3. Convert MP4 to Other on Mac

+

4. Convert MP4 to Other Online

+
4 Best MP4 to WMV Converters to Convert MP4 to WMV Easily
How do you convert an MP4 file into a WMV file? --- A question from Quora
WMV is a Windows Media Video format. If you can't play MP4 on PC or mobile phones, you can convert MP4 files to WMV files for the compatibility with WMV-based tools and convenient video editing. This article will recommend online, free, and professional MP4 to WMV converters with the best output video quality and fastest conversion speed.
Part 1. Best MP4 to WMV converter for Windows/Mac (Mojave Included)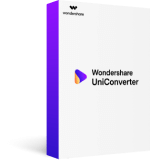 Convert MP4 to WMV, MKV, AVI, MOV, and more without quality loss.
Burn MP4 to DVD disk to play with your DVD player at 30X fastest speed.
Optimized conversion presets for iDVD, iMovie, Final.
Edit videos with the advanced video editing functions like trimming, cropping, adding watermark, subtitles etc.
Download videos from YouTube and other 10,000+ video sharing sites.
Supported OS: Windows NT4/2000/2003/XP/Vista/7/8, and Windows 10 (32 bit & 64 bit), Mac OS X 10.14 (Mojave), 10.13, 10.12, 10.11, 10.10, 10.9, 10.8, 10.7, 10.6.
Security Verified.
5,481,347
people have downloaded it.
Watch Video Tutorial to Convert MP4 to WMV on Windows 10:
Steps on How to Convert MP4 to WMV with Best MP4 to WMV converter:
Here introduces you how to convert MP4 files to WMV files in Windows (Windows 10 included) step by step. If you want to know how to convert MP4 to WMV for Mac (Mojave included), please follow the similar steps too.
Step 1

Import videos to the MP4 to WMV converter.

Run this converter, click Add Files and add the MP4 videos you want to convert, or directly drag & drop them into the program. This MP4 video to WMV Video Converter can convert videos in batch without quality loss between MP4, WMV, VOB, MKV, 3GP, FLV, etc.
Step 2

Set the output formats WMV.

Click the format icon and select WMV as the output format. And also, you can do some other settings, like video encoder, resolution etc. To do these, just click the Create Custom button.

Note: 1. If you want to customize your video, please click edit options at the bottom of the videos. And then you can customize the video with the powerful editing functions. 2. If you are converting MP4 for devices like BlackBerry, Zune etc., it is suggested that you selected the right optimizations for that from the Device list. Of course, you can set the output profile in Preferences window by yourself.)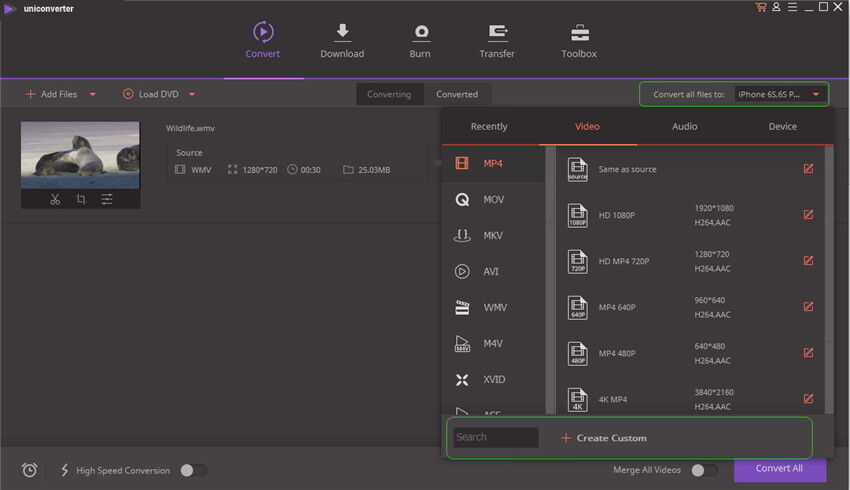 Step 3

Start to batch convert MP4 to WMV.

Click Convert by single conversion or Convert All for batch conversion. The conversions will be completed automatically. You can find the converted videos by clicking Converted tab.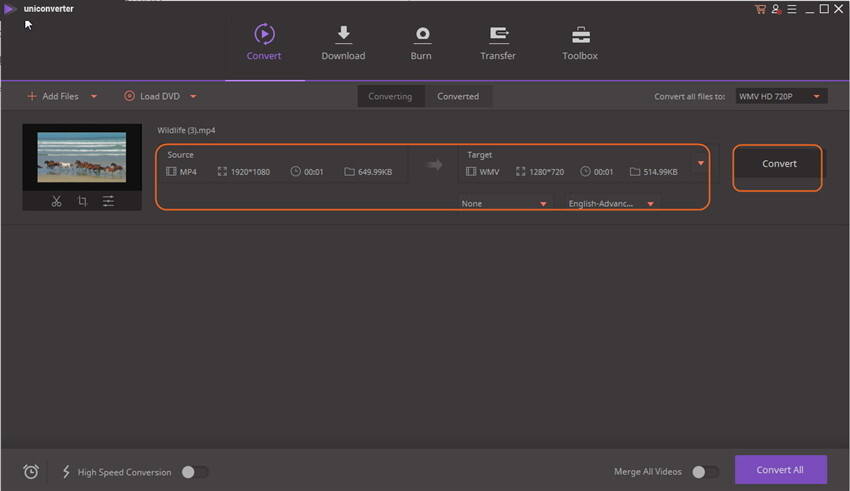 This MP4 to WMV Video Converter (Windows 10 supported) can convert videos without quality loss between MP4, WMV, VOB, MKV, 3GP, FLV, etc. If you want to convert MP4 to other formats, the steps are the same as above.
Part 2. How Can I Convert MP4 to WMV Free
Considering the budget conscious users in mind, Wondershare also offers MP4 to WMV converter free called Wondershare Video Converter Free that allows to convert MP4 to WMV free and other formats. This free MP4 to WMV converter no watermark works with Windows as well as Mac system and allows converting videos to an array of iOS devices compatible formats. The APEXTRANS technology of the program renders super fast conversion speed. Additional specifications include video download from YouTube, editing features like cropping, trimming and others.
The software allows MP4 to WMV Mac conversion as well MP4 to WMV Windows 10 and other OS conversions.
Steps to convert MP4 to WMV using Wondershare Video Converter Free:
Step 1 Open Video Converter Free and add MP4 video.
Launch Free Video Converter software on your PC/Mac. To add MP4 file(s) to software interface, click Add Files under the Convert tab and browse for the file on PC. Alternatively, you can also drag and drop the desired files.
Step 2 Select WMV as output format.
Click drop-down menu beside the Convert all files to: option, then select WMV as the output format from the Video tab.
Step 3 Free convert MP4 to WMV.
Select the location on PC where you want to save the converted WMV file at the Output Folder icon. Click Convert All to start the process of converting the MP4 file(s) to WMV format.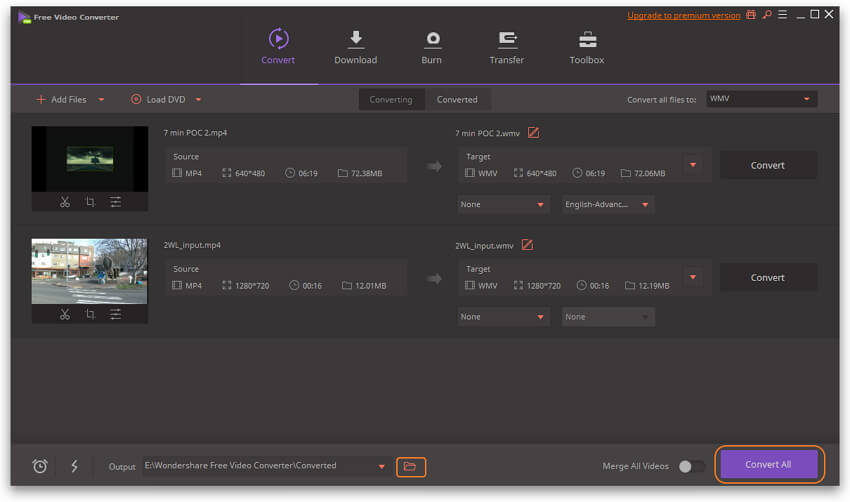 Limitations of using Wondershare Free Video Converter:
Convert videos with limits as compared to other professional paid software.
Need download and installation.
Video download is limited only through YouTube.
Limited additional features.
Part 3. How to Convert MP4 to WMV Online Free Over 100MB
Majority of the online MP4 to WMV video converters have a limitation to the maximum file size that can be uploaded to the program for conversion. So if you have MP4 videos over 100 MB and want to convert it using an online program, Media.io is the best solution. This free online tool allows adding MP4 files above 100 MB and converts it to WMV as well as other audio and video formats. The process is fast and simple. Maximum up to 2 files at a time can be added to the program for conversion. Media.io is compatible with working with Windows and Mac system.
Steps to convert MP4 to WMV online free over 100MB:
Step 1: Open Media.io on your PC browser. Click +Add your files to browse and load MP4 file from your system.
Step 2: At "Convert to:" tab choose WMV from the Video list as desired output format.
Step 3: Click Convert to start the MP4 to WMV online free conversion.
Once converted, the WMV file can be uploaded from the program interface.
Part 4. How to Convert MP4 to WMV Free with VLC
If you do not want to install any third party software on your PC or use an online tool, VLC proves to be a good MP4 to WMV converter freeware. VLC Media Player is an open source, cross-platform player that is free and flexible to use. In addition to playing videos in an array of formats, the player also supports file conversion to popular formats.
Steps to convert MP4 to WMV using VLC Media Player:
Step 1: Open VLC Media player on your PC/Mac. From the main interface, open drop-down menu at Media tab and choose the Convert/Save option.
Step 2: A new Open Media pop-up window will open. From the File tab, click Add to browse and add MP4 videos from your PC. Click the Convert/Save button at the bottom-right corner.
Step 3: A new Convert window will open. Under Settings, choose WMV as output format from the Profile drop-down menu. Under Destination, choose the location on PC where you want to save the converted file and the file name.
Step 4: Finally, click Start to proceed with the process of converting MP4 to WMV.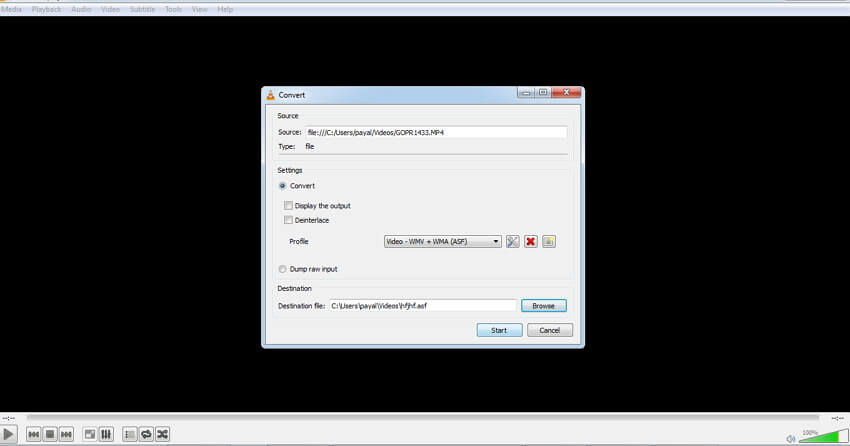 Part 5. FAQs on MP4 to WMV Conversion
1. Can Windows Media Player convert MP4 to WMV?
A lot of people search for the solution on how to convert MP4 to WMV with Windows Media Player? Windows Media Player by Microsoft works as a great media player with support to an array of format, but it does not support file conversion from MP4 to WMV but MP4 to MP3 and other audio file formats. Thus, if you want to convert MP4 to WMV Windows Media Player, the solution is not workable. You can use VLC media player though, install any third party software, or use an online converter.
2. Can Windows Movie Maker convert MP4 to WMV?
Looking for a solution on how to convert MP4 to WMV with Windows Movie Maker? You will be disappointed as the solution is not workable. Developed by Microsoft, Windows Movies Maker is a video editing program which is a part of Windows Essentials software suite. Officially, Movie Maker is discontinued and is now replaced by Windows Story Remix. Even if you have the earlier Movie Maker software installed on your PC, MP4 to WMV conversion will not work as the tool does not support MP4 as an input format. So to convert your MP4 videos to WMV, use an online converter or go for professional software like Wondershare Video Converter Ultimate.
3. MP4 Vs WMV
MP4, which is the short form of MPEG-4 Part 14, is a container file format that is mainly used for storing videos and audio in a compressed manner. The format also stores additional information like images, subtitles, and others. It is one of the most popularly used formats that can play on the majority of the players and devices. Being compressed file, MP4 can be easily transferred as well as shared over the net.
WMV, on the other hand, is a short form of Windows Media Video and is a compressed file format developed by Microsoft. The format is commonly played on Windows-based devices and is small in size as compared to MP4.
4. Why convert MP4 to WMV?
We all know that MP4 is one of the most commonly used formats that is compatible with almost all media player and devices. MP4 is basically a lossy compressed file that has decent acceptable quality. In case if your MP4 format is not playing well on Windows-based devices, converting it to WMV is the best solution. Moreover converting MP4 to WMV makes it easy to edit the videos on Windows-based PC and other devices.
5. How to choose a proper MP4 to WMV converter?
There are different types of MP4 to WMV converters. Depending on the number of files for conversion, price, additional features and other requirements, you can select the most appropriate method as listed below:
Professional paid software: These paid programs are complete tools that take care of all your file conversion needs along with additional features. These programs need installation and are paid. These programs are best suited for users who have a large number of files to be converted from time to time.
Free MP4 to WMV converters for desktop: There are a decent number of software and programs that can be downloaded and installed for free and provide basic conversion facility. These programs are a good choice for the users who have a limited number of files and do not want to spend on paid software.
MP4 to WMV online free tools: Majority of the online programs are available for free of cost and does not require any software download or installation. These are simple to use tools without any additional features of functions. If you have only a few small files to convert, and take time to convert files, then you can use online converters.
Majority of the above methods allow to convert MP4 to WMV Mac as well as on Windows.
6. What're Pros and Cons of MP4 and WMV file format?
There are various pros and cons associated with MP4 and WMV file formats.
Pros of MP4:
Decent video quality.
Small compressed file.
Compatible of playing with almost all players and devices.
Allows quick sharing of videos online.
Cons of MP4 file format:
Editing MP4 videos needs more system resources.
Pros of WMV file format:
Smaller than MP4 in size and thus easy and quick for online sharing and transferring.
Plays well with Windows-based PC and other devices.
Cons of WMV file format:
Need plug-ins for playing on Mac system.
Quality of video is not as good as MP4 format.
7. What offers better quality, MP4 or WMV?
It is really difficult to decide as to which offer better quality- MP4 or WMV. Both MP4 and WMV are container file formats that have video, audio, and other data which are encoded in a different manner. It's not only the way of encoding but a set of other parameters as well like the bitrate that decide upon the video quality. Keeping the bitrate same, MP4 will have a slight edge as compared to WMV in terms of quality. Here it can be concluded that it's not the quality that differentiates these two formats, it's the platform with which they are compatible. WMV has standards designed for Windows devices while MP4 has cross-platform standards. Additionally, MP4 being more popular has better support for hardware encoders and decoders.