CD Burner
1. Burn Different Formats to CD

+

2. Other CD Burners

+

3. Other Tips& Tricks

+
12 Excellent CD Burner for Windows 10 Recommended
The present digital era has provided multiple alternatives for backing up data. You can simply opt to sync them to cloud storage platforms or use pen drives as they are widely popular as of now. However, this does not mean that using a cd burner Win10 is no longer necessary. In fact, they are still the best way to backup important information. This handy guide will take you through the best cd burner for Windows 10 known as Wondershare UniConverter. Its features and steps on how to use it will be shown. Also, you'll get a succinct glimpse of the other eleven recommendable programs.
Part 1. What is the Best CD Burner for Windows 10
We understand the need of every user to find a quality cd burner for Windows 10. That way, you will be sure that the quality of burned files will be efficient and of high quality. Wondershare UniConverter (originally Wondershare Video Converter Ultimate) stands out as one of the best cd burners that will be helpful for all your burning requirements. This tool performs tasks faster, produces high-quality output, and possesses many helpful features. The program understands the need for one to have a physical backup for important files in case your device's hard drive spoils and has therefore provided a means for users to burn files directly in the programs. More so, Wondershare UniConverter lets the users to view files in optical storage devices. The program also lets users share files to mobile devices, compatible TV sets, gaming system, and is also able to stream videos wirelessly. Using the program will not be complicated as it is the case with the majority of other tools. Every key that is available on the program has been clearly labeled, and easily accessible to make it easier even for new users to perform tasks with it efficiently. You will only be required to point cursors and click to them to be able to perform tasks with this tool efficiently.
Your Complete Audio and Video Toolbox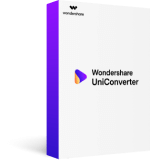 Burn Audio files to CD easily on Windows/Mac.
Work as a metadata management tool to edit video metadata files.
Convert video to optimized preset for almost all of the devices.
30X faster conversion speed than other common converters.
Edit, enhance & personalize your videos by trimming, croping videos, add subtitles and watermark, etc.
Burn video to playable DVD with attractive free DVD template.
Download or record videos from 10,000+ video sharing sites.
Versatile toolbox includes GIF maker, VR converter, and screen recorder.
Supported OS: Windows 10/8/7/XP/Vista, Mac OS 10.15 (Catalina), 10.14, 10.13, 10.12, 10.11, 10.10, 10.9, 10.8, 10.7, 10.6
Security Verified,
5,481,347
people have downloaded it.
Steps of Burning CDs with Wondershare UniConverter:
Step 1

Launch Wondershare UniConverter Program in Your Device

If the setup is not already installed in your device, you can download the program's setup from the main site. And once you have downloaded the setup, double click on it to have it installed.
Step 2

Upload the Files to Burn into the Program

Choose Toolbox that's present on the program's main display, and then on CD Burner. 
Step 3

Upload Your Files to CD Burner Windows 10

A new display with + icon will appear. Click on it to upload the files to burn into the program. Don't forget to insert a blank CD.
Step 4

Burn Your Files with a Click!

When you've got all the files uploaded into the program, choose Burn.
What is the best CD burning software for Windows 10? --- A question from Quora
Part 2. Other 11 Simple CD Burner for Windows 10 Recommended
CD Burner XP
URL: https://cdburnerxp.se/en/home
This program supports the burning of files to different optical media discs such as CDs, DVDs, Blu-ray discs, and HD-DVD. The fact that this tool has been used for years, and still manages to be relevant shows how capable it is, making it a top cd burner program for Windows 10.  With a captivating display that has the ability to show its features in different languages, this program runs well in the majority of Windows programs. CD Burner XP also lets its users burn audio CDs in multiple formats such as FLAC, OGG, FLAC, OPAC, and MP3, among others. The program has got an inbuilt player also that lets its users play music directly.
Pros:
Simple interface to interact with
Runs well on most versions of Windows.
Cons:
The program can hang several times.
Works on Windows devices alone.
Express Burn
URL: https://www.nch.com.au/burn/index.html
If you are looking to download cd burner for Windows 10 that is simple, fast, and easy to use then Express Burn should be the ideal choice for you. The program possesses an array of helpful features such as burning CDs, capturing a user's activity on-screen, editing DVDs, and editing DVDs among others. And different from the majority of free burner Windows 10, this program also runs very well in Mac device. Therefore, if you are using a Mac device and you are still greatly restricted with the burning features it supports, then Expres Burn will be a quality option for you to opt to.
Pros:
Output high-quality Blu-Ray discs effectively.
It has got a good display.
Cons:
Does not burn video DVDs.
You can only access the trial version for free.
Ashampoo Burning Studio Free
URL: https://www.ashampoo.com/en/usd/pin/7110/burning-software/burning-studio-free
Ashampoo Burning Studio Free is another free cd burner for Windows 10 that will cover all of your burning needs efficiently. This tool avails the common CD burning tasks but still goes ahead to provide a couple of other helpful features. Such bonus features include the capability to keep discs secure through password protection and erasing of rewritable CDs in case a user would like to reuse them. Ashampoo Burning Studio also has the ability to copy CDs, ripping discs, creating ISO images, as well as backing up and restoring data.
Pros:
Available for free.
Runs well in all Windows versions.
Cons:
Most features are basic.
Does not maintain the quality of burned CDs/DVDs.
Free Audio CD Burner
URL: https://www.dvdvideosoft.com/products/dvd/Free-Audio-CD-Burner.htm
Free Audios CD Burner is recommended if you are looking for a simple program, that will help you burn audio CDs effectively. This cd burner windows 10 64 bit free download is easily available online in many sites. The good thing is that it is available for free and hence you will not have to incur extra costs in order to use it. And although its primary function is to burn audio CDs, the software has also got the capability of decoding MP3 and WMA files efficiently. It accomplishes that by decoding in real-time hence saving plenty of time.
Pros:
It is fast.
It is available for free.
Cons:
ImgBurn
URL: http://www.imgburn.com
ImgBurn cd burner win10 program is another handy program that will be efficient for performing all of your burning needs. The program is open sourced and hence users can easily modify it to fit with all their burning requirements. ImgBurn's code is fully available on its main site, and hence users can easily obtain them, and change some of the things that they may not be comfortable with. More so, the program can be accessed for free. You can burn files to a variety of burning devices such as Blu-Ray discs, HD-DVD, and CD among others.
Pros:
Available for free.
Accommodates a large number of output storage devices.
Cons:
The display is difficult to interact with.
Does not maintain the quality of burned files.
Ultra MP3 CD Burner
URL: http://www.nctsoft.net/ultra_mp3_cd_burner/index.htm
This is another tool that lets users download free cd burner windows 10 that deals with audio CDs alone effectively. However, after getting to access its trial version, users will be needed to upgrade to the paid version in order to enjoy working with it. Ultra MP3 CD Burner performs tasks at an exemplary speed, and hence users will be certain of saving plenty of time. The program also accommodates most of the audio formats and also runs well in many versions of Windows. Users will, therefore, be equipped with pretty helpful features to perform their burning tasks with.
Pros:
It maintains the quality of burned files.
The software can create ISO files.
Cons:
Limited features especially since it is a paid program.
Only CDs can be burned.
Cute CD DVD Burner
URL: https://download.cnet.com/Cute-CD-DVD-Burner/3000-2646_4-10303965.html
This program is really helpful for burning files in CDs and DVDs. Cute CD DVD Burner has a pretty wonderful display that is clearly labeled and interactive to make it simpler even for new users to work with it. The program has been equipped with powerful features that will be helpful for handling all of the CD burning requirements. Such features include support to a wide variety of audio and video formats, erasing of files from rewritable discs, among others.
Pros:
Easy to work with.
Accommodates both CD and DVD disc types.
Cons:
The limit of burned files is 300MBs only.
Does not function well in Windows 7.
DVD Burner
URL: https://download.cnet.com/video-dvd-burners/windows/
The primary function of the DVD Burner is to burn files into DVDs. However, this program also functions well as an effective tool to burn CDs. The program runs well in all programs of Windows other than Windows 10 alone. To access this program is also easier. You'll only be needed to visit the main website of the program and download its setup. The fact that this tool is available for free makes things even easier as you will not be required to incur any extra costs. Another added bonus with this program is that it lets users create ISO images.
Pros:
It can be accessed for free.
Runs well in most versions of Windows.
Cons:
The display is outdated.
The program crashes from time to time.
YASA
URL: https://download.cnet.com/Yasa-Audio-Data-Video-CD-Burner/3000-2646_4-10254852.html
This is yet another helpful program that has the ability to burn data, audios, and videos effectively. The main purpose of this cd burner program for Windows 10 is to create CDs out of audio songs but it still manages to burn other file types. More so, this program has been equipped to create ISO images as well.
Pros:
Supports the making of VCDs and SVCDs out of audio files.
Can create ISO images.
Cons:
Users cannot be able to play videos using this program.
Though it is efficient for creating VCDs, you will still face problems doing so.
EXPStudio
URL: http://www.expstudio.com/cdripper.htm
When looking for a cd burner windows 10 64 bit free download, EXPStudio CD Ripper Burner Converter is another quality option to opt for. This tool possesses all the basic functionalities that can effectively cover all of your burning requirements. The program has some attractive features such as an ID3 tag editor, an inbuilt player, among many more other effective features. We do not however recommend this tool as the first option. You should however try it when you are out of options such as when the program you had chosen failed to work.
Pros:
It is much easier to burn files on CDs with EXPStudio.
The program has an automatic name adder, and can still manage to reduce noise from audios.
Cons:
Not much effort has been put in its display.
You must use its commercial version, and the trial version works for 10 days only.
Visual MP3 Burner
URL: http://www.visual-mp3.com/cd-burner/
Visual MP3 CD Burner is our last recommended program and works well when it comes to burning CDs. The program is well compatible with Windows 10. And once you have managed to burn your files using the program, you can then play the burned files in your homes or in your car. Visual MP3 Burner has an array of helpful features such as ID3 tag editor, an in-built media player, and a CD eraser. Another good thing with this tool is that it produces no errors when performing activities.
Pros:
Its speed when burning audio CDs is exemplary.
Accommodates common audio formats.
Cons:
Experience complications when playing music with the program.
Though it supports burning files as a batch, the limit is normally set at five audio songs at a go.
Conclusion
All of the programs that are discussed above are able to burn CDs effectively. However, we all have different likes. A program can be appealing to one user but yet appear dissatisfying to the other. Therefore, this guide has ensured that a choice that you make will only fall within the range of quality tools. It is recommended that you choose the best tool, one that is efficient, of high quality, and one that will output original quality files like it is the case with top tools like Wondershare UniConverter.