CD Burner
1. Burn Different Formats to CD

+

2. Other CD Burners

+

3. Other Tips& Tricks

+
12 Best Methods to Burn Music Files to CD You Should Know
CD burning task is not as required because of the availability of other tech devices such as cloud storage and flash drives. It may be a good reason that we have not even heard of any programs like CD burning made by companies. Still, some companies are following the trend and providing burn CD programs. They recognize the needs of persons who need such tasks as CD burning of music files etc. So, let's discuss 12 such programs with high demand and efficiency to burn a CD on a laptop.
Part 1. What is the Best Program to Burn CD
You can call Wondershare UniConverter the best burn CD program. To facilitate an easy search for you, we recommend starting with our top quality pick. Wondershare UniConverter is known to be the top-performing CD Burner of the era with worth considering features. With this software, you can easily convert videos, audio, and images supporting thousands of different formats. Thus, it is the best software that can keep track of all the media formats. As compared to our other best picks, this software follows a straightforward and user-friendly interface for the task required.
Your Complete CD Burner Program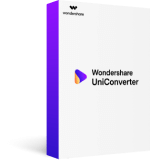 Burn Audio files to CD easily on Windows/Mac.
Burn video to playable DVD with an attractive free DVD template.
Convert video to over 1000 formats like AVI, MKV, MOV, MP4, etc.
Work as a metadata management tool to edit video metadata files.
Convert video to optimized preset for almost all of the devices.
It has a 90x faster conversion speed than other common converters.
Edit, enhance & personalize your videos by trimming, croping videos, add subtitles and watermark, etc.
Versatile toolbox includes GIF maker, VR converter, and screen recorder.
Supported OS: Windows 10/8/7/XP/Vista, Mac OS 10.15 (Catalina), 10.14, 10.13, 10.12, 10.11, 10.10, 10.9, 10.8, 10.7, 10.6
Security Verified,
5,481,347
people have downloaded it.
The steps given below will assist you in burning music files to CD with Wondershare UniConverter.
Step 1

Launch the Burn CD Program Wondershare UniConverter

Go to the official website. Click on the option Download given at the top menu, and you will get a free trial version of the software. After download, the installation of the software will take a few seconds to complete, after which you can proceed on the next step.
Step 2

Select the Option Toolbox and CD Burner.

Open the software in your system. As the main window opens, click on the icon Toolbox, which will then offer different tools to be used. From those tools, you need to select the icon CD Burner. Then, insert a blank CD. However, you can also enter it after the next step as per your choice.
Step 3

Add Music Files to CD Burner Program

As you tap on the icon CD Burner, it will direct you to a new window wanting you to add music files. For the purpose, you have to click on the + icon provided in between the music icon. Then, add single or multiple music files to be burned within the software.
Step 4

Select Burner and Check Your Music Files.

In the final stage, before you directly click on Burn, you should always check if the music files are working. Then, go to the above menu Burner and choose your burner in which the data would ultimately get burned. Finally, after all these tasks, click on Burn provided below in the right corner.
Thus, all the steps mentioned won't consume much time, and you can complete them in a few minutes. Even while burning, the indication will automatically provide you with the storage space left in the CD.
Part 2. Top 6 Programs to Burn CD for Windows/Mac Recommended
DeepBurner being compatible with Windows, only is a lightweight and useful software to burn discs. This paid software can be best utilized with the premium version to get access to all its features. Moreover, the software is also available as a portable app. Its premium program can also create DVDs along with other tasks. However, it also contains the option of working with ISO images. It can be your ideal burn CD program for everyday activities. Thus, you can also call it a feature-rich DVD/CD Burner.
Creator is another best software to rip, create, copy, or to convert CDs. However, it is much more than a CD burning software with other great features. The software can also convert analog media like tapes and records to a digital format. You can also call this burn CD program as a complete media creation suite with the support of exceptional tools for video, audio, and image editing. With this program, you can easily create audiobooks, music albums, DVDs, CDs, and Blu-Ray discs. It also contains an option of archiving your movie or music collection.
It is being recognized as the fastest CD burning software to make a new disc even in less than 45 seconds. However, you cannot make commercial DVD copies. The software is limited in features and sometimes falls short in features of disc utility. But, if you are looking with the single best feature of CD, then this is worth considering. The software can make all types of data discs, along with DVDs, CDs, Blu-ray, and other optical media. Also, the software is simple and easy to use with a user-friendly interface.
ExpressBurn is a Mac supporting software that offers more facilities than iTunes. It is easy to burn CD with this burn CD program. You can also create DVDs and Blu-ray discs with the software. The user-friendly interface is simple to program with minimal problems for the first time user. The process of burning music files in this program requires you to drag the music files, arrange them in order, and click on Burn after inserting blank CDs.
DVD Movie Factory is convenient to navigate tools with great features. It is also the fastest audio burning software with the capability of creating professional-looking discs. Its CD Burning tools are divided into four categories like Home, Import, Capture, Edit & Create, and Burn. You can also already existing discs or import the content onto your computer's hard drive. Furthermore, the software can also work on advanced edits on the audio files to be burned or created. Along with CDs, this burn CD program can also create Blu-ray discs as well as DVDs.
123 Copy DVD Gold
This software quickly burns data as well as music discs within no time. It also contains a feature of editing metadata without any loss of original quality when the file gets converted to CD. The primary purpose of the software is to convert, copy, and archive DVDs. However, its other features, such as copy audio CDs, import audio, create the new discs, etc. are also well-performing. The intuitive layout of the software is also simple to program. But, you can use the software in a better way of creating excellent DVDs.
Part 3. Another 5 Useful Free Programs to Burn CD
It is an external burn CD program with free download. The program is ideal to use by persons looking for burning audio discs only. There are no other special features offered by the software. Its compatibility is with burning audio CDs on the window operating system of your computer. It can burn both CD-R as well as CD-RW discs. Furthermore, the software is capable of supporting different formats and can also erase information from the rewritable drives.
BurnAware is available in two versions, i.e., free as well as paid. BurnAware Free is a free version of the software with useful burning features. The program is wholly compatible to use for all types of video, audio, and other image files to discs. However, the free version provides minimal features, but it is good to go for CD burning needs. It can quickly burn DVDs, CDs, and Blu-ray discs. Also, the program is not very complicated to use, even by a beginner.
It is an entirely free and open-source software for burning music files on your windows operating system. The software is designed to fulfill the necessary CD burning needs only. This burn CD program free download can also burn Blu-ray discs without any cost. The program supports almost all versions of the Windows operating system. With the program, you can also verify the data after it will get burned to disc. It is also an excellent software to work with images.
K3b can rip video CDs, CDs, and DVDs easily with a formatting option of rewritable discs. The software also supports several themes and plugins. It is open-source software that can also burn rewritable CDs and Blu-ray discs along with CDs. You can also set up a multisession CD or any video work with the software. Its various plugins are available for MP3, FLAC, WAV, and Ogg Vorbis audio decoding formats. K3b supports the Linux platform.
InfraRecorder records most of the DVD and CD formats, including the dual-layer discs. It also takes in use different ways to erase the information from rewritable drives. Its simple interface also supports the recording of data and audio tracks in WMA, WAV, MP3, OGG, and ISO files to DVDs and CDs. If you are also having an older version of the Windows operating system or computer, then consider this Infrarecorder software for the purpose.
Ashampoo Burning Studio is free software with a clean interface. It puts all the features at the front as well as a center for simple programming. The software will provide you with a complete option for burning DVDs and CDs. It can burn different types of discs, such as video, audio, and data discs. However, its backup feature is not as stable as its burning feature. Additionally, the software can also rip automatic audios.
Conclusion
Therefore, after recognized the need for a burn CD program, we have enlisted our top 12 best programs above. However, the most simple, straightforward, and practical software with multiple features is Wondershare UniConverter. But, the choice is yours depending upon the preference and other functions. The burn CD programs with free download are also a good option and well-tested by users.