CD Burner
1. Burn Different Formats to CD

+

2. Other CD Burners

+

3. Other Tips& Tricks

+
Top 10 Disc Burner Software Recommended
Transferring data into a disc isn't as easy as transferring into a USB and requires having disc burner software on your computer. These tools are used to make a disc by transferring the files and adding sound or background. There are a lot of disk burner tools in the market that can help you with it. To start disc burner download, you can search on the internet and directly install it into your device. These tools are used regularly by people, and everyone should know the whole procedure to use it whenever required.
Part 1. What is a Disc Burner
The process of transferring a certain type of file or data into a CD or a DVD from your local storage is called disk burning, and the software responsible for the whole process is known as a disc burner. These tools can be easily downloaded from various disc burner free download websites on the internet. A disk burner is very easy to use and can be used without any experience.
Part 2. Best Disc Burner Software to Burn CD and DVD on Windows/Mac
There are many disc burner Windows 7 tools that can be easily used to burn files and data in your discs. These tools are also available for Mac and higher versions of windows that make it greatly useful for people. Disk burner Windows 10 can be downloaded from the app stores and other websites very easily. One of the most popular disk burner windows 7 is Wondershare UniConverter. It is a very powerful tool that can help you to edit images and videos, record screen, record audio, and burn disks in high quality. This tool is very popular among beginners and experts alike since it is very easy to use and provides many powerful features that are not usually found in other similar tools. It allows you to burn double layered and Blu-Ray disks in high quality along with adding background music, images, watermarks, and intros to the disk, making it more attractive and appealing for users.
Your All-in-one Disc Burner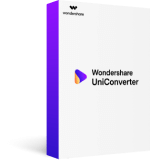 Burn audio files to CD easily on Windows/Mac.
Burn videos to DVD/Blu-ray disc with free menu templates.
Convert video to over 1000 formats like AVI, MKV, MOV, MP4, etc.
Convert video to optimized preset for almost all of the devices.
It has a 90X faster conversion speed than other common converters.
Edit, enhance & personalize your videos by trimming, croping videos, add subtitles and watermark, etc.
Versatile toolbox includes GIF maker, VR converter, and screen recorder.
Supported OS: Windows 10/8/7/XP/Vista, Mac OS 10.15 (Catalina), 10.14, 10.13, 10.12, 10.11, 10.10, 10.9, 10.8, 10.7, 10.6
Security Verified,
5,481,347
people have downloaded it.
How to Burn CD Using Wondershare UniConverter?
Using Wondershare UniConverter disk burner windows 7, you can quickly burn any CD or Compact Disk very easily. You can follow the steps given below to do so without any issue.
Step 1

Install Wondershare UniConverter

Go to your browser and search for Wondershare UniConverter and download the installer. Now install the software and launch it. You will notice the Toolbox option on the upper right side and select the CD Burner option.
Step 2

Add Your Desired Files

On the new screen, click on the + icon to add the desired files that you wish to burn on the disc. You can add multiple files for burning without any issue using this disk burner.
Step 3

Check if the Files You Have Added are Right

After adding all the files, go through the list and check if everything is in its proper place or not. If yes, enter a blank CD into your computer and choose the CD burner option from the top right corner of your screen.
Step 4

Click on Burn to Initiate the Process

After you have chosen the CD burner option, the software will become prepared for burning a CD. Now click on the Burn button on the bottom right to start burning files to your disk. Due to being one of the most powerful windows disk burner, your process will be completed within a few minutes.
How to Burn DVD Using Wondershare UniConverter?
DVD or the Digital Versatile Disk is one of the most popular methods of media storage. The following is a step by step guide to using Wondershare UniConverter's disc burner tool to burn DVD.
Step 1

Download and install Wondershare UniConverter on your computer.

Launch the DVD burner tool, and you will notice the DVD burner option on your screen, select it. Now you will have to click on the add files option. After clicking on it, a new dialogue box will appear. Choose the files that you want to burn from that dialogue box and press ok to continue.
Step 2

Choose a suitable template.

The next step is to choose a suitable template for your DVD. For this, click on the arrows to cycle through the templates and choose the correct match for your requirements. If you want to have a look at some more available templates, click on the edit icon and it will take you to a list of available templates, choose the one you prefer.

You can also add texts, logos, music, images, etc. to your DVD if you want. This option will be visible after you click on the edit icon to choose more templates. It can be used to make your DVD more interesting.
Step 3

Modify the different aspects of your DVD.

Now, you have to change and modify various aspects like the aspect ratio, run time, quality, frame rates, etc. Set them according to your liking or whatever is more suitable for the disk as once you start burning, you can correct any mistakes.
Step 4

Start the burning process.

Once you have gone through all the files and have rectified any mistakes that might have been present, it is time to start the burning process. Insert the DVD into the DVD drive of your computer, select the storage location, and click on the 'Burn' button on the bottom right corner.
Part 3. Other 9 Disc Burner Software Recommended
There are many disc burner Windows 7 that you can easily find on the internet, and the following is a list of 9 such tools that will help you in burning disks.
CD Burner XP
URL: https://cdburnerxp.se/en/home
There are a lot of tools that can help you to burn files on disks. One of the most popular and free to use option out of them all is CD Burner XP. This is a very powerful tool considering it's free to use a tag and can help you to burn any disk without any issue. This is one of the very few free to use tools that allows the users to burn Blu-Ray disks in high quality.
Nero
URL: https://nero-burning-rom.en.softonic.com/
Nero is considered by many as one of the best burning tools in the market, and it is being used for a long time. It allows you to create DVDs and CDs in high quality and supports making Blu-Ray and double-layered discs as well. Nero has a very well designed user interface that is very easy to understand and use.
MyDVD
URL: https://filehippo.com/download_roxio-mydvd/
This is another popular DVD and CD burning tool that has a lot of powerful features. It can help you create high-quality disks without taking a lot of time and being easy on the processors. The tool itself is very lightweight and doesn't occupy a lot of space on your hard drive. This tool can add music, images, and intro to your DVD and allow you to combine multiple files easily.
Cheetah DVD burner
URL: https://cheetah-dvd-burner.en.softonic.com/
Cheetah DVD and CD burner is a very popular tool among experts as well as beginners. It can help you make a DVD by adding images, music, and intros to your files. This tool supports all the major file formats to be burned into a DVD without any issue. It can help you make Blu-ray disks and double-layered disks as well.
iSkySoft DVD creator
URL: https://www.iskysoft.us/
Among the many tools that can be used to create DVD and CD, this tool stands apart due to the single and elegant user interface that it has. This tool allows you to create DVD and CD in high quality so that you can share your files with your friends or anyone else.
Ashampoo Burning Studio
URL: https://www.ashampoo.com/en/usd/pin/7110/burning-software/burning-studio-free
This is a very capable free to use tool that takes absolutely no charge from you and still provides some of the best features for burning files to a CD or DVD. This tool allows you to back-up your data, create DVDs, CDs, Rips CDs and DVDs, and a lot more, without any issue. This tool is very easy to use, as well.
InfraRecorder
URL: http://infrarecorder.org/
This tool is completely free to use and considered to be the best tool for beginners who want to burn their files into a CD or a DVD without much experience. This tool allows you to burn audios, videos, and other files and supports all the major types of formats for different files that you may want to burn.
StarBurn
URL: https://www.starburnsoftware.com/
Starburn is a very unique and popular burning tool that a lot of professionals use. This tool can be downloaded and used for absolutely no cost can help you create high-quality CD and DVD. This tool burns and also provides basic editing for DVDs like adding intro, text, audio, and a lot more.
Express Burn
URL: https://www.nch.com.au/burn/
This is one of the most widely used tools for burning videos and audios into various types of disk. It allows you to easily rip a DVD or CD and also burn Blu-ray discs along with normal disks. The specialty of this tool is its ultra-fast speed that saves a lot of time while burning the files onto your discs.
Conclusion
CD and DVD burning is a very common task that a lot of people do on a daily basis. There are a lot of tools in the market that allows you to burn discs whenever you want, like Wondershare UniConverter easily. These tools are mostly available for free and can be used across all the major platforms without any issue. They also have basic editing features to help you personalize your disc by inserting images, music, and texts. You can easily download these tools from the internet and use them without requiring any external hardware.