CD Burner
1. Burn Different Formats to CD

+

2. Other CD Burners

+

3. Other Tips& Tricks

+
Top 8 Free CD DVD Burner You Cannot Miss
Despite the availability of different storage tools, we often like to store our media files on CD or DVD. As it is useful as well as simple, a free CD DVD burner may be difficult to find unless you want to compromise on quality. Well, it's not an impossible task because our experts have framed this article specifically for CD DVD burner free Download. After hours of lengthy research and checking the practical efficiency, we have come up with include the top eight free CD DVD burner you should know. Scroll below to know these eight efficient burners.
Part 1. What is the Best Free CD DVD Burner
Let's start our discussion with the best and freely available CD DVD burning software. CDBurnerXP is one such software to be considered if you are looking for a range of features such as burning all kinds of discs, including HD-DVDs and Blu-Ray. As per the name, it has nothing to do with Windows XP, nor is it limited to burning CDs. The software may look a little dated, but you will have an enjoyable experience working with it.
Support Platform: Windows XP/2000/2003 Server/Vista/Win7/2008 Server/Win8/2012 Server/Win10 (x86/x64)
Thus, it is one of the best free CD DVD burning software for Windows 10.
Key Features:
It burns all types of discs.
It verifies data the process of burning.
Create audio-CDs with or without gaps between the tracks.
Make bootable discs.
Create and burn ISO files.
Simple cover printing, ISO converter, and much more with bin/nrg.
Support multiple languages.
Part 2. Another 7 Free CD DVD Burner Recommended
Here comes another seven best free CD DVD burner recommended because of their popularity and excellent working interface.
Support Platform: Windows Vista, XP, 7, 8, 10
BurnAware Free is one of the great programs for burning as well as copying optical discs. It offers various utility tools, including burning the new copies of Blu-Ray CDs. You can access every feature from the main window interface, thus providing convenience to the user. The program can be used to burn multiple Blu-Ray discs, also which is a plus point if you are looking for one. No matter what type of drive you are trying to burn, it will help you in every feature with its clean graphic interface.
Ashampoo Burning Studio
URL: https://www.ashampoo.com/en/usd/pin/7110/burning-software/burning-studio-free
Support Platform: Windows 8, 7, 10
Ashampoo Burning Studio is a free, fast, and reliable software to copy, burn, and rip easily. The program has proved to be one of the best free CD DVD burners for Windows 7. It, however, packs a lot of luxurious features such as burning existing videos, back up data, rip music discs, create audio CDs to Blu-Ray, and much more! But you will find a little difficulty during installation, but once you have completed all the installer hurdles, you are ready to use its convenient features. The software is handy for tasks like making copies of files, such as photos that don't change often.
AnyBurn
URL: http://www.anyburn.com/download.php
Support Platform: Windows 7, 8, 8.1, and Windows 10
If you are looking for a somewhat professional but free CD DVD burner, consider this AnyBurn software. It is a DVD, CD, or Blu-Ray burning software with lots of excellent features. Its exciting features include burning folders and files to discs, image files to drives, audio CD from FLAC, MP3, APE, WAV, and WMA files, copying discs, cleaning rewritable discs, converting image files, and viewing disc and drive information. Thus, packed with all the facilities and easy to use interface, it is the top free CD and DVD burner for Windows 10.
InfraRecorder
URL: http://infrarecorder.org/
Support Platform: Windows 2000 or higher
InfraRecorder is another best and free solution for CD/DVD burning. With the simple interface and necessary features, all you require a Windows operating system 2000 or more for accessing the features. The program also supports recording to dual-layer DVDs. Well, you can also record disc images such as ISO and BIN/CUE. This free CD and DVD burner further allows us to import multi-session discs and session data as well as adding more sessions to them. You can save data tracks and audio files to different formats such as .wma, .wav, .mp3, .ogg, and .iso.
True Burner
URL: https://www.glorylogic.com/true-burner.html
Support Platform: Windows Vista, XP, 7, 8, 8.1, 10(32 and 64)
True Burner is a DVD and CD burning software that can burn DVDs, CDs, and Blu-Ray discs. The program is convenient and based on BurnAware software. The interface is also intuitive and easy to use with the access of features on the main window. The software creates audio, data, and video disks. It also burns discs with file systems, including UDF and ISO 9660. Moreover, you can format and erase a rewritable DVD, CD, or Blu-Ray disc. So, it is a conventional and free CD DVD burner among all.
ImgBurn
URL: http://www.imgburn.com/
Support Platform: Microsoft Windows
This software can write regular files or images files or folders to discs. Various inbuilt settings interface is available for users to set customization according to their preferences. One of the recognized features is the ability to verify a created disc is readable. With a nice looking and simple interface, it is also compatible with new operating systems such as Windows 7, Linux, and Mac. Thus, we can conclude that ImgBurn is one of the best free CD DVD burners for Windows 7.
DeepBurner Free
URL: https://www.deepburner.com/?r=download
Support Platform: Windows 8/7/10
With a portable app, its comprehensive features include a traditional interface, burning data DVDs and CDs, bootable discs, and audio CDs. The application also includes tools for creating booklets and labels and offers you designs of various autostart menus to launch documents or programs automatically while you are running a CD. There is a simple drag and drop option with the support of multiple languages. However, the interface doesn't look that attractive but supports all such as USB, IDE, SCSI, and FireWare RW DVD/CD/RAM devices along with other simultaneous recorders.
Part 3. Best Alternative to Free CD DVD Burner
After the top 8 free CD and DVD burning software, now we are heading towards their best alternative, which you can consider if you are looking for the best-paid software with an extensive range of features. One of the advantages of paid software is the stability and security of the platform you are using. So, we are introducing one such software called Wondershare UniConverter (originally Wondershare Video Converter Ultimate) as our next best alternative to all of them given above. It is an all-in-one tool capable of performing various tasks in both premium and free versions. With the support of more than 1000 formats, the software comes with sharp video editing and disc burning features. There will not be any hassle and disturbance while carrying the processes, unlike in much other software. Let us see how you can burn CD/DVD in Wondershare UniConverter.
Your Complete CD and DVD Burner Toolbox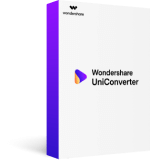 Burn video to playable DVD with an attractive free DVD template.
Burn Audio files to CD easily on Windows/Mac.
Convert video to over 1000 formats like AVI, MKV, MOV, MP4, etc.
Work as a metadata management tool to edit video and audio metadata files.
Convert video to optimized preset for almost all of the devices.
It has a 90X faster conversion speed than other common converters.
Edit, enhance & personalize your videos by trimming, croping videos, add subtitles and watermark, etc.
Versatile toolbox includes GIF maker, VR converter, and screen recorder.
Supported OS: Windows 10/8/7/XP/Vista, Mac OS 10.15 (Catalina), 10.14, 10.13, 10.12, 10.11, 10.10, 10.9, 10.8, 10.7, 10.6
Security Verified,
5,481,347
people have downloaded it.
Steps to burn CD/DVD with Wondershare UniConverter:
Step 1

Launch Wondershare UniConverter.

The first step is to download Wondershare UniConverter from the official site and get started. It will hardly take a few minutes to download and install the program.
Step 2

Upload files.

Open the interface and click Burn given above in the options. It will direct you to the new interface where you have to select Add Files and upload the desired files which you want to burn to CD or DVD.

For CD burning:

If you are looking to burn CD, then directly select the CD Burner option from Toolbox in the first interface. Then, click Add Files, select Burner, and then the Burn button.
For DVD burning:
For DVD burning, you need to upload the video file, as stated above. Then, click Video Converter> Finished. From the list of video files, right-click the one you want to burn to DVD. Select Add to Burn List.
Step 3

Burn Files.

The next step is to burn files. Select the DVD template and adjust settings before you click Burn. Then, go to Burn Video to the option given above and select your option. It can burn DVDs as well as ISO files. The function of burning Video to Blu-Ray is supported on Windows only.
Lastly, you need to click Burn after completing all the requirements.
Conclusion
Thus, make an intelligent choice from our top 8 best free CD DVD burner and store your memorable moments with ease. Also, if you are someone who appreciates the efficiency and stable performance, check out our top preference Wondershare UniConverter as an alternative to all CD DVD burner free download software.