CD Burner
1. Burn Different Formats to CD

+

2. Other CD Burners

+

3. Other Tips& Tricks

+
5 Best Alternatives to Burn CD Online Recommended
At present, there are no websites which offer the service of burning CD online. However, there are various genuine alternatives to burn cd online, where you get a chance to convert video, audio as well images in several different formats. Most importantly, it offers you to convert files into some of the best extensions viz. MP4, MP3, JPG, PNG etc. You can rip media either from compact discs or for any other online source. The process of CD burning is 30 times faster than other programs and you won't even suffer with loss of quality.
Part 1. Best Alternative to Burn CD Online for You
Wondershare UniConverter (originally Wondershare Video Converter Ultimate) also features several other tools apart from burning a CD viz. video editor as well as recorder. This provides you an opportunity for voice recording as well as capturing of screen and is considered as genuine alternative for free online CD burner. With the help of Wondershare UniConverter, it is very convenient to convert files from one format to other in a small amount of time span. Here, you will also come across with several other features like several multimedia tools for a single user interface. There are different types of video file formats which you can convert with Wondershare UniConverter which even include OGG, KTX and TS files. You also get a chance to create videos just like their usual formats in case you have devices like Android or iOS phones, gaming consoles and smart television sets.
Moreover, after the conversion of the video you also get an opportunity to trim, join, crop or even add subtitles, apply filters, graphics and several watermarks on the selected video. It also gets very easy to compress high definition video without decrease in its overall quality. One of the best attributes of Wondershare UniConverter is that it has intuitive interface with drag-and-drop facilities. Furthermore, it also provide ease to users in finding a way to complete the task without opting for help option.
Your Complete Audio and Video Toolbox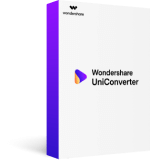 Convert video to over 1000 formats like AVI, MKV, MOV, MP4, etc.
Burn Audio files to CD easily on Windows/Mac.
Work as an metadata management tool to edit video metada files.
Convert video to optimized preset for almost all of the devices.
30X faster conversion speed than other common converters.
Edit, enhance & personalize your videos by trimming, croping videos, add subtitles and watermark etc.
Burn video to playable DVD with attractive free DVD template.
Download or record videos from 10,000+ video sharing sites.
Versatile toolbox includes GIF maker, casting video to TV, VR converter and screen recorder.
Supported OS: Windows 10/8/7/XP/Vista, Mac OS 10.15 (Catalina), 10.14, 10.13, 10.12, 10.11, 10.10, 10.9, 10.8, 10.7, 10.6
Security Verified,
5,481,347
people have downloaded it.
Here are the Steps on Burning CDs on Windows/Mac:
Step 1

Start the Program

In the initial step you are supposed to start Wondershare UniConverter program on your Windows/Mac laptop, then first click on Toolbox button and then choose CD Burner option.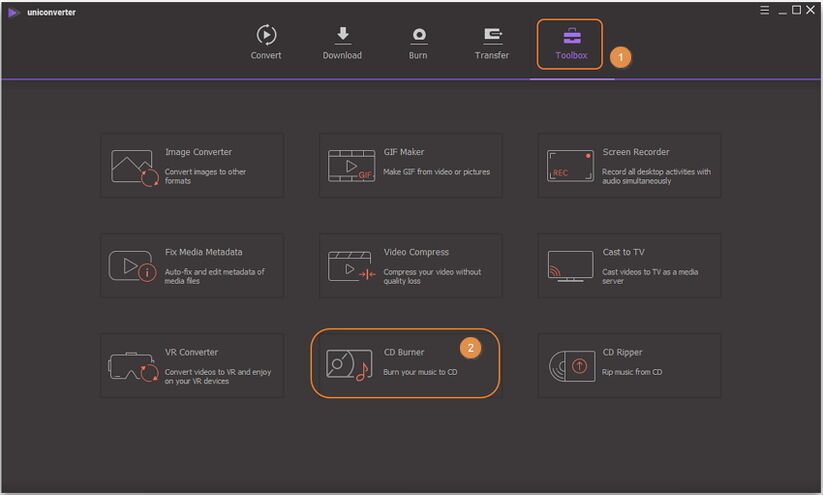 Step 2

Add Files of Your Choice

Now you are supposed to choose the files which you need to burn by clicking on the + icon.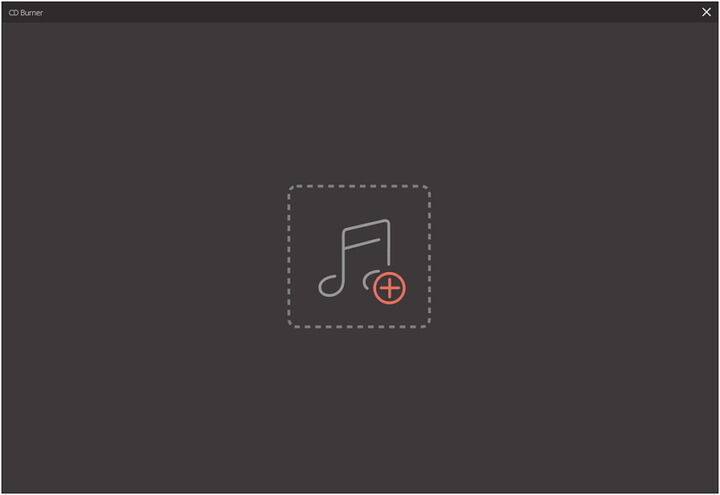 Step 3

Look at the Files and Choose Burner

Files which you have chosen will get displayed with length, output size, name etc., check them by playing for the final time. Now insert Compact Disc and pick one of the burners from the top left corner.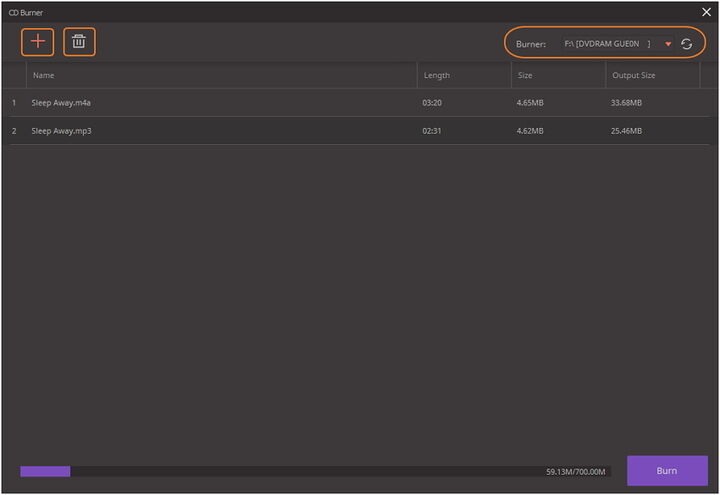 Step 4

Burn the Compact Disc

Now you just have to click on Burn button, you can even check out total storage which is left on your Compact Disc and choose files accordingly.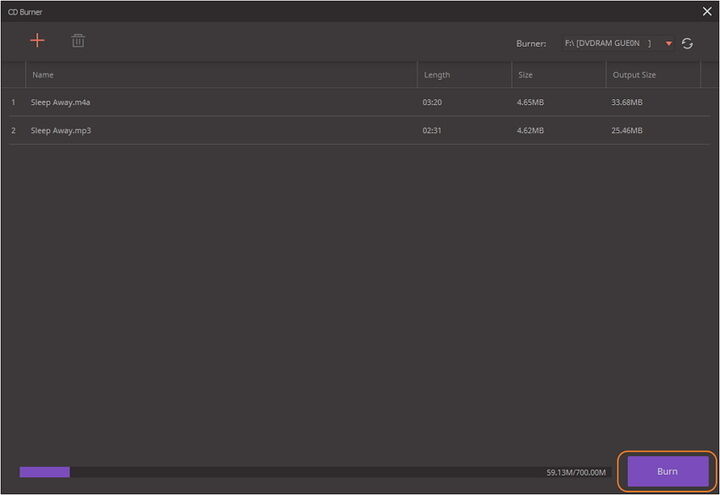 Part 2. Other Alternatives to Burn CD/DVD Online Recommended
1. iSkysoft DVD creator for Mac
URL: https://www.iskysoft.com/dvd-creator-mac.html
This is considered as one of the best alternatives for burning CD online as you can download it safely for your Mac laptops and burn a CD/DVD. You can even undertake several other functions on this software viz. editing functions for audio tracks, slideshows etc. You will also come across with several templates for your DVD. This feature will provide them sophisticated look. The GUI features of this software makes it very easy to use and you do not need to have in-depth knowledge about burning of DVD beforehand. The processing speed of this software is very fast, thus most of your projects will get completed in a small amount of time frame.
Steps on how to burn a video using iSkysoft DVD creator for Mac
Step 1: Run the application on your Mac
Step 2: Import files inside the program
Step 3: This software will offer you 4 different output options viz. ISO files, Video_TS, DVD Disc, DVDMedia etc. You then have to click on Burn button at the bottom of the software window.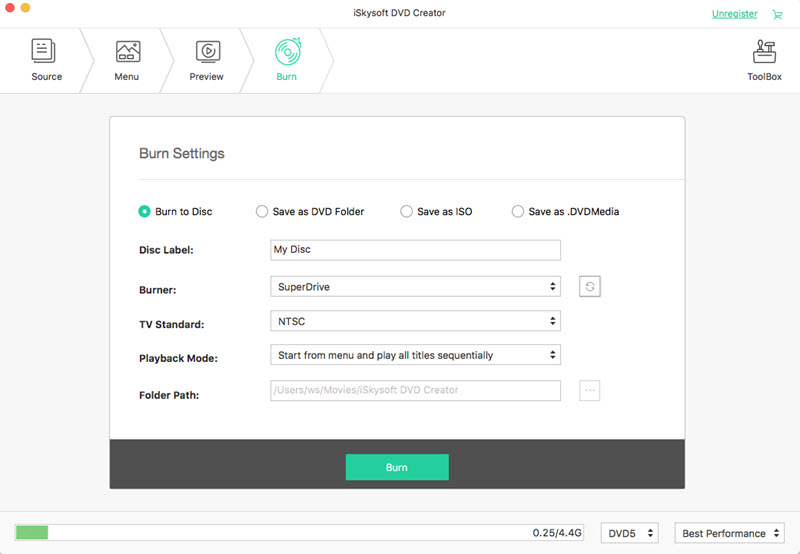 2. Xilisoft DVD copy for Mac
URL: http://www.xilisoft.com/dvd-creator/tutorial.html
With the help of this alternative for burning cd online without download, you get a chance to burn DVD and Compact Disc with ease and make great projects in small time duration. Even after the burning process, the quality of the videos does not get compromised and you will get 64 bit-rate during burning process. You do not have to download any additional plug-ins to use the software and it takes very low space on your laptop. Thus overall processing speed does not get hindered at any cost. The software allows you several options to upload a video file for the burning process. Moreover, the interface of the software is very easy to navigate, this will save great deal of your time.
How to burn CD/DVD using Xilisoft DVD copy:
Step 1: Install the program and run it on your mac.
Step 2: You are supposed to click on the ADD-Video-Files option then select files in Add-video-files box and then click on the Open button. This will load files which are selected into the file list.
Step 3: By clicking on template button present right-hand window, on the top and pick templates of your choice.
Step 4: In this step, you get a chance to select writing speed as well as total number of copies which you require, and then you have to click on the Burn button.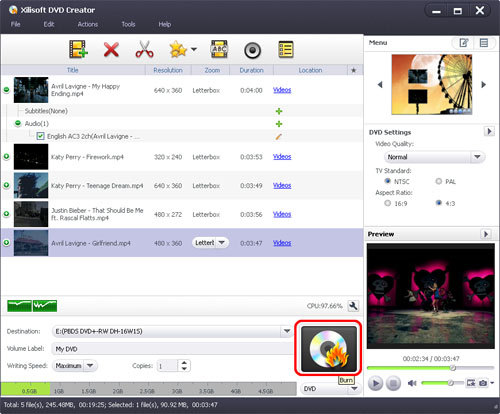 3. iTunes
URL: https://www.apple.com/in/itunes/
This is considered as one of the most effective CD and DVD burner for Mac users as they do not have to download any other application to run the program. Apart from burning files, you can even organize as well as play media files with this software. It is especially designed for Mac users and set as default on their systems. One of the best features of this software is that you can upload the file through drag and drop method. This saves lots of your time.
The menu bars on this application are well organized, thus you do not have to search them for long. Thus, even your large projects get completed in a very small amount of time duration. When you burn a CD or DVD on this software, then it also allows you a chance to look at the project for the last time, so that you can rectify shortcomings, if any.
How to burn CD/DVD using iTunes:
Step 1: By opening this default software on your Mac laptop, you will come across easy to understand layout, where all the menu buttons are present on the left top of the window.
Step 2: Here, you have to click on New menu button which will make you access to wide drop down menu, you can upload a file right from your system.
Step 3: In the final stage, you just have to insert a blank CD or DVD in the drive and click on the Burn option. The process will then take place automatically.
4. Any DVD cloner for Mac
URL: https://www.any-dvd-cloner.com/
This is considered as one of the best alternatives for burning cd online free no download. Here, you get a chance to burn CD/DVD to ISO image or any other folder in a small time frame. You also be able to get rid of several DVD protections viz. RC, APS, UOP, CSS etc. Copies of CD and DVD are made at an incredible high speed.
Moreover, you also get upper hand as you can upload movies straight from DVD to PSP, iPad and several Android devices in compatible formats viz. MKV, MP4 etc. When you download the program, there are no worries about worms or viruses. The UX and UI of this software provide you great ease in navigation throughout the software without any hurdle.
How to burn CD/DVD using Any DVD cloner:
Step 1: After installation, you have to open the program on your Mac laptop and insert a CD or DVD. You then have to select the files of your choice.
Step 2: Now you have to choose the output device which you want to burn on your Mac computer.
Step 3: At last just push burn button and whole process will get completed in a small time frame.
Conclusion
Over the internet, there are several software with the help of which you can easily burn a CD or DVD with the files of your choice. One of the most effective attributes of these software is that they have incredible speed. Moreover, you also get to maintain the resolution of the files which you burn, thus you can keep them safe for future reference. The GUI features of these software make them even more appealing as they get easy to navigate and you can complete even bigger projects in small amount of time frame. Apart all of them, Wondershare UniConverter software for CD/ DVD burning is the best.