Simple Ways to Transfer Videos Between iPhone and Android in 2023
Have you recently switched from Apple to Google smartphone and are now wondering how to transfer video from iPhone to Android? You will get all your answers in the following sections. This entire piece is dedicated to transferring your video files from smartphones of one platform to another absolutely for free and with the least efforts.
Although the tools you will learn about here are familiar to everyone, it is the smart way of using them that makes file transfers between the phones from two competing architectures possible. That said, not only from iPhone to Android, the sections below also teach how to transfer videos from Android to iPhone as well.
Part 1. How to Transfer video from iPhone to Android
As mentioned above, since both the devices are from different vendors and obviously from different platforms, there is no straightforward way of transferring files between the two types of phones. Therefore, to do so, you must use an intermediary program (typically a mobile app) or device (usually a PC) that is available for or compatible with both the architectures, respectively.
To exchange media files using any arbitrator app, you must:
● Install the app on the smartphone you want to transfer the videos from.
● Create an account and sign in to the app.
● Use the program-specific procedure to upload the footage.
● Install the same app on the smartphone you want to transfer the files to.
● Use the same account to sign in.
● Use the app-specific process to access and download the clips on your new phone.
It is noteworthy that the method to upload and download the files may vary on for different apps. Also, in some cases, even the interface of the same app may not look identical on various platforms. For example, the interface of Dropbox for iPhone may not look similar to that of Dropbox for Android. In such cases, it may take a while for you to get familiar with the UI, and upload/locate/download the files.
Following are the three most commonly used apps that can be smartly used to transfer video from iPhone to Android:
4shared
Launched in 2005, 4shared offers free Cloud space to its registered users. At the time of this writing, the free plan gives 15GB of online storage that can be upgraded to 100GB with the premium membership. Also, while using the free plan, each file that you can upload must be of 2GB or less in size. On the other hand, the premium account enables you to upload a single file of up to 100GB.
Pros
● Available for free
● Offers up to 15GB of space
Cons
● File encryption is available only for premium members.
SHAREit
One of the most used files sharing apps today, SHAREit, is multilingual and uses Wi-Fi on your smartphone to establish a temporary wireless peer-to-peer connection with the other participating device to transfer the videos using a secure channel. The best thing about SHAREit is that the transfer speed it offers is way faster as compared to other methods like NFC, Bluetooth, etc.
Pros
● It offers extremely fast transfer speed.
Cons
● Establishing the connection between iPhone and Android with SHAREit might be a bit tricky as mobile hotspot must be enabled on your Android phone, and the iOS device must be connected to it before you can transfer video from iPhone to Android. However, the process is simple when videos are sent from Android to iOS.
● Rumors are that SHAREit leaks your personal data to its vendors. This could be dangerous as your information can be misused for any illegal activities.
3uTools
Note: 3uTools uses your Windows computer as an arbitrator device.
Available only for Windows computers at the time of this writing, 3uTools is one of the best iTunes alternatives that are capable of accessing files on your iPhones and iPads. Unlike iTunes, 3uTools enables you to reach out to the videos on your iOS device easily and lets you download them on your PC using the normal process. These downloaded footages can then be transferred to your Android smartphone using any of your favorite methods.
Pros
● With the intuitive interface, 3uTools is simple to use.
● It allows many unique operations on your iPhone that iTunes doesn't.
Cons
● A computer is required as an intermediary device to fetch the videos from your iPhone.
Part 2. How to Transfer Video from Android to iPhone
As it is with Part 1, any intermediary app or device that can be installed on the smartphones of both the architectures can also transfer Video from Android to iPhone with ease. Even though the process of uploading or downloading the media files may vary from app to app, the basic accessibility principle remains the same.
The following three apps can help you with Android to iPhone video transfer:
OneDrive
Proprietary of Microsoft and available on Windows 10 as a pre-installed app, OneDrive can be installed manually on both Android and iOS smart devices. Post-installation on Android, you can access the Cloud storage by signing in with your Microsoft account, and upload the videos usually. These videos can be downloaded on your iPhone once you install OneDrive for iOS on it, and sign in using the same Microsoft ID.
Pros
● Being a product of Microsoft, OneDrive is highly reliable.
● Files uploaded to OneDrive can automatically sync with your Windows PC as long as you sign in to the app using the same Microsoft ID.
Cons
● A free account offers only 5GB of storage on the Cloud.
Google Drive
Although Google Drive is a default app that is already installed on your Android smartphone, if it isn't, you can do so manually. With 15GB of free space on its Cloud, Google Drive can be an excellent solution to save and share the files. Once a video is uploaded, you can install Google Drive on your iPhone, sign in with your Google ID, and access and download the footage on your iOS smartphone normally.
Pros
● It allows you to set access permissions on each file basis.
● Let you generate a URL that can be shared with your friends, family, and colleagues to access the files on your Google Drive securely.
Cons
● A free account offers only 15GB of storage on the Cloud.
Dropbox
Yet another popular Cloud space platform available for Windows, Mac, Android, and iOS, Dropbox can also be accessed via the web browser. Upon installation on your Android smartphone and signing into your account, you can easily upload the videos to Dropbox. To download those clips on your iOS, you can install the Dropbox app from Apple App Store and sign in to the same account.
Pros
● Synchronization is seamless across all the devices the app is installed on.
Cons
● It offers only 2GB of space to its free users. It means that you can transfer Video from Android to iPhone only if the file is less than 2048MB in size.
Part 3: The Best Alternative to Transfer Videos
As mentioned earlier, many times, it is important to use a computer as an intermediary device to make file transfers simple and effortless between the devices from two different platforms. If you own a Mac or Windows PC, there is an efficient and robust app called Wondershare UniConverter (originally Wondershare Video Converter Ultimate) that can help you with this.
Wondershare UniConverter is a universal converter that supports 1000+ formats and can perform conversions 30 times faster as compared with other similar tools. Also, UniConverter has several built-in features like video editor, disc burner, VR converter, GIF creator, screen recorder, etc. that make the software unique in its own way.
To use Wondershare UniConverter to transfer videos from Android to iPhone, you must:
Step 1
Connect your Android to your computer.
Step 2
Launch UniConverter and wait while it recognizes the connected phone.
Step 3
Import the videos by clicking Add from Device from the Add Files menu on the Convert tile.
You can select your preferred output video format (preferably for iPhone) from the Convert all files to (Convert all tasks to on Mac) menu from the upper-right corner. Then, convert the videos to the selected format. On the Convert window itself, go to the Converted tab from under the tiles menu at the top. Next, click the Add to Transfer button that appears when you hover the mouse over the video you just converted.
Step 4
Disconnect your Android phone and connect iPhone instead.
Wait while Wondershare UniConverter detects the new phone.
Step 5
Go to the Transfer tile from the top.
Click the Transfer button present at the right end of the video thumbnail.
Note: Make sure that the name of your iPhone is present at the top-right corner of the Transfer window before initiating the transfer process.
Wondershare UniConverter -The Best Video Transfer Tool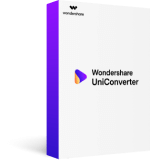 Transfer videos from Windows and Mac to iPhone/Android devices easily via a USB cable.
Support 1,000+ video formats including AVI, MKV, MOV, MP4, etc.
90X faster conversion speed than other common converters.
Edit videos with trimming, cropping, merging, adding subtitles, and more.
Burn video to playable DVD with attractive free DVD template.
Download or record videos from 10,000 video sharing sites.
Versatile toolbox includes fixing video metadata, GIF maker, and screen recorder.
Supported OS: Windows 10/8/7/XP/Vista, macOS 11 Big Sur, 10.15 (Catalina), 10.14, 10.13, 10.12, 10.11, 10.10, 10.9, 10.8, 10.7, 10.6.
Security Verified.
7,851,625
people have downloaded it.
Conclusion
To learn how to transfer video from iPhone to Android is simple, and the method is almost similar to what you need to do to transfer video from Android to iPhone. Although any intermediary app can help you with the transmission process, if you want to make the videos compatible with the target device (iPhone in this case), Wondershare UniConverter would be your best bet due to all the features and functions.