VLC
1. Playing with VLC

+

2. Convert & Stream

+

3. Editing with VLC

+

4. VLC for Mobile

+

5. VLC Assistant

+

6. Tips & Tricks

+
Part 1. What is M2TS File
M2TS files are the ones used for Blu-ray Disc Audio-Video (BDAV). M2TS, which stands for MPEG-2 Transport Stream are the ones used for the purpose of multiplexing of various Video, Audio and other such streams. These are mainly used for the High definition video for Blu-ray and Advanced Video Coding High Definition.
These are the file extensions used for the saving of the files in high-definition, using the BDAV (Blu-ray Disc Audio/Visual) format. M2TS files support both 720p and 1080i formats of files. The name and the pattern of the M2TS File can be in the form of "xxxxx.m2ts", where "xxxxx" is a 5-digit number, which corresponds to the audiovisual clip. This file extension was developed by Blu-ray Disc Association and is a container for Audio, video and data files.
Part 2. How to Play M2TS Files with VLC Media Player on Windows
VLC Players can play M2TS files on both Mac and Windows. VLC Media Player can play back the content H.264 video and AC3 audio i.e. M2TS Files directly without any support of any external factor. To play M2TS files on Windows, all you need is to open VLC Player, click on the Menu Option, Go to the open file option. Then you are required to Browse button and navigate to the place where the M2TS file is stored in your computer. Select the file, which you want to play and click OK and VLC will start playing the M2TS video you chose.
Most of the files present in the M2TS Files can be easily played through VLC Media Player on Windows.
Part 3. How to Play M2TS Files with VLC Media Player on Mac
If you are running on Mac and want to play your M2TS Files on the platform, the option is available, and the option is same as that with the Windows. You need to right click Media, Open File, Locate the .mts file or M2TS File and Click OK while playing in VLC Player. Playing M2TS Files on Windows and MAC, is equally easy and with the clear approach of the VLC Media Player towards running these files, the process is quite easy except in some cases, where some M2TS Files cannot be played due to some particular issues.
Part 4. Why VLC Cannot Play Some M2TS Files
Most of the M2TS Files can easily be played on VLC Player, but still some of the M2TS Files are there, which VLC can't play. Some of the reasons for such errors can be in the form of the "Blu-Ray error: This Blu-Ray disc needs a library for AACS decoding, and your system does not have it", which proves that the lack of the Library for AACS Decoding is essential for the system to play M2TS Files.
Even, remember that the M2TS Files are high definition files, which needs good graphics and better RAM for the files to be played. Thus, in case, you are feeling difficulty while running M2TS Files, just check on the configuration of the System too, as these may be the other reason for the VLC Player not running some M2TC Files. Lack of the proper codec needed to play the same files, may be just the other reasons for the VLC Player not running some M2TS Files.
Part 5. Wondershare UniConverter (originally Wondershare Video Converter Ultimate) is the Best VLC Assistant
In case, VLC Player cannot play some M2TS Files, while Wondershare UniConverter (originally Wondershare Video Converter Ultimate) can be the best VLC Assistant for the same. Wondershare UniConverter (originally Wondershare Video Converter Ultimate) is a powerful and wonderful app, which serves as the best conversion platform for all sorts of video extensions. The files having extension M2TS can be easily converted using this software and then can be easily used for the purpose of playing on any player like VLC Player.
In order to play M2TS files on Mac and Windows, which are not running on VLC Player, they can be easily converted without any effort using Wondershare UniConverter (originally Wondershare Video Converter Ultimate). It converts the wide range of file extension from one form to other and can be used for all sorts of needs.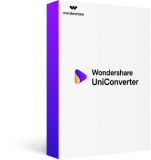 One player to play any video format with the conversion function.
Convert video to over 1000 formats, including MP4, AVI, WMV, FLV, MKV, MOV and more
Convert to optimized preset for almost all of the devices.
Converts files 30x faster than other converters.
Edit, Enhance & Personalize Your Videos File.
Download videos from 10000+ video sharing sites.
Record streaming online videos or screen.
Burn & customize DVD with DVD menu templates.
Streaming Your Media to TV.
Supported OS: Windows 10/8/7/XP/Vista, Mac OS X 10.11 (El Capitan), 10.10, 10.9, 10.8, 10.7, 10.6
Just follow the detailed steps below to get your M2TS files converted.
Step 1 First of all, download Wondershare UniConverter (originally Wondershare Video Converter Ultimate) to your PC and launch it after installation. You'd get the primary interface as follows, click Add Files button to load your M2TS video files to the program.
Step 2 Click the

icon from the Target box and select Video > MP4 and choose a video resolution in the right, which confirms MP4 as the output format.
Step 3 Click the Convert All in the bottom-right to start M2TS to MP4 conversion. You can see the purple process bar while converting, and the covnerted M2TS files could be easily found under the Converted tab.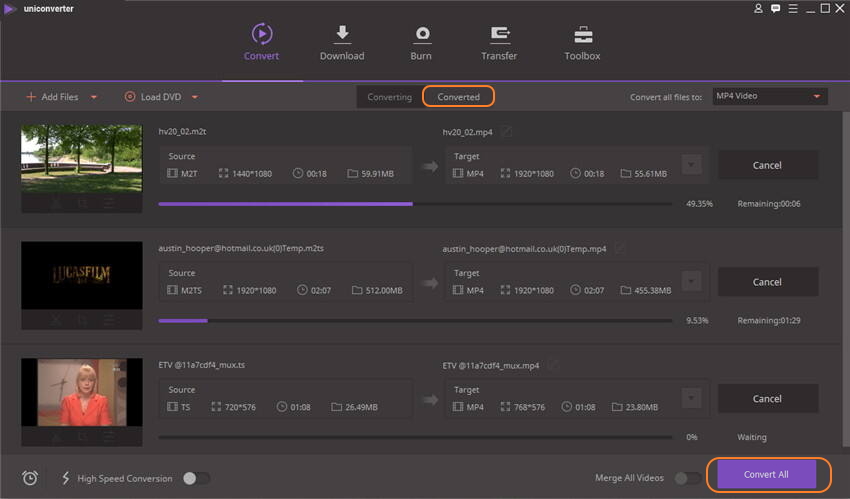 In short, the conversion process is so simple that you can play the converted M2TS videos within VLC right away!