Best Choices to Transfer Large Video Files in 2023
If you are looking for simple ways on how to transfer large video files, you are at the right place. The following parts explain the most efficient methods to transfer enormous media footage from your PC to smartphone and to use the Internet to share those huge files with your family, friends, and colleagues if they are present at a distant geographical location.
Here you will also learn about some of the best practices that could be followed when transferring large video files to make the entire process smooth and hassle-free.
Part 1. Best Way to Transfer Large Videos to Phone
Although you can use the traditional method of connecting your smartphone to your PC and then transfer large video files with the regular copy-and-paste way, things get messy if you own an iOS device, typically an iPhone. Therefore, it automatically becomes imperative to have a universal tool that can help you with the course, regardless of the platform of the smart device you have.
Wondershare UniConverter (originally Wondershare Video Converter Ultimate) is primarily a conversion app that is available for Mac and Windows computers and supports more than 1000 formats. Besides, with lots of other functions like video editor, video compressor, disc burner, VR creator, etc., the software can be considered a one-stop-shop for all your post-production needs.
In the context of this title, one of the essential tasks that UniConverter can perform and might be of your interest is its capability to transfer video files from your PC to Android or iOS smartphones.
Wondershare UniConverter - The Best Tool for Transferring Large Videos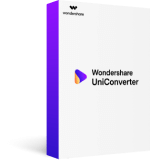 Transfer large videos from Windows and Mac to phone easily.
Convert videos to 1,000+ formats, including AVI, MKV, MOV, MP4, etc.
It has a 30X faster conversion speed than other common converters.
Edit videos with trimming, cropping, merging, adding subtitles, and more.
Burn video to playable DVD with an attractive free DVD template.
It supports download or record videos from 10,000 video sharing sites.
Versatile toolbox includes fixing video metadata, GIF maker, and screen recorder.
Supported OS: Windows 10/8/7/XP/Vista, macOS 11 Big Sur, 10.15 (Catalina), 10.14, 10.13, 10.12, 10.11, 10.10, 10.9, 10.8, 10.7, 10.6.
Security Verified.
7,851,625
people have downloaded it.
You can follow the steps given below to learn how to transfer large videos to your phone with Wondershare UniConverter:
Step 1

Get to the Transfer Window

Launch Wondershare UniConverter on your computer (Mac/Windows), and click the Toolbox > Transfer tile from the top to get to its interface.
Step 2

Sync Your Smartphone

Use the USB cable to connect your smartphone (iOS or Android) to your computer, wait while UniConverter detects your phone, and shows its name in the drop-down list that appears at the top-right corner of the Transfer window.
Step 3

Add and Transfer Media

From the Transfer window itself, click
from the top-left corner, select and add the footage to UniConverter using the Open box that comes up next, and click Transfer from the right of the clip's thumbnail to transfer the video from your computer to phone with Wondershare UniConverter.
Part 2. Other Ways to Transfer Large Video Files
Apart from sending footages from PC to phone, if you want to learn how to transfer large video files online, there are a couple of methods to do so. However, it is noteworthy that uploading huge files consumes a considerable amount of bandwidth and might take a significantly long time depending on Internet speed.
Some most common ways that the majority of people follow to transfer large video files free include:
Cloud Services
Today, almost all major service providers and sellers offer some free space on their Cloud. In addition, there are some third-party vendors that do the same as well. For instance, if you own a Google account (Gmail is the most common one), you already have access to Google Drive that offers 15GB of storage on its Cloud for free. Likewise, you get 2GB of space when you create a free account on Dropbox.
Pros
Most Cloud services allow the owner of the files to set security permissions on their uploaded contents. The recipients can download the files via sharable URLs only if the owner has granted them access permissions.
Cons
You must buy a paid, annually, or monthly renewable plan if you run out of free space and need more to upload other files. As a workaround, you can delete the old records to make some room for the new ones in case you don't want to pay for additional storage.
File Hosting Services
File hosting services allow you to upload large files to their server. Once the upload is complete, the portal automatically generates a unique URL that can be used to download the contents. As an uploader, you can share the link with those you want to transfer large video files to. Some examples of file hosting service providers are WeTransfer, SendSpace, etc. While WeTransfer enables you to upload files as large as up to 2GB and deletes them after 7 days, SendSpace allows only 300MB of file uploads but keeps them forever, until they become inactive or you remove them manually using the link that is also provided along with the download URL.
Pros
Some file hosting services like WeTransfer don't require any registration to upload and download the files, and merely visiting their web portal serves the purpose well.
Cons
File hosting services cannot be used for long-term storage purposes. It is recommended to use them merely to upload the files and then terminate the session once the recipients have successfully downloaded content.
P2P (Peer-to-Peer) Sharing
Generally considered illegitimate means of obtaining paid programs and movies, using P2P clients is legal as long as the files you share and download abide by cyber laws. A good example of P2P is any torrent client that is also capable of creating *.torrent files out of large video footage. These torrent files are of merely some kilobytes in size and can be shared via email or any other means. At the recipients' end, they can use any P2P client software and use the *.torrent file to download those massive clips on to their device.
Pros
The entire process remains free and only requires a stable Internet connection for large video transfer.
Cons
The uploader must remain online until the whole file is downloaded at the recipients' end.
Part 3. Useful Tips for Transferring Large Video Files
In light of the solutions discussed above, it is easy to transfer large video files, both offline and online. However, before you jump in and start with the transferring process, you might want to consider the following important tips to make your video sharing experience flawless:
Consider Video Compression
Video compression reduces the overall file size of the footage at the cost of deteriorating the picture quality. If a video is in 4K resolution, the recipients won't mind if you reduce it to Full HD (1080p) in order to save some bandwidth and time. Any efficient tool like Wondershare UniConverter can help you compress the video with negligible loss in picture quality.
Consider File Compression
Using a strong archiving tool like WinRAR or 7zip can help you compress large footage regardless of its resolution. With reduced file size, the large video transfer process becomes less time and bandwidth-intensive. Even though Windows and Mac have their own built-in file compression feature, they are not as effective as their third-party alternatives, and at the time of this writing, 7zip is considered the best among them.
Consider Resolution Requirements
This tip can be thought of as a sub-section of the first one. Here you can try determining the target devices the media could be played on, and depending on display screen type and capacity, you can reduce the resolution of the footage to decrease its file size.
Consider Transfer Methods
You can check the methods discussed above to pick the best way to transfer large video files. Depending on your Internet plan, area of residence, and the recipients you want to share the clips with, your choice may vary.
Consider Security
If your video contains sensitive or personal information, it is recommended to use the safest method to transfer them. In such a scenario, you may want to consider using Google Drive or Dropbox that is not only secure, and they even offer natural methods to share and download huge files with ease.
Conclusion
It is easy to learn how to transfer large video files from your computer to a smartphone using Wondershare UniConverter. However, when it comes to sharing the footages with someone at a distant geographical location, you must have a stable Internet connection and must rely on a Cloud or file hosting service or any P2P client application to get the job done.
Other popular articles from Wondershare