How to Record Gameplay on Xbox One for YouTube with All Ways
Xbox is a popular gaming console around the world. Every year, several new games are launched on this platform and played by millions of players from all corners of the world. If you want to start a gaming channel but don't know how to record Xbox One gameplay for YouTube? There are no issues because there is a lot of different software that can be used to do so. It also comes with an inbuilt recording tool with basic quality and minimal features to affect the recording in any way. If you wish to get a few extra features for recording and streaming, you might need to download a third-party tool and buy a capture card. Keep reading further to know how to record YouTube videos on Xbox one?
Part 1. How to Record Gameplay on Xbox One with Built-in Feature
Believe it or not, there is a very capable screen recorder pre-installed into the Xbox. Microsoft has provided an Xbox DVR into the latest models so that users can easily edit, record, and share their screen recording without any issues. This feature is great for beginner content creators and can be used to record your gameplay or any funny bugs glitches or moments that you might have seen. It is easy to do and can be done even by beginners that don't have much technical know-how about recording gameplay on Xbox.
The following steps will help you understand how to record Xbox one gameplay for YouTube.
Step 1. Say 'Xbox record that' on your headphone mics or press the Xbox button present on your controllers. This will open the Xbox DVR.
Step 2. From the various options, go on view and select the record from here option, and your recording will start when you click.
Step 3. It can record up to 10 minutes the gameplay video, depending on the space available in the storage of your Xbox.
Part 2. How to Record Gameplay on Xbox One with Recording Software
If you are looking for a third-party tool for recording Xbox gameplay, make sure that you start by trying OBS. It is a free-to-use tool that can be downloaded and installed on the computer. It can be used to record clips that can be shared with your friends. It is easy to use and can record the game in HD quality. You can also live-stream your gameplay to a much wider audience on social media platforms. You will also need a capture card, a computer to connect the Xbox, and a stable Internet connection.
The following is a brief guide about how to record gameplay on Xbox One for YouTube using OBS.
Step 1. Connect your Xbox to your TV, now connect AV.io between the HDMI splitter and capture computer.
Step 2. Now, open OBS and set it up as your screen capture software. You can tweak various aspects related to the recording while OBS allows for a lot of different options. Add AV.io as a global source. Check if everything is right by clicking on preview recording.
Step 3. Click on the Start button, and the recording will start. Once you are done, go back to the recorder and stop it to save it in local storage.
Learn more about how to record a specific window in OBS.
Part 3. Tips & Tricks about Recording Gameplay on Xbox One for YouTube
If you look on the Internet, you will find a lot of guides that will claim to help you create better gameplay recordings on your Xbox. While most of them would tell you about settings and other stuff, the essential thing that you should know are the basic tips are tricks. If you are aware of the various recording tips and tricks, you will be able to significantly enhance the overall quality of videos so that you can get a better response from the audience. The following are some of the tips and tricks that you can follow to get the best recordings.
Keep the resolution high.
One thing to know is that it is better to keep resolutions as high as possible so that you can provide the best quality for the video. Also, YouTube compresses the videos a little bit when you upload it, so make sure that you keep the quality to at least 1080p. Anything above that is not a problem. Currently, most of the video editors only allow 1080p recording, but there are a few exceptions that will enable 4k recording and editing as well.
The bit encoding rate matters
Most of the screen recording tools provide you with options to tweak the bit rate of the video. The higher you keep the bit rate, the higher the size of the video will be. Also, the quality of the video will be a lot better. It might seem tempting to keep the bit rate as high as possible, but it is important to balance it properly because a high bit rate will also result in a more buffering time when anyone plays it on YouTube.
Keep frame rates under check.
The compression algorithm of YouTube makes it tough for gamers to post quality content. While getting high quality is an essential thing, higher frame rates are also very important if you don't want your gameplays to look choppy and low-quality, it is better to record the videos in at least 60 FPS. It will allow you to have better frame rates, which will ultimately result in better quality once uploaded on YouTube.
Recording the Audio
If you want to create an impact on YouTube with your gameplays, make sure that you pay attention to the audio of the game as well as your own commentary for the gameplay. Try to make use of a high-quality headphone that has a good mic, if you can't afford a standalone microphone. Also, test out various screen recorders and ensure that the quality of the recorded audio from the internal as well external is equally great.
The output is as good as the input.
This statement means that in order to create stunning output, it is important to make sure that the input that you provide is equally matched in terms of quality. This is why it is important to make sure that you get the best software for recording and editing so that you can provide the best possible input. One such tool is Wondershare UniConverter (originally Wondershare Video Converter Ultimate), which is easy-to-use software. It is a complete toolkit for various types of files like audio videos and images. It can record screen in high quality and also has a capable inbuilt video editor.
Part 4. How to Record Gameplay on Xbox One for YouTube Quickly and Easily [Recommended]
If you're still new to the video recording world, you may find the methods above too complicated. That's why I recommend using Wondershare UniConverter, whether you're a pro or a beginner. It is one of the best game recorder in the industry. With this straightforward app, gamers and vloggers can capture 4K quality videos on their Mac/Win computers in full screen or partial mode. Before recording the video, it lets you choose devices for adding voice narrations and recording a webcam. You can also preset the frame rate, quality, format, and so on. Further, users can apply annotations like shapes, lines, texts, and arrows as they record the video. Plus, you can edit and convert the captured Xbox One video professionally.
Wondershare UniConverter – Best Xbox One Video Recorder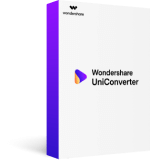 It can record Xbox One gameplay videos in 4K quality.
Users can choose to capture the entire gameplay screen or a select region.
It allows you to apply video overlays (webcam), voice narrations (microphone), and annotations.
Users can preset the frame rate, format, quality, folder path, set a recording timer, etc.
It can edit the recorded Xbox One video by trimming, adding watermarks, applying subtitles, etc.
It can convert the recorded Xbox One video directly to YouTube, Vimeo, Likee, TikTok, etc.
It's the best Xbox One recorder for Mac OS X 10.9+ (Catalina included) & Windows 10/8/7.
Security Verified.
5,481,347
people have downloaded it.
Step-by-step procedure to record an Xbox One video on Mac/Win using Wondershare UniConverter:
Step 1

Install and run the app.

After installing Wondershare UniConverter, click Screen Recorder, then press the Camcorder button. The screen capture function will launch automatically.
Step 2

Set a capture area.

Now connect your Xbox console to your computer to start streaming the video game on your PC. After that, choose a capture section by dragging the screen capture frame to fit a particular area. A simpler way is to select Custom or Full Screen as the recording mode. With the Custom method, you can enter the video frame dimensions, then hit Lock Aspect Ratio.
Step 3

Configure the settings and preferences.

After selecting a capture area, choose a sound output speaker under the System Audio menu. Next, select a camera on the Webcam section and a mic on the Microphone section. You can disable any of these features while recording the video.
To set the output format, frame rate, and quality, open the Advanced Settings menu. Here, you can also customize the keyboard shortcut, folder path, and set a recording timer.
Step 4

Start the screen recording process.

Firstly, preview the capture section, then click REC if everything looks clean and polished. As the recording process continues, launch the taskbar, then press the Annotation button to apply texts, shapes, arrows, drawings, and lines. Once you've recorded enough content, press Stop.
Conclusion
If you are a gamer and want to record your gameplay on your Xbox so that you can upload it on YouTube, there are a lot of tools that you can consider. Xbox has a pre-installed screen recording tool that can be easily triggered by clicking on the Xbox button on your controllers. If you want a better option and wish to have a capable screen recorder and video editor in one, make sure that you give Wondershare UniConverter a try.