Most Helpful Game Screen Recorder for YouTube in 2023
The audience for watching gaming videos has been growing more and more in popularity over the past few years. The number of content creators has also become more and more, and people are recording their gameplay to share it with their friends. You can easily find a YouTube gaming recorder on the Internet that can be downloaded and used for free. A lot of devices come with in-built screen recording tools that are capable enough for most of the scenarios, but third-party tools that specialize as a video game recorder for YouTube will have a lot more features. Keep reading further to know about some of the most excellent game recording tools that you can get.
Part 1. Most Helpful Game Screen Recorder for YouTube in 2022
If you want something straightforward to use but packed with exciting features, get Wondershare UniConverter. With this all-in-one desktop tool, you can record YouTube video game tutorials in HD quality and export them to MP4, AVI, or FLV files. As expected, it lets you record the entire screen or choose a custom area to capture. It also allows users to add webcam recordings, voice narrations, and annotations like shapes, texts, and arrows. Most importantly, you can edit the recorded gameplay tutorial by adding video effects, applying subtitles, cutting, cropping, and more.
Wondershare UniConverter – Best YouTube Gaming Recorder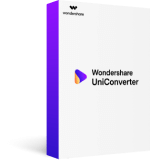 It can record gameplay YouTube videos in full-screen or partial modes.
Users can export their recorded videos to MP4, AVI, or FLV file formats.
It allows you to add webcam recordings, voiceovers, and beautiful annotations like shapes, colors, texts, etc.
It lets you preset the output frame rate, quality, folder, set timer, and customize hotkeys.
Edit the recorded gameplay video by cropping, cutting, compressing, adding subtitles, etc.
Convert videos to MP4, VOB, FLV, MTS, 3GP, and other video formats.
Best YouTube gaming recorder for Mac OS X 10.9+ & Win 10/7/8.
Security Verified.
5,481,347
people have downloaded it.
Steps to record YouTube gameplay using Wondershare UniConverter:
Step 1

Open the Screen Recorder tool.

Download, install, and launch the software, then press the Screen Recorder button. Proceed to launch the recording tool by clicking the Camcorder icon.
Step 2

Configure a capture area.

Launch the YouTube gameplay video, then drag the screen capture frame inwards or outwards or set a recording area. Alternatively, set the capture area as Custom or Full Screen on the recording mode drop-down list. If you want to enter precise frame dimensions, choose Custom before clicking Lock Aspect Ratio.
Step 3

Set the recording preferences.

Now open the System Audio menu, then choose a sound output device. You can also select a mic and Facecam for adding voice narrations and a video overlay. Do that under the Microphone and Webcam sections.
Meanwhile, open Advanced Settings, then choose your favorite output format, quality, and frame rate. You can export the video to AVI, FLV, or MP4. And lest I forget, you can set the folder path, timer, and change the keyboard shortcuts.
Step 4

Start recording the YouTube gameplay video.

Preview the capture section, then choose a part of the video you want to start recording. After that, click REC to start recording the video. As mentioned above, you can add colorful highlights as you record. To do that, open the taskbar, then press the Annotation icon. Click Stop to finish capturing the YouTube video game tutorial on PC.
Part 2. Another 9 Game Screen Recorder for YouTube
XSplit Game Caster
https://www.xsplit.com
It is a screen recorder for Windows, which is quite effective at what it does. As a beginner, this tool can provide you with the benefits of advanced software that are available for a cost. The recording quality of this tool is quite high, and it has a very clean and easy-to-understand user interface. You get to record in high definition with high frame rates so that you can get professional quality video recording on your PC. If your priority is a free-to-use tool that can get the job done, this is easily the gameplay recorder for YouTube that you can use.
Pros
● The user interface is simple and easy to use.
● You can record system audios as well as audio from external sources.
● It is free to use but also has an advanced premium feature with more features.
Cons
● You cannot get control over the quality of the video recording.
● It is not available for Mac-based computers.
● It can only export recording in MP4 format.
Bandicam
Bandicam is a very popular screen recording and streaming software for computers among a lot of gamers all around the world. A lot of professional players and gaming content creators make use of this tool due to its powerful features and a wide variety of plug-ins than can significantly make your final content better. It also has a lot of basic editing features that you can find useful quite often while recording. The recording and streaming quality of this game recording software can be pushed up to 4K, which is considered great for professional quality content. The user interface of this tool looks quite interesting and attractive with its color scheme and design aesthetics.
Pros
● There is a built-in compression system that can lower the size of your final output file.
● The recording quality is extremely high, and the tool is trusted by a lot of professional gamers and streamers.
Cons
● It is quite costly, which makes it unsuitable for beginners with a low budget.
● Sometimes the recorded videos might feel a bit laggy after being exported.
● It is not available for the Mac operating system.
Apowersoft screen recorder
https://www.apowersoft.com/free-online-screen-recorder
It is one of the best tools that you can get. When you look on the Internet, you will find a free Apowersoft screen recorder and a paid one. The one talked about here is the pay-to-use version. This is one of the most powerful tools available for video recording and quite popular among professional gamers, streamers, and gaming content creators. It can record high-quality video with audio from up to 3 different sources at once. You get lots of editing features and recorder tweaks that will allow you to produce videos with a professional approach.
Pros
● There is a free 30 days trial for new users that can be great to learn how to use the tool.
● It produces HD quality content with no watermarks.
● There are several editing features to cut, crop, trim, and adjust your video recording so that you can get the desired results.
Cons
● The paid version is quite costly.
● There are no plug-ins and add-ons on this tool.
● The recording quality can sometimes vary when your system is going through heavy stress.
CamStudio
If a simple and free-to-use screen recorder is what you are looking for, this is the best option that you can probably go for. It is very powerful while still managing to be free and light on the processor of the computer. As of now, it is only available for Windows computers. It is a widely used tool that can record high-quality screen videos with ease. The software is has a very clutter-free and clean user interface. It also has a few editing features that you can use for better content. Due to this, you will save a lot of time on necessary edits.
Pros
● It is a lightweight tool that will not slow your PC down
● The tool is entirely free and is easy to use as well.
● You can use a microphone and system sound as the source together while recording gameplay.
Cons
● Sometimes this tool can crash while recording.
● You don't get access to the recording settings of the video.
● The editing features of this tool are quite limited and are not accurate.
Movavi screen recorder
If having a smooth user interface that is easy to use and navigate is the priority along with high-quality video recording, this is the right tool for you. This game screen recorder for YouTube is great for beginners as well as experienced professionals due to the editing features and high-quality video output it provides. This tool allows you to tweak various aspects of the recording due to your needs. You also get to either record full screen or select a particular area to get recorded while you are playing the game. Due to the futuristic user interface that is sleek and intuitive, this tool is very easy to use and fast to operate.
Pros
● You can choose between recording the entire screen and recording a small portion of it.
● You get a lot of editing features for the recorded videos that can uplift the quality of the videos.
● The user interface makes navigation among features extremely easy and also simplifies editing.
Cons
● The trial lasts only 7 days, which is not enough.
● Most of the features are of no use at all and will be wasted.
● The tool is very expensive.
Flashback Express screen recorder
https://www.flashbackrecorder.com/express/
If you wish to create high-quality content for YouTube related to gaming, tutorials, or anything else that involves recording screen, this is the best tool that you should try out at least once. It provides a lot of control over the overall quality of the video, and the audio quality of the system sounds or sound from the external source is crystal clear. It has a professional-looking user interface that looks clean and attractive. All this comes together to make this a very popular tool among gaming content creators all around the world.
Pros
● The user interface is great, and it makes it easier to control the whole recording process.
● The recording output is usually exported in AVI or MP4.
● There are no watermarks or limits of recording duration of the screen recording.
Cons
● It crashes a lot when under heavy pressure.
● The support for this tool isn't good.
● There are a lot of bugs and glitches on this tool that can destroy your experience.
OBS or Open Broadcaster Software
It is the primary choice of professional gamers and is used by them to record and stream their gameplay on various social media and video sharing platforms. The user interface of OBS is clean and straightforward, which makes its operation clean and convenient. This tool can be used to record your screen and even stream it simultaneously on streaming platforms. It can support 1080p video at 60 FPS, which is the best you can get even in most of the paid video recording tools. There are a lot of options for you that you can use to tweak the quality of the output further as you want.
Pros
● It is trusted by some of the biggest gamers in the community and is completely free to use.
● The user interface is clean and is free from clutter, which enhances the overall user experience.
● It allows 1080p 60FPS video recording.
Cons
● There are a lot of bugs on this tool, which makes it tough to use it.
● The app is still not in the final release stage and hence isn't labeled as stable.
● If you download most of the plug-ins it has, there is a high chance that the tool will constantly crash.
Dxtory
https://exkode.com/dxtory-features-en.html
If you are a content creator looking for the screen capturing software that can be a bit light on the system, this tool is a must-have. You can record high-quality videos while being able to customize all the major aspects of the videos. Even after the lightweight design and coding of the software, there are no comprises related to the recording features provided to the users. This tool allows you to record the system audio along with the audio from the microphone and also enables you to record any one of them.
Pros
● It has customization options to enhance the overall recording quality quite significantly visually.
● The user interface is fundamental, which makes it great for users with lesser technical knowhow about recording games.
● The overall user experience of this tool is smooth and intuitive.
Cons
● The free trial provided by this tool is very short and is not enough for learning all the features.
● The features offered by the tool can be tricky for new users.
● It continually pushes pop-ups to notice you upgrade the tool to pro.
Action!
https://actionrecorder.com/
This screen capturing tool is extremely capable and can record high-definition videos of your gaming sessions without any issues. This tool allows you to control various aspects of the recording, like frame rate, resolution, format, orientation, and a lot more. It can record video in up to 4K quality with your voiceovers and commentary alongside the system audio of the games that you play. The user interface is clean and simple, which allows you to do the required task without getting confused easily. Unlike many other screen recording tools, there is no drop in the quality of the recording, and the quality remains uniform throughout the recording.
Pros
● It supports major formats like AVI and MP4.
● It is very easy to use and is suitable for beginners in the field.
● There is a GPU acceleration option that will allow you to get even better results while recording your screen.
Cons
● It only has basic editing tools despite being this costly.
● There is no option for a demo or free trial on this tool, and it is quite costly as well.
● The live stream feature present on this tool doesn't work most of the time and crashes as well from time to time.
Conclusion
Gaming is a very relaxing and enjoyable activity that is popular all around the world. Over the past few years, more and more gamers have started to upload gameplays regularly. If you also wish to do that, you will need to have screen recording software. While there are thousands of options available in the market, one of the best is Wondershare UniConverter. This is because it is free to use and offers a wide variety of features like screen recording, compression, CD burner, file conversion, etc.