How to Record BBC iPlayer with All Ways
BBC is very popular among people nowadays. It is the video streaming online services that contain various TV shows and channels for their audience. You can watch your favorite series anytime on this platform. Some people do not like to view in real-time TV shows, and they want to prefer downloaded videos. BBC comes with the built-in download option, but the downloaded videos expire after 30 days. In this case, people generally prefer the screen recorders to record the videos, but how to record BBC iPlayer is a problem for them. There are many screen recorders available in the market. You can use any to get the results.
Part 1. Easiest Way to Record BBC iPlayer on PC
If you want to record videos from BBC iPlayer or any other internet video streaming service, use Wondershare UniConverter. With this program, you'll capture BBC iPlayer videos in high quality and edit them if you want. While recording the video, users can add voice narrations, Picture in Picture effects (or webcams), and annotations like texts, shapes, and arrows. Interestingly, it allows you to choose the output format, frame rate, quality, and recording timer. You can even customize the keyboard shortcuts and folder path.
Wondershare UniConverter – Best BBC iPlayer Recorder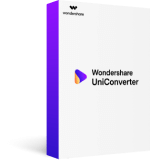 It can record high-quality BBC iPlayer videos in full-screen or custom modes.
Users can record BBC iPlayer videos with voice narrations, PIP effects, and annotations.
It allows you to choose the output folder, format, frame rate, quality and set the keyboard shortcuts.
Edit the recorded BBC iPlayer video by trimming, cropping, rotating, etc.
Convert the recorded BBC iPlayer video to VOB, MTS, DV, MP4, and other formats.
Best BBC iPlayer recorder for Mac OS X 10.9+ (including Catalina) & Win 10/8/7.
Security Verified.
5,481,347
people have downloaded it.
Below are the steps to record a BBC iPlayer channel using Wondershare UniConverter:
Step 1

Open the Screen Recorder function.

Install and run the software on your desktop, then click Screen Recorder. Now open the screen capture tool by clicking the Camcorder icon.
Step 2

Set a capture area

Next, click the recording mode menu and choose Custom or Full Screen as the screen capturing method. If you want to record the video with specific frame dimensions, choose the Custom mode, then click Lock Aspect Ratio. A more straightforward way is to drag the frame inwards or outwards to set a specific capture section.
Step 3

Configure the recording settings.

Firstly, open the System Audio menu, then choose a device for recording the computer sounds. Proceed to select a mic and a Facecam on the Microphone and Webcam menus. This lets you record the computer screen with voice narrations and a PIP effect.
Now click the Advanced Settings button, then choose your preferred folder path, keyboard shortcut, recording timer, frame rate, quality, and format. You can record the video to MP4, AVI, or FLV files.
Step 4

Start the recording session.

Configure the capture area once more to see if it needs adjustments, then click REC. After the recording process begins, launch the taskbar, then click Annotation. You can now add texts, shapes, lines, arrows, and drawings as you record. Click the Stop button once you're recorded enough content. It's that simple!
Part 2. How to Record BBC iPlayer on Mac
Mac-based computers come with Quicktime player that can easily record screen in high quality without any issue. Quicktime can also record audios with the same quality. The screen recording on this tool is done in 1080p resolution with a frame rate fixed at 60 FPS. It is easy to use and can be used to record movies, shows, and documentaries from BBC iPlayer. This is a reliable tool that can record videos in consistent quality without any issue.
The following are the steps to help you understand how to record BBC iPlayer on Mac.
Step 1 Open your Mac powered computer and open Quicktime from the application drawer.
Step 2 Select the New Screen Recording option from the File section of Quicktime.
Step 3 Now, you will see the various options related to screen-recording, which you can adjust as your requirements so that you can get the best results.
Step 4 After you have recorded the required duration, stop the recording by clicking on the red circular button of the recording control widget.
Part 3. Tips and Tricks about Recording BBC iPlayer
Knowing all the tips and tricks for recording the screen processes is extremely important. This is because they can allow you to record better videos of the screen processes. These tips and tricks are related to the various aspects of the screen recording process and how to prepare before recording your screen so that you can get a good output without putting in much effort on your own. Following the tips and tricks will also help you in making the whole process a lot easier and less time-consuming. The following are some of the tips that you must definitely follow.
Audio recording:
Make sure that you check out the audio recording capabilities of the screen recorder before you download it. Make sure the recorder can record sounds from both sources, i.e., the internal as well as external sources. Also, make sure that there are minimal background noises while recording the screen as it can disrupt the overall sound quality of the videos.
Record in the highest quality:
The raw clips will have the best quality, and as they are edited and shared on more and more platforms, their qualities deteriorate over time. Hence, try to make sure that you record your screen in the best quality possible if you wish to get better results in the end. The frame rates and the resolution of the video are 2 of the most important things here, hence make sure that you keep the resolution to at least 1080 p and the frame rates to at least 60 frames per second.
Don't share the recording:
If you are recording shows from the BBC's iPlayer, make sure that you share it around with your friends. This is because their respective owners do not permit the recording and distribution of those contents, and if you are found using the content for your own financial gains, you might end up in legal issues. Make sure that even if your record these TV shows, they are used for personal requirements only and not for commercial usage.
Invest in a high-end third-party screen recorder:
While the built-in recording tools found in computers are capable enough, it is considered better to use the third-party screen recording tools to record screen. This is because third-party tools will allow you more control over the various aspects of the screen recording. Also, they will have more features for recording, like marking/drawing tools, screenshots, custom screen recording, etc. All these features can enhance the result of the recording process.
Avoid distractions:
If you are recording in your computer, make sure that you hide the cursor if your recorder has the feature to do so. If your recorder doesn't have it, try to keep the cursor at one side and avoid moving it here and there as that will distract anyone that will watch the video. If you are using a smartphone or iPad to record the videos, make sure that you turn off the show touches option from the screen recording tool's setting.
Conclusion:
BBC iPlayer has some of the best collections of TV shows and movies. It is a subscription-based service that a lot of users from around the world use daily. There are many various ways to record the shows present on the service so that they can be watched whenever you are free. One of the best tools that can be used to record the show from BBC iPlayer is Wondershare UniConverter. This is one of the best screen recording tools that are good enough to do a lot of other tasks as well as photo conversion, video editing, CD burning, etc.