How to Record Games on Your Phone with Game Recorder App
Over the past couple of years, mobile gaming has seen a tremendous rise. More and more people are now creating mobile gaming content for their audience. While most of the mobile devices now come with built-in game recorder apps, third-party tools are always better options as they offer better features and higher control over the recording. This ultimately results in better overall quality of the recorded gameplay and will help you to gain more respect among the audience. It is essential to choose a game video recorder app that gives you the ability to customize the various aspects of the recording to your liking for better quality in the end.
Part 1. Most Helpful 7 Game Recorder Apps in 2022
As you might know, there are thousands of gameplay recorder apps on the Internet that will help you to record the games that you play on your mobile phones. Most of the recording tools are free to use but have a paid premium version with better features. If you are a casual user and have no particular need for high-end features in the game recorder app, it will be better to use the in-built recorder of your phone. But if you are having professional aspirations and wish to create content on YouTube or other streaming platforms, make sure you download a third-party tool.
The following are the 7 best screen recorders that you can use right now.
DU recorder
https://www.du-recorder.com/
Pricing: Free
Supported Operating system: Android and iOS
It is one of the most popular mobile game recorder apps for iOS and Android devices. The user interface is straightforward and convenient. To be a free-to-use tool, there is no compromise on the features. You get the option to use your own watermark on every recording that you upload on your videos that are getting recorded. Using this tool is pretty easy, and the recording can be controlled from a floating circle. You get the option to mark areas on the screen while recording to mark specific things. You get to customize everything as your preference from bit-rate to the resolution of the video, and everything has to be set by you.
Key features
● The tool has a very easy-to-use and straightforward user interference, which is suitable for beginners as well as experienced users.
● It can record full HD videos in up to 120 FPS. You also get to choose the audio source between internal and external. You can also select them both.
● You get features like screenshots, basic video editing, and marking tools.
A to Z screen recorder
https://play.google.com/store/apps/details?id=com.hecorat.screenrecorder.free&hl=en_IN
Price: Free
Supported operating systems: Android and iOS
This is another free-to-use screen recorder for Android and iOS-based devices that is extremely lightweight and powerful. The overall user interface takes the best things from other popular recorders like a simple user interface, clearly mentioned features and easy to understand operations. With the help of this tool, you can record high- definition audio and video from your mobile device's screen and upload it at your convenience. Anyone with limited knowledge of screen recording can use this free application for recording high-definition game footage. You can record audio from internal as well as external sources in Android 10 and above.
Key feature
● It can record high-quality video with sound from internal and external sources simultaneously.
● You get lots of customization and settings to play around with while recording the video to enhance its quality.
● You can also stream your screen directly to YouTube or other social media platforms to showcase your gaming skills in real time.
Mobizen screen recorder
https://www.mobizen.com/?locale=en
Price: Free
Supported operating systems: iOS and Android
Editing features in a screen recorder is just like a cherry on top of the cake. This tool has a very efficient recording feature along with a lot of customizations and editing functionality that can make your work a lot easier. Even if you don't know how to record gameplay, the easy and smooth user interface of the Mobizen screen recorder will not let you down. You can add watermark and frames to your recordings and can also record internal and external audio while playing your favorite game. A lot of people use this tool due to the high number of features it provides for free.
Key features
● You can customize your video resolution, bit rate, orientation, frame rates, and other important aspects as your demands, or you can set it to auto, where it will adjust the settings as the CPU power available.
● It has a very attractive user interface.
● You can put your own customized watermark on the recordings automatically.
Super Screen Recorder
https://play.google.com/store/apps/details?id=com.tianxingjian.screenshot&hl=en_IN
Price: Free
Supported operating systems: Android
It is one of the best professional-level video recording tools. It is used by a lot of gamers and content creators since it can provide professional-level features for absolutely zero cost. It has no ads on the user interface of this tool, which enhances the overall user experience of the users and makes it easier to navigate between features. The highest quality provided by this recorder is 1080p 60 FPS 12 MBPS, which is great considering it for a mobile device and is free to use. It also packs in some of the most important editing functions like cropping, merging, trimming, splitting videos that you record with a single click.
Key features
● It can record videos in pretty high quality, like 1080p 60FPS and 12 MBPS bit rate.
● It has all the essential editing features that can be used to edit and directly post the videos on social media or YouTube.
● The audio is crisp and clear, which means you can add crisp commentary over the background sound of the gameplay.
ApowerREC
https://apps.apple.com/us/app/apowerrec-record-screen/id1336928544
Price: Free
Supported operating systems: Android and iOS
ApowerREC is a very popular screen recorder among mobile gamers and is used by a lot of beginner content creators due to its efficiency and free availability. It has a professional-looking user interface and receives constant updates and patches for bug fixes and enhancing the features and usability. The quality that you set remains constant throughout the time the screen is being recorded. This tool doesn't have any kind of watermarks. You can also record the video from your front camera while playing the game and recording it. It is supported on Android as well and iOS devices, which makes it very commonly used.
Key features
● You can also record your face in a small frame while playing games and capturing the gameplay, which adds to the usability of the clips.
● The clean and light user interface makes it easier to use, and there is also an option to set the timer to prepare the game before the recording starts.
● It can record videos in 1080p 60FPS.
Screen recorder – No Ads
https://play.google.com/store/apps/details?id=com.kimcy929.screenrecorder&hl=en_GB
Price: Free
Supported operating systems: Android
This tool does what the name states. It is a simple and free-to-use screen recorder that has no ads on the user interface. This is a rare thing to see in free to use apps. And despite that, the video recorder is extremely capable. It can easily be controlled with a small floating widget that will appear whenever you click on the app icon. You can access the settings of the tool from the widget to tweak the settings as your requirements. You can record high definition videos on this tool with sounds from internal as well as external sources.
Key features
● The application is very user friendly and light on the processors as well.
● It is easy to use and is suitable for beginner content creators who are looking for a free and easy-to-use screen recorder.
● The audio quality is great along with the video recorder, and there are no ads on the user interface.
ADV Recorder
https://play.google.com/store/apps/details?id=com.blogspot.byterevapps.lollipopscreenrecorder&hl=en_IN
Price: Free
Supported operating systems: Android
It is another screen recorder for Android that you can use to record high-quality videos of your gaming sessions with ease. If you are someone that casually records their gameplay to share with their friends or for making tutorials, this will be the perfect choice as it is lightweight and can be used easily without much knowledge about screen recording. You get a few settings to enhance the quality of the video or downgrade it for low-end devices. The user interface is minimalistic and efficient. And you also get a few advanced features that can enhance the quality of the video.
Key features
● The user interface is easy for beginners to use.
● It is free to use.
● The recording can be bumped up to 1080p 60 FPS.
Part 2. How to Record Games on Your Phone with Game Recorder App
If you don't want to download third-party tools and use them for recording the gameplays, there is no problem because most of the people that have in-built recording software consider using them better. However, many capable screen recorders can record your gameplay in high definition. Still, due to the common usage of the inbuilt recording software, the following steps are based on the in-built recorder. Despite the difference, the process of starting the recording is almost the same with minor changes.
You will understand how to record your gameplay in high definition on mobile phones by the following steps.
Step 1 Launch the game that you wish to record, drag the notification panel down and look for the Screen Recorder option and touch it. If you are using a third-party tool, search for it in the application list and open it.
Step 2 A tiny floating widget will appear on the screen that will allow you to control the recording. Set the game up and start it once you are ready, click on the red button present on the widget of the recorder you are using.
Step 3 Once you have recorded your entire gaming session, end the recording by touching the square-shaped button of the floating widget present on the screen or the notification panel. You can press the lock button of your device to stop the recording.
Conclusion
If you are a mobile gamer and are looking for a capable screen capture application that can allow you to record your screen in high definition so that you can post it on social media and share with you friends, it is essential to get the right screen recorder, as the quality of your content almost entirely depends on it. There are thousands of screen recording and editing tools for Android as well as iOS that you can download and use for free to create professional-level content. You can also use the built-in screen recorder present in most Android and iOS devices.
Part 3. How to Record Any iPhone Action on PC with Lossless Quality
If you want to record games, videos, or any other iPhone action on PC, use Wondershare UniConverter. However, you'll first need to install an emulator app on your iPhone before using this program to capture high-quality videos. Wondershare UniConverter is simple and packed with a ton of features. Besides recording the computer screen, you can also add voiceovers using a mic, video overlays with a webcam, and annotations like shapes, lines, texts, and so on. Best of all, it features an excellent video converter, editor, compressor, downloader, and more.
Wondershare UniConverter – Best Game Recorder App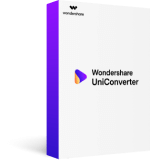 Record computer screen activities in full-screen or custom modes.
Capture all computer apps like Zoom, Skype, media players, browser tabs, video games, and more.
Record iPhone videos with Picture in Picture (PIP) effects, voice narrations, and annotations like texts, shapes, lines, etc.
It allows users to customize the output format, frame rate, quality, folder path, keyboard shortcuts, and recording timer.
Edit the recorded video by trimming, cropping, compressing, adding subtitles, etc.
Convert the captured video to MP4, MTS, 3GP, VOB, FLV, MOV, and more.
Best video recording app for Mac OS X 10.9+ (Catalina included) & Win 10/7/8.
Security Verified.
5,481,347
people have downloaded it.
Below is how to record any iPhone activity on Mac/Win using Wondershare UniConverter:
Step 1

Launch Wondershare Screen Recorder tool.

Install and run Wondershare UniConverter, then click the Screen Recorder button on the left pane. Now press the Screen Recorder button to launch the screen capture tool.
Step 2

Select a capture area.

Open the iPhone video or game that you wish to record, then drag the recording frame inwards or outwards to set a capture area. Alternatively, press the recording mode menu, then choose either Custom or Full Screen. Select the Custom mode if you want to enter specific frame dimensions. To make the output look attractive, press the Lock Aspect Ratio.
Step 3

Configure the settings.

First of all, choose an audio output device under System Audio for capturing game sounds. After that, select a mic under the Microphone menu, then select a camera for adding a PIP effect on the Webcam menu.
Next, open the Advanced Settings menu, then choose MP4, AVI, or FLV as your output format. You can also set the target frame rate, quality, folder path, recording timer, and customize the hotkeys.
Step 4

Start recording the video.

Finally, carefully preview the capture area, then tap REC to begin the video capture session. If you want to record the iPhone game with annotations like texts, shapes, lines, arrows, and drawings, open the recording taskbar and click Annotations. Interestingly, you can change the color of annotations to make them more attractive. Lastly, press Stop to finish recording a video on your PC. It's that simple!