Most Helpful Tips about Video Recorder and Editor
Over the past few years, video recording tools are becoming more and more among the masses. People use these video recorder editor tools mainly for content creation or for recording a video you watched online. Most of the devices have pre-installed recording software, but those tools have limited capabilities in terms of features and overall quality. Third-party tools can provide you with a lot of extra features that might be useful for professionals in enhancing the overall quality of the video with ease.
A lot of third-party video recorder and editor come with in-built editing capabilities that make it easier for the professionals to get their needs fulfilled in just a few simple clicks.
Part 1. Best Video Recorder and Editor in 2022
Finding a complete video recorder editor app can be a challenge in the online world filled with subpar software products. Fortunately, Wondershare UniConverter lets you record and edit videos on Mac/Win effortlessly. With this computer program, users can record any computer activity in full-screen or custom mode. It allows you to add voice narrations, webcam recording, and annotations like shapes, lines, drawings, and texts. Moreover, you can choose to export the recorded video to MP4, AVI, or FLV file.
Wondershare UniConverter – Best Video Recorder & Editor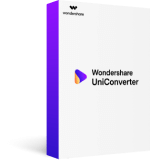 Record any computer screen activity in full-screen or custom mode.
Capture computer screens with webcam recording, voice narrations, and annotations.
Preset the output format as FLV, AVI, or MP4.
Edit the recorded computer screen by trimming, cropping, compressing, merging, adding watermarks, etc.
Convert between 1000+ video and audio formats with lossless quality.
Best video recorder and editor for Mac OS X 10.9+ & Windows 10/8/7.
Security Verified.
5,481,347
people have downloaded it.
Below are the easy steps to record a video on a computer using Wondershare UniConverter:
Step 1

Open the Screen Recorder.

Run Wondershare UniConverter on your computer, then click Screen Recorder. After that, tap the Camcorder icon to launch the screen recording function.
Step 2

Choose a capture section.

Open the video or any other app to record, then drag the cropper's edges to set a capture section. If this doesn't work for you, open the recording mode menu, then choose Custom or Full Screen. If you select Custom, type the frame dimensions before clicking Lock Aspect Ratio.
Step 3

Configure settings and preferences.

First and foremost, choose a sound output device on the System Audio section. After that, click Microphone to select a mic for adding voice narrations. Then finish up by clicking Webcam to choose a camera for adding a video overlay.
Meanwhile, open Advanced Settings, then set the target file format as MP4, AVI, or FLV. You can also set the output frame rate, quality, folder path, recording timer, and keyboard shortcuts.
Step 4

Start recording a video.

Finally, preview the capture area and settings, then press REC. Wondershare Screen Recorder will start capturing your desktop screen with lossless quality. To add highlights such as arrows, shapes, texts, and so on, launch the taskbar, then click Annotation. Click Stop to finish recording your computer activity.
Step 5

Upload the recorded video.

Close the Screen Recorder window, then click the Converter tab. After that, drag and drop the recorded video from the folder path you set in Step 3. Alternatively, press the Folder icon to open local storage and upload the video.
Step 6

Edit the video.

Now click the Trim icon on the video clip thumbnail to chop off unwanted parts of the video. You can also tap the Crop or Effect icons to rotate, crop, apply subtitles, add watermarks, adjust color effects, and so on.
Step 7

Convert and save the video.

Now click the Output Format menu, then choose a video format under the Video tab. After that, select a video resolution before clicking Start All. Wondershare will convert and edit your recorded video in a heartbeat.
Part 2. Most Helpful Tips and Tricks about Recording & Editing Videos
While using a video recorder and editor, it is important to make sure that everything is done correctly so that the quality can be maintained. Once you have selected the right video recorder editor for your needs, make sure you get aware of the tips and tricks related to editing and recording so that the overall quality of the content that you produce can be enhanced significantly. The following are a few tips that you can try to follow.
Set the recording size and orientation as required
When starting to record, you will get two options, either record the full screen or record a small part of the screen. Make sure that you choose the right choice that suits your preferences. You will be allowed to cut out areas that you want to record when you go for recording parts of your screen.
Pros:
● The right screen orientation will allow you to make videos that are specifically made for a certain device like a phone or a tablet.
● Choosing the correct resolution will benefit you by keeping the quality up to the mark.
Keep the quality and frame rates high.
If your recorder allows you to record high definition videos with high frame rates, it is better to make sure that you select the highest possible quality and the frame rates. This will help you maintain the quality even after sharing and compressing it multiple times.
Pros:
● Keeping the quality of the video high helps videos look clear and have better details.
● Having higher frame rates allows you to have a smooth viewing experience.
Audio matters a lot
Audio holds a very important place in both recordings as well as editing. Make sure that your recorder can record system sounds at high quality while also supporting microphone input. If you want external sounds as well, make sure that you use an external mic and not the in-built system mic as it can significantly degrade the quality of the sound, and you will get background noises in your videos.
Pros:
● Using external mics allows users to capture sound in more detail and with better quality.
● Also, the software that can be used to record system sounds is always a better option as you can record gameplay and other videos with internal sound.
Record the appropriate length and size
If you are planning to record a video and post it on the Internet, make sure that you keep its size and length in check and make sure that it doesn't exceed much. This is because most people lose interest in long videos while it's half complete and stop watching the next half. Keeping it small in size is necessary because several websites have limits on the size of videos shared.
Pros:
● When you record the right length of the video, you can retain the audience for the whole video, which provides better benefits.
● It will keep the overall size of the video in check, making it easier to upload and move.
Try to keep your webcam in the right position.
If you are recording a video that includes footage of your webcam, it is extremely important to make sure that it is positioned well. Keep the webcam at an appropriate height so that you can get it to the level of your face and get better recordings. It is better to keep the lighting of the room proper so that the best videos can be captured and edited.
Pros:
● Setting the camera at the correct angle allows you to cover the object which you want to focus on with ease.
● It will also make sure that the image of your point of focus comes out blur-free and clear.
Control the cursor movements
A lot of people have a habit of continually moving the mouse in circles. There is no benefit or reason behind doing this, and if you are a content creator, avoid that as it can distract your viewers. Also, make sure that you move your cursor slowly so that the audience that will watch your recorded and edited video can understand every step correctly.
Pros:
● Constantly moving your cursor can be distracting for the audience and can cause frame drops in the video as well.
● It will make your instructions unclear, and the viewers may not understand your references.
Spend time on editing
If you wish to succeed as a content creator, you will need to get your editing game strong. Learn about the various editing tricks related to the tool that you are using and get set. Try to remove mistakes and crop out unwanted parts from your video. This will allow you to minimize the duration and make sure that your audience clearly understands what you are trying to show to them. Also, proper high-quality edit will make your video look more attractive to the audience.
Pros:
● Learning to edit better will allow you to experiment with your content so that you can try out new stuff with ease.
● Better editing will also make your content look a lot more attractive and interesting for its viewers.
Understand the platform where you are sharing the video
Another major thing to pay attention to is to understand the platform where you wish to post your content. This will help you gather important basic knowledge like guidelines, restrictions, size limitations, content rules, etc. You can use this information to create suitable content for the website.
Pros:
● Understanding the platform better will allow you to understand the audience on it as well, which will help you decide your content accordingly.
● It will also help you understand the guidelines and resolution limitations so that you can edit your videos accordingly.
Conclusion
Recording screen and editing it can be done through various tools. While casual users prefer in-built recording tools, Professionals make use of third party tools like Wondershare Uniconverter for recording the screen in high quality and editing it. It is a very versatile tool that can record screen, edit images and videos, compress files and convert them, etc.