Top 10 Audio Recorders for Windows and Mac
You may need an audio recorder on a computer if you are a voiceover artist, and sell your audio recordings to the clients for different purposes such as video tutorials, playbacks with lip-syncing, etc. A computer audio recorder is also a must-have tool if you are planning to build your career as a vocalist, and need to practice singing on karaoke tracks. Such recordings can then be sent to various music directors and promoters to get a break in your career. In any case, finding a decent desktop software could be a challenging task, especially if you are not much of an IT person, and that is where the following sections come into play. Below is a list of top 10 professional apps for computer:
Part 1. Best Computer Audio Recorder for Windows and Mac
If you want to record audio or a podcast on your computer, choose Wondershare UniConverter. This app is compatible with both Mac and Windows and lets users capture their voices without any system or ambient noises. With it, you can use the system mic or an external mic to record audio and export it to MP3, WAV, or M4A files. Even better, the audio converter function lets users retouch their recorded audio professionally.
Wondershare UniConverter – Best Audio Recorder for PC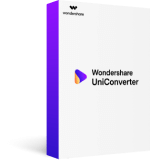 It can record high-quality audio using an internal or external mic.
It allows users to disable all system sounds for a crisp, clear audio output.
Users can export the recorded audio to WAV, MP3, or M4A format.
It comes with a robust webcam and computer screen recorder.
The audio converter tool can convert and edit sounds with lossless quality.
It's the best audio recorder for Mac OS X 10.9+ & Win 10/8/7.
Security Verified.
5,481,347
people have downloaded it.
Now follow these easy steps to record audio on Mac/Win using Wondershare Audio Recorder:
Step 1

Launch the Audio Recorder.

Install and run Wondershare UniConverter on your computer, then click the Screen Recorder button. Next, click the Camcorder icon, then open the drop-down menu on the top-left corner. Here, choose Audio Recorder from the options available.
Step 2

Configure the recording preferences.

If you want to disable all system audio, including mouse clicks, click the Speaker icon. Now open the Microphone menu and choose a device that you'll use to record the audio. Last but not least, choose an output format under the Format menu. Remember to select MP3 for the best possible experience.
Step 3

Start recording audio.

If you're satisfied with the preferences above, click REC to start recording audio on your computer. Click Stop if you feel you've recorded enough content. As said earlier, use the Audio Converter function to edit the audio by trimming, rearranging, compressing, adjusting the volume, etc.
Part 2. Other three audio recorder software for Windows
Some other Windows audio recorder applications that can be installed on Windows 10 are listed below:
1. Voice Recorder
When talking about the Windows platform, the best audio recorder for PC is its built-in app called 'Voice Recorder,' especially if you are looking for a cheap solution. With the latest version, Windows 10 2004 at the time of this writing, the program offers improved UI and allows accessing and sharing the recordings right from the main window itself. You can find 'Voice Recorder' in Windows 10 merely by typing its name in the 'Cortana' search box that is present in the 'Taskbar,' next to the 'Start' button.
Key features:
It lets you share the recorded clips with your contacts, on OneNote, and via the Mail app.
It allows you to trim the recorded clips.
'Microphone settings' offers granular control to set up recording preferences.
2. TechSmith Camtasia
It is one of the most popular screencasting applications that is primarily used for preparing interactive video tutorials and presentations. Being a professional audio recorder, it allows you to disable the screen capturing option right from the 'Camtasia Recorder' panel, thus allowing you to record only system audio and inputs it receives from the sound card and microphone.
Key features:
It enables the webcam recording.
It has a built-in editor with advanced editing tools.
It has 'Audio Effects' to fine-tune the recordings.
3. Cok Auto Recorder
Most versatile audio recorder Windows 10 may get, it can automatically begin the recording process as soon as the program starts. You can even set a time threshold after which the application automatically saves the file on your PC. It has a simple UI and is free to use.
Key features:
It can be configured to start automatically when Windows boots.
It can record system sounds and also the inputs from an integrated or externally connected microphone.
It can record voice calls from Skype, WeChat, Viber, ICQ, and many other similar apps.
Part 3. Other three audio recorder apps for Mac
If you own a Mac PC, there are a couple of computer software for that platform as well. Some of the most used ones are listed below:
1. QuickTime Player
A built-in program that could be considered a solution for almost all media capturing and playback needs, QuickTime Player is also capable of recording audio from an integrated or external microphone. Even though the tool lacks some advanced editing features, it is the best audio recorder for PC if you are looking for a free solution.
Key features:
It can record the computer screen along with the audio.
It can mirror the iPhone/iPad display on Mac right from the moment they are booted. It helps trainers record the process of setting up the devices.
It can record footage from webcams.
2. Audio Hijack
As an efficient application for macOS, in addition to recording your voice through the microphone, Audio Hijack can also be used to capture VoIP calls, audios from streaming platforms, etc. This professional sound recorder for Mac serves as a 'record what you hear' program, which means anything you hear can be recorded with Audio Hijack.
Key features
It has 'Volume Overdrive,' a feature that can enhance the volume of the sound to make it more audible.
The 'Broadcast' feature is capable of sending the recordings to the global listening servers, namely Icecast and Shoutcast.
It enables you to schedule the recording to initialize when the time reaches the threshold automatically.
3. Filmage Screen-Screen Recorder
Developed by PDF Technologies, Inc., it can record in HD quality. It offers simple UI, enables you to record footages from your Mac's webcam, and allows you to capture only the audios using the external or integrated microphone. The latest version of the app is even compatible with macOS Catalina 10.15.
Key features:
Can record videos that can be used to prepare educational videos.
Has a built-in video converter that supports almost all major formats.
Has a built-in editor to fine-tune the recordings for professional outcomes.
Part 4. 3 Linux audio recorder programs
Even though one of the underrated operating systems among home users, Linux is also capable of doing many tasks as long as you have correct tools in hand. With that said, some most popular Linux audio recorder apps include:
1. Ocenaudio
It is an efficient software that can work as a laptop or desktop audio recorder for the three major platforms, i.e., Windows, Linux, and Mac. The tool has a built-in editor that enables you to fine-tune the audio files quit granularly to make them sound professional and of industry-standard quality.
Key features:
It supports Virtual Studio Technology (VST) plugins that enable you to add various effects to the audio.
It gives the real-time preview of sounds when you make any changes.
It supports multi-selection that allows you to select multiple segments of an audio file simultaneously for quick and excellent editing.
2. Audacity
Audacity is one of the leading applications for all platforms. The tool is versatile, free, and opensource, and most importantly, due to its flawless functionality, it is preferred by the majority of professionals across the globe. The simple and intuitive UI doesn't require any specialized training, and all you need is some basic understanding of how audio waveforms work.
Key features:
It can record audio from a connected or integrated microphone.
It enables subtle sound manipulations with extremely advanced editing tools.
It supports 16-bit, 24-bit, and 32-bit audio quality.
3. Audio Recorder
A free and opensource tool by Launchpad, it can be obtained along with its source code for Linux from the Launchpad's official website. The software was last updated on April 14, 2018, and is considered to be the most stable version to date. As with all the other packages developed for Linux, although installing it on the OS is equally tricky, the step-by-step instructions on how to get it done could be found easily by performing a quick online search.
Key features:
It can record system sounds, audio from microphone and webcam, and even from the web browsers.
It lets you schedule the recording, pausing, and stopping the process.
It allows you to record the audio in MP3, FLAC, OGG, WAV, and SPX formats.
Part 5. Comparison table among these ten recorders
Below is a comparison table giving a clear picture of the differences and the available features of each of the desktop audio recorder apps listed above:
Application

Features

Operating

Systems

Price

(USD)

Pros

Cons

Wondershare

UniConverter

Record screen/webcam/audio, edit videos, and audios, video converter/compressor, metadata fixer, VR converter, DVD burner, audio CD ripper, audio CD creator, GIF maker, Image converter

Windows, Mac

Free with the paid version

Lightweight, Less resource-intensive, 90x faster conversion speed

Not available for Linux platform

Voice Recorder

Voice recorder, system sound recorder

Windows

Free

Simple UI

No advanced editing tools

TechSmith Camtasia

A screen recorder, video editor, webcam recorder, add video effects, annotates videos

Windows, Mac

$249

Simple UI, advanced editing tools, produce professional outputs.

 

Expensive, Require a bit of learning

Cok Auto Recorder

Schedules recording, Records from Skype, Starts with Windows, Automatic saving

Windows

Free

Simple UI, straightforward

No advanced editing tools

QuickTime Player

Record screen, record webcam, Mirror iOS devices, play videos and audios

Mac

Free

No installation needed, simple UI

No advanced editing tools

Audio Hijack

Record streaming audios, increases global volume, broadcast outputs, records from Skype

Mac

$70

Captures with ease, simple UI

More expensive than its competitors

Filmage Screen

Record screen, record iOS screens, video editor, video converter, support multiple formats

Mac

Free,

$29.99

Office a complete post-production suite

Advanced tools are available only in the paid version

Ocenaudio

Support VTS, real-time previews, allow multi-selection, offer spectrogram view

Windows, Linux, Mac

Free

Allow fine and professional-level editing

Cannot record videos

Audacity

Records from a mixer, advanced editing tools, support multiple formats

Windows, Linux, Mac

Free

advanced recording and editing tools, produce industry-standard outputs

Cannot record videos

Audio Recorder

Record system audio, records webcam audio, support multiple formats

Linux

Free

record from multiple sources

Lack of advanced editing tools
Conclusion
An audio recorder is a must-have tool for all media lovers regardless of the platform of the computer/operating system they use. While there are several professional applications available in the market, the most versatile and lightweight is Wondershare UniConverter that is also a universal converter that converts 90x times faster than its competitors and supports more than 1,000 formats.