Record CD to MP3 with All Ways
Do you have a bunch of records stored in your CDs that you want to move to your computer or phone? Then, you're going to want to know how to record CDs to MP3. This process is called CD ripping, where you rip out the contents of the CD to store elsewhere. It is an excellent way of storing your precious music, and it usually doesn't take all that long time to do either, especially when you have no right tool to do it.
Part 1. Best Way to Record CD to MP3
Undoubtedly, the best tool to have at hand when it comes to recording your CDs to MP3 is the Wondershare UniConverter (originally Wondershare Video Converter Ultimate). It has multiple tools for this like the actual CD ripping function rips out audio from all compatible CDs. And even the audio screen recording function will allow you to manually record anything that is played on your computer, whether it be a CD, your voice, or anything else. We'll be covering the ripping method in the tutorial below, but feel free to explore UniConverter's other tools for your use.
Wondershare UniConverter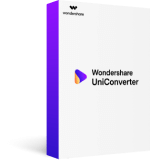 Automatic CD ripper rips music from the CD.
It supports multiple CD audio output formats like WAV, MP3, M4A, etc.
Live CD recorder in the form of the UniConverter Screen Recorder tool.
Helpful audio converter to convert previously ripped audio.
Versatile toolbox includes fixing video metadata, GIF maker, and screen recorder.
Supported OS: Windows 10/8/7/XP/Vista, macOS 11 Big Sur, 10.15 (Catalina), 10.14, 10.13, 10.12, 10.11, 10.10, 10.9, 10.8, 10.7, 10.6.
Security Verified.
7,851,625
people have downloaded it.
Step 1

Try UniConverter.

If you're interested in recording your CDs to MP3, then try the UniConverter today. It's available for both Windows and Mac OS PCs.
Step 2

Open your Toolbox and select the CD ripper.

UniConverter's CD Ripper tool is stored in its toolbox, which you can access by the Toolbox option at the top of the interface. To start recording CD to MP3 with UniConverter, select the CD Ripper option from the toolbox page.
Step 3

Insert your CD.

Now, you'll need to insert a CD in your PC (either through a built-in CD reader or an external DVD drive connected to your PC).
Step 4

Select output format.

Once the UniConverter has finished reading your CD, you'll be given the opportunity to personalize your CD recording. Start with inputting variables like title, Artist, Album, Genre, etc. Then, move on to select your desired Output Format > MP3.

With the UniConverter, you'll also be able to adjust MP3 Encoder options to your preferences.
Step 5

 Select the output folder.

Lastly, select an output folder to store your ripped audio into and then click the Rip CD button.
Step 6

 CD to MP3 record success.

It might take a while, but you'll be notified once the conversion has been successful. Now, if you have other CDs you might want to record to MP3, you can do it all over again with any issues.
Part 2. How to Record CD to MP3 with Windows Media Player
If you have the Windows Media Player, which is available with most Windows PCs, you can also use this to record your CDs to MP3. We won't be going in too deep into the process, but it's pretty simple to activate. The best part about this method is that it is FREE. But it's not available for Mac, and it isn't as customizable as a tool like the Wondershare UniConverter. So, keep that in mind.
How to do
If you have the Windows Media Player installed on your Windows PC, then all you need to do is to insert your CD into your computer. Once read thoroughly, a pop-up should appear on your screen, providing you options. Select the Rip Music From CD option to start ripping.
Part 3. How to Record CD to MP3 with Online Recorder
For our next demonstration for CD to MP3 recording, we have the Apowersoft Online Converter. As you can probably guess from the name, it is an online tool. It features a manual audio recording function, which is similar to the UniConverter's audio recording. So you'll have to actively be listening to the CD on your PC to record it, but it can be pretty helpful if you don't have anything else, and if you're desperate for an on-the-go solution.
Step 1. Allow online recording.
The first step in recording with the online-voice-recorder is to permit it to start recording. It can be done by selecting Allow on the pop-up that appears (shown in the image below)
Step 2. Select an audio input device.
Next, select which audio input device you want the online tool to start recording from. You can either choose your system's microphone or other microphones that you have available.
Step 3. Start recording CD audio to MP3.
Once you've selected the correct audio input device, prepare your CD to start playing so that you begin recording it immediately. When you're ready, click the red MIC button to begin.
Step 4. Save recorded CD to MP3.
Once you've finished recording audio from your CD, click the SAVE button to start converting your CD to MP3.
Luckily, the online-voice-recorder can save files locally as an MP3 audio file. So, take advantage of this function and click Save again to finish up.
Part 4. How to Record CD to MP3 with iTunes
If you're an avid iTunes user, then you might enjoy this next method using iTunes. With this method, we'll be setting things up so that whenever you input a CD to your PC, iTunes will begin recording the audio immediately into an MP3 format that you can listen to directly in your iTunes library. It's a pretty handy feature, although not many know of it. Learn how to do it below.
Step 1. Change iTunes preferences.
To set your iTunes up for this kind of automatic CD to MP3 conversion, you'll need to open the iTunes tab and select the Preferences… option.
Step 2. Change CD settings.
Under the General Preference settings, locate the When CD is Inserted setting, and then click the Import Settings button.
Step 3. Adjust import settings.
Next, make sure that you have MP3 Encoder selected so that all the audio tracks recorded from your CD are converted to MP3, then adjust the quality settings to your preferences.
Step 4. Save settings.
Lastly, click the OK button at the bottom of the window to save your settings.
Now, when a CD is inserted into your PC's drive (or an external drive connected to it), iTunes should automatically open it up to record the CD's tracks to MP3.
Conclusion
And that's all the different methods for recording CD to MP3 that we have for you today. Hopefully, one of these methods will work for you. Each one has its distinct strengths and weaknesses, but there's no denying that all of them have their uses. For example, if you're looking for a long-term solution for a customizable CD to MP3 recording, then the Wondershare Converter is the obvious choice. Whatever the case is for you, try one of these methods out today.