10 Most Helpful Alternatives to Apowersoft Screen Recorder in 2023
The Apowersoft Screen Recorder is not up to snuff? Or, maybe you want to shop around before settling on one screen recorder to get used to? Well, then you're in luck. There are dozens of different Apowersoft Screen Recorder alternatives available in 2020. So, you don't necessarily have to settle for one or the other. You might even find that certain screen recorders are better at recording certain content than others — it's never as clear cut as you'd think.
Fortunately for you, we've cataloged some of the most practical alternatives to Apowersoft in 2020. So, if you want to learn all, there is to learn about some of the leading video recording software in the market right now, then all you have to do is to keep reading.
Part 1. Best Alternative to Apowersoft Screen Recorder
Wondershare UniConverter is the best Apowersoft Screen Recorder alternative. This highly effective screen recorder is straightforward to use and can record up to 4K UHD quality. While recording videos, users can add voice narrations, capture the system sound, apply a Picture in Picture (PIP) effect, and add annotations like texts, shapes, lines, and arrows. Best of all, Wondershare UniConverter lets users adjust the captured video by cropping, trimming, applying effects, and more.
Wondershare UniConverter – Best Desktop Screen Recorder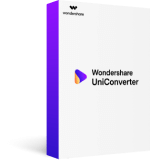 Record anything on your desktop screen in full-screen mode or record a specific area of the screen.
Record screen with voice narration, webcam, and demos using arrows, texts, shapes, and more.
Export the recorded video to various output formats, including AVI, MP4, and FLV.
Save the recorded video to a local drive and external storage like hard disks, USB sticks, and mobile phones.
Edit the recorded video by trimming, cropping, compressing, converting, adding video effects, and more.
Best Apowersoft Screen Recorder alternative for Mac OS X 10.9+ & Windows 10/8/7.
Security Verified.
5,481,347
people have downloaded it.
Step-by-step procedure to record videos using Wondershare UniConverter on Mac/Win:
Step 1

Launch Wondershare Screen Recorder.

Install and run Wondershare UniConverter before clicking Screen Recorder on the left pane. After that, click the Camcorder button to launch the Screen Recorder tool immediately.
Step 2

Choose a capture area.

Launch the video or any other desktop activity you want to capture, then drag the cropper to fit an area to record. Alternatively, open the Recording Mode menu, then choose Full Screen or Custom. If you select the customized mode, enter the video frame dimensions, then tab Lock Aspect Ratio.
Step 3

Customize the recording devices and settings.

Firstly, open the System Audio menu, then choose a device for recording the system sounds. Next, open the Microphone menu to select a mic to add voice narrations and then select a camera under Webcam to apply a video overlay.
Now click the Settings icon to preset your video preferences. Here, you can set the target format (AVI, MP4, and FLV), frame rate, and quality. You can also set the recording timer, folder path, and change the keyboard shortcuts.
Step 4

Start recording the desktop screen.

Before you start capturing the desktop screen, adjust the capture area, then press REC to begin the process. Now launch the recording taskbar, then click the Annotation button to start adding demos using texts, shapes, lines, arrows, and drawings. You'll also see icons for adding a PIP effect, voice narration, system audio, and taking screenshots. Finally, press Stop to finish recording a video on Mac/Win.
Part 2. Another 9 Helpful Alternatives to Apowersoft Screen Recorder
Not had enough yet in terms of available options? Well, then we have another 9 helpful alternatives to push your way in this next part. We won't be going as in-depth into these Apowersoft screen recorder alternatives, but we will give you an overview of everything you need to know. Including the product URL, how the recorder works, its pros and cons, and what it looks like.
1. Loom
Loom is a browser application and desktop software that is marketed for the production of informational videos. Its browser extension is one of the most popular in its field, and that's what we'd suggest if you're looking to try it out. The only catch is that the actual Loom desktop app could use some work, but it works just as well in a pinch.
Pros:
● Browser extension records screen tab, webcam, and microphone.
● Can save HD full-screen screen capture of browser activity.
● The desktop app is excellent for recording non-browser-based activity.
Cons:
● The desktop version is a bit buggy and not as good as the browser extension.
● Its free version is limited when it comes to the available number of recordings.
● If you're hoping to publish tutorials, there is no way of censoring private info.
2. OBS Studio
The open-source OBS Studio is another excellent pick for an Apowersoft alternative. It's free-to-use, which is all some people might want in a screen recorder, and it doesn't have any of the same limitations that you see in other free recording programs. It's quite popular in the gaming scene on YouTube and Twitch as well. Many professional influencers either started out using this software or are still using it for its advanced functionalities.
Pros:
● It captures screen, webcam, audio, and voice simultaneously.
● Compatible with the most popular streaming platforms.
● It produces limitless HD videos either for live streaming or for publishing.
Cons:
● The UI may be a bit complex for some.
● There are users that experience bug issues regarding its custom hotkeys.
● Advanced video recording is not supported.
3. Bandicam
URL: https://www.bandicam.com/
Bandicam is a screen capture tool that is all the rage when it comes to influencers and YouTubers. If you were a part of the 2012 gameplay craze, then you've probably heard of it. And, it's only continued to evolve from its original beginnings. With this capture tool, you can record your screen, a webcam, a microphone, and your audio simultaneously. It also supports the recording of mobile devices and a selection of game consoles. Furthermore, you get to enjoy the ability to record in 4K Ultra HD (with videos up to 3840×2160 resolution.)
Pros:
● It supports simultaneous recording of multiple system devices.
● It supports Ultra HD video recording (up to 24 hours at a time).
● It uses very little CPU power for maximum efficiency.
Cons:
● Some functions are only available in the premium version.
● It was previously known for the occasional loss or corruption of data, which may cause you to lose all your work in an instant.
4. Screen Recorder Studio
Screen Recorder Studio is that we'd like to call it free recording software, but it's not open source. If you're keen on using this tool, you're going to have to prepare to deal with a couple of ads here and there (unless you unlock it by paying for the premium version.) Either way, it does a pretty solid job at capturing screenshots and videos - with direct upload options that make it even simpler for you to connect your content to known streaming platforms.
Pros:
● Easy to use screen capture tool (for screenshots and video).
● Videos can be directly uploaded to YouTube once recorded.
● Capable of overlaying the simultaneous recording of webcams.
Cons:
● The free version is littered with a bunch of ads.
● You'll need to pay the premium to unlock an ad-free experience.
● The UI is not as clean or efficient as other alternatives.
5. AceThinker
URL: https://acethinker.com/desktop-recorder
AceThinker is another premium screen recorder that you can check out if you're looking for something capable of capturing your screen activity without a limit. Its multiple capture modes make for a fairly customizable experience, and it offers quite a few advanced editing or effects functions that you might find yourself needing.
Pros:
● It has multiple modes for capturing screen activity.
● Detect function for automatically detecting active screens to record.
● It is a built-in converter for quickly uploading files to various platforms.
Cons:
● The free version limits certain functions.
● You'll need to pay a premium fee to access its paid version.
● Its video editing functions are rather sparse.
6. CamStudio
CamStudio is one of the most popular webcam recording software out there, and it's capable of simultaneous screen and voice recording as well. It's not got the best of reputations, what with the origins of its name, but it does the job just as well as most recording software — and it's open-source too. So, it's completely free to use and quite effective at recording HD videos.
Pros:
● It outputs HD videos for the highest quality.
● It is compatible with both YouTube Gaming and Twitch.
● It is effective without using too much CPU power.
Cons:
● The interface is rather primary.
● Its available output formats are limited.
● Exporting and importing videos takes time as the output file size is rather large.
7. Movavi Screen Recorder
URL: https://www.movavi.com/screen-recorder/
The Movavi Screen Recorder belongs to a great line of other PC software products, and its capabilities are quite impressive. It can capture Full HD videos at up to 60 frames per second — a feature that is most popular for streamers, especially those who stream gameplay, as it can handle recording most games without costing too much CPU power. It also has an extensive array of editing tools that you might find useful in certain areas.
Pros:
● It has a user-friendly UI for easy screen recording.
● It comes with a library of filters and effects along with a video editor.
● It produces Full HD videos (1080p).
Cons:
● It is a paid recording software.
● The free version limits usage of the product.
● There is no direct upload option.
8. Screencast-O-Matic
URL: https://screencast-o-matic.com/
Next up on this list of the most effective alternatives to Apowersoft is the Screencast-O-Matic. It has a pretty catchy name for such serious recording software, but there's no denying that it catches the eye. This program exists in both a free and a premium version, with certain limitations that we believe make the free version largely unhelpful (which is why it fell so low on this list.) But, if you're interested in it all the same, and aren't against spending some money on it, then here's what you can expect as to its advantages and disadvantages.
Pros:
● It is capable of an in-sync recording of screen, voice, and webcam.
● It is ready-to-use with the leading streaming platforms in the market.
● It has a beginner-friendly UI for tech-inexperienced folks.
Cons:
● The free version of the product does not allow audio recording.
● Neither does it enable full-screen video recording.
● You will also need to be connected to the internet at all times to make it work.
9. Icecream Screen Recorder
URL: https://icecreamapps.com/Screen-Recorder/
Our last pick of the lot is the Icecream Screen Recorder. This screen capture tool also exists in both a free and a premium version. And, just like the previous recorder on this tool, it imposes some pretty massive limitations on the free version that you're going to have to cough up some cash to be able to use it properly.
Pros:
● The free version allows for almost long-term video recording.
● Several modes for recording are available (custom, full screen, etc.).
● It can capture your PC screen, a game console, audio, and so on.
Cons:
● The free version is only capable of video recording.
● Its video editing functions are rather limited.
● It's pretty pricey for such a simple product.
Conclusion
Hopefully, you are now better armed to decide as to which screen recorder to try in 2020. Apowersoft is a strong contender here, but the fact that you're looking up alternatives no doubt means that you don't believe that it isn't the right one for you. If so, we advise that you try out one of the ten convenient alternatives we introduced above. If you're still unsure and unable to make a clear decision, then go with the first alternative that we recommended — the Wondershare UniConverter. In most situations, it's all you'll ever need.