Best Alternatives to Action! Recording Software
Are you an aspiring gaming YouTuber or Streamer? Or, maybe, you want to record some sweet plays to share with your friends on Facebook or Twitter? Well, then you've probably already considered the Action! recording software, but is it any good? Continue reading to learn more about how this recording software works, its main benefits, its key features, and, even, its best alternatives in the market that you want to check out before deciding on whether it's the one for you or not.
Part 1. What's Action! Recording Software
To start with, let's go over what makes Action! good recording software and what makes it not so good software. To begin with, Action! is widely advertised as a gaming recording software. It was designed to be less CPU or GPU intensive so that your PC can focus on powering up the game and not on actively recording. It's available only for Windows PCs, and videos recorded using it are saved in the standard formats VLC 2.0 and MP4 using codecs that allow for high-quality but small-file videos. Its main features of note include the following:
● Compatible with most of the popular live-streaming platforms.
● Capable of the simultaneous screen and webcam recording for effortless video overlay.
● Produces high-resolution videos that can range from up to 2K and 4K in select formats — also capable of 8K recording with specific processors.
The Benefits of Action!
The ultimate benefit, in this case, is that Action is a full-fledged recording software dream for gamers. If you want to produce HD clips of games, especially games that are bulky and take a lot of CPU power, then you need software that is as unobtrusive as possible — and Action does a perfect job fulfilling this role. The only real catch is that this software is not free. A limited trial is available so that you can test it out, but you're going to have to be prepared to pay for the license to use it when that trial runs out.
The Bottom Line.
There's no denying that Action is great video gaming recording software (suitable for all levels of experience.) And there are plenty of people who stand by it. However, that doesn't necessarily mean that it's the one for you. Before you make that decision, have a look at our recommended Action! alternatives. You'll never know, you might just find the one program that you didn't know you needed.
Part 2. A Better Alternative to Action! Recording Software
To start our parade of Action! alternatives, we have the Wondershare UniConverter (originally Wondershare Video Converter Ultimate). It might not seem like it from its name, but the UniConverter is incredibly powerful screen recording software. At its most basic, this recording software will allow you to very easily record gameplay with just a single click of the button. Which we'll be teaching you how to do below. But yes. Its screen capture feature is just that intuitive, although it does offer a couple of cool customization functions as well — including the following:
Wondershare UniConverter—— Best Alternative to Action! Recording Software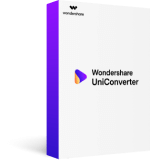 Multiple screen capture modes (custom, full screen, etc.)
Basic internal and external system audio recording for smooth game audio overlay
Simple microphone controls for simultaneous screen and voice recording
Advance quality control settings for controlling frame rate, video quality, and more.
Unlimited access to UniConverter's video conversion, downloading, burning, and editing tools for your convenience
Convert videos to 1,000+ formats, including AVI, MKV, MOV, MP4, etc.
Edit videos with trimming, cropping, merging, adding subtitles, and more.
Burn video to playable DVD with attractive free DVD template.
Security Verified.
7,851,625
people have downloaded it.
Step 1

Download and install UniConverter.

Of course, as with all software, we start things off by downloading and installing the Wondershare UniConverter. Do it along with us if you want to follow along and gain some screen recording experience with us.
Step 2

Open Screen Recorder.

If you want the UniConverter for just the screen recording feature, select the Screen Recorder option. That should open up the UniConverter's specialized recording tool. Click on the down arrow sign beside
to select the way you want to record. If you want to record videos on your computer, click on the Screen Recorder option to start.
Step 3

The Screen Recording window.

The screen capture window is designed as unobtrusive as possible, as is shown in the image below. It's small, scalable, and easily minimized. Only four basic options are shown on its window, but as an extra tip. Take note of the Settings icon at the bottom right of the window. That will open up a bigger window with all of its advanced screen capture functions. To keep things simple, we'll only be demonstrating the four options immediately available.
Step 4

Choose your desired capture area.

What is the capture area? Well, simply put, this is the area that the software will be recording. The UniConverter offers several automatic modes that you can use, as well as manual W & H input boxes for you to fill in if you want your capture area to be a specific size.

We've chosen the custom area, which allows us to use our cursor to create a custom screen capture box but feels free to specify the capture area based on what you need at the time.
Step 5

Confirm system audio.

If you want the UniConverter to record your systems audio for gameplay audio or sound effects, then the next option is something to also keep in mind.

The System Audio settings will allow you to specify the external or internal speakers that you want the recording software to record. You can leave it at the default, or you can choose custom speaker settings to record only specific sounds from your PC.
Step 6

Select Microphone to record voice.

If you want to include or exclude voice audio to your video recording, then this next set will allow you to do so. With it, you can mute your microphone or select a specific internal or external mic for voice audio recording.
Step 7

Start your recording.

If you're not all that fussed about playing around with settings (basic or advanced), then you'll be happy to know that all you have to do to start recording is to hit the big red REC button. It's that simple.
Part 3. Another 9 Helpful Alternatives to Action! Recording Software
But we're not done just yet. To make sure that you're given the best opportunity for success, we've also included this helpful list of the rest of the 9 Action! recording software alternatives we had in mind. We've kept things simple — primarily to provide you everything you need to know in the least amount of time possible. Including how the software works, its main benefits, and where you can find it to learn more.
1. Bandicam
URL: https://www.bandicam.com/
This list starts with Bandicam. One of the most popular open-source screen recorders out there with gamers. What does open-source mean? Well, it means that it's free-to-use. It's regularly updated software with a straightforward but effective design that you can use to capture your PC screen, or, just about anything. It is optimized for primarily YouTube Gameplay enthusiasts, but the popularization of streaming gameplay means that it's compatible with live broadcasts as well. Some key features include:
● Simultaneous screen, voice, and webcam recording for seamless gameplay recordings.
● Support for producing massive 4K Ultra HD videos that are up to 3840x2160 in resolution.
● It is optimized to work without costing a lot of CPU power to allow error-free gameplay.
2. Icecream Screen Recorder
URL: https://icecreamapps.com/Screen-Recorder/
The IceCream Screen Recorder, despite the out-there name, is another popular screen recording software. Unlike Bandicam, however, unlocking some of this tool's main features means paying for a premium to grab the PRO license. It may or may not be what you want, in which case, there is still the free version to consider. Which, although less feature-rich, is even more than capable of producing high-quality screen recording with the following functions;
● Standard screen capturing modes for custom, window, tab, and full-screen capture.
● It has unlimited video recording and export of video as a large WMV file.
● It has basic video playing and editing features for perfecting captured screen activity.
3. OBS Studio
OBS Studio is another industry-standard recording and broadcasting software that is available open-source. It means that you won't have to unlock any premiums to be able to do the kind of recording that you want! The only catch is it's more complicated than other recording software. The fact is that it hosts a couple of incredibly complex customization functions.
● It has customizable hotkeys for personalizing your recording or broadcasting process.
● It is optimized for high-quality screencasting for aspiring YouTube Gaming or Twitch streamers.
● A built-in audio mixer for seamless video-to-audio editing while recording.
4. CamStudio
When people talk about CamStudio, it's quite commonly related to video broadcasting, but this software isn't necessarily designed for that market. It's quite capable of doing almost everything like Bandicam or Camtasia are capable of, and it's also available open-source, so it comes at no cost to you. By installing this program, you have access to the following recording functions:
● Standard simultaneous screen and audio recording for your PC.
● It has broadcasting-ready for aspiring gaming video streamers.
● It produces HD videos in the standard VLC format and SWF for broadcasting-purposes.
5. Screencastify
URL: https://www.screencastify.com/
Screencastify is for the gamers out there who want freemium screen recording software that is capable of recording the specific activity of a Chrome browser tab. It's quite popular for those who are more interested in recording or streaming MMORPGs, and while not as powerful as some of the desktop-ready software, it makes for a safe and simple alternative for those who can't be bothered to set up their recording software each time.
● The one-click video recording process is available right on your browser.
● Recorded videos can be saved locally as an HTML5 file to be stored on your PC.
● Unlimited video-recording available with the premium license (free version allows for only quick 10-minute recordings).
6. AceThinker
URL: https://acethinker.com/desktop-recorder
AceThinker is actually not primarily a screen recorder, unlike the other programs we've introduced, but it is capable of capturing your screen activity. Whether it is based on where you point your cursor or your entire visible screen. It's not the richest in screen capturing functions, but it does offer a pretty good set of tools on the table for some particular gamers — including the following features:
● Separate video and audio recording.
● It has advanced video annotating for adding subtitles or translations to reach a wider audience.
● It has multiple non-screen capture functions for converting, download, ripping, etc. videos.
7. Screencast-O-Matic
URL: https://screencast-o-matic.com/
Screencast-O-Matic was not necessarily advertised for gaming video influencers, but it works just as well. It's marketed mainly to general vloggers, who tend to focus more on mixing screen capture and digitally recorded videos to create visually pleasing video tutorials or vlogs. But the following functions assure that you can use this if you're searching for good screen capture software to replace Action!:
● Direct-publishing to all the popular streaming platforms, for easy and effort-free uploading.
● Unobtrusive design that doesn't cost many resources to keep running smoothly.
● It has various unique video editing and effects capabilities for personalizing videos before they are published on the web.
8. Camtasia
URL: https://www.techsmith.com/video-editor.html
As you'll find out soon enough, Camtasia is high quality but a more expensive premium option available to those who have a higher budget to spare for a screen recording program. It can also handle video editing of the kind programs that you'd expect from something like Adobe's Creative Cloud. With this tool, you can do the following:
● Capable of simultaneous video, audio, voice, and webcam recording for plays.
● It has video-editing functionalities and a packed music library that is free for use.
● Interactive effects are available for unique video editing designs.
9. ScreenFlow
URL: http://www.telestream.net/screenflow/overview.htm
For our last alternative recommendation, we have ScreenFlow. Some may consider better suited a lot higher up on this list. It all depends on you, but the price tag attached to this powerful screen recording software is more than most hobbyists are probably prepared to pay. Nevertheless, if you are in the market for professional-level recording software, and you're not against spending a lot of money upfront, then you may want to consider this tool — which is known for the following functions:
● Ready-to-publish functions are compatible with popular streaming or broadcasting platforms.
● It can capture video from your screen, your webcam, your console, your mobile phone, etc.
● It has advanced audio and video editing functions for personalizing and perfecting your recordings.
Conclusion
If you're looking for a very particular alternative to Action!, then we're confident that you would have been able to find it in our wide-ranging list. If you're still unsure, however, and you're not quite ready to commit with Action! Then why don't you try out our main recommendation first —Wondershare UniConverter. This tool is more than capable of meeting the demands of most people. Whether they're in it for the outstanding short clips that they can share with their friends online, or if they prepare themselves for the world of influencers on YouTube, Twitch, or any other video streaming platform online.
If you're still not convinced, check it out now and follow along with the tutorial in part two of this article. You're sure to learn a lot more with a bit of a more specified hands-on approach.