How to Record with Fraps and Its Best Alternatives
Fraps is a popular game-recording software used, or at least, previously used by some of the most popular gaming YouTubers and streamers in the industry. This is because of its ability to record gameplay at the highest FPS rate available. But how does it work? How can you use it for yourself, and is it the one that you should be using? Learn how to record with Fraps easily as well as its best alternative below.
Part 1. How to Record with Fraps Easily
As mentioned, Fraps is a Windows-only recording software that is incredibly popular with gaming influencers. This tool will allow you to analyze your recording statistics after the fact and record video screen activity in Ultra HD with custom frame rates that can range from 1 to120 frame per second at 7680x4800 resolution. The UI is a little clunky, but there's no denying that it's a stable video recording program despite that.
Step 1. Install and launch Fraps.
As free and open-source software, you can download and install Fraps at any time. Do so, and then launch the program to follow along with the rest of our tutorial.
Step 2. Open movies tab and select the output folder.
Once the Fraps window is open, move to the Movies tab (from the top menu toolbar), and then select your output folder — by clicking the change option and browsing your computer for a destination folder to save recorded activity on.
Step 3. Adjust video capture settings.
With Fraps, you can greatly customize your video capture settings from the very start by adjusting the video capture settings. On this, you can select your desired FPS and other video preferences (like whether you want to split your recorded videos after 4GB.)
Step 4. Adjust sound capture settings.
If you want to record audio along with your display, make sure that you adjust the Sound Capture Settings accordingly (you can also deselect your systems speakers if you want to continue recording without any audio input.)
Step 5. Use video capture hotkey.
Frap's default video capture hotkey (the key to press to start recording) is F9. Select this on your keyboard to begin recording, or, disable the hotkey and adjust it to your preferred key.
Part 2. Best Alternative to Fraps
As promised, we're also going to be introducing an alternative to Fraps — in the form of a desktop application called the Wondershare UniConverter (originally Wondershare Video Converter Ultimate). The tool is capable of simple and advanced screen capturing — which offers a lot of flexibility in terms of who can use it and for what. Much like Fraps, this tool is also able to do the following:
Wondershare UniConverter - Best Alternative to Fraps Screen Recorder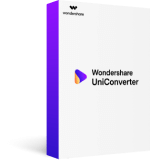 Multiple screen-capture modes (full-screen, custom, etc.)
Full HD video recording (up to 4K 1080p resolution)
Video quality settings (adjust FPS and video quality in advanced settings)
Simple and easy-to-use UI that is clean and efficient
Convert videos to 1,000+ formats, including AVI, MKV, MOV, MP4, etc.
30X faster conversion speed.
Edit videos with trimming, cropping, merging, adding subtitles, and more.
Security Verified.
7,851,625
people have downloaded it.
Step 1

Download and install the Wondershare tool.

To start with, you'll need to have the Wondershare UniConverter tool. Do so to follow along with the rest of this tutorial.
Step 2

Open the UniConverter Screen Recorder.

Once you have the tool installed and launched, select the Screen Recorder menu at the left of the interface to be able to find the program's screen recording functions.
Step 3

Explore the Screen Recorder UI.

The basic Wondershare Screen Recorder looks like the small window in the image below. It has settings that you can adjust for capture area, system audio, and microphone.
Step 4

Open advanced settings.

If you're not interested in anything too fancy, then the basic screen recording settings should be enough for you. However, if you're interested in being able to control the quality of your recordings, select the small gear icon at the bottom right-hand side of the screen.
Step 5

Adjust General settings.

The advanced settings should now be showing. The first section is the General settings. Under here, you can select the output folder, FPS, and quality for your recorded video.
Step 6

Select the Timer and Mouse settings.

This Screen Recorder also provides Record Timer and Mouse settings for your convenience, which the Fraps program does not have.
Step 7

Choose a Shortcut key.

Much like with the Fraps program, however, you can select a start recording startup key with this converter as well. Just input your desired hotkey (the default is Ctrl+F6), and you're done.
Step 8

Start recording.

Once you have set up your settings to what you believe is the most optimal for what you want to record, you can start recording by hitting the REC button or using the Start/Stop recording key specified in the advanced settings menu in the previous step.
Part 3. Comparison between Fraps and Wondershare UniConverter
We've already touched upon a lot of the similarities and differences between Fraps and the Wondershare UniConverter. However, just to drive the point across, observe the comparison table that we've provided below. We've made sure to highlight all the key differences between one and the other so that you'll be able to tell which is better.
Comparison
Fraps
Wondershare UniConverter

Open-source

Only $39.95 annually

Up to 1 to 120 frames per second at 7680x4800 resolution

Up to 4K HD quality files

Customizable Recording Frame

Half-Screen + Full-Screen

Full-Screen + Custom Capture Area

No black screen errors reported

High-quality videos without any risk for black screen recording

 

The Fraps interface is old but relatively easy to use

A modern UI is easy to use
Conclusion
When it all comes down to it, we believe that both two software are more than able to get the job done. However, if you want the maximum level of efficiency and usability at all times, then the Wondershare UniConverter is undoubtedly the choice for you. There's a definite difference between the quality and UI, and that is pretty obvious just from our tutorials. If you're still unsure, however, we advise that you test out the Wondershare UniConverter, just so that you can experience that UI for yourself.>