10 Most Helpful Online Mic Recorders in 2023
Are you looking to record a voiceover or podcast? Then, you're going to want a reliable mic recorder to use. If you're only looking for a one-and-done solution, then perhaps a free online mic recorder is what you're looking for. If so, then you're going to enjoy the list of the 10 most helpful online mic recorders in the list we have for you below. Starting with an introduction to what we believe is the best online mic recorder, an alternative, and then 9 other free online mic recorders, you can check out if you're looking to keep your options open.
Part 1. Most Helpful Online Mic Recorder in 2022
As mentioned, we're starting things out by introducing you to a helpful online mic recorder that you can use right now. It's called the online-voice-recorder, and it's available for free, no signup or hidden purchases to hinder you, just a reliable online mic recorder that you can use if you're interested in quickly recording your microphone. It's not the most feature-rich, but you can still expect the following:
● Essential audio and voice recording for PC and mobile devices.
● It offers a one-click recording function for easy recording.
● It has a simple audio cutting feature for trimming audio recordings.
● Record and save function for efficient audio recording.
● It saves microphone input in a standard MP3 format.
Step 1. Open the Online-Voice-Recorder website.
To start recording your microphone input with this online voice recorder, visit the website that has been pasted below. After that, all you need to do is to click the red MIC icon to start recording your microphone's input.
URL: https://online-voice-recorder.com/
Step 2. Allow permissions.
If you don't see the red MIC icon, a pop-up like the one shown in the image below should appear on the screen. Make sure to select the Allow option so that your browser will give the website the permission it needs to begin recording your microphone's audio input.
Step 3. Trim your voice over.
Once you're done recording your microphone audio, you'll be given the opportunity to trim it down as you wish. For example, you can cut off silences in the beginning and end.
Step 4. Save recorded audio.
Once you're done trimming your audio, click the SAVE button to save the recorded audio locally to your computer.
Step 5. Save as an MP3 file.
The online-voice-recorder will only allow you to save your audio as an MP3 file. If you are fine with this, you can select the Save button again to finish saving your audio. If not, then you might want to use a converting tool to change its format after the fact.
Part 2. A Better Mic Recorder for Windows & Mac Computers
Whether you want to record a mic, a webcam, or any other Mac/Win activity, choose Wondershare UniConverter. Unlike the online mic recorder, this app doesn't need an internet connection to record mics. After installing it, users can record a mic smoothly and with all original voice quality. It works with the system microphone or an external mic of your choice. Besides recording with voiceovers, you can also record desktop screens with annotations like lines, texts, and shapes. Users can even apply Picture in Picture (PIP) effects using a webcam.
Wondershare UniConverter – Best Mic Recorder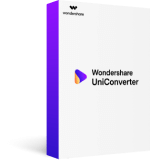 Record desktop screens with voice narrations using the system's mic or a connected mic.
Capture the desktop screen in full-screen or customized mode.
Apply annotations like shapes, arrows, lines, drawings, and texts.
Add a Picture in Picture effect using the system's webcam or a connected device.
Convert between 1000+ media formats, including MP3, MP2, M4A, MP4, MOV, VOB, etc.
Edit video clips by trimming, cropping, adding video effects, applying subtitles, and more.
Best online mic recorder alternative for Win 10/8/7 & Mac OS X 10.9+.
Security Verified.
5,481,347
people have downloaded it.
Below is how to record a mic on a video using Wondershare UniConverter:
Step 1

Open the Screen Recorder.

Launch Wondershare UniConverter, then tap the Screen Recorder tab. After that, click the Screen Recorder icon to launch the screen recorder tool.
Step 2

Configure a capture area.

Now launch the app or browser tab you want to record, then drag the recorder's frame to choose a capture area. Alternatively, open the drop-down arrow below the recording mode function, then select Custom or Full Screen. Select the Custom mode if you have a specific video frame dimension, then tap Lock Aspect Ratio.
Step 3

Select a microphone and customize settings.

If you want to record the computer audio, click the System Audio menu, then choose a sound output device. Now select a mic for capturing voice narrations under the Microphone menu. You can choose the system mic or connect an external mic and choose it. Still on the input devices section, click Webcam and then select a camera to add a PIP effect.
Now open the Advanced Settings menu, then choose MP4, FLV, or AVI as the target format. You can also select an output video quality, frame rate, folder path, and customize the recording timer and keyboard shortcuts.
Step 4

Start recording the video.

Lastly, tap the REC button to start capturing the desktop screen with voice narration. Launch the taskbar and disable the mic by clicking the Microphone icon. You can also tap the Annotation icon to add texts, shapes, lines, and drawings. Click Stop to finish capturing the video with a voiceover.
Part 3. Another 9 Helpful Online Mic Recorders in 2022
Now that we've gone over our leading recommendations for mic recorders, we can move forward with the other 9 online mic recorders that we promised. In this section, we're going to cover how the product works, and it's key features, and where you can find it for more information. So, stick around with us for a little longer.
1. SpeakPipe
URL: https://www.speakpipe.com/voice-recorder
The SpeakPipe online voice recorder is the first on this particular list. This tool can be accessed on any device — including your Windows, Mac, Android, and iOS devices. All you need is access to the web and a working microphone. The only catch is that you won't be able to download your recorded audio locally on your computer. Instead, the audio will be processed and then saved on the SpeakPipe server before it is sent to you via a link to download it in your email.
● Online mic recorder for PCs and mobile devices
● Audio player for listening and reviewing your recording once it's finished
● Signup is required so that you can receive recorded audio via email
2. Rev Online Voice Recorder
URL: https://www.rev.com/onlinevoicerecorder
Next on our list is the Rev online voice recorder. This tool is completely free, and you won't need to sign up for it either to download it. Just like the online-voice-recorder tool we mentioned earlier, however, this only saves in one format (MP3.) Although they claim the tool is secure and encrypted to prevent it from being heard or saved by anyone else, your audio will also be recorded in their services for some time after downloading.
● Free online-voice recorder for PCs
● Exports recorded voice audio as MP3 files
● (Optional) Transcription feature available is not free.
3. Vocaroo
URL: https://vocaroo.com/
Vocaroo is up next. It's another free online mic recorder that you can use on any browser on your PC. All you need to do to start recording is to hit that MIC icon. After recording, you'll be able to post the recording directly to social media, share it with a QR code, or downloaded it locally to your desktop as an MP3 audio file.
● Online mic recorder with an incredibly simple UI
● Locally saves recorded microphone audio on your desktop as MP3
● Multiple modes of sharing audio recording (Social Media, QR Codes, Embedding, etc.)
4. Voice Spice
This next online mic recorder, called Voice Spice, offers a bit of a twist when it comes to online voice recording. You can adjust your audio levels quite a bit before recording, and even record audio with a text-to-speech function if you're feeling a little shy. The only catch is that you won't be able to load your recordings directly to your computer. Instead, you'll have to settle with either sharing it on social media or download it through a link sent to your email.
● Audio adjustment settings for controlling microphone input
● Once uploaded, the audio is available only for sharing (no direct download)
● (Optional) Text-to-speech recording function
5. Virtual Speech
URL: https://virtualspeech.com/voice-recorder
Next up is Virtual Speech, another free online voice recorder that you can use on any browser that you wish. It features a simple click-to-record function, much like most online mic recorders. Also, it provides a local save option, though your audio can only be downloaded as an OGG file, which is quite uncommon and cannot be played with most media players.
● No signup required online voice recording.
● It offers One-click record and playback options for easy online recording.
● Local save feature for saving your recorded audio as an OGG file.
6. Clyp
URL: https://clyp.it/online-voice-recorder
Clyp is another one of those online voice recorders where sign up is required. It acts almost like an online audio sharing platform as well — as it will allow you to upload pre-recorded audio to listen to or download at a later time. Using Clyp is relatively simple, but its limitations can hamper your process quite a bit.
● Easy one-click voice recording
● Signup is required for downloading audio
● (Optional) Audio-upload for storage or sharing
7. AudioVoiceRecorder
URL: https://audiovoicerecorder.com/
The next online tool on our list, called Voice Recorder & Audio Recorder Online, is an older mic recorder. Its UI is definitely not as fancy as some of the other tools we've seen thus far, but it does still work nonetheless — and no signup is required for this either. It's just a very simple record, pause, and stop kind of tool, with free downloading after the fact.
● Exports recorded audio as common MP3 files
● Free-to-use, no signup required for downloading
● Old but easy-to-use UI.
8. Reverb Record
URL: https://reverb.chat/uses/free-online-voice-recorder/
The next is REVERB, a free online mic recorder that you can use to record audio and share it with your friends on social media (or embed it in a blog or anything like it.) Unfortunately, you will not be able to save your recorded audio with this tool locally. This point is a pretty serious catch, but if you're only interested in recording audio to post on social media, then this might just work for you. It also offers a browser extension that you can download to use without having to visit the website all the time.
● Recorded audio can be shared with all popular social networks.
● No local save available but can listen to recorded voice audio for post-recording.
● (Optional) Downloadable browser extension is available.
9. Apowersoft Free Online Audio Recorder
URL: https://www.apowersoft.com/free-audio-recorder-online
And finally, for our last recommended online mic recorder, we have the Apowersoft Free Online Audio Recorder. It is capable of recording audio input from either your system's sound card or through an external microphone. It can also be used to locally save your recorded audio to your desktop, which is always a plus.
● Free online voice recording without signup required
● It records both internal computer sounds and external microphone
● (Optional) Available as a desktop application
Conclusion
And so, we conclude our introduction to 10 of the most helpful online mic recorders. There's plenty enough for you to try — although we do advise that you are careful with the online tools that you use, especially as they require your browser to unlock permissions for your microphone. In fact, as a sure-fire method of staying safe, we highly recommend that you go with a desktop recorder like the Wondershare UniConverter instead. As mentioned, it's capable of recording audio at a much higher capacity and flexibility too.