Most Helpful Video Recorder Converter in Market
Computer video recording tools are in high demand nowadays due to the rise in the number of professionals and content creators that record gameplays, tutorials, and other content using this tool. Actually, there are a lot of video recorder converter tools present in the market that can efficiently serve your needs. Most of the tools are free to use and have quite a lot of functionalities, but the paid ones are highly rated due to a few additional features.
While there are basic video recording tools in your systems only, their functionality is quite limited. Third-party tools are considered better if your needs require a professional approach. If you just have to record a few casual gaming sessions or a video that you see on the internet, it is better to stick with the inbuilt recorders.
Part 1. The Best Video Recorder Converter for Win & Mac Users [Recommended]
Wondershare UniConverter is the best video recorder converter combo you can get in 2022. With this all-in-one program, users can enjoy converting between 1000+ file formats. It supports MP4, VOB, MTS, 3GP, AVI, FLV, and other standard video formats. As expected, users can capture desktop screens in full-screen or custom modes. It lets users record videos with voice narrations, webcams, and annotations like shapes, texts, lines, arrows, and drawings. You can also preset the output video format, quality, and frame rate before the recording session. And most importantly, users can edit videos professionally and without any quality loss.
Wondershare UniConverter – The Ultimate All-in-One Tool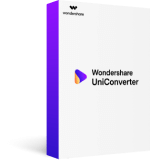 It can record computer screens in custom or full-screen mode.
It supports adding voice narrations, webcams, and annotations like shapes, texts, and drawings.
Users can preset the output format, frame rate, folder path, and video quality.
Convert the captured video to MTS, 3GP, VOB, AVI, MP4, FLV, and more.
Edit the recorded computer screen by trimming, cropping, adding subtitles, adjusting color effects, etc.
It is the best video recorder converter for Mac OS X 10.9+ & Win 10/8/7.
Security Verified.
5,481,347
people have downloaded it.
Below are the simple steps to record and convert videos using Wondershare UniConverter:
Step 1

Load the Screen Recorder function.

Install and run Wondershare UniConverter on your PC, then press the Screen Recorder button. Now launch the Screen Recorder tool by clicking the Camcorder icon.
Step 2

Choose a capture area.

Do you prefer to record in full-screen or customized mode? Either way, choose a recording method in the recording mode drop-down list. If you select Custom, you'll have to enter the video frame dimensions, then click the Lock Aspect Ratio button. Alternatively, drag the video recorder frame inwards or outwards to choose a capture area.
Step 3

Configure settings and devices.

Sometimes you may want to add a video overlay and voice narrations over your recorded computer screen. In that case, choose a mic and a camera under the Microphone and Webcam drop-down lists. To ensure that you capture all computer sounds, select a sound output device on the System Audio menu.
Now open the Advanced Settings menu, then choose an output video format. You can select MP4, AVI, or FLV. Next, set a folder path, recording timer, frame rate, and video quality. Users can also customize the keyboard hotkeys.
Step 4

Start recording a video.

Before anything else, preview the capture area if it suits your preference. If everything is ok, press REC to start recording. To highlight something as you record, open the taskbar and click the Annotation button. You can now demonstrate using texts, shapes, arrows, lines, and drawings. Customize the color to make the highlights look more attractive. Finally, click Stop to close the recorder and convert your video further using the Video Converter tool.
Part 2. Alternatives to Wondershare UniConverter Video Recorder Converters
The market is filled with different recording tools for computers, and there is no shortage. Depending on the features that you prefer to have in your ideal tools, you can choose a tool. Most of the tools are free to use and are used by casual users, while professionals and a bit more regular users use paid software that offers a few better features.
The following are some of the best tools that you can use right now.
Camtasia
It is a leading computer video recording tool that is widely regarded as one of the most excellent tools for what it does. The quality of the video and the different exciting features that you are getting from this tool are unparalleled by most of the tools, whether free or paid. If you are looking for a professional-grade tool, make sure you invest your money in this. There are a few editing options on this tool as well that enhance the experience of the user quite significantly, and the customer support for the tool is also great.
Key features
● It comes bundled with a capable video editing tool.
● There are tons of plug-ins, add-ons, filters, and sound effects that you can use in recordings.
● The video quality is exceptionally high, and you can record the full screen or some region based on your preferences.
Free Screen Video Recorder
As the name suggests, this is free-to-use video recording software that is quite capable despite being free. The video quality of the output is high, and there are no frame drops in the overall video. And the quality of the recording is maintained uniformly throughout the video. The tool is available to be downloaded on Windows 10 and is a popular choice among beginner content creators due to its effectiveness at what it does.
Key features
● It can start when you boot up your PC, but if you get annoyed, you can turn it off.
● The tool is lightweight, convenient, and extremely easy to use due to a very clean and minimalistic user interface.
● The video recorded through these tools is of high quality.
Open Broadcaster Software (OBS)
It is one of the most popularly used recordings and streaming that is used globally by top-rated professionals. Using this tool, you will be able to record high quality 1080p 60Fps and even better videos that can easily be edited and shared on social media and video sharing platforms like YouTube. You can also use this tool to live to stream your screen on these platforms. There are tons of additional features for recording and streaming that have made this a must-have tool for content creators nowadays.
Key features
● It can be used to directly live to stream your content on YouTube or other social media platforms.
● It can record HD videos of your screen with uniform high quality throughout the video. You can also set the format and the title of the video based on your requirements.
● You can record the system sounds by using this tool.
CamStudio
If you are looking for a lightweight video recorder for windows-based devices, make sure that you give Cam Studio a try. It is a widely used tool for windows devices that is capable of recording high-quality screen videos with ease. The tool is quite easy to use and has a very simple and clutter-free user interface. It is one of the few free video recorders that also has a few editing features for the users. It means that you can edit your videos directly on the same application with a simple click.
Key features
● It is one of the very few apps that allow inbuilt video editing.
● The tool is entirely free and is easy to use as well.
● This tool can record high-quality videos without putting too much pressure on Your computer.
GoPlay
It is a great video recording tool that is extremely powerful and capable of professional-grade recordings. It has tons of features that can make the process a lot easier. It is loaded with editing features that you can use to instantly edit recorded videos so that you can publish videos on non-social media and video sharing platforms. If you are looking for a complete package for your professional pursuits, this is the right tool for you.
Key features
● There are a lot of basic as well as advanced video editing options that can enhance the quality of the video.
● It can get your work in easy steps with its smooth and clean user interface.
● You can tweak every aspect of the recording, from the format to resolution.
Conclusions
If you are a gamer and are looking for a video recording tool that can record your gameplay so that you can post it on social media, there are a lot of options in the market. Make sure that you take your requirements and the features provided by the tool into consideration and choose the one that fits your needs. One of the best tools you can go for is Wondershare UniConverter. It is a very versatile tool that can even edit and convert your videos with ease.