How to Record Games with All Ways
The gaming industry is on the rise over the past few years. This can widely be credited to the increase in the number of gamers that actively create content for a wide audience. These content creators have now become celebrities. If you also want to record gameplay and showcase your gaming proves to the world, you will need an efficient recording tool that can get the job done for you. There are thousands of different tools that can be used for recording your gaming sessions, and most of them are free. Keep reading further to get some of the popularly used methods for recording the screen that is used by people.
Part 1. How to Record Game with Wondershare UniConverter
If you have no idea as to how to record games on PC and are looking for software that can be used to record your gameplay in high quality, make sure that you can try Wondershare UniConverter (originally Wondershare Video Converter Ultimate). This is a power-packed tool kit that has a lot of different features that are usually offered in separate applications. It is a very popular tool among content creators due to the free cost and a large number of exciting features.
Apart from recording the screen in high quality, you can also use this tool for conversion, editing, CD burning, compression, and a lot more. The different features can be used for files like images, audios, and videos. It is a very versatile tool that has support for more than a thousand different file formats.
Wondershare UniConverter - Best Game Recorder for Mac/Windows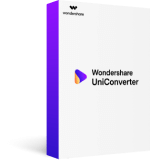 It supports more than a thousand different file formats for files like images, videos, and audio.
It offers a variety of features like editing, conversion of files, CD burning, compressing files, recording screen, and a lot more.
The user interface is professional-looking, and despite being free to use, there is no compromise on the features and usability.
There is an ample amount of editing option which will allow you to give final touches to your recorded videos to upload them directly.
It supports 4K quality videos for editing and conversion.
Security Verified.
7,851,625
people have downloaded it.
You can use the following steps to record gameplay on PC by Wondershare UniConverter.
Step 1

Download Wondershare UniConverter and launch it.

Download, install, and launch Wondershare Uniconverter on your computer. You will be able to see the Screen Recorder icon on the left side of your screen, click on the down arrow beside the
button, and select the Screen Recorder option.
Step 2

Set all the settings depending on your requirements.

Wondershare UniConverter offers you a lot of advanced settings and tweaks that can enhance the overall quality of the recorded video. Make sure that you understand them and set them according to your preference to get the best results with ease.
Set the area that you want to be recorded by dragging and adjusting the dotted square. You can also record the entire screen.
Depending on the orientation of the game that you are playing, you can record either your complete screen or a small part of it.
You can access more in-depth video settings like frame rates, resolutions, quality, and storage location from the drop-down menu.
Step 3

Start the recording.

When you are all set, click on the floating control widget and press the red circular button to start recording your gameplay.
You get a 3-second timer to open the game and set everything up before the recording begins.
Step 4

Stop the recording.

After you have completed your gaming sessions and have obtained the recordings that you wanted, go to the floating widget and click on the Stop button. You can also close the recording by pressing the Esc key on your keyboard.
Part 2. How to Record Game on Windows 10
Windows 10 comes pre-loaded with an efficient screen recording tool for recording all types of games in high definition with ease. This tool is useful and is completely free for windows users. It can record high-quality footage of your game with audio from both internal as well as external sources, which makes it an excellent choice for beginner content creators that don't want to invest their money on recording tool. The user interface is easy to use. Also, the recording can be quickly started with the help of just a few keyboard keys. If your Windows has Cortana, it can start recording voice commands.
The following is a step-by-step guide to help you understand how to record gameplay with the inbuilt Xbox Game bar option in Windows computers.
Step 1 While playing the game, press the CTRL+G keys on your keyboard simultaneously and hold. Also, accept the popup notification, and Windows 10 Xbox game bar will be launched.
Step 2 Once you are ready to record the gameplay, click on the red circular button to start recording the gameplay.
Step 3 After your gaming session is over, and you have gathered enough clips, click on the red button again to start the recording. You can also press Win+Alt+R on your keyboard to stop the recording.
Part 3. How to Record Game on Xbox One
If you talk about gaming consoles, Xbox one is one of the most popular and iconic game consoles. It is used around the world and is currently one of the biggest names in the gaming console market. Xbox is loaded with lots of features for gamers like you can access social media on it, surf the Internet, and a bunch of other stuff. One of the coolest features that it has is the ability to record clips of the games that you play. You get to record clips up to 10 minutes long with the inbuilt recorder, which is great for capturing highlights of your games.
You will understand how to record games on your Xbox One by following steps.
Step 1 While playing the game on your Xbox one, press the X button, and open the guide menu.
Step 2 Now, press the View button and select the Record from now option.
Step 3 The recording will instantly begin and will last for up to 10 minutes if you have an external hard drive attached to the Xbox.
Part 4. How to Record Minecraft
Minecraft is a sandbox-style game that is extremely popular among gamers from all around the world, irrespective of their age groups. It is a light and straightforward game where you can build practically anything as your imagination. It can be a vast open-world as well, which adds to the overall experience for gamers. If you are a Minecraft enthusiast and want to record your gameplay to showcase it to the world, you can make use of OBS or Open Broadcaster Software. It is a free-to-use tool that can record high-quality videos and allows for streaming as well. It is extremely popular among professionals and is a reliable tool for recording high-quality screen footage.
The following are the step to record your Minecraft gameplay using OBS.
Step 1 Download and install OBS on your computer and launch it. Now open Minecraft and set the game up. When you want to start recording, minimize the game, and open the OBS again.
Step 2 Now, click on the Start Recording option on the right side of the screen, and your recording will begin. Play the game, and once you are done, open the tool again and click on Stop Recording.
Conclusion
If you wish to record your gameplay and create content related to gaming, make sure that you invest in the right screen recorder and editor that can meet all your requirements. Windows has its inbuilt recorder, but a lot of people prefer to use third-party recorders like Wondershare UniConverter as they are easy to use and have a lot of extra features that can enhance the quality of the final project.