How to Record WAV Online with Helpful Ways
If you want to record your audios in WAV format, there are a lot of WAV recorders online as well as offline that can be used. They have a lot of features to record high-quality audio that has a professional touch to it. Most of the recorders used to record WAV files online are free of cost and can be used without having a lot of high-end equipment for recording. All you will need is a microphone and a computer, and you will be able to record high-quality audios with ease. While selecting the right WAV recorder online, it is better to make sure that it has all the features that you might want from the tool and also ensure there are basic editing features present as well.
Part 1. How to Record WAV Online with The Easiest Way
If you want to record a WAV file online, one of the best ways is to use the audio online voice recorder tool. Online Voice Recorder is a competent online tool that can easily record high-quality audios with the help of an external or internal microphone. It is completely free to be used, and you will not need to install or download any software or setup files to use it. There are minimal advertisements on the user interface of the website, which makes it easier for newer users to understand the features and start using it. Being an online tool, it has a high-performance cloud server backing it up, which enhances the efficiency of this web app.
The following is a step-by-step guide to use an online voice recorder to record audios.
Step 1 Open the official website and click on the recorder feature on the tops side.
Step 2 Now, click on the Microphone icon present on the screen, and your recording will start.
Step 3 Once you are done, stop the recording and download the recorded files.
Part 2. How to Record WAV Easily with Wondershare UniConverter
There are various powerful and efficient third-party tools present on the Internet that you can use to record high-quality audios in multiple formats like MP3, WAV, etc. If you want a free tool that can serve a variety of purposes related to your recordings and its editing, one of the best tools would be Wondershare UniConverter (originally Wondershare Video Converter Ultimate). It is a free-to-use tool that offers a variety of features like audio/video recording, conversion, CD burning, editing, conversion, and a lot more.
The audio recorded through this tool can instantly be converted into all the major formats used and supported across the various devices. The ease of usage and versatile features have made this a trendy choice among casual as well as experienced users.
Wondershare UniConverter - Best WAV Recorder for Mac/Windows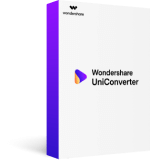 It supports for over a total of 1000 different formats for files like images, videos, audios, etc.
The tool is entirely free to download and has a very clean and professional-looking user interface, which makes it easier to be used.
It can be used to record audio/videos, convert them, and even edit them. You will also get to burn these files into CDs using this tool.
This tool supports lossless editing and conversion of videos up to 4K in quality with no problem.
It can support creating GIF and convert VR videos.
Security Verified.
7,851,625
people have downloaded it.
Step 1

Download Wondershare UniConverter on your computer.

Go to the official website and download the tool on your device. Once downloaded, install it and launch it. Now select the Screen Recorder option present on the top side of the screen and click on
to start recording.
Step 2

Adjust the video settings.

On the next screen, you can get access to various aspects like frame rates, resolution, orientation, and aspects ratio, which you can tweak as your requirements. First, adjust the frame for the recording and set the audio source to the microphone or system sounds by your needs. Once done, click on the red circular button, and your recording will start. Once you are done, click the Stop button, and your recording will be saved.
Step 3

Convert the files to WAV.

Now the recorded file will be in MP4 format, showing in the interface of Screen Recorder.
And you will have to use the built-in converter features of the tool to convert it into WAV. Go back to the home screen and select the Video Converter option present on the top left side.
Add all the files that you want to convert by clicking on the
icon present on the screen. Once done, select the output format as WAV and click on the Start All option. All your video files will be converted.
Part 3. Tips & Tricks about Recording WAV Online
In order to get the best result while recording your audios, it important to keep a few things in mind before you begin. Here are some tips and tricks that can significantly enhance the overall quality of the sound that comes out as the output. Also, there are a lot of settings present in the audio recorders, which can uplift the sound quality if properly used. You will also have to invest in the right equipment that can allow you to have a professional quality sound recording setup.
The following are some tips and tricks from beginners that you might find useful.
Invest in good equipment
First of all, make sure that the equipment that you are buying is top-notch and is capable of recording high-quality videos. Make sure that your microphone is supported by your system and can record crystal clear sound. Also, make sure that it can support the latest sound drivers, which will definitely enhance the overall quality. While the built-in microphone can get the job done efficiently, it will be better to invest in an external microphone.
Soundproofing is important
Soundproof the room you record your audio is a very important thing. Even if you get world-class equipment and the best software, the audio quality can suffer. If your room is not soundproof, there can be shrillness, disturbance, and echo in the voice getting captured by the microphones. You can try to record in a small room or create a soundproof cubicle in your room with the equipment. It will also help you to keep your recording essentials organized and will be your small workspace where you can record, edit, and keep your audios.
Get a capable recorder and editor software.
The recording and editing software that you use has a significant impact on the overall quality of the audios that you publish. If you invest in a high-end tool, you will get better features to tweak the settings to get the perfect audio recorded. With the help of the editing features, you will be able to enhance it even further by adding effects and finishing the audios. It will give your audios a professional touch and will make it sound better on different supported platforms. Also, you will get to choose the output audio format so that you can choose the one that suits the platforms where you upload.
Limit background noises
Try to make sure that while recording the audio, there are limited background noises. Close the doors and windows to limit the noise coming from outside and switch off any music and fans that might create background noise. With limited disturbance from background noises, your microphone will be able to capture your sound with better details, which will be great while adding effects and other tweaks to your audio. It will result in the better final output of the files.
Conclusion
Sound recording is not a very easy task and requires you to have in-depth knowledge about the basics of audio recording and the devices you are using. To get the best recording, you will need to do thorough research about the best tools and read up on tricks and tips from professionals that can help you to record better quality audios. There are thousands of recording tools that you can use, but one of the best you can get for free is Wondershare UniConverter. It offers a lot of features for users that can help them to enhance their recorded audios significantly.