Video Converters
1. Convert to Any Format

+

2. Video to Audio Converters

+

3. Video Converters for Device

+

4. Other Video Converters Tips

+
Top 8 Free Video to JPG Converter to Extract Video Frames
What can you do if you want to make an interesting snapshot from your video? Or how to convert your home videos into a memorable photo album by extracting JPG frames? Extracting pictures from a video is not such a difficult thing as you think. With the help of video to JPG converters, you can take photos from the video and make a photo slideshow easily and quickly. If you want to know more about these online and free videos to JPG converters, read this article, and the top 8 tools will be introduced.
Watch Videos to Learn Convert Videos to Gifs
Wondershare
AniSmall for iOS
Compress, convert, transfer video
in one click without losing quality.
Part 1. Top 4 Free Video to JPG Converter for Desktop PC
There are many free videos to JPG converters available that feature decent conversion and basic functions. Here we listed the top 4 free video converters to JPG for you. You can choose a suitable converter, depending on your needs.
This is a desktop free-to-use video-to-picture converter that is safe to install, run, and use. The program is free from any spyware or adware and allows converting an array of video formats to JPG pictures. Using the tool, you can specify the time and frame size for extracting the images. The total number of images to be extracted from the video can also be specified. You can also select the location on your PC where you want to save the converted pictures.
Features:
Free Video to JPG Converter. Extract frames from video files to JPG files with one mouse click;
It is an ideal tool to make photo galeries from your home video. You can extract for example every hundredth video frame or frames in every 10 seconds;
Very fast and easy;
This free program contains no spyware or adware. It's clearly free and absolutely safe to install and run.
Compared with UniConverter:
DVDVideoSoft Free Video to JPG Converter is a free video to image converter but it lacks some features compared to UniConverter. UniConverter provides advanced video editing tools, the ability to convert videos to a wide range of formats and also includes a DVD burner, which DVDVideoSoft lacks. Additionally, UniConverter has a much more user-friendly interface and offers faster conversion speed. UniConverter also allows for batch processing, making it more convenient and time-efficient. Overall, UniConverter is a much more comprehensive and efficient video conversion tool, providing a wider range of features and better user experience.
This is another desktop free video to JPG converter that allows images from the video frames. In addition to JPG, the videos can also be extracted in BMP, PNG, JPEG, or TGA image format as needed. The program is extremely fast to use and allows you to set the number of frames you need. Using VirtualDub, you can also set a specific range in the video to extract pictures between these mentioned points. The software is licensed under GNU GPL and is compatible with 32bit and 64-bit Windows platforms. Batch processing is also facilitated using the software.
Features:
Noise reduction.
Integrate volume meter.
Field swapping.
Optimized disk access.
Real-time downsizing.
Verbose monitoring.
Create openDML files.
Fractional frame rates.
Compared with UniConverter:
VirtualDub and UniConverter both offer the video to JPG conversion feature, but UniConverter has some advantages. Firstly, UniConverter is more user-friendly and easier to navigate than VirtualDub. Secondly, UniConverter has a wider range of supported formats, making it more versatile. Finally, UniConverter also provides additional features such as video editing, DVD burning, and screen recording, which VirtualDub does not offer. Overall, UniConverter offers a more comprehensive and convenient solution for video conversion needs.
The free version of the Wondershare UniConverter is also available that facilitates quality video to JPG conversion. The program supports all popular video formats that can be added to the software for conversion. You can even merge multiple videos and edit them if needed before the conversion takes place. This free video to JPG converter also supports other functions like video download from YouTube, disc burning, and 1-minute video recording of Skype, converting videos or pictures to GIF, and file transfer to iOS and Android devices.
Features:
Batch convert video to MP3/MP4/DVD and vice versa;
Best YouTube converter to convert YouTube to MP3/MP4;
The all-powerful video format converter.
VLC Media Player is a widely used cross-platform media player that is free and open-source. The tool can play an array of file formats along with VCD, DVD, audio CDs, and streaming sites. Besides playing videos, the player also works as a decent conversion tool and allows converting videos to other formats and images. The player also has a complete feature set over the videos, filters, and subtitle synchronization. VLC Media player can set the image format to JPG, BMP, PNG, and other formats. You need to mention the recording ratio and the path of the location to save the files. And the defined ratio will save an image file in the desired format at every XXXX number of frames mentioned.
Features:
VLC has hardware decoding on most platforms. It supports 0-copy on the GPU and can fallback on software when required;
VLC has the most complete feature-set over the video, subtitle synchronisation, video and audio filters.
Part 2. Top 4 Free Video to JPG Converter Online
If you don't want to install any applications in your PC, online tools can help you convert videos to JPG formats. The online converters are easy-to-use, need no installation, and are free to use. For the basic video to JPG conversion, we have shortlisted the top 4 free videos to JPG converter.
This is a free and online video to JPG converter that allows images from the video frames. The program is extremely fast to use and will enable you to set the number of frames you need. Using Online Converter, you can also set a specific range in the video to extract pictures between these mentioned points.
Features:
File Converter
Convert your video, audio, images, e-books and documents to another file format.
Unit Converter
Convert various units of measurement, such as weight/mass, length/distance, area, speed, temperature, timezone, time, volume/capacity, etc., and provide a free currency converter to calculate the current currency and foreign exchange rates.
Free to Use
This is a completely free service.
Simple
Without need to download and install any software, safer for you.
Convenience
You can access this online service from your PC or mobile anytime and anywhere.
Easy to Use
With a few mouse clicks, you can easily convert your files by yourself.
This is a free video to JPG converter online tool that supports a wide range of video formats for conversion. The program can be used from your PC browser without any need for installation or registration. You simply need to add the videos from your PC to choose JPG as a picture format and enter your mail ID. The pictures will be extracted from your videos, and their download link will be sent to the mentioned email ID. The program also allows editing image output frames like changing the image's size, applying the effects, rotating or flipping the images, and others. BMP, JPEG, GIF, PNG, and TIFF are the other image supported formats.
Reviews:
FileZigZag is a free online converter that supports a wide range of formats including audio, video, image, document, ebook, and archive. It uses a sophisticated conversion engine to deliver the best quality conversion. Also, you don't need to install any software in your computer.
Ezgif.com is a simple online GIF maker and toolset for basic animated GIF editing, which supports many video features. It has a video to JPG converter that allows you to convert video to an image sequence. You can upload any type of video, and it will generate a list of JPG (JPEG) images. And the interface is straightforward to use so that the newbies only need a few clicks to convert videos to JPG format.
Reviews:
This tool allows you to convert video to an image sequence. Upload any type of video and it will generate a list of JPG (JPEG) images. Upload your video, select size and frames per second, choose the part of the video you want to convert, and click "Convert to JPG!" button.
Online-Convert is a free video to an image sequence converter online tool that supports a wide range of formats. Using the program, you can add the desired video files from your PC, Dropbox, Google Drive, or URL. For advanced settings, you can choose the pictures' quality to be extracted, select its size, and choose the color. There are also options to enhance the images, crop the pixels, and also enter the DPI. The settings done for extracting images can also be saved for future use. The extracted pictures can be downloaded from the program interface itself.
Part 3. Best Video to Picture Converter with High Quality
Among the video conversion tools available, creating high-quality image files requires a professional video-to-picture converter. Here we recommend Wondershare UniConverter (originally Wondershare Video Converter Ultimate). This all-in-one video toolbox results in excellent quality video conversion to other formats and images at fast speed. The added videos to the program interface can be converted to JPG, as well as BMP format. If you want to convert MOV videos to JPG on Mac, it also can help you a lot. Wondershare UniConverter also supports various other functions like video editing, video download, disc burning, fix video metadata, and GIF-making.
Wondershare UniConverter - Best Video to JPG Converter for Windows/Mac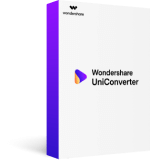 Convert videos to JPG, BMP, and other formats with one-click.
Input 1,000+ video formats like MP4, MOV, MKV, AVI, WMV, MPEG, etc.

Make GIFs from videos or pictures with customize settings easily.

Convert videos to any format with super fast converting speed and full-quality output.
Edit videos with advanced features like trimming, cropping, adding watermarks, subtitles, etc.
Burn and customize videos to DVD with free menu templates.
Download videos from YouTube and other 10,000+ video sharing sites by directly pasting URLs.
Support a toolbox with functions of VR Converter, Fix Media Metadata, Video Compress, and more.
Supported OS: Windows 10/8/7/2003/XP/Vista, Mac OS 10.15 (Catalina), 10.14, 10.13, 10.12, 10.11, 10.10, 10.9, 10.8, 10.7, 10.6.
Security Verified.
5,481,347
people have downloaded it.
Steps to Extract Pictures from Video with Wondershare Video to JPG Converter:
Step 1

Add and Play Videos to Wondershare Video to JPG Converter

Once the software is installed and opened on your PC/Mac, choose the Converter tab and click on the +Add Files icon. Browse for the local videos to add to the interface. As the video is added to the interface, hover the mouse over the thumbnail image and click on the play icon to start playing it.
Step 2

Capture Pictures from Video

As the video starts playing, hit on the drop-down button next to the camera-like icon and choose the Settings option.
From the pop-up window, choose JPG as the desired image format and select the PC location to save the captured image. Finally, hit on the OK button to confirm. While the video is playing, click on the Capture icon on the frame which you wish to save as a picture.
Step 3

Locate Converted JPG Picture

To check the converted video to JPG frames, click on the Open Folder option from drop-down options at the Capture icon. The folder is showing all captured images here.
You have multiple choices for the video to JPG converter, as mentioned in the above parts. Pick up a tool that best suits your requirements. For quality conversion with advanced features, Wondershare UniConverter is the best choice.