Analog to Digital Video Converter: How to Convert Analog Video to Digital Video
Video Converters
1. Convert to Any Format

+

2. Video to Audio Converters

+

3. Video Converters for Device

+

4. Other Video Converters Tips

+
It is no news that in this 21st century, analog devices have taken a back seat, and the technological world has gone digital. Every piece of electronic devices ranging from as little as wristwatches, compasses, videos to bigger electronic innovations like cars have all been digitalized over the years. But the fact that the market has been swarmed with digital devices does not mean analog does not still exist. Let's take videos, for example, and some people do have videos from time past that was recorded on a VHS analog video device, to make it easily accessible and probably transferable, it must be converted to a digital video format that can be supported by most devices in the market today. This raises the need for an analog to digital video converter.
Part 1. Best Way to Convert Analog Video to Digital Formats on Windows/Mac
Searching for a video analog to digital converter might be abortive if you are not looking in the right direction. Some available analog to digital video converters for PC is not all effective, while others might just be expensive. One of the best analog to digital video converter available in the open market is Wondershare UniConverter (originally Wondershare Video Converter Ultimate). This software is a complete video conversion tool with over a thousand conversion formats and an attractive, user-friendly interface. It has an impressive conversion speed up to 30 times more than any other analog to digital video converter, and it could also serve as an online video download with its super video grabber algorithm, including converting online videos to mp3 formats or even recording from a streaming website. UniConverter (originally Wondershare Video Converter Ultimate) by Wondershare has been featured on analog to digital video converter reviews from top review websites, and it has been proven to be the best.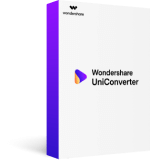 Convert analog videos to digital videos with super fast converting speed and full quality output
Support 1,000+ output/input video formats including MP4/MKV/AVI/MOV/WMV/MPEG and others
Edit videos before converting with features of cropping, trimming, rotating, and more
Download videos from 10,000+ video sharing sites like YouTube by simply pasting URLs
Transfer videos from PC/Mac to iOS/Android and other devices with a USB cable
Burn and customize analog videos to DVD with free menu templates and other features
Supported OS: Windows 10/8/7/XP/Vista, macOS 11 Big Sur, 10.15 (Catalina), 10.14, 10.13, 10.12, 10.11, 10.10, 10.9, 10.8, 10.7, 10.6.
Security Verified. 5,481,347 people have downloaded it.
The process of converting an analog video to a digital video format is a two-step process. The first part involves making use of a VHS player connected to a personal computer to convert the video file from VHS to a DVD format. The second part involves the use of Wondershare UniConverter (originally Wondershare Video Converter Ultimate) to convert DVD to AVI, MP4, or any other digital formats. This software is easy-to-use, here are the steps to make use of it as an analog to digital video converter for Windows.
Steps to Convert Analog Videos to Digital Videos with Wondershare Analog Video Converter:
Step 1

Connect VHS Player to PC

Connect your VHS player to your personal computer with the use of a SCART conversion cable. This cable has the three major cords that connect to the VHS player and a USB connection on the other end of the cable, which connects to the personal computer. Make sure that the three cords from the SCART cable are connected to the Output ports of the VHS player.
Step 2

Add Analog Videos to Wondershare Analog Video Converter

After connecting your analog player with your computer, you can find a removable disk where store your analog videos. Download and install Wondershare UniConverter (originally Wondershare Video Converter Ultimate) from their official page. On the main interface screen of the Converter tab, at the top left side of the screen, click on the Document drop-down menu and select the option Add from Device. When prompted, navigate to the location of analog videos and select it.
Step 3

Select Digital Video Output Format

Once the videos have been imported into Wondershare analog to digital video converter, you need to select an output format which you want to convert to. On the top right-hand side, click on the Output Format the drop-down menu to view the several video formats available on the software, select the output format of your choice. You might also decide to create a custom output format with custom settings like frame rate, bitrate, encoder, audio output, and so on. Optionally, you can edit the videos before conversion by adding filters, watermarks, and subtitles, adding corrective effects like brightness, saturation, and contrast.
Step 4

Convert Analog Videos to Digital

Once all necessary settings have been put in place, simply click on the Start All button located at the bottom-right corner of the screen. Once the conversion process has been completed, your analog to digital videos become available under the Finished tab at the top of the screen. They can also be accessed from the already selected folder location selected for converted files.
Part 2. Other Recommended Analog to Digital Video Converter
Aside from making use of Wondershare UniConverter (originally Wondershare Video Converter Ultimate) to convert Analog videos to digital, another alternative method is by making use of the Cingk Mini Video Converter. Cingk Mini Video Converter is a simple device that can be connected to a VCR player, and it converts it into HDMI format. The device has a little switch that can be used to select between either 720p or 1080p video output resolution depending on the resolution of the TV where the video is being played on. It also has a USB charging port hereby making it easy to set up and use without the need for an extra socket to plug into since most TVs these days come with a USB port.
This little portable device is available on Amazon for about $16 with an 18-month warranty as opposed to the normal 12-month warranty offered by most similar devices in its category.
Part 3. Analog Video VS Digital Video
An Analog video is a video type that was recorded or used in its original form, and its analog waves are lased onto a tape. Digital Video is a recording system that makes use of digital video signals and stores its waves, which are at intervals unto a digital device, which is usually more flexible to access and transfer.
Differences:
Digital video audios do not involve stair-stepping and can be used to reproduce sounds similar to what was stored while analog audios cannot be used to reproduce identical sound except being converted to a digital form.
Digital videos have image digitization, while analog video signal levels identify colors and intensity.
Digital videos have different frames such as P frames, B frames and I frame, while Analog has many lines per frame.
Digital videos are stored in the form of binary bits, while analog videos are in the form of the wave signals.
Sometimes we might want to view an old analog video but lack the means to play it. This can easily be solved by converting such an analog video file into a digital format by making use of the best analog to the digital video converter like Wondershare UniConverter (originally Wondershare Video Converter Ultimate).