Video Converters
1. Convert to Any Format

+

2. Video to Audio Converters

+

3. Video Converters for Device

+

4. Other Video Converters Tips

+
Convert Video into Text: Top 6 Video to Text Converters
Many people in the world don't know videos can be converted into text. It is called Transcribing. The Transcribe concept is ancient, but only a few people are aware of it. So, it is also apparent that only a few people would require video-to-text converter software or online services. So, in this article, we are introducing the readers to the top 6 choices for converting video to text, both desktop applications and online video-to-text converting tools. I hope this article will be helpful for you.
Wondershare
AniSmall for iOS
Compress, convert, transfer video
in one click without losing quality.
Part 1. Top 3 Video-to-Text Converter Applications to Turn Video Speech to Text
The technology has advanced to such a great extent that much software is available for users, which can change videos into text. This way, you will be able to get your notes from a recorded lecture, export only subtitles so that you can read the lecture, and much more. The InqScribe is a tool specially designed for the Transcribe function. This is a highly professional video-to-text converter app that will play the videos and type the transcripts in the same window. Thus, you will have a written copy of the videos that are important to you. You can also insert the time codes in the transcript and can also insert the frequently used text by providing a keystroke via custom snippets. The software is like a word processor. You can also use the software as a player as it is compatible with both Mac and Windows Operating systems.
Moreover, the controls of the software are also very advanced. You won't even need to touch your mouse with its Mouse free media controls. Additionally, you can export your transcripts and share them via email. As InqScribe is Unicode-compliant software, multiple language support is also provided with it. All the languages supported by Unicode are contained within the software.
Supported Input Video Formats: InqScribe supports all the Windows Media formats along with QuickTime player-supported formats.
Come here, users, the Transcribing of multimedia text, and subtitles from audio files have become easier than ever. The EureScribe is a video-to-text converter software that can not only perform the transcription of videos but audio too. The software is fast and easy to use and has the simplest interface, which is easy to understand and learn. The software has keyboard shortcuts for almost every single function so that you won't have to depend on the mouse too much. The application software has extremely flexible features that can easily handle major media formats. The software is available to users in two editions. The first edition is for Personal use to be sued by a single person only. The second edition is for the Workgroup, i.e., the users will be extended to multiple. The functions also differ a little bit. With the Personal version, you will be able to design individual projects only. Still, with the Workgroup edition, you can work on creating the transcript of a film or project with your entire team simultaneously. One more unique feature is that the transcription can be saved in word file format so that it can be easily accessed.
Supported Input Video Formats: The format support of the software includes MP3, WAV, WMA, SRT, TXT, RTF, AVI, MPG, etc.
Another video-to-text converter app that can try is HyperTRANSCRIBE. It is the most potent tool for transcribing s it will give you total control over the playback of the media files. As you all know, transcribing is simply the typing of text, so it requires keen attention to the keyboard. That's why the advanced keyboard controls don't need you to use the mouse even to rewind the video or audio. You can do it all with just your keyboard. You can also play the video or audio files in a loop to prevent you from the hassle of replaying the files over and over again. Using the software is super easy, and the developers designed the software according to the requirements. There is also Technical Support for the software without any additional charges to help the users with the working of the software. One exciting feature of the app is that you won't need to buy another license to install the software on other devices. Once you have got the license, you can install it on any computer that you are using. Another great advantage of the software is that it is available for both Mac and Windows Operating systems.
Supported Input Video Formats: HyperTRANSCRIBE supports DV, AVI, MPG, MPEG, MOV, etc.
Part 2. Best 3 Online Video-to-Text Converters to Convert YouTube Video to Text
Apart from the software that can be sued for Transcribing or should we say converting video into text, you can also use an online service or website for the process. Here we have mentioned some of the best sites that do the work with precision.
Temi.com is a website that is commonly used by the professionals as video to text converter. The site has such advanced and robust speech recognition software that can convert Speech into Text in like five short minutes. You just have to select the audio or video files, and the website will do the rest of the task so that you won't have to go through the whole process by yourself. Once your files are a transcript, you will be able to download them in any format such as MS Word, PDF, SRT, CTT, and many more. But you have to remember that the output depends on the audio quality of the files. If the video has too much noise or disturbance in the background, the software won't be able to change the video into text correctly, and you will have only a 90 to 95% accuracy level in the files.
Supported Input Video Formats: The file format support for videos includes MP4, WMA, MOV, and AVI.
For this website, you might have to create an account first. Once you have signed up on the site, you will get a free week from the website complimentary. You can use the site as a YouTube video-to-text converter, or direct speech-to-text converter. Using the website server is easy and straightforward and has made the lives of journalists, students, and other people a lot easier. They offer three different ways of transcribing media files into text. The first one is the Automatic Transcription done to the audio files. The second one is the Speed conversion in which you only have to speak, and the website will detect your voice and dictates it accordingly. The language support is also vast as it supports English, Spanish, Hindi, French, and many other European and Asian languages. The third mode you can try is the manual method. The excellent feature of the software is that it will slow down the audio and video so that you can follow the speech easily.
Supported Input Video Formats: The Video File format support includes MP4, M4A, AMR, WMA, AAC, WAV, OGG, WEBM, etc.
360Converter is a very popular website for the transcription of video and audio files into text. You will have to upload the audio and video files on the website server, and the server will analyze the files and convert them into text format. This video-to-text converter online has the most straightforward interface that makes it easier for the users to change the format. Moreover, you can directly copy the link of a file present on various other websites and paste it directly to the 360Converter, and the server will change that file too. One additional and exquisite feature of the site is that it can provide the transcript in multiple languages.
Supported Input Video Formats: The formats supported by the website are MP4, ASF, AVI, WMV, OGG, Video MPEG-2, MPEG-1, FLASH FLV, 3GP, WEBM, and RMVB.

Tips
Part 3. Recommended Video Converter to Download YouTube Videos by One-click
Now you know how to convert your videos to text online or desktop. Here we recommend you the best all-in-one video converter - Wondershare UniConverter (originally Wondershare Video Converter Ultimate) - which can convert video/audio to any format with simple steps. The most recommended feature is that you can download videos from YouTube and other 10,000+ video-sharing sites by pasting URLs, which is convenient and fast. It would be your assistance if you want to download videos from YouTube with subtitles, and you can also extract subtitles from videos. What's more, this all-in-one video converter has many additional functions related to media files, such as a video editor, DVD burner, GIF maker, and others.
Wondershare UniConverter - Your Complete Video Toolbox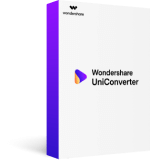 Download videos from YouTube and other video-sharing sites by simply pasting URLs.
Convert video/audio files in any format, including MP4/AVI/MKV/WMV/MP3/WAV, and more others.
Burn videos to DVD with free menu templates and super fast burning speed.
Built-in video editor to edit videos with cropping, trimming, rotating before burning, and converting.
Transfer videos to iPhone/iPad/iPod and Android devices via USB cable.
Versatile toolbox combines a video metadata editor, GIF maker, video compressor, and screen recorder.
Stream your videos from Windows or Mac to other devices, including Chromecast, Roku, Apple TV, Xbox 360, or PS3.
Supported OS: Windows 10/8/7/XP/Vista, macOS 11 Big Sur, 10.15 (Catalina), 10.14, 10.13, 10.12, 10.11, 10.10, 10.9, 10.8, 10.7, 10.6.
Security Verified,
5,942,222
people have downloaded it.
Conclusion:
We have provided several videos to text converters and online websites in Part 1 and Part 2, which can help you to convert multimedia files into text. You can choose any of the tools mentioned above and get the desired scripted text quickly. What's more, if you want to get more help on video conversion, editing, and burning, just free download Wondershare UniConverter to have a try.