MP4 Tips & Tricks
1. Edit MP4

+

2. Play MP4 on Different Devices

+

3. Best MP4 Converters/Editors

+

4. Other MP4 Tips

+
The video is a wonderful means to relive and cherish your memories. With technology on its high, the video recording devices these days support an array of formats that best suits your needs. MP4 and AVCHD are two of the most popularly used video recording formats with their set of pros and cons. Though both of the formats have a lot of similarities, their major difference lies in their use and practicality. To help you in deciding which a more apt format is as per your requirements, the following part of the article discusses AVCHD VS MP4 in details.
Part 1. The Definitions and Development of AVCHD and MP4
1. What is AVCHD?
Standing for Advanvced Video Coding High Definition, AVCHD is a file based format that is used for digital recording and HD video playback. The format was developed jointly by Sony and Panasonic for professional video recording using high definition camcorders. The format facilitates recording high quality videos that can be burnt to DVD disc and can also be played on Blu-ray player and HDTV.
2. Development of AVCHD:
When released in the year 2006, AVCHD was the first HD playback and digital recording format. The first AVCHD supported camcorders were released by oth Sony and Panasonic in 2007. The specification of the format was amended in the year 2011 so as to include 1080 line 50 frames and 60 frame modes along with stereoscopic video. As compared to the previous ones, the new video modes need double the data rate.
3. What is MP4?
MPEG-4 Part 14 which is commonly known as MP4 is a container multimedia format that allows storing video, video, still images, subtitles, and other data. This digital format is compressed in nature which makes it easy to share and stream over the net. MP4 is one of the most widely used format that is compatible with almost all types of players and devices.
4. Development of MP4:
MP4 was developed as a part of the ISO base media file format which is based on Quick Time File Format. The format is similar to Quick Time file format, but it supports the features of Initial Object Descriptors and MPEG. The format was released in 1999 with its first published version in 2001. In the year 2003, the format was revised and replaced with a new one which is currently in use in major parts of the globe.
Part 2. AVCHD Vs MP4
Both AVCHD and MP4 are among the favorite formats for recording videos. To help you choose between the two, given below is a comparison table on a number of metrics.
Features/Format
AVCHD
MP4
Which is better

File Extension

The formatted video makes use of .m2ts extension and save file with Picture Motion Browser (PMB) software.
The formatted video makes use of .mp4 file extension and save it with PMB software.
Draw

Video and Audio Codecs

As video codec, the format use MPEG-4 AVC/H.264 and as Audio codec, it uses Dolby Digital AC-3.
The video codec for the format is same as AVCHD-MPEG-4 AVC/H.264, but the audio codec used is MPEG-4 AAC LC.
Draw

Video Quality

The highest resolution quality images by Sony and Panasonic devices are capture only in AVCHD format only. The image quality is amazing.
JVC makes use of MP4 format with resolution of up to 108-p at 60fps. Thus MP4 quality falls short as compared to AVCHD.
AVCHD

File Size

Owing to its high quality, the format has large file size. A 30 minute video with 1920 X 1080 resolution takes up around 300-400 MB.
Its compressed nature makes the file size smaller. A 30 minute video with 1920 X 1080 resolution only takes 100MB of file size in MP4 format.
MP4

Compatibility

The format is compatible with Blu-ray Disc format and a number of recording devices including memory stick media and hard disks. As compared to MP4, the list of compatible devices are less.
Also known as a Universal format, MP4 is compatible with a large number of media network, players, and other devices.
MP4

Popularity

The format is popular among the uses who want high quality videos. The format is capable of recording 1080p resolution videos at 60 fps.
The format is popular among users who prefer compatibility, smaller size, and access over quality. MP4 can be accessed over a number of devices and can be shared over net owning to its smaller size.
Draw

Pros

Compatible with Blu-ray Disc format
Record good quality live pictures
The sound quality of the format is good with Dolby Digital AC-3 codec
Capable of easily recording 1920 X 1080/60i, 50i (16:9) resolution footage

The format can be payed over a number of devices and players
Allows saving single movie file so that they can be easily accessed
Allows easy storing of multiple files
The files in MP4 format can be easily copied, moved and uploaded over the net

Draw

Cons

While saving in .M2TS format, it is difficult to save in a single file
The file size is disproportionate ( A file size of 100MB in AVCHD is only 25MB in other types of formats)
The format can be used with recording media devices like Memory Stick or Hard Disks

The audio codec of the file format is low in quality
The audio channel is available only for 2 channels/48kHz
The highest resolution of the file can go up to only 1440 X 1080/30p (16:9)

Draw
Part 3. How to Make AVCHD and MP4 Play on Anywhere
Though AVCHD and MP4 are popular formats, there might be situations when one or both of these formats are not supported by a device, player or a video editing tool. In such situations, the best solution will be to convert AVCHD/MP4 to other compatible formats. There are a number of programs that allow converting file formats and one of the best in the category is Wondershare UniConverter (originally Wondershare Video Converter Ultimate). The professional software works as a complete video toolbox allowing file conversion, transfer, video editing, video download and burning CD.
Wondershare UniConverter (originally Wondershare Video Converter Ultimate) supports more than 1000 formats for file conversion at a 30X faster speed. The file conversion is easy and can be performed in just a few steps. For an enhanced experience, videos can be edited using a number of features like cropping, trimming, adding subtitles, and others. The software works well with Windows as well as Mac system.
Your Complete Video Toolbox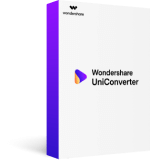 Convert any video to over 1000 formats like AVI, MKV, MOV, MP4, etc.
Convert video to optimized preset for almost all of the devices.
30X faster conversion speed than other common converters.
Edit, enhance & personalize your videos by trimming, croping videos, add subtitles and watermark etc.
Burn video to playable DVD with attractive free DVD template.
Download or record videos from 10,000+ video sharing sites.
Versatile toolbox includes GIF maker, casting video to TV, VR converter and screen recorder.
Supported OS: Windows 10/8/7/XP/Vista, Mac OS 10.15 (Catalina), 10.14, 10.13, 10.12, 10.11, 10.10, 10.9, 10.8, 10.7, 10.6
Security Verified,
5,481,347
people have downloaded it.
Steps to convert AVCHD/MP4 to other formats using Wondershare UniConverter (originally Wondershare Video Converter Ultimate):
Step 1 Launch Wondershare converter and load AVCHD/MP4 file(s).
Open UniConverter (originally Wondershare Video Converter Ultimate) software on your PC/Mac. On primary software interface, under "Convert" tab click "+Add Files" to browse and add desired AVCHD/MP4 from the computer. You can also drag and drop the files.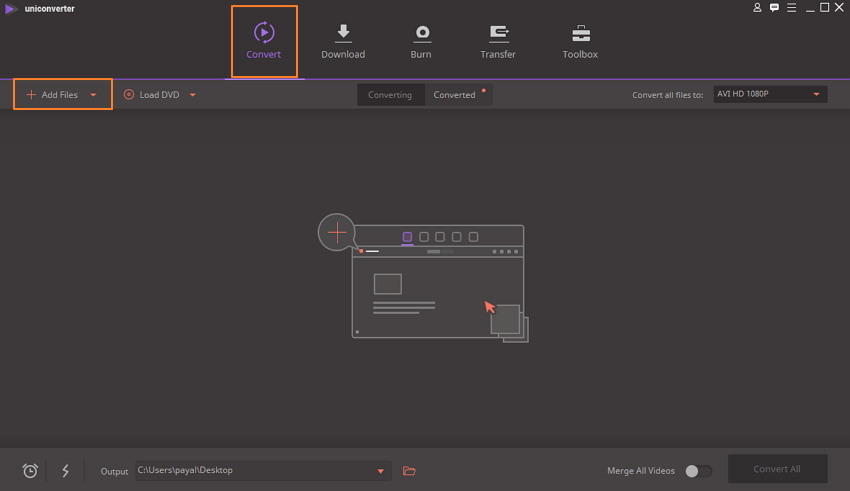 Step 2 Select desired output format.
After adding the files to be converted, the output format needs to be selected. Click drop down arrow next to Convert all files to: option and select the desired format and resolution from the Video or Devices tab.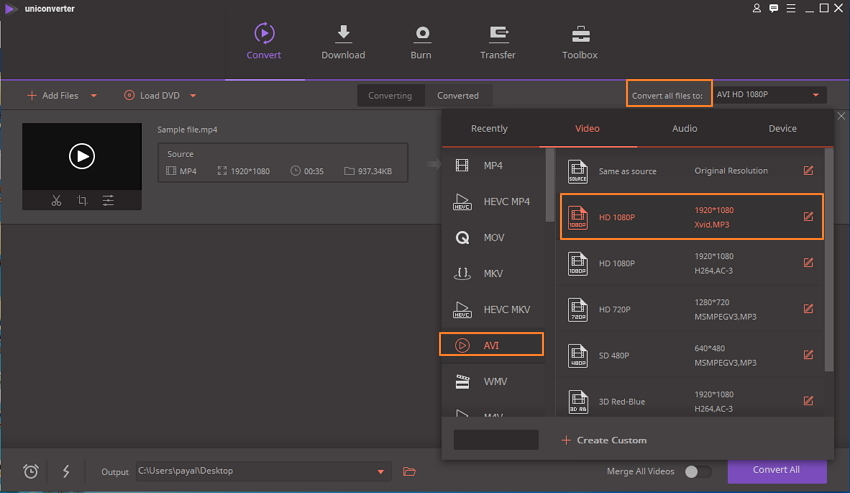 Step 3 Start converting AVCHD/MP4 to other format.
Finally, click Convert All to start the conversion process. The Output tab at the bottom of the software interface shows the location where converted file(s) are stored on your PC. You can edit the location as per your requirements.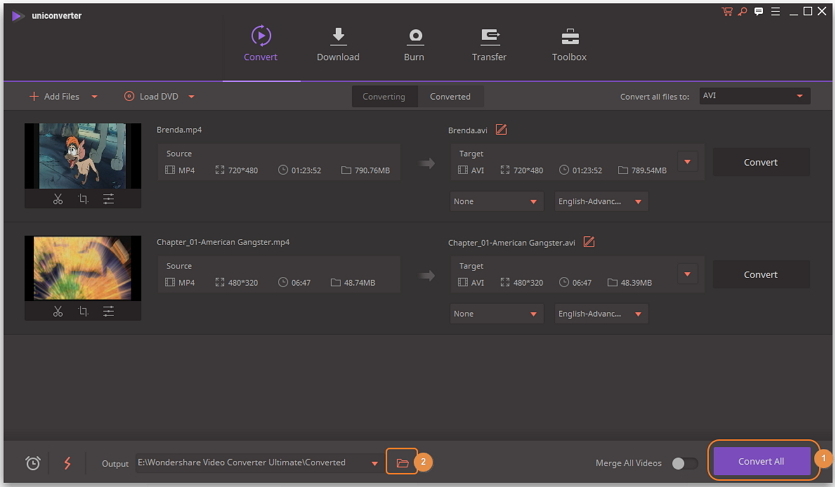 So pick up between AVCHD and MP4 depedning upon your video recording requirements. For playing these formats on other devices, you can also convert them using Wondershare UniConverter (originally Wondershare Video Converter Ultimate).