GoPro Tips
1. Edit GoPro

+

2. GoPro Software

+

3. Other Tips& Tricks

+
GoPro Video Stabilization: How to Fix Shaky GoPro Videos
GoPro video stability is important because it enables viewers to follow events in the video as they take place. This is why movies are interesting since the content is clear due to proper camera movement. So, as you take your GoPro videos, you must put GoPro video stabilization into consideration. As the camera provides you phenomenal shots, stability will ensure the content remains fun to watch. Considering GoPro video stabilization during the production stage is the most important. However, if you still acquire shaky videos despite trying, you can use great GoPro video stabilization software like Wondershare Filmora to fix. Learn how in this article.
Part 1. How to Stabilize the GoPro Video
Shaky videos annoy viewers quite easily, since enjoying the video and acquire the vital content becomes difficult. Therefore, it is essential to strive towards GoPro video stabilization during the production stage. You may tend to ignore stability in this stage because you have reliable software that can stabilize the video. However, when the original footage is too shaky, the content acquired even after stabilization may not be up to your standards. There are various ways to stabilize the GoPro video during filming, and they include the following:
A 3-axis Gimbal mount can keep your GoPro stable and guarantee excellent results. The GoPro camera comes with a karma grip that connects with a Gimbal to achieve stability. A Gimbal refers to a device that uses a motor and gyroscope to level up with the horizon. It is powered by a battery and may come with built-in functions that enable smooth camera movements like pan and tilt. Therefore, this tool is one way to achieve GoPro video stabilization during the recording of an activity.
You may have used a pole with your GoPro and verified that it does help with GoPro video stabilization as you film. The GoPro camera sits upright on the upside of the pole. Another way to achieve GoPro video stabilization is by placing the GoPro camera on the pole's downside and then set video recording on auto. The videos will be recorded upright and will be looking smoother and steadier. This alternative is better because the camera's weight is in the pole's underneath the area, reducing the chances of pole wobbling.
GoPro Built-in Feature for Stabilization
The stabilization feature in GoPro 5 and above can also help with GoPro video stabilization problems. Your only task is controlling the On and Off options.
Part 2. What is the Best GoPro Video Stabilization Software
The trendy and easy to work with the tool, Wondershare Filmora, is the best GoPro video stabilization software. It enables you to improve the quality of your shaky videos through stabilization features, regardless of the skills you possess. It imports and edits videos by adding transitions and special effects and then allows you to share the output with others through DVD, mobile devices, and social media. Editing takes place in 2 different levels, which include basic and advanced. Therefore, you only have to choose, and the software will handle the rest for you.
Wondershare Filmora is compatible with multiple formats, including MP4, MKV, and WMV, making it reliable in video format exportation. It is fully functional in the commonly used platforms, Windows and Mac. It is cost-effective and motivates you to come up with animations, as well as make stories, tributes, and dedications.
Aside from GoPro video stabilization, Wondershare Filmora comes with more functions and hence greatly benefits your GoPro videos and other content, as indicated below.
Features:
It conducts basic editing on videos, images, and audio. This includes incorporating overlays and filters as well as adding transitions, elements, and sound effects
It also conducts advanced editing, which includes taking video snapshots, zooming and panning, playing videos in reverse, stabilizing video, and recording PC screen.
It removes watermark in watermarked videos
It is an audio mixer and equalizer that also does audio separation
It offers GIF support
It does noise removal in videos, making the sound more clear
It conducts speed control as well as scene detection.
Through its screen splitting feature, you can create clips that play at the same time. You can select the screens you need and arrange them in the desired order.
The following Wondershare Filmora steps offer the fastest route towards achieving a stabilized GoPro video, in the shortest time.
Step 1: Upload Shaky GoPro Video to the Program for GoPro Video Stabilization
Launch Wondershare Filmora to start the GoPro video stabilization process. Go to the Full Feature mode to access the video editing tools. Click on Import to upload the shaky videos to Filmora Media Library. Ensure that you select the required GoPro videos.
Step 2: GoPro Video Stabilization
Put the shaky GoPro video into the timeline by dragging it. Open the editing panel by clicking on the Edit icon. From the menu, choose the Stabilization function, and Wondershare Filmora will automatically conduct an analysis and achieve GoPro video stabilization.
Step 3: Adjustment of GoPro video Stabilization Level
First, preview the shaky GoPro video in the preview window by clicking on Play. As you preview, the target getting a better result by adjusting the GoPro video stabilization smooth level. Depending on your desires, change the saving path or use a default location to save the stabilized video.
Step 4: Save the GoPro Stabilized Video
If you wish to do more editing, you can use the available options, which include adding titles, effects, transitions, and filters. Complete the GoPro video stabilization procedure and save it by clicking on OK.
Conclusion
You must work on GoPro video stabilization even before filming. Acquire a gimbal, pole, or use the stabilization feature in the GoPro camera. If you still end up with shaky videos, use Wondershare Filmora to fix them and acquire the best content for your viewers. However, you should note that extremely shaky videos may or may not be fixed completely and so may fail to achieve the best level of GoPro video stabilization.
Your Complete GoPro Video Toolbox for Windows/Mac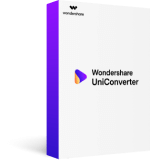 Edit GoPro video files with more features including cropping, trimming, rotating, applying effects, adding watermarks, etc.
Reduce GoPro video size by trimming or cropping unwanted videos.
Convert GoPro video to over 1000 formats, like AVI, MKV, MOV, MP4, etc.
Convert GoPro video to an optimized preset for almost all devices.
90X faster conversion speed than other common converters.
Burn GoPro video to playable DVD with attractive free DVD template.
Versatile toolbox includes fixing video metadata, GIF maker, DVD burner, and screen recorder.
Supported OS: Windows 10/8/7/XP/Vista, macOS 11 Big Sur, 10.15 (Catalina), 10.14, 10.13, 10.12, 10.11, 10.10, 10.9, 10.8, 10.7, 10.6.
Security Verified,
5,481,347
people have downloaded it.