GoPro Tips
1. Edit GoPro

+

2. GoPro Software

+

3. Other Tips& Tricks

+
Top 12 Quik Video Editor Alternatives Recommended
Whether an amateur or a professional, everyone prefers to have a nice and captivating video that shows their highlights and adventures captured by their GoPro. Due to the constraints of the Quik video editor, editors sometimes don't produce their best works. It is, therefore, important to have various alternatives to the Quik video editor to increase productivity editing your GoPro videos or other similar videos. In this article, we will explore the alternatives of the Quik video editing app, its features, and its main selling points to its users.
Part 1. What is Quik Video Editor
A quick video editor is an application made by GoPro. It is designed for beginners and its functionalities make it easier to access and edit your GoPro videos in a fast and efficient manner. The Quik video editing app comes packed with lots of useful functionalities such as syncing your videos to your music all in a few clicks, uploading to the cloud, and adding gauges and graphs to your videos in order to gauge how high or fast you were going. The software makes professional-looking GoPro videos on a tight budget, excellent for an amateur video editor.
Part 2. Best Quik Video Editor Alternative for Beginners
Wondershare Uniconverter is the best alternative GoPro Quik video editor currently available in the market currently. It comes packed with revolutionary new features that let it stand among the best in the market. It has a user-intuitive design and a wide variety of tools. It converts videos to desired formats at 30 times the rates as compared to others, this lends it credibility as the best alternative to the quick video editing app. The following are the steps that you can use Wondershare UniConverter to edit your videos to perfection all on easy to follow formats.
Wondershare UniConverter - Best GoPro Video Editor Mac/Windows (Catalina Included)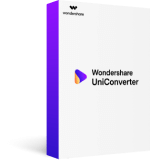 Edit GoPro videos with trimming, merging, cropping, rotating, adding subtitles, and more others.
Customize GoPro 4K videos by changing resolution, bit rate, encoder, frame rate, etc.
Convert GoPro videos to 1000+ formats with high-quality output.
Burn GoPro videos to DVD or Blu-ray disc with free DVD menu templates.
Optimized presets for almost all devices, like iPhone, iPad, Huawei phone, etc.
30X faster conversion speed than common converters with unique APEXTRANS technology.
Transfer videos from computer to iPhone, iPad, and other devices directly and vice versa.
Versatile toolbox: Add video metadata, GIF maker, video compressor, and screen recorder.
Supported OS: Windows 10/8/7/XP/Vista, macOS 11 Big Sur, 10.15 (Catalina), 10.14, 10.13, 10.12, 10.11, 10.10, 10.9, 10.8, 10.7, 10.6.
Security Verified.
7,975,022
people have downloaded it.
Step 1 Open Wondershare UniConverter.
Once the software has been launched, you will then see the option the
. To do so, simply click on +Add Files or drag and drop your videos.
Step 2 Edit GoPro Videos to Meet Your Requirements
Under the videos, there are three editing options, which are trim, crop, and effect respectively. Click on each of them to edit the videos as per your requirements.  
Trim GoPro Videos:
Go to the Trim icon. A new window will pop up. Move the cursor where you want to trim from. Drag it until the place you're satisfied with then let go. Click on Cut to divide the video into two parts. It will then be divided into several segments. Then, choose OK.
Crop GoPro Videos:
To do this, choose Crop. Then, place the cursor at the extreme ends of the videos and drag to give the desired size. You also have an option to rotate, alter size manually (entering your exact size), changing alignment, and aspect ratio.
Add Effects and Watermarks:
Choose Effect to change the contrast, saturation, brightness, and filters. Also, you can text or image as the watermark for the videos. Then select Save to confirm the changes.
Step 3 Convert the Videos
From Output Format: select your desired output from the drop-down menu. Click on the Video and then select the output video format and a resolution. When the setting is done, click the Create tab to confirm the changes. It is important to choose the location where to save the converted videos. Select the Start All to complete the process.
Part 3. Other 11 Quik Video Editor Alternatives Recommended
Wondershare VidAir
URL: https://vidair.wondershare.com/
Wondershare VidAir is an easy-to-use online video maker for beginners. It provides templates in different themes, and you can change the clips by dragging them directly. Also, you can upload local videos or images for customizing your branding. With VidAir, you can also add text effects, stickers, background music to your video; it gives the presets for reference. In other words, Wondershare VidAir it's effortless and worth trying for those who are interested in video editing.
Wondershare Filmora
URL: https://filmora.wondershare.com/
Filmora is an easy-to-use software that has one of the best interfaces in the market. It helps beginner video editors learn to edit their videos without being overwhelmed by a cluttered workspace while giving seasoned editors the required tools to make the best videos. This software integrates the best features all in one frame and all logically planned to facilitate the best workspace. Users are provided with the best video effects, audio music and transitions all in the software, and can also download more effects from the store though the available effects are more than adequate for the beginner.
Adobe Premier Pro cc
Adobe Premier Pro as the name suggests is one of the premier video editors on the market, its capabilities are unparalleled and it sets the standards for other video editors. Adobe, the owners of the product makes frequent updates to the software and has great support. It comes with features that sets it apart from the rest such as virtual reality support, organized workspace and intelligent audio cleanup. The package guarantees to make your vacation GoPro videos to pop.
Cyberlink PowerDirector 365
URL: https://tw.cyberlink.com/
Cyberlink PowerDirector 365 is the ultimate video editing tool to edit your GoPro videos or other media. Compared to other similar tools, the PowerDirector comes with power while also being budget friendly for the frugal video editor. It caters for both amateurs and professional through the introduction of modes which include: timeline, storyboard and timeline creator. These modes help tailor the experience of different users helping increase their productivity while using the software. Its special features include AI style plugins and unlimited access to cyber link plugins and effects that will guarantee your editing goes smoothly and have a clean and great product.
Vegas Pro 17
URL: https://www.vegascreativesoftware.com/us/vegas-pro/
Vegas Pro is a well known application that has been used for a long time and has had success in the making of hit music videos and movies. It is designed for the professional video editor to guarantee him/her full control over the software. Though through tutorials provided inside the video tool, beginners can easily learn the ins and outs of the software and thus improve their skills. The software has excellent upscaling of low-quality videos that can be unscaled up to 4k level quality. This guarantees that the editor can mix up the different quality of videos on one project. iPad connectivity and easy collaborations in the case of large projects are also core on the application.
Apple iMovie
URL: https://www.apple.com/imovie/
Apple iMovie gives an opportunity to mac users to edit videos shot from their GoPros or other media devices. Apple, known for its excellent designs, made the software easy to use and learn. New GoPro video editors are provided with templates which they can use to structure their videos and huge collection of filters and special effects. It provides the option of sharing your made videos to various social sites such as YouTube and Facebook. It is a welcome application for mac users as the market is flooded with windows software.
VSDC
URL: http://www.videosoftdev.com/
VSDC is a free and useful video editor, its combination of simple and most important features ensures that this tool becomes a favorite for both the amateurs and the professionals. It comes equipped with color correction, special effects, masking, highlights and offers an easy facility for sharing videos on your favorite social media sites.
Blender
Blender is another excellent tool for editing your GoPro videos. It is a free and open-source software, and though mostly used for 3D modeling, it supports video editing and has advanced tools such as Masking and motion detection. The interface may be different from other GoPro video editors, but don't worry about it because the learning curve for understanding it is not too long. Blender has a strong community that is always happy to help out a beginner, and together with plenty of tutorials, the learner will be a blender pro in no time.
Avidemux
URL: http://avidemux.sourceforge.net/
Avidemux is a software designed for the complete beginner. With its limited features, it cannot be taken seriously by a professional. Though for a beginner, it is an excellent learning tool for editing GoPro videos. Its key features are cutting, filtering, and encoding. Unlike all other video editors, Avidemux does not come with a timeline that may seem foreign to a user coming from another editor.
OpenShot
URL: https://www.openshot.org/
OpenShot is a multiplatform GoPro video editor that comes with a clean and well-designed user interface. It is one of the most underrated GoPro video editors out there, since it is open-source, it is yet a powerful tool nonetheless. You can add effects, add or slow down your GoPro videos in an easy manner. Because it is free and costs nothing, it can act as a nice free video editor for pc.
Lightworks
Lightworks is one of the most powerful tools out there. It combines powerful features and intuitive user display that makes it easier for its users to edit their GoPro videos in a clean and excellent workflow that guarantees accurate GoPro video cuts and a non-cluttered workspace. Its features include fast importing, exporting, rendering and easier adding of voiceovers. It is a great video editor, unfortunately, it is limited only for windows users.
Conclusion
Shooting videos are great for capturing moments, and giving life to your videos is more satisfying. In the list, we have covered and explored alternatives to the GoPro Quik video editor and covered all their essentials. They are the best tools in the market, and notably, the best is Wondershare UniConverter. Hopefully, as a beginner, you will learn to use your favorite tool to perfection and shoot videos that you can be proud of and show off to your friends.