GoPro Tips
1. Edit GoPro

+

2. GoPro Software

+

3. Other Tips& Tricks

+
Top 15 Tips for Using GoPro Underwater
Underwater video shooting is beautifully intricate at the same time, and all action cameras look difficult when they need to get underwater. However, if you gather some viable tips and great alternative software, then you will shoot amazing footage underwater. Our article today will answer, can you use GoPro underwater? So, if you want to shoot better footage, note all the 15 GoPro underwater video tips below.
Part 1. Top 5 Tips to Use GoPro Underwater You Should Know First
Housing
You cannot just use the camera out of the box without any waterproof Housing over it. It will leave a terrible impact on both your camera as well as the lens. Put it in the camera within the transparent housing. The GoPro Hero5, Hero6, Hero7, and Hero8 are waterproof up to 33ft. So, anything beyond it will need a Dive Housing.
On the other hand, the GoPro Hero3, and Hero4 aren't waterproof at all, which means the dive Housing is the most mandatory here. Well, if you are using the GoPro Super Suit Dive Housing, there is a need to remove the lens cover. However, removal of the lens is not required if you are using the 3rd party dive Housing.
You can remove the lens cover by twisting it to the left. Use Housing every time you are going to shoot underwater, as it will be conducive to prevent it from unwanted accidents.
Proper Settings
Take a look at settings you are going to explore underwater. Stick with the 1080p resolution default settings at 60fps. You can also make it at 1080p SuperView 80fps. These are the ideal settings everyone should use underwater and resembles what is seen on TV or referred to as HD.
Furthermore, the resolution is easy to edit and ideal for posting on social media networks. And, if you want to go with high resolutions like 4k, GoPro Hero7 is the best camera. However, 4k is challenging to edit, especially the underwater scenes, but if you are absolute, then this is the camera for you. The GoPro Hero7 offers 4k video resolution in both 4:3 and 16:9 aspect ratios. For hyper smooth image stabilization, use 4k at 60fps in 16:9 aspect ratio.
Another setting we would like to suggest is to shoot in a narrow field of view. Well, you can also shoot at the comprehensive or super view, but the reason to shoot linear because you will not get that typical GoPro look. It also depends upon the action shots you are taking. If they want that horizontal and broad view, you can go for them.
As per the ISO, the minimum recommended setting should be 100, and the maximum should be 800 because the ISO at higher levels may fall apart the image. However, the camera would use that ISO if it wants to be.
Be Choosy
Are you going to shoot everything? If yes, then it's not worthwhile as you may get run out of space as well as battery very fast. So, be choosy in what you want to shoot correctly and miss out the unwanted stuff. Shooting everything also gives you a lot of editing work afterward.
Stay Shallow
It's good that you like to explore things, but going deeper means losing so much color. The color will look green or grayish, and it's even impossible to put color backing to the footage. Thus, the ideal depth could be 10m 30ft or shallower. The best shooting always comes out below the surface and, if you lose some color, it is possible to dial it back into the footage. Staying shallow and slight shooting at an upward angle are underwater basics you should know. It also places your subject in front of a lovely blue canvas to get attractive footage.
Consider the subject distance
Shooting with GoPro means you have to be reasonably close to your subject. You can zoom in, but it may distort your footage or images you take. Thus, one of the GoPro underwater tips includes subject distance consideration. However, you should also look at the focusing distance of the GoPro camera you have. For instance, the focusing distance of GoPro Hero7 is somewhat 12" or 40cms. So, it will not be possible to take extreme close-ups as they will be blurry and distorted. The point is to place your subject at that range. Going beyond it is too far, and going exceptionally close will destroy the image quality.
So, these are Top 5 tips for using GoPro underwater. Read quick tips given below to know more about the question, 'Can you use GoPro underwater?'
Part 2. Other Tips for Using GoPro Underwater Recommended
Correct Color filters
To avoid all green or all blue images, you need the correction of filters. As GoPro cameras are known to be the no-brainer for capturing wide-angle, stunning, and HD footage in lighting conditions, using the red filters, especially for GoPro Hero3, is better. So, it's an accessory you need to attach based upon your dive plan. It will also help in capturing the lively footage at all depths of the ocean or river.
While you are preparing the camera, its gear, and settings, take time to download the latest GoPro app on your mobile device. With lots of upgraded functions, the app further helps to renew the firmware. It will connect you with the latest features and ensure the performance of a GoPro camera at its best potential.
Shoot stable
Take a selfie stick or camera rig with an unsteady action camera like GoPro. As the best GoPro underwater video tips, mounting the camera on the head or chest may not be ideal if the journey is going to be very unstable. A simple selfie stick may prove to be suitable if you are tight on budget or want to adjust with the equipment you already have.
Clean the lens
A minute before you close the camera or go on shooting, make sure the glass is free of any dust or fingerprints. So, do check both the lens, including the Housing lens from inside as well as outside of the camera.
Clean the gasket
Clean the white rubber gasket and make sure that it is free from any debris. Along with damage to equipment, this debris will cause the gasket to get a leak. Make backdoor ultimately pushed within the Housing to have a good seal before clamping that black latch.
Consider sun
Always shoot with the sun on your back. It's pretty hard to get a winning shot while shooting into directly into the sun underwater. If that is the case, the image will usually come out to be dark and unexposed unless you are using flashlights or video lights.
Use Dome Port for split images
For shooting incredible half above the surface and half underwater images (split images), a dome port is essential. To avoid getting droplets, make sure to rub some saliva to repel the drops off the port.
Rinse the Housing
To properly take care of GoPro even after diving, you should probably rinse its Housing in freshwater to remove leftover residues of salt. With the corrosive effect of salt, the seal or case will get weakened or damaged. Even a single grain of salt will ruin the job and results in a leak.
Use external LED lights
One easy fix is to add more light. External LED lights as the relatively cheap and compact option. However, if you are using red color filters, there is no need to use them. One downfall of using LED lights is that they work only when the subject is close.
Compose scenes
You should try to compose your views with the right amount of neutral reef or sand that doesn't have a lot of green growth. Plus, your color correction filter will help find what is 'white' in the scene and give you precise looking hues.
Part 3. How to Edit GoPro Underwater Video Easily
After the shooting is over, proceed to edit the GoPro Underwater video effortlessly with a reliable tool known as Wondershare UniConverter (originally Wondershare Video Converter Ultimate). It is a convenient, simple, and trustworthy tool to get the job done in a few minutes only.
Wondershare UniConverter - Best GoPro Converter Windows/Mac (Catalina Included)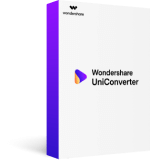 Convert GoPro videos to 1000+ formats with high-quality output.
Customize GoPro 4K videos by changing resolution, bit rate, encoder, frame rate, etc.
Edit GoPro videos with trimming, cropping, rotating, adding subtitles, adding watermark, and more others.
Optimized presets for almost all devices, like iPhone, iPad, Huawei phone, etc.
90X faster conversion speed than common converters with unique APEXTRANS technology.
Burn GoPro videos to DVD or Blu-ray disc with free DVD menu templates.
Transfer GoPro videos from computer to iPhone, iPad, and other devices directly and vice versa.
Versatile toolbox: Add video metadata, GIF maker, video compressor, and screen recorder.
Supported OS: Windows 10/8/7/XP/Vista, macOS 11 Big Sur, 10.15 (Catalina), 10.14, 10.13, 10.12, 10.11, 10.10, 10.9, 10.8, 10.7, 10.6.
Security Verified.
7,975,022
people have downloaded it.
Step 1

Launch Wondershare UniConverter.

Run Wondershare UniConverter and go to Converter>
. Once the file gets uploaded, three options of trim, crop, and effect will show below the video.
Step 2

Choose One of the Options.

Select trim, crop, or effects. After setting crop area size, resolution, trimming part, setting video ratio, or applying video effects, go ahead with the third step.
Step 3

Save the video.

Save the video by clicking the Start All tab. Before it, set the conversion by selecting Output Format, then access the edited video in the Finished tab.
Conclusion
Hopefully, you now have a positive answer to 'can you use GoPro underwater.' So, don't wait, get wonderful footages while following the above given top 15 GoPro Underwater video tips. Also, you must consider the serious technical details mentioned in our tips before attempting.