GoPro Tips
1. Edit GoPro

+

2. GoPro Software

+

3. Other Tips& Tricks

+
Is GoPro Not Showing up on Mac? Here Is The Way
GoPro cameras offer the best way to capture special moments. They are embedded with GoPro SD cards that store the videos and photos and can be connected with Mac to enable sharing in social media sites like Facebook or Instagram. Mac computers and GoPro technologies regularly advance. However, GoPro not connecting to Mac or GoPro not showing up on Mac is a problem experienced by many. The process of how to load GoPro on Mac involves using the simplest methods to connect the GoPro SD card to Mac so that you can offload content, edit and post for your friends to see. Unfortunately, one of the challenges experienced during this procedure is that GoPro won't connect on Mac, so offloading videos and photos becomes complicated. This article has details of how to handle such a situation using various methods on Mac.
Part 1. Why is the GoPro Not Showing Up on Mac
You can make GoPro compatible with Mac in 3 ways; through an SD card, Image Capture application, or GoPro Quik. The first method entails using a small portable memory card that stores high content in a small space. The SD card is normally inserted in the GoPro cameras to store the videos or photos, which are then transferable to your Mac. The second method that helps to load GoPro on Mac is by connecting the Mac and the source through a USB cable. Image Capture is an application from Apple that allows Mac users is making GoPro compatible with Mac so that images and videos stored in GoPro are accessible. Quik is also great at how to open GoPro on Mac since it only requires a USB connection to make GoPro compatible with Mac. Aside from enabling compatibility, it can also organize and create videos that are synced to music.
As you work on how to load GoPro on Mac using the above methods, one of the issues you are likely to experience is GoPro not connecting on Mac. GoPro won't connect on Mac because the camera is unrecognizable on the Mac computer, on the GoPro app, under the My Devices section. This issue comes up when using GoPro cameras like HERO+, HERO Session + HERO4 Session, HERO 5, 6, 7, and 8 Black and all HERO versions.
If you are connecting GoPro and Mac via a micro SD card adapter, it will show Mac's mass storage device. Unfortunately, there are high chances that other applications like Image Capture will fail to recognize the camera.
Another situation that may arise is whereby the camera is recognizable. However, you will still have GoPro not connecting on Mac because a message like "No Files to Import" will appear or "Space Used," which indicates that there is some data in the micro SD card, will show up.
Full Video, Audio and Image Solutions for Camera Users
Still struggling with your shooting 4K video won't play on other devices or playing with audio and video out of sync? Wondershare UniConverter helps you out! Find your issues and get the full answer now.
Part 2. How to Solve if GoPro is Not Connecting to Mac
If you wonder about an issue like "Why is my GoPro not showing up on Mac?" there are higher chances that you may also wonder about Mac not detecting GoPro. Luckily, there are solutions to GoPro not showing up on Mac.
When using the GoPro app for Mac and find GoPro not showing up on Mac, you can try to solve the issue using the following two methods.
Method 1: Reactivate the hardware settings.
For you to reactivate the various hardware settings, you need to reset the USB port. Here are the steps on how to do it:
Access the

Apple Menu

and go to

Shut Down

On the Keyboard, locate these keys:

Shift

+

Control

+

Option

+

Power Button
Hold these buttons for 5 seconds, then ultimately release them together at once.
Proceed to turn on the Mac
When resetting Mac's USB ports are complete, confirm if GoPro is compatible with Mac by checking if you can connect GoPro through micro SD card adapter or USB cable. You must ensure that GoPro for desktop is recognized under My Devices.
Method 2: Do not change folder names.
You may find GoPro SD card not recognized on Mac because of changes in folder names. So, ensure that you avoid changing the folder names and the SD card structure since it is one of the ways of opening GoPro on Mac.
For instance, avoid changing or renaming the "DCIM" folder. In case you rename the folders, ensure that you return the original name. When changing the name of the file folder, it is recommended that you use a micro SD card because it is significant in how to find GoPro on Mac.
If the folder is named 1 like indicated below,
Change it back to the original name 100GoPro.
Conclusion
The above two methods are also applicable when using Quik for desktop and still find that GoPro won't connect on Mac. Use Method 1 above to reactivate the various hardware settings. When done, confirm that you can connect GoPro using the micro SD card adapter or USB cable. Proceed to verify that Quik does recognize GoPro in the My Devices section.
As you use Quik for desktop, also ensure that the file structure organization does not change from when recording through the formatted card. Changing the folder name from 100GOPRO to another leads to GoPro not connecting on Mac because Quik does not allow the importation of files. For you to import files through Quik, you must change back the file structure to 100GOGRO and use a micro SD card to do it. As you use Quik and SD card to make GoPro compatible with Mac, you may find challenges. However, simply resetting the various hardware settings and ensuring the folders remain unchanged could be the way out. If these methods do not work, do not hesitate to contact GoPro Customer Support.
Wondershare UniConverter - Your Complete GoPro Video Toolbox for Windows/Mac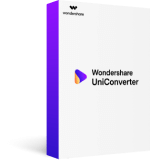 Crop, trim, add subtitles, apply effects, and more other video editing features to make your GoPro videos attractive.
Compress and resize GoPro videos for Instagram, YouTube, and Facebook without any quality loss.
Convert GoPro videos to other 10,000+ formats with super fast speed.
Download videos from 10,000+ online video sharing sites by pasting URLs directly.
Transfer GoPro videos from PC/Mac to iPhone/iPad/Android devices easily and quickly via USB cable.
Supports batch processing for converting and compressing multiple GoPro files at a time.
Toolbox with additional functions like Smart trimmer, Screen Recorder, GIF Maker, Fix Media Metadata, and more.
Supported OS: Windows 10/8/7/2003/Vista/XP, Mac OS 10.15 (Catalina), 10.14, 10.13, 10.12, 10.11, 10.10, 10.9, 10.8, 10.7, 10.6.
Security Verified.
5,481,347
people have downloaded it.