GoPro Tips
1. Edit GoPro

+

2. GoPro Software

+

3. Other Tips& Tricks

+
Top 15 GoPro Video Editor You Should Know
In this article we will cover the top GoPro video editors currently available in the market, these are the most reputable video editors and are highly used by professionals as well as amateur video editors. They are well-reviewed, and a lot of experts concur that they are the best GoPro editing software for windows, mac as well as Linux.
Part 1. What is the Best GoPro Video Editor for Beginners?
Wondershare UniConvertor is a tremendous and user intuitive software coupled with the best tools in the market, and users can seamlessly edit their GoPro videos, and then convert it to their desired format with 90 times the standard converting rate. Due to its clean design, this is the best GoPro video editor available in the market when compared with other video editors. It stands out as the best GoPro PC software and guarantees the best user experience.
Your Complete Video Toolbox - GoPro Video Compressor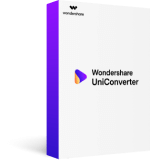 Edit GoPro videos by trimming, cropping, cutting, applying effects, and other features.
Adjust GoPro video parameters like resolution, bit rate, frame rate, and other parameters to reduce the size.
Convert GoPro video to over 1000 formats, like AVI, MKV, MOV, MP4, etc.
Convert GoPro video to an optimized preset for almost all devices.
90X faster conversion speed than other common converters.
Burn GoPro video to playable DVD with attractive free DVD template.
Versatile toolbox includes fixing video metadata, GIF maker, DVD burner, and screen recorder.
Supported OS: Windows 10/8/7/XP/Vista, macOS 11 Big Sur, 10.15 (Catalina), 10.14, 10.13, 10.12, 10.11, 10.10, 10.9, 10.8, 10.7, 10.6.
Security Verified,
5,481,347
people have downloaded it.
How to Use Wondershare UniConverter Software?
Step 1

Start the Software.

Once started, you will observe five main menus. Click on the Converter menu on the home panel. You will see the option of adding files. Click on
in order to add your video for editing. Also, you can simply drag and drop the video.
Step 2

Add GoPro Videos to Edit

Once the video has loaded, you will see three icons under the video, i.e., trim, crop, and effect, respectively.
Trim Videos:
Click on the trim button, and it will then take you to a new page. Hover the mouse from the part you want the trim to start and end. Once you are satisfied, you can let go of the mouse. Click on Cut to divide the video and save. Each video will then be labeled segment until you change its name. The video will then go to the primary interface from where they are observed.
Crop Videos:
Click on Crop. Move your cursor at the extreme ends of the videos to crop them. You can also rotate the videos as per your wishes. You can also change the aspect ratio of the videos. Then, Click on the OK button.
Alter Effects:
Click on Effect to alter the brightness, contrast, and saturation. Click on OK once you have determined the changes made are satisfactory.
Step 3

Convert GoPro Videos

Click the down drop menu of Output Format and select your desired output format. After this, you can select the location where the converted videos will be saved. Then, click Start All.
Part 2. Top 13 GoPro Editing Software Recommended
Wondershare Filmora

(https://filmora.wondershare.com/)
To start of our list is Wondershare Filmora. It is a lightweight video editor that comes packed with essential as well as complex tools. It has an easy to use interface and has a wide selection of video and audio effects that will guarantee that you make the best videos. The software comes packed with a lot of features such as import and export in any format, perfect video enhancement as well as video stabilization.
Blender

(blender.org)
Blender is one of the oldest open-source video editors in the market currently. It is also used for model creation, animation, motion graphics, and motion detection. It boasts of powerful tools and unparalleled rendering capabilities though it has a poorly designed interface that contributes to a steep learning curve. The newest version of the blender seeks to address these challenges so as to appeal to other users. It can be used to edit GoPro videos, and with the use of add-ons, create something spectacular. The software is supported on Windows, Linux, and Mac.
Quik by GoPro

(https://gopro.com/en/us/shop/softwareandapp/quik-%7C-desktop/Quik-Desktop.html)
This is an easy to use GoPro video editors made for the novice GoPro video editor. It is easy to use, and users can easily share their videos on Facebook or YouTube. Users need not worry about losing their files as the software automatically backs up their videos directly to the cloud. You can easily sync your videos with your music, all in a couple of clicks. The software is compatible with 64-bit Windows 7, 8.1, and 10. Unfortunately, it is not compatible with 32-bit versions of windows.
Adobe Premiere Pro cc

(https://www.adobe.com/products/premiere.html)
This one of the best video editors created by one of the most reputable companies in the world. It comes packed with lots of features, an easy to use interface and has excellent support.  It is well suited to edit GoPro videos, as you can sort the videos by its albums or places it was shot. It has a variety of third-party plugins that helps simplify your editing needs. It is a paid package, but new users can test the software for a limited amount of time.
Nero Video

(https://www.nero.com/enu/products/nero-video/)
Nero is an inexpensive choice to edit your GoPro videos. It boasts of a variety of video effects and a great audio tool. The downside to this software is its limited features and an outdated interface. Due to the fact that GoPro is all about sharing your experiences, Nero lacks the facility to share your moments on different social networks. For its low price, it offers enough tools to satisfy the new GoPro video editing enthusiast and may likely not notice the limited features.
(https://www.videostudiopro.com/en/products/videostudio/pro/)
video studio is an excellent GoPro video editor for windows. It has a clean interface and a robust set of tools that are guaranteed to make your GoPro videos pop. It has a wide range of video and audio presents that may leave you spoilt for choice. Moreover, the recent updates that come up with different support technologies and new video and audio formats.
For the adventurer GoPro user, the software allows you to upload your GoPro videos to various social media sites in order for friends and family to see what you are up to.
Cyberlink Power Director

(cyberlink.com)
The power director offers a complete set of tools for your editing needs. It has an extensive library full of add-ons, visual, and audio effects. Due to its design and implementation, it does not have a steep learning curve as compared to other related software. Its features include audio scrubbing, Multi-key Sampling Chroma Key Editing, and 360-degree video stabilization. The software is supported by 64 bit windows/7/8.1/10. Unfortunately, it does not offer video editing for mac users.
studio ultimate

(https://www.pinnaclesys.com/en/products/studio/ultimate/)
studio ultimate is a powerful GoPro video editing tool that encompasses all tools all in one package. It offers an excellent and clean user interface and various tools such as clipping masks, motion tracking, and selective vectorscope. Importing and exporting GoPro videos becomes easier as it key tags the content and a fast search capability to find what you are looking for. It is available for the 64-bit version of windows7/8.1/10.
Open shot

(openshort.org)
Open shot is a multiplatform video editing software that is excellent for editing GoPro videos. It has an easy to use interface with all its features easily laid out, thus excellent for the beginner video editor. It comes packed with lots of features, all while being an open-source program. While editing your GoPro videos, the audio editing on this software is powerful, thus ensuring you get a rich and captivating GoPro video.
Avidemux

(avidemux.org)
Avidemux is a great and free convertor that performs basic operations such as trimming your GoPro videos, joining them, and adding filters. It supports most video formats. This software is fantastic for the beginner video editor, but to the professional GoPro video editor, it would be too basic.
Lightworks

(https://www.lwks.com/)
Lightworks is one of the best software currently in the industry and has been used to edit some of the blockbusters movies. It comes with an intuitive user interface, easy timeline editing and trimming, and exporting videos directly to YouTube. This application can be used to edit your GoPro videos to give it a professional look, making it stand out from the rest. It supports Windows vista/7/8.1/10, Linux, and Mac 10.9 and higher.
Hitfilm express

(https://fxhome.com/hitfilm-express)
Hitfilm express is a great video editing tool tailored for the experts, to unlock its full potential on your pc, you will need to upgrade your pc to have 8gb of memory, 2gb video memory, and the latest graphics card.
To use the software, you may need to have prior knowledge of video editing to avoid challenges. Some of the tools available in the software include color correction, audio filters, compositing, and layering. The software is available for both windows and mac.
Windows movie maker

(https://www.topwin-movie-maker.com/download.aspx)
Windows movie maker is one of the most popular windows software. It comes with basic features such as trim, cut, and join in order to edit videos. It comes pre-installed on all windows except windows 10, though it is rumored that windows is working on a better movie maker that would then be available on the Microsoft store. The software is only compatible with windows.
Part 3. Tips: How to Choose the Right GoPro Video Editor for Your Need
The market is flooded with lots of video editors, which leads to the consumer being spoilt for choice. You may be a professional video editor who wants the best quality the market can offer or an amateur who just wants to edit the GoPro videos. Well worry not, this guide will help you choose the best software that is well suited for your needs, favors your pockets and most importantly make the best videos.
Here are the tips for choosing the perfect GoPro video editor:
Use free trials.
You should take advantage of the free trials offered by this software. Observe and compare the different tools on each software and determine which software edits your GoPro videos to your satisfaction, after sampling most software, you are ready to make your choice.
Check your operating system.
Before installing any software to edit your GoPro videos, first, consider the operating system you are on and the system specs required by the software. Also, ensure that while on the product site, download the software that meets your operating system requirement.
Level of quality of your video.
Before downloading any GoPro editing software, determine the quality of your GoPro videos. Some of your videos may need stabilization and color correction, which is not found on some editors. This is an important note in order to prevent inconveniences while editing your go pro videos.
Look at your budget
Varieties of software have free and premium versions. Also, there are products that are cheaper but offer the same level of results, similar to the expensive product. You, therefore, should consider your budget, so as not to make your GoPro video editing expensive than it should be.
Conclusion
After all, it is said and done, what then matters is the end product. If you apply these tips, you are guaranteed to find a product well suited for your GoPro editing needs, thereby producing quality videos that you can share with friends and family, thus giving you the satisfaction you deserve.