GoPro Tips
1. Edit GoPro

+

2. GoPro Software

+

3. Other Tips& Tricks

+
14 Best GoPro Video Editors for Mac Recommended
How do you edit GoPro videos on the Mac platform? Is there any special GoPro video editor for Mac? What are the unique features of those video editors? Yes, you can edit GoPro videos using sophisticated software on the Mac systems effortlessly. This article guides you to choose the best GoPro video editor for Mac system. Take a quick look at the elaborate descriptions of the 15 best GoPro video editors specially developed to perform on Mac systems. After viewing the content below, you will get a clear idea about the perfect GoPro video editor, which fits your needs appropriately without any compromises.
Part 1. Best GoPro Video Editor for Mac and Windows Recommended
If you are looking for a GoPro video editor with remarkable features, then Wondershare UniConverter (originally Wondershare Video Converter Ultimate) is the right choice. This editor allows the users to download Windows or Mac versions according to their OS requirements. Both the versions perform equally without any interruptions.
Your Best GoPro Video Editor for Mac and Windows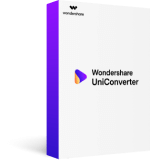 Edit GoPro videos by trimming, cropping, cutting, applying effects, and other features.
Adjust GoPro video parameters like resolution, bit rate, frame rate, and other parameters to reduce the size.
Convert GoPro video to over 1000 formats, like AVI, MKV, MOV, MP4, etc.
Convert GoPro video to an optimized preset for almost all devices.
90X faster conversion speed than other common converters.
Burn GoPro video to playable DVD with attractive free DVD template.
Versatile toolbox includes fixing video metadata, GIF maker, DVD burner, and screen recorder.
Supported OS: Windows 10/8/7/XP/Vista, macOS 11 Big Sur, 10.15 (Catalina), 10.14, 10.13, 10.12, 10.11, 10.10, 10.9, 10.8, 10.7, 10.6.
Security Verified,
5,481,347
people have downloaded it.
A short tour on the process of GoPro video editing on Mac using Wondershare UniConverter:
Step 1

Install GoPro Video Editor for Mac and Add Video to Edit.

Visit the official website of Wondershare UniConverter and download the Mac version. Install the tool by following the wizard. You must tap a series of 'Next' button to commence the download process. Soon after the completion of the installation process, you have to import the GoPro video using the +Add Files icon. You can also import files from DVDs, local folder, external storage devices, etc.
Step 2

Edit GoPro Video with Editing Features.
Video Tutorial: How to Trim/Merge Video Using Wondershare UniConverter
Wondershare UniConverter allows you to perform various editing on the uploaded videos like Trim, Crop, Filter Effects, Change Brightness, Add Subtitle, Watermarks, etc. Depending on your needs, you can choose the right editing icon to perform your desired process. The three icons beneath the uploaded file assist in carrying out the editing process, the scissor image trims the video as per your needs. The next icon crops the video, and the final image helps to add effects to the video. The screenshot below displays the options available in the 'Crop' feature of Wondershare UniConverter.
Part 2. Recommended 7 GoPro Video Editors for Mac for You
Lightworks (https://www.lwks.com/)
This app is a complete video editing and creation package compatible with Windows, Mac, and Linux platforms. It is one of the highly recommended GoPro video editors for Mac because of its amazing features. It is widely used in the cinema industry, and it is in the field of video editing for more than 25 years.
Vegas Pro Suite 17 (https://www.vegascreativesoftware.com/us/)
This suite is the best GoPro editing software, which meets the expectations of the professionals optimally. There are two modules, namely, Prepare and Edit modules. This app can handle video formats like Sony RAW 4K, Sony RAW 2K, XAVC Long, XAVC Intra, etc. It can work with 4K resolution video files efficiently. This app costs $399.95 USD. This suite includes the 'Catalyst Production' option to fasten the editing and shoot process.
Adobe Premiere Pro (https://www.adobe.com/in/products/premiere.html)
The Adobe Premiere Pro serves as a prestigious product from Adobe family. This app helps the professionals to edit the GoPro video precisely as per their desires. It can handle any video formats without any restrictions. It tracks the motion accurately and shares the edited files easily on any platform like email and social media like Facebook, YouTube, etc. just by a single click. It costs $20.99/ month subscription fee.
Final Cut Pro for Mac (https://www.apple.com/ca/final-cut-pro/)
The Final Cut Pro video editing tool for Mac is powerful and complicated. Only the professionals can handle this software wisely and utilize the potential features precisely. You can make use of this tool to perform various operations on the GoPro video like 3D titles, custom effects, color grading, etc. The price of this software is $399.99.
Adobe Premiere Elements (https://www.adobe.com/products/premiere-elements.html)
This GoPro video editor for Mac is an amazing software, which works on every detail on the Go Pro video effectively. You can include a lot of features on the GoPro video through the finest steps. There are options to carry out intelligent editing such as animate, fix footage, removes grain on GoPro videos, trim smartly, dazzling effects on the videos, etc. It is enough if you spare $69.99 to use the feature-rich app.
CyberLink Power Director(https://www.cyberlink.com/)
This software establishes a complete control on the video editing and provides more than 200 editing tools. It has easy to use features with flexible plans. This video editor is a cost-effective software wide range of salient functionalities.
HitFilm Pro (https://fxhome.com/hitfilm-pro)
HitFilm Pro is the best video editing tool for professionals. You can implement 3D effects on the existing video using this innovative tool. It is the perfect editor for GoPro videos and boosts up the overall appearance of the video by a few clicks on the editor platform. This app is compatible with Windows and Mac.
Part 3. Top 6 Free GoPro Video Editors for Mac
GoPro Fusion Studio (https://gopro.com/en/in/shop/softwareandapp/gopro-fusion-studio-app/fusion-studio.html)
This fusion studio takes your editing experience to the next level. It enhances the overall quality of the original video. There are wide ranges of tools to customize every detail in the video, like audio, color, brightness, saturation, etc. You can edit, trim, and crop the video content according to your desires without any compromises on the quality factor.
Pros:
Easy upload of the GoPro video content on the editor platform.
Manual adjustments on color attributes are possible on this ground.
Apply effects on the GoPro video to insert realistic changes in the existing video content.
Cons:
The users encounter difficulties while making use of White balance control on this editor tool.
It is quite challenging to upload large video files for editing purposes.
The updated GoPro fusion studio is not working correctly when compared to its prior version.
iMovie for Mac (https://www.apple.com/imovie/)
This video editor for Mac OS handles the GoPro videos professionally. The high fidelity filters transform the original video into a sophisticated form through few clicks. Apply the right effects on your favorite video to acquire the desired outcomes. You can simplify the soundtracks and apply special effects on the GoPro videos in no time. It is a highly recommended GoPro video editor for Mac OS.
Pros:
Well-defined controls with professional results.
This software can handle up to 4K resolution type GoPro videos.
User-friendly editing is possible with this app.
Cons:
It is compatible only with iOS and Mac OS systems.
Very few supportive video file formats.
There is no automatic motion tracking feature is available with this tool. You have to keyframe the video manually.
Video Pad (https://www.nchsoftware.com/videopad/index.html)
It is a free video editor, which includes more than 50 filter effects. You can try out unique video transition effects on the GoPro videos. The stunning default templates are available to increase the overall appearance of the resultant videos. The built-in sound effect library helps you to include unique tracks for your favorite GoPro videos.
Pros:
Easy to share the edited videos in an online mode like YouTube.
This output file of this video editor is available with multiple resolutions.
Editing takes place without any data loss.
Cons:
Not compatible with Android devices.
For commercial use, you have to purchase this app.
No clear guide to assist novice users.
Quik
This video editor is a prestigious product from GoPro. There are few automatic features available with this editor. When you plug-in the camera, auto-upload of videos takes place without any interruptions.
Pros:
Precise video trimming option.
The 'HiLight' tags assist you in focusing on the best moments.
The latest version performs well without any regrets.
Cons:
Not applicable for Android and iOS devices.
It does not support all types of video file formats.
The 'HiLight' tag is restricted to a certain count. You can use this tag only up to 10 times in a video.
Blender (https://www.blender.org/download/)
This software assists the editors in trying out unique 3D animation effects on the GoPro videos in an effective manner. There are nearly 32 slots available at this platform to load with multimedia files like audio, video, images, etc.
Pros:
Availability of 'Add-ons' to develop an impressive video as its outcome.
The pre-programmed keyboard shortcuts assist the editor to save time while editing the video.
You can include interactive 3D animation effects on the existing GoPro videos.
Cons:
Complex interface with implicit features.
You should learn a lot before making use of this software.
To obtain the desired results, it requires a lot of effort and hard work.
Avidemux (http://fixounet.free.fr/avidemux/)
It is a beginner's video editing tool where you can perform a wide range of basic editing operations on the GoPro videos. This software helps you to make small edits optimally.
Pros:
Availability of de-noising filters.
Full-featured encoding occurs in this platform.
Excellent cutting, filtering, and encoding are possible with this software.
Cons:
There are no special effects filters to customize the GoPro videos.
This tool does not use the timeline.
It cannot upload large size video files.
Conclusion
Therefore, you had a quick discussion on a wide range of GoPro video editors for Mac in this article. This content will be an informative guide to choose the perfect GoPro video editor as per your needs. You must analyze the pros and cons before selecting the right tool for editing purposes. Most experienced professionals suggest Wondershare UniConverter is the best GoPro video editor for Mac. Explore the benefits of this tool through a quick download in your Mac systems. The above reliable facts will assist you in figuring out the best video editor in the digital market.