FCP
1. Convert Videos to FCP

+

2. Tips for FCP

+
Top 25 Essential Tutorials on How to Use Final Cut Pro
Final Cut Pro, also known as FCP, is a recommendable photo and video editing application that most professionals use across the globe. However, navigating and using this software to the fullest is not entirely easy since it is complex. So, if you are a beginner or editor that hopes to become a professional, you need some tips on how to use Final Cut Pro X. Wondershare UniConverter is the best alternative if working with Final Cut pro gets too tough.
Part 1. Top 15 Tips on How to Use Final Cut Pro Easily
Understand the interface
Understanding the interface is one of the essential steps of knowing how to use Final Cut Pro X easily since the standard window configuration is the first thing you see after opening the program.
the sidebar that shows projects libraries, events, and collections
the media displayed
viewer window for media playback
inspector window to show clip information summary
the timeline for video editing
audio meters.
Media management
Professional media management in Final Cut Pro enables you to have organized projects, and hence saves your time and effort immensely. Common media management tasks include:
Backing up your tasks
Relinking clips to media files
Getting source media files locations
media files consolidation in a single location
multiple libraries management
Applying Speed effects
The advanced speed effect, Optical flow, helps in slowing down your videos without destroying them. Ensure that you adjust the slow-motion duration as you specify the speed needed.
Color grading
Color grading is a must for your footage to appear professional since it acquires a distinct look and adjusts mood. Doing it by eye alone is not advisable because the process involves making multiple minimal improvements that may be unnoticeable. For the best performance, use different scopes viewers.
LUTs application to log footage
Lookup tables (LUT) change how images look and hence transform camera footage significantly from boring, raw, and desaturated video a vibrant masterpiece. You may apply camera LUTs to more than one video, but note that changes are applied to all clip instances, as well as all events and projects in the current library.
Blending modes
One of the effective ways of how to use Final Cut is to apply blending modes, which add stylization to videos quickly. The varieties include overlay, color burn, multiply, and screen. Note that the choice of blending mode depends on the video effects needed.
Rendering
A bad render job has the potential to destroy a beautiful video edit. Therefore, you should be careful about how you create temporary audio and video render files.
Muzzle Flashes
The FCP tools can help you create realistic muzzle flashes, which make action scenes quite epic. Acquire the right video, images, and audio assets. If you do not wish to create, you can still simulate muzzle flashes.
Timelapse footage
Timelapse footages help you in capturing long-lasting events like the movement of clouds and traffic or the growth of plants. They are different from regular footage because they involve stitching together a series of still images to create a clip. Ensure that you use the Blade Speed function to set different speeds at different video parts.
Markers
Incorporation of markers is among the best ways of how to use Final Cut Pro X. This effective organization tool helps in making editing notes that remind you of what to must do as you work on a project.
https://www.youtube.com/embed/E96dENtM5Wc
Final Cut Pro's 3D title tools
If you desire to have a clip that appears as a Hollywood hit, you might have to use Final Cut Pro's 3D title tools, since they have multiple presets and textures. They help in selecting the most appropriate background footage.
Compound Clips
When making music, videographers incorporate multiple clips to make a compound clip. It only requires putting several existing clips in the browser or timeline. This aspect is relevant when creating a single video of a single or series of similar events.
Stylized Color Grades
Final Cut Pro can help you create iconic videos with Hollywood quality color looks. You simply have to incorporate the native presets of NLE and custom color controls.
Final Cut Pro X Effects
To be professional in how to use Final Cut, you must understand all effects because they unlock limitless creative possibilities. It all starts with familiarizing yourself with each effect.
Chroma key/Green Screen
Shooting a perfect chroma key video can be challenging since it requires a well-lit background. To make it easier, use the best camera at your disposal and avoid highly compressed video formats.
Part 2. Top 10 Tips on Using Final Cut Pro for Beginners
If you a beginner, you need several tips to get started on how to use Final Cut Pro. Below are some of the important tips for Final Cut Pro for beginners.
Creation of new projects
When creating a new project in Final Cut Pro, begin by importing files to a New Project. Go to File and access New Menu and then choose Project, Library, Folders, or Event, depending on what you need to do. Project is where you can do all editing tasks, Library imports files, Folders organize materials within events, and Event acts as a container for video files and projects.
Manipulation of clips
You need to drag the imported clips onto the timeline to work on them through various forms of manipulation: with Command +B, you can easily trim or cut out parts of a clip, while the Shift+ B functions change the clip speed intuitively, allowing you to choose the start and stop points.
User Interface Navigation
Use keyboard shortcuts, like Command and numbers 1-8, for hidden features to navigate the user interface since they provide faster support for various actions. For example, pressing Command +6 and Command +7 will bring up waveform and color correction tools that are useful in color correcting your videos.
Titles
You can add titles to your clips by dragging into the timeline. To do so, click on Option+Command+1, choose your title, and drag it to the timeline. You may trim it as well.
Effects
Effects are used to add production value. You can access them through the Effects Browser. Drag the identified Effect onto the respective clip. You can also drag between two clips to add an animated effect.
Recording voiceovers
You can easily record audio over a clip using the voiceover recorder. Hit Option+Command+8 and click on Record to begin recording. A new event will be created to save it.
Putting Music and Audio
Suppose you prefer adding audio or music, import it by pressing Shift+Command+1, and choosing Sound Effects. Type in Jingles to access the song available and drag your favorite to the timeline and shorten it to fit the video track.
Color correction
Give your footage the best appearance through color correction. To do so, highlight the videos in the Timeline and click the Enhancement function below Viewer. In the drop-down menu, click on Balance Color, and the video color and contrast will improve.
Transitions
When incorporating transitions, use then subtly and were extremely necessary. Such places include passage of time and one scene movement to another.
Video sharing
Final Cut Pro allows you to share and export your video. Sharing to hosting sites like Facebook takes place directly while exporting to a master file requires you to go to File, click on Share, and then choose Master File.
Part 3. Best Alternative to Final Cut Pro for Beginners Recommended
Despite following the above tips about how to use Final Cut Pro for beginners, you may still have challenges using FCP. If you explore Final Cut Pro for beginners with time constraints, you are likely to deliver your project late. So, it is advisable to use an alternative such as Wondershare UniConverter (originally Wondershare Video Converter Ultimate), since it is easier to work with. Wondershare UniConverter is the perfect alternative to Final Cut Pro for beginners. It is convenient audio, video, and image editor for your tablet, phone, or social media quickly and easily. It works at a fast and impressive speed, produces high-quality output, and comes with advanced features that are rare to find in other editors in the market.
Wondershare UniConverter - Best Final Cut Pro Converter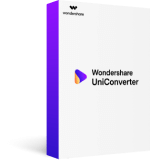 Edit video files with trimming, cutting, adding subtitles, applying effects, and more.
Convert videos to Final Cut Pro compatible formats easily and quickly on Mac/Windows.
Support 1000+ video formats, including MP4, MOV, WMV, AVI, MKV, and customized output settings.
90X faster conversion speed than any conventional converters.
Burn video to playable DVD with an attractive free DVD template.
Download or record videos from 10,000+ video sharing sites.
Versatile toolbox combines fixed video metadata, GIF maker, video compressor, and screen recorder.
Supported OS: macOS 11 Big Sur, 10.15 (Catalina), 10.14, 10.13, 10.12, 10.11, 10.10, 10.9, 10.8, 10.7, 10.6, Windows 10/8/7/XP/Vista.
Security Verified,
5,942,222
people have downloaded it.
Conclusion
Final Cut Pro is often recommended by professionals. However, you can only make videos, images, and audios unique if you know how to use Final Cut Pro. The above tips can help both beginners and experienced editors that want to master the application. If the road gets too tough, you can always shift to Wondershare UniConverter, the best alternative.