FCP
1. Convert Videos to FCP

+

2. Tips for FCP

+
How to Save Final Cut Pro Project in Easy Steps
The process of how to save Final Cut Pro project is not complex as it is now done automatically. That said, here you will learn how to modify the default autosave settings, and configure them according to your needs. While reading this, you will also learn how to save Final Cut Pro video, and what is the best and most recommended solution if the exported clip is not recognized by the media player you want to play it in. Backing up your FCPX Library is yet another aspect that this tutorial covers so you don't lose any of your files in case of hardware failure or accidental data loss.
Part 1. How to Save Final Cut Pro Project with Automatic Saving Feature
Most recent versions of Final Cut Pro, now known as Final Cut Pro X or FCPX, don't require you to do anything to save the projects automatically. In fact, the autosave option is already enabled, and FCPX starts saving the projects as you start using the program. When Final Cut Pro X automatically saves any of your projects, the file is backed up in the 'Final Cut Backups' folder on your Mac computer. You can view this setting or can completely disable autosave in FCPX by following the steps given below:
Step 1: Click File and Open Library Properties.
After launching Final Cut Pro X, go to File and click Library Properties from the menu that appears. Notice that the Library Properties panel appears in the right (if you haven't already customized the layout).
Step 2: Confirm Autosave Status and Choose a Different Folder.
Confirm that the Backups section of the Library Properties panel is set to Final Cut Backups. Click the Modify Settings button from the Storage Locations section, select Choose from the Backups drop-down list when the Set storage locations for the library box appears, select a different folder to save the project backup files to, and click OK.
Step 3: Select Do Not Save to Disable Autosave in FCPX (Not Recommended).
Get to the Set storage locations for the library box as explained in the previous step, click Do Not Save from the Backups drop-down list and click OK to turn off the autosave feature for the FCPX projects altogether.
Part 2. How to Save Final Cut Pro Video Easily
Saving a video in Final Cut Pro X is the same as exporting a video from FCPX to your preferred output format, such as H.264, MOV, etc. Simply put, the phrases 'save a video' and 'export a video' can be used interchangeably when it comes to generating final output for distribution or sharing.
The step-by-step process below explains how to save Final Cut Pro Video to the local drive of your Mac computer:
Step 1: Select Master File and Name the Video.
Click File from the menu bar at the top, go to Share, click Master File (default), when the Master File box appears, type a name for the video in the available field, and click Next.
Step 2: Select Output Format.
Select the format you want to export the video in (H.264 here) from the Video Codec drop-down list.
Step 3: Choose Export Location and Click Save.
From the bottom-right of the same box, click the button displaying the estimated file size of the video post exporting, select a location on your computer you want to save the video to, and click Save to start rendering. Note: Depending on the size of the video and the output format you selected, the processing time may vary.
Part 3. How to Backup Library in Final Cut Pro
Backing up the entire Library in FCPX is a bit tricky as all its Events are moved to a different location during the process (unless you are copying the Library), which is something Final Cut Pro X doesn't allow. That's the reason the 'Move Events to Library' option is greyed out (disabled) once all the Events are selected in the backup attempt. A workaround to this is to create a dummy Event, and then select the original ones to back up the Library.
You can learn how to backup Library in Final Cut Pro X by following the steps given below:
Note: Before you proceed, make sure to connect an external storage media (typically a USB hard drive) to hold the backup. It would be pointless to back up the Library on the same HDD/SSD your macOS is installed, and the drive is used as the primary storage device for all your files.
Step 1: Go to File and Create a Dummy Event.
Select the Library you want to back up, click File from the menu bar, go to New, and click Event. Type a name for the new Event in the Event Name field (or leave it to default as it doesn't matter much for this purpose), and click OK.
Step 2: Select the Events Confirm Library Backup.
On the main window, select all the Events except the one you created in the previous step, go to File > Move Events to Library, and click Move Library. Click OK on the confirmation box that appears.
Step 3: Click File and Backup the Library.
Back on the main window, select the target Library one more time, go to File and click Consolidate Library Media to backup your library to the external hard drive you connected to your Mac.
Part 4. Convert Exported Final Cut Pro Video to Any Format with Wondershare UniConverter
Since videos exported from Final Cut Pro X may not necessarily be recognized by all media players due to lack of compatible codecs, a program like Wondershare UniConverter (originally Wondershare Video Converter Ultimate) is a must-have tool to make things work for you. Wondershare UniConverter is an efficient application for Mac and Windows platforms that, in addition to converting any unsupported or unrecognized videos to your preferred format, also has several other built-in apps like screen recorder, video compressor, streaming media downloader, etc. to give you almost everything you need while working with media files without looking for or investing in any other software.
Wondershare UniConverter - Best Final Cut Pro Converter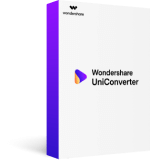 Edit video files with trimming, cutting, adding subtitles, applying effects, and more.
Convert videos to Final Cut Pro compatible formats easily and quickly on Mac/Windows.
Support 1000+ video formats including MP4, MOV, WMV, AVI, MKV, and customized output settings.
30X faster conversion speed than any conventional converters.
Burn video to playable DVD with attractive free DVD template.
Download or record videos from 10,000+ video sharing sites.
Versatile toolbox combines fix video metadata, GIF maker, cast video to TV, video compressor, and screen recorder.
Stream your videos from Windows or Mac to other devices, including Chromecast, Roku, Apple TV, Xbox 360 or PS3.
Supported OS: Mac OS 10.15 (Catalina), 10.14, 10.13, 10.12, 10.11, 10.10, 10.9, 10.8, 10.7, 10.6, Windows 10/8/7/XP/Vista.
Security Verified,
8,503,657
people have downloaded it
Below is the process that explains how to convert an FCPX exported video to a supported format using Wondershare UniConverter:
Step 1

Click Add Files to Bring FCPX Video.

Start Wondershare UniConverter, confirm from the top that you are on the Convert tile, click the Add Files icon from the center of the window, use the Open box to select and import the video you exported from Final Cut Pro X.
Step 2

Open Convert all files to and Select an Output Format.

Back on the main window, click and open the Convert all files to menu from the top-right corner, use the tabs at the top to choose a category (Video for this example), select your preferred format from the left pane (MP4 here), and pick an appropriate resolution from the right (Same as source in this demonstration).
Step 3

Select a Destination Folder and Convert the Video.

Use the Output field at the bottom of the main window to define a folder you want to save the converted video to, and click Convert from the right side of the video to convert the video using the configured preferences.
Conclusion
Even though learning how to save Final Cut Pro project, how to save Final Cut Pro video, and how to back up FCP Library is not as complex as it sounds, things might be a bit challenging if you are new to the application or to Apple platform altogether. Since the process of how to save Final Cut Pro video might produce an unrecognized output, Wondershare UniConverter helps you convert the clip to a globally accepted format such as MP4, M4V, AVI, etc.