FCP
1. Convert Videos to FCP

+

2. Tips for FCP

+
What is Final Cut Pro? Full Review on Features, Pros & Cons
Any professional videographer will confirm that the digital market has so many tools for video editing. However, very few will give you the results you seek. If you are a Mac user, there are special tools that you can use that are not readily available to Windows users. This gives you an advantage because Apple applications, such as Final Cut Pro, are known to perform tremendously. Therefore, it is worth discovering what is Final Cut Pro, and also exploring its advanced version, Final Cut Pro X.
Part 1. What is Final Cut Pro
If you are a macOS user and interested in video editing, you may be wondering, "What is Final Cut Pro?" What's more, you may be questioning "What is Final Cut Pro X?" since the two terms seem to differ. Final Cut Pro refers to an application that professionals use for video editing during postproduction. Since it is created on state-of-the-art architecture for computing, it contains powerful tools that enable you to create unique and impressive videos. This means that the software highly utilizes the power of the most recent graphics processors and CPUs running on the latest Mac computers. As a result, video editing becomes smooth and quick. The different editing aspects available for use include special effects, filters and motion graphics, and actions like clip cutting and color correcting. In case you are wondering, "what is FCP?" you should consider it as the short form for Final Cut Pro.
Understanding what Final Cut Pro X is or what is FCPX is not difficult. Final Cut Pro X, whose short form is FCPX, is more advanced, and it is the latest version of Final Cut Pro. Apple released FCP in 2009, while FCPX became available to consumers in 2011. Therefore, the two do not have major differences. Instead, they have different small details, including technical differences, such as changes in the features location and user interface layout, which are well addressed in Apple's helpful booklet.
As you focus on video editing through FCP and FCPX, you need to explore what is Final Cut. Final Cut gives you fundamentals right in either FCP or FCPX, enabling you to use the powerful tools that are dedicated to special tasks. So, you may put your videos on the timeline and proceed with clipping and reordering to create finished clips in a sequence from the beginning to the end. If you seek to do more, you may continue to make advanced adjustments, like utilizing the audio processor.
To acquire Final Cut Pro, you must make a one-time payment of $299 and continue using the software for as long as possible.
Key features:
Asset management. Advanced color grading.
VR headset playback as well as 360-degree VR video editing for environmental modifications.
Trimming and moving of clips, as well as the addition of effects.
HDR video support feature.
Motion graphics templates.
Pros:
Its powerful architecture enables you to handle complex and heavy projects.
It is stable software that's also useful in small scale business.
It has a fast rendering speed. It allows you to conduct Multicam editing.
It provides classic GPU utilization and powerful media organization, which enables you to organize assets like audio and video carefully.
It comes with real-time graphics and effects like texts and blurs, whose application is effortless.
It creates impeccable VR videos with stunning sound since audio modification is easy.
It has a customizable and streamlined share interface that makes high quality files delivery easy and fast.
Video editing can also take place offline.
Cons:
It is complex and thus difficult for beginners.
It has limited export settings.
The redraw files have no native support.
It does not have regular updates.
It only works on Mac computers.
For more information on what is FCP software, visit https://www.apple.com/final-cut-pro/.
Part 2. How to Convert Final Cut Pro Files to Any Format
As you learn what Apple Final Cut Pro is, you must acknowledge the media formats it supports so as to import and work with multiple video formats. The most common include MP4, 3GP, MXF, AVI, MOV, and M2TS. Occasionally, you may have to convert Final Cut Pro files to other formats, especially when you need to work with other applications like iMovie or video players. For instance, 3GP is not as common as MP4 or MOV. So Final Cut Pro files in 3GP need to be converted to MP4 or MOV since the majority of video players support them. To convert Final Cut Pro files to other formats, you need a reliable software such as Wondershare UniConverter (originally Wondershare Video Converter Ultimate). This tool is convenient for converting videos from one format to another. It supports about 1,000 formats and hence provides a wide variety to choose from. Wondershare UniConverter remains competitive in a market filled with multiple video editors and converters due to working speed. It is 90 times faster and still maintains video quality.
Wondershare UniConverter - Complete Video Converter for Windows/Mac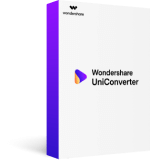 Convert videos to more common and manageable formats for smartphones like iPhone or playback on TV.
Record or download excellent quality videos from YouTube and other 10,000+ video sharing sites to allow entertainment without an internet connection.
Provide a flawless Blu-ray and DVD experience by burning videos to Blu-ray and DVDs, providing DVD templates for free, converting any files to DVD, and editing DVD files
Transfers videos for external storage. Transfer converted or edited videos to Android and Apple devices, as well as external hard drives or USB flash drives.
Versatile toolbox: Add video metadata, GIF maker, video compressor, and screen recorder.
Supported OS: Windows 10/8/7/XP/Vista, macOS 11 Big Sur, 10.15 (Catalina), 10.14, 10.13, 10.12, 10.11, 10.10, 10.9, 10.8, 10.7, 10.6.
Security Verified.
8,523,249
people have downloaded it.
Here are steps to follow to convert Final Cut Pro files to any format using Wondershare UniConverter.
Step 1

Upload Videos to the Software.

After successfully acquiring Wondershare UniConverter for Mac, start the conversion process by uploading the Final Cut Pro videos to the software. Go to the Converting area in the Converter section and select
and choose the files, respectively.
Step 2

Edit Final Cut Pro Files Further.

Since Final Cut Pro may lack some editing features, you can edit the videos further in Wondershare UniConverter. You can add watermark and subtitles, adjust volumes, and crop the video. These functions are below each added file.
Step 3

Set the Preferred Output.

Wondershare UniConverter supports many video formats, which you can choose by accessing the drop-down arrow at Output Format on the left upper side. Several tabs will appear, whereby you should choose Video: a list of video formats will show up. You can choose to convert Final Cut Pro files to any video format presented in this list. You may also specify the preferred resolution on the right.
If you must convert Final Cut Pro videos to upload to certain social media sites, click the arrow at Output Format. Go to the Video tab and choose either Vimeo, Facebook, or YouTube format. Selecting a resolution is highly recommended, as well.
Step 4

Convert Final Cut Pro Files.

Finally, you can convert all files to any other format by selecting the Start All button. The Convert function at each video helps with converting clips individually.
Conclusion
Understanding what Final Cut Pro X is is the first step towards acquiring the best videos to share with friends. If it does not edit your videos completely, you can rely on Wondershare UniConverter since it also converts Final Cut Pro files to multiple other formats.