FCP
1. Convert Videos to FCP

+

2. Tips for FCP

+
Full Final Cut Pro Review on Features, Pricing, Pros and Cons
If you own a Mac computer, or even if you don't, and are confused as to which video editing tool you must go for, this Final Cut Pro review will give you a clear picture and straightforward comparison between FCP and its other competitors. After reading this, you will be able to decide which program is best for you if you are a professional video editor or are planning to choose the field as your career.
Part 1. Final Cut Pro Review on Features, Pricing, Pros & Cons
Final Cut Pro (now Final Cut Pro X) is a post-production application for professionals who are into video editing and produce industry-standard movies, advertisements, and other motion clips that can be disturbed and/or broadcasted within a particular region or throughout the globe for economic benefits. Because of its simple UI, instantaneous response/feedback time after receiving an input from a user, and quick rendering, the program is always preferred over any other movie manipulation tool in the market.
Some of the integrated key features that this Final Cut Pro review appreciates most include:
Effects Application
Final Cut Pro X allows you to apply various effects to make your clips look professional and broadcast-worthy.
Virtual Reality Support
FCPX enables you to create and edit virtual reality (VR) videos. These clips enable users to experience 3600 views, thus making an environment look more realistic and natural with VR headsets.
Trimming and Arranging Footages
With Final Cut Pro, you can easily trim the raw footages and arrange the random captures systematically in the Timeline to come up with an output that makes sense.
Motion Graphics
The application is also enriched with several motion graphics templates that can be added to the footages to make them more engaging.
Multicam Edit Support
Final Cut Pro allows Multicam editing to save time and to make a detailed version of the distributable videos.
Room for Plug-Ins
Although the program is close-source, it still allows you to add various plug-ins to make your video editing experience more innovative and productive.
In addition to the above, the program has several other features, and it would be kind of impractical to cover them all in a single Final Cut Pro X review. At the time of this writing, the latest version of Final Cut Pro X (Final Cut Pro X 10.4.8) is available for USD 299.99 as a one-time payment. Post this amount, and nothing has to be paid in the name of hidden or weekly, monthly, or annual subscription cost whatsoever.
Like any other program, even FCP has its negatives and positives that may help you decide whether you should go for the application or pick any of its alternatives. Listed below are some of the most common pros and cons of the app that this Final Cut Pro review has gathered from various resources.
Pros:
Smooth Video Editing
Final Cut Pro X uses GPU that is registered with Apple, and therefore it tightly integrates itself with the hardware to offer a smooth and flawless video editing experience.
Assets Organization
All the ingredients you add to produce a final video (collectively called 'Assets') can be organized in a systematic order. This arrangement helps you quickly locate the components when needed, thus saving you a decent amount of time.
2D/3D Support and Application
FCPX allows you to add 2D and 3D titles with the help of motion graphics templates. Some examples of these titles can be casting, other information that the audience needs to be fed with during the playback, etc.
Filters and Effects Support and Application
Final Cut Pro allows you to add various filters and effects to the footage to make them more lucrative and appealing during the broadcasting sessions.
Audio Editor
Unlike other video editing tools, FCP has its own built-in audio editor that eliminates the need to invest in a dedicated program to edit sound clips and tracks for the video.
Quick Rendering
Rendering is considered to be the most tedious and boresome task after you are done with all the edits and modifications the video needs. FCPX remarkably reduces the rendering time because of its dedicated and tight integration with the GPU your Apple computer has.
Cons:
Platform Dependency
One of the biggest downsides of FCPX is that it is available only and only for Mac computers. The program cannot be installed even on a virtual machine running macOS as guest operating on a Windows computer.
Customer Support
Many people complain about the Customer Support Team, not responding to the queries or addressing the issues on time. This imposes great dissatisfaction among those who are using the program and have been stuck with something due to any bug in the app.
Value for Money
Some users find the program a bit expensive as compared to its competitors.
Learning Graph
Some claim that it took them a while to get familiar with the interface and to learn the application to produce professional-level output. However, this might be the case with the people who are new to the industry and are not much aware of how the video editors work.
Part 2. Best Alternative to Final Cut Pro You Should Know
Considering all the advantages mentioned in the Final Cut Pro review above, the program seems to be pretty nice and flawless to use. However, you may want to give the idea of buying the tool a second thought due to the reasons listed under the 'Cons' section of the previous part (Part 1). If that is the case, you are in luck. Fortunately, Wondershare came up with a decent alternative for FCPX called UniConverter. Wondershare UniConverter (originally Wondershare Video Converter Ultimate), as its name suggests, is not only a universal media converter but is also an efficient video editor and an all-in-one program for many other relevant tasks that you may want to conduct. In addition to the above, unlike Final Cut Pro X, Wondershare UniConverter is not restricted merely to one platform and is available for both Windows and Mac PCs.
Wondershare UniConverter - Best Final Cut Pro Alternative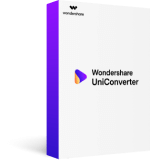 Convert videos to Final Cut Pro compatible formats easily and quickly on Mac/Windows.
Edit video files with trimming, cutting, adding subtitles, applying effects, and more easily.
Support 1000+ video formats, including MP4, MOV, WMV, AVI, MKV, and customized output settings.
It has a 90X faster conversion speed than any conventional converters.
Burn video to playable DVD with an attractive free DVD template.
Download or record videos from 10,000+ video sharing sites.
Versatile toolbox combines fixed video metadata, GIF maker, video compressor, and screen recorder.
Supported OS: macOS 11 Big Sur, 10.15 (Catalina), 10.14, 10.13, 10.12, 10.11, 10.10, 10.9, 10.8, 10.7, 10.6, Windows 10/8/7/XP/Vista.
Security Verified,
5,942,222
people have downloaded it.
That said, listed below are the steps to help you edit your videos in an easiest possible manner using Wondershare UniConverter:
Step 1

Click Add Files to Import Raw Footage.

Start Wondershare UniConverter on your computer (Windows or Mac), ensure that the Converter tile is selected from the top, click the
icon from the center, use the Open box to choose raw footage that you want to edit, and click Open to import the clip to the program.
Step 2

Click the Scissors Icon and Trim the Clip.

Click the Scissors (Trim) icon from below the left thumbnail of the imported video, on the new box that opens up, use the Timeline bar and handles on either side of the clip to locate and select portions of interest, and use the Cut and Delete buttons to trim off the unwanted sections from the footage as needed. Once you are done, click OK from the bottom-right corner to save the changes, and get back to the main interface.
Step 3

Click the Crop or Effect Icon for Further Modifications.

Click either the Crop or Effect icon present next to the Trim icon to open a new box with all the needed sections available in different tabs located at the top. Use these tabs to access their corresponding options and crop the video, add watermark, subtitles, and/or audio to it as needed. Once you are satisfied, click OK to save the changes and close the box to come back to the main window.
Step 4

Define Output Format and Export Video.

Click the Output Format menu from the top-right corner, choose your preferred output format as needed (MP4 with Same as source resolution for this example), choose a destination folder in the File Location field at the bottom, and click Start All to export the video.
Part 3. Comparison Table Between Final Cut Pro X and Wondershare UniConverter
You can check the comparison table given below to differentiate between Final Cut Pro X and Wondershare UniConverter.
| Features/Program | Wondershare UniConverter | Final Cut Pro X |
| --- | --- | --- |
| User Experience (in %age) | 97% | 83% |
| Number of Features | More than 18 | 11 |
| Supported Languages | 9 Languages | English Only |
| Supported Platforms | Windows, Mac | Mac |
| Tech Support via | Email, Phone, Live Support | Phone, Ticket Generation |
| Highest Price (Single PC) | $79.95 USD (Lifetime Commercial License) | $299.99 USD |
| Pricing Model | Onetime Payment, Annual Subscription, Quote-Based | Onetime Payment |
Conclusion
Yes, Final Cut Pro X is a program that is preferred most by professional video editors who also own a Mac computer. However, considering the comparison table in Part 3 of this Final Cut Pro review, Wondershare UniConverter is way more equipped, cheaper, efficient, and flexible when it comes to features, pricing, convenience, and multilingual and tech support, respectively.