Simple Ways to Record TV Shows in 2023
Are you looking for a few methods on how to record TV shows with ease? The fact is, with the new devices manufactured every day, and the way the technology is evolving, the process these days is not as complicated as it used to be a couple of decades before.
That said, here you will learn the best and simplest way to record TV programs with the least efforts. Along with this, you will also see what other alternatives you have to get the job done, in case you don't want your PC to participate in the entire procedure.
Part 1: The Easiest Way to Record TV Shows
If your computer has a TV tuner card, capture TV shows quickly and easily using Wondershare UniConverter. This professional app is fun and straightforward to use, making it great for pros and beginners alike. When recording a TV show, users can set a specific capture area or record the entire screen. In addition to TV shows, you can record video games, VoIP calls, system settings, and other desktop activities. Plus, you can add annotations, voice narrations, video overlays, and more.
Wondershare UniConverter – Best Desktop Screen Recorder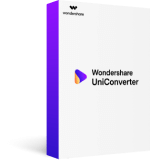 It can record TV shows, video games, VoIP apps, system settings, browser tabs, and so on.
It lets users record the entire desktop screen or capture a particular section in custom mode.
Add annotations like texts, shapes, drawings, lines, and arrows when recording a TV show.
It allows you to apply voice narrations and Picture in Picture effects using the internal/external mic and webcam.
Convert the recorded video to VOB, AVI, FLV, MP4, WMV, MTS, and more video formats.
Edit the recorded video by trimming, cropping, adding watermarks, applying effects, etc.
Best TV show recorder for Win 10/8/7 & Mac OS X 10.9+ (Catalina included).
Security Verified.
5,481,347
people have downloaded it.
Now apply these steps to record a TV show on Mac/Win using Wondershare UniConverter:
Step 1

Launch the Screen Recorder.

Install and run Wondershare UniConverter, then click the Screen Recorder tab. After that, tap the Camcorder icon to launch the screen capture tool.
Step 2

Set a capture area.

Drag the edges of the recording cropper inwards or outwards to set a capture area. Alternatively, tap the drop-down arrow below the Recording Mode function, then set the capture area as Custom or Full Screen. If you select Custom, enter the frame dimensions, then lock the aspect ratio.
Step 3

Customize your recording priorities.

If you want to add a voice narration over your recorded video, choose mic under the Microphone menu. You can also choose a camera for adding a video overlay or PIP effect under the Webcam menu. And most importantly, select a device for capturing the system sounds on the System Audio drop-down list.
Next, click Settings, then set FLV, AVI, or MP4 as the target file format. Users can also set the output frame rate, quality, folder path, and keyboard hotkeys.
Step 4

Start recording a video.

Adjust the capture area if necessary, then click REC to start recording. Now launch the Screen Recorder taskbar and then click the Annotations button to add texts, shapes, lines, arrows, and drawings. Click Stop to finish recording the TV show.
Part 2: Other Methods to Record TV Programs
Apart from the method explained above, a few other alternate ways to record TV shows include:
1. With TV and External HDD
This method requires you to have a smart TV with USB port(s), and a 2.5" external USB hard drive (recommended), or a flash drive.
● To record TV programs to the HDD, you must:
● Connect the hard drive to the USB port of the TV
● Press the Record button on the TV remote control
● Select Proceed when prompted
● Wait while the TV scans your hard disk for performance and begins recording when/if found acceptable
2. With DVD Recorder
For this method, you need a DVD recorder, blank DVD(s), a TV with TV/Video, Input, or Game option.
● To record TV movies and shows on a DVD:
● Configure your DVD recorder to receive inputs from AV 1 or AV 2 depending on the ports the AV cables are connected to
● Scan and tune in to the channel on your TV you want to record shows from
● On your TV, choose TV/Video, Input, or Game (as per the availability and/or name of the button on the TV's remote control) as the source input
● Insert a blank DVD in the DVD recorder
● Press the Rec (or Record) button on the recorder's remote control to begin recording the telecasted TV show or movie
● Stop the recording once you're done
● Use the recorder's remote control again to go to Disc Settings, select Disc Finalize, and select OK to finalize the DVD so it can be played on any compatible DVD player
3. With YouTube TV
If YouTube TV is available in your region and you have also purchased its subscription, you don't need any device other than a PC and an Internet connection for TV recording.
● To record TV shows with YouTube TV
● Sign in to your YouTube TV account
● Search for the TV show you want to record
● Click the Record button present at the right side of the name to begin recording the show
Note: The recorded show(s) are automatically removed from the online DVR after 9 months. This online DVR comes free with the YouTube TV subscription and has unlimited storage capacity.
To watch the recorded show(s), click Library from the top of the YouTube TV page, and click the thumbnail of the program.
To remove a series from the online DVR, click Remove from the right side of the show's name.
Conclusion
It is essential to learn how to record TV shows so you can watch them at a convenient time. However, you may find the procedure challenging and extremely complex in the absence of the right hardware or software while using a computer. Thanks to Wondershare UniConverter as it simplifies the entire process of recording TV programs and movies on your Windows or Mac computer.