Top 6 DVR Recorders for TV in 2021
In modern days, everyone is too busy, and nobody has time to tune in to live TV and watch their favorite shows. That is why if you are a fan of live TV, a digital TV recorder is a must for you. DVR recorders allow you to record, save, and playback television programs. Modern DVRs can also pause live TV and record the show in real-time. You can watch your favorite shows anytime. Today, the market is full of DVRs. It is known which one to buy and which to not to can be quite a hassle for a non-tech savvy person. That is why our experts have compiled a list of the best DVR recorders for TV available on the market so you can buy the one that suits you the most.
Part 1. Best DVR Recorders for TV
There are a lot of digital TV recording devices available on the market. To know which one will be the best, you need to check them properly and compare them with their best highlights. Here are the top 6 DVR recorders for TV reviewed for you:
Plex DVR
Plex DVR is an effortless and straightforward DVR recorder for TV to record your live television network anywhere you are. All you need is a Plex subscription, an HD antenna, a computer, and of course, a TV. The setup can be a bit difficult, but the Plex support page has explained it in a very straightforward way. The best thing about the Plex DVR is that you don't need to watch your recorded shows on the TV. You can view your favorite recorded shows on any device. Plex has apps on virtually every platform and device.
Highlights:
● It can be used on multiple TVs.
● Recorded shows can be watched anywhere on all devices.
● Plex has its TV programs built in the app, including news, sports, and entertainment channels.
● Great customer support.
● Cheap subscription fee.
Dish Hopper 3
Dish Hopper 3 is one of the best digital TV recorders that we reviewed. It is a very powerful DVR designed for homes with families. The Dish Hopper 3 comes with a remote that has some beneficial features built into it. The problem most DVR users experience is that the remote gets lost every time someone uses it. The Dish Hopper 3 has a feature on its remote specifically for tackling this problem. Anytime the remote is lost, and you can't find it, just press a button on the Dish Hopper 3, and your remote will beep and blink to show you where it is. The Dish Hopper 3 has some other features as well. It has a built-in commercial skipper. You can forget about the annoying commercials interrupting your favorite show every few minutes. With the Dish Hopper 3, you can just skip them.
Highlights:
● It costs only $15 a month.
● Can record up to five hundred hours of HD content.
● Can record 16 channels simultaneously.
● It has a remote locator feature.
● It has a built-in commercial skipper feature.
● It has an integrated voice recognition program.
TiVo Roamio OTA VOX
TiVo Roamio OTA VOX is a DVR for antenna TV recording that requires no monthly fee. You just need to buy the device which is available across all major online stores, including Amazon, eBay, and Best Buy. The TiVo Roamio OTA VOX can record up to 150 hours of HD TV. It can also record four shows simultaneously. The best thing about the TiVo Roamio OTA VOX apart from no monthly fees is its voice remote. The new TiVo Roamio OTA VOX can instantly browse across your live TV and recorded content, so you don't have to search every channel manually. It also has an auto skip mode, which can skip commercial breaks in recorded content. Netflix, Hulu, HBO, Prime, and Pandora are all integrated into the TiVo Roamio OTA VOX, so no more need for switching remotes and inputs to view your favorite programs. The only downside TiVo Roamio OTA VOX has is that it doesn't support cable or satellite TV. If you want to see local channels, you'll have to buy an HD antenna, which is sold separately.
Highlights:
● No monthly fee.
● Primary streaming services are already integrated into the device.
● Can record up to 150 hours of live TV.
● It can record four channels simultaneously.
● It has a voice control feature in the remote.
DirecTV HR44 Genie HD
DirecTV HR44 Genie HD was rated one of the top five digital TV recording devices in the industry in 2018. The DirecTV HR44 Genie HD is included at no extra cost if you are a subscriber of the DIRECTV plan. The best part about the DirecTV HR44 Genie HD is that it can connect to up to eight rooms at one time within the same unit. It has an external SWiM power inserter, which powers your visible satellite with such efficiency that it earned the Energy Star certification in 2018. With the DirecTV HR44 Genie HD, you can record up to 5 shows at once and can easily store up to two hundred hours of HD recordings. As compared to the other DVRs available in the market, the recording storage limit isn't that great, but you can extend the storage by plugging in an external hard drive. Another great and unique feature that the DirecTV HR44 Genie HD has is that you can watch up to eight channels on one screen.
Highlights:
● Top-rated DVR of 2018.
● It can connect up to eight TVs at a time.
● Can record up to two hundred hours of live TV.
● It can record up to five channels simultaneously.
● You can view up to eight channels on one screen.
Tablo Quad OTA DVR
The Tablo Quad OTA DVR is one of those portable DVR recorders for TV that requires a computer connection to function. It also doesn't have built-in storage, so an external device is necessary for it to function correctly. Other than that, the Tablo Quad OTA DVR is perfect. It has an automatic commercial skip feature, which is quite common among modern DVRs. It can record up to four shows at a time, and since it has no internal memory, you can record as much as your external memory drive allows. The Tablo Quad OTA DVR also offers an excellent customer support line, which will guide you through any problems that you may run into with your Tablo Quad OTA DVR. The best part about the Tablo Quad OTA DVR is that it offers a 30-day free trial, after which you can cancel your subscription any time you want. The 30-day trial gives you the chance to properly experience and evaluate the variety of functions that the Tablo Quad OTA DVR has. If the features don't amuse you, you can cancel the free trial and return the device.
Highlights:
● Automatic commercial skip.
● Virtually unlimited storage.
● It can record up to four types of channels at a time.
● It offers a 30-day free trial.
● Excellent customer support.
TiVo BOLT VOX
The TiVo BOLT VOX is yet another masterpiece DVR recorder for TV recording by TiVo. It features all the functions that its predecessors had and more. Like the TiVo Roamio OTA VOX, the TiVo BOLT VOX also has a voice control function that can be integrated with Alexa, which is the Amazon virtual assistant. It also offers built-in access to all the primary streaming services, including but not limited to Netflix, Hulu, HBO, Pandora, and Disney+. It has a commercial skip mode that you can use while viewing your pre-recorded shows to skip all the annoying ads and commercials. The TiVo BOLT VOX even offers you the option to view all your recordings on your Android and iOS phones. You can even view them on your computer. The best part about the TiVo BOLT VOX is its one-time payment. No monthly fee is required to use the TiVo BOLT VOX. With the TiVo BOLT VOX, you can have the ultimate DVR experience without the hassle of monthly subscription charges.
Highlights:
● One-time payment only.
● Has a voice control function.
● Built-in access to all major streaming services.
● Has commercial skip mode.
● Can view all recordings on your phone.
Part 2. Record TV Shows with Wondershare UniConverter
There are different types of movies, music videos, and media files on the internet. But converting them in the most convenient file format according to your needs isn't as simple as downloading them. As there are multiple types of video formats available for different kinds of devices, you need an all-in-one solution to convert these files into other formats. Wouldn't it be superb if you could get multiple additional features with all these media file conversions? That is exactly what Wondershare UniConverter (originally Wondershare Video Converter Ultimate) is for. With its superb and classy looks, the UniConverter is a remarkable application that provides you with more than just video conversion. From a DVD ripper to a converter and burner, it is among the best applications to get in 2021. UniConverter has a screen recording feature that is among the best screen recorders in the market right now. You can use this screen recorder to record any type of TV show with HD audio easily. It also can record system sound, mouse cursor, microphone audio, and much more. So whatever kind of screen recording you want to do, you can do with this toolbox easily.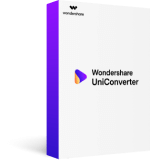 A screen recording feature makes it stand out
It's very fast in every process with up to 30 times faster speed of recording or converting videos. It can help you to record and customize your videos easily.
It has a fantastic video editing system that helps users to make their videos more impressive than ever.
It allows users to download videos from more than 10,000 online websites and enjoy them.
It has a very powerful DVD tool that will help you create and edit DVD files without any problem.
It can transfer your converted or recorded videos to external devices or hard drives directly from the program.
Security Verified,
5,942,222
people have downloaded it
Step 1

Launch screen recorder.

First, you need to download, install, and start the toolbox on your computer. Then select the Screen Recorder option from the top menu bar of the software homepage and click on
to start recording.
Step 2

Capture area settings.

You can set the recording preference from a recording window the same as the below image.
Then, you can change or set the recording capture area settings and select the recording settings as needed.
Step 3

Start to record.

Now just click on the REC option to start recording. The recording will begin within 3 seconds countdown.
Step 4

Stop recording.

Finally, you can stop the recording by clicking on the Stop button from the recording taskbar or tap the Esc button from the keyboard. A pop-up window will appear saying UniConverter Downloaded, where you can check and play the video that you have recorded.
Conclusion
To end this guide, we rest the verdict in your hands. As our job was to compile the best of the best DVR for you, we did our best. Our guide has provided you an excellent review of the best DVR recorders for antenna TV recording. Using our guide, you will be able to choose the best DVR recorder for TV according to your needs. Any of these digital TV recorders will suit your recording preference. You can follow the highlights and specifications of these DVRs to understand which one is suitable for you. Also, we have provided you with a step-by-step guide on how to record your favorite TV shows using Wondershare UniConverter, the best alternative of DVR on the market.