4 Ways You Should Know for TV Recording in 2020
There are various technologies today. And the world is growing exponentially in the direction of advancement. We get to see a lot of technological equipment around us every day. Among all these useful technologies, one is TV Recording. Anyone who has a television can record their favorite shows or movies using a simple device. This device can be of various types. Numerous tools are available in the market to record videos from your TV into any hardware device of your choice. You can use a DVR recorder for TV to record the movies shown on your television, or you can record digital TV on VCR. It is very simple and easy to use. The next method is to record digital TV on a set-top box. Also, you can simply use digital recorders to get your digital TV recorded. All these four methods can be used in digital television to record it. In this article, we are going to give you all the necessary details for your reference. Go through them to have a decent idea about recording TV using these four different technologies.
Part 1. Record Digital TV on DVR
To record shows on your TV, you can use a DVR. There are numerous DVR recorders available to record your digital TV. A DVR is basically like a computer that is responsible for the recording, saving, and playback videos with audios. It is a simple device to record your shows. It is a device that can help you in recording your videos in digital format to any hardware device like SD memory card, disk drive, SSD, USB drive, or some other connectable device. They are used to record videos and shows from your television onto any hardware device. The DVRs that are used for personal help are called PVRs (Personal video recorders). This device is helpful in TV Recording. These can be used with antenna TV as well. DVR recorder for antenna TV recording has also turned out to be great use to the consumers. People prefer other ways of recording audios and videos. Following are the simple steps to record digital TV on DVR recorders:
Firstly, ensure that your DVR is already connected to your digital TV set. To connect your DVR to your digital TV, you will be required to use a radio frequency modulator, otherwise known as RF modulator. It is important that you also turn off all electrical appliances connected to your digital TV. It is to ensure that there are no interruptions. After you have turned off your electrical appliances involved in this process, make sure that the cables you would be using are long enough to get to the television from any location you will be setting up your DVR.
Secondly, you will be connecting your DVR to the RF modulator. One end of an RCA video cable, which is a yellow cable should be connected to the video out jack which is also yellow on your DVR. Also, connect the RCA cable to the video in port on the RF modulator.
Thirdly, connecting the RF modulator to your digital TV. A coaxial cable should be connected to the RF out port on the RF modulator and the RF in port at the back of your digital TV. After this, ensure your digital TV and your RF modulator are set to the same channel.
Connect your digital TV power to your DVR by plugging the TV power cord into the back of the DVR, which is located at the back of your DVR at the far right end, then plug your DVR power cord into the wall source.
After powering your TV, the next step in recording your digital TV on your DVR is to hit Record on your remote. If you started watching the program before you have begun recording, don't worry, the total time allocated for the program will be stored on your DVR.
Follow these simplified steps and record your favorite shows. No more missing out on any series as you can also adjust your recording options as you desire.
Part 2. Record Digital TV on VCR
If you do not wish to use a DVR or you do not have it, then you can go for recording your TV shows on VCR. Earlier it was generally used to record analog audios and analog videos only, but now it is available for digital formats as well. These are very old devices with their launch around the 1980s. In simpler terms, it is a digital TV recording device known as a video cassette recorder.
They have various unique features like they are multi-standard, which means that they can transfer videos from one device to another very quickly. Also, the quality of the audio recorded in VCRs is outstanding. The sound is clear and high- quality. The videos are also recorded in good condition. Apart from this, they offer copy protection and have flying erase heads. Recording digital TV on VCR can easily help you to record analog and digital audios and videos from your television. They can also help in the playback of recorded tapes and audios. These are associated with a TV and a clock to set the recording timer. If you have not used it or you do not know how to use it for recording, then you can refer to the steps that are mentioned below for recording broadcast digital TV.
To begin the process of recording your digital TV on a VCR, you will need some essential supplies:
● An antenna.
● A DTV converter box.
● Two-way splitter.
● Lengths of coaxial cable.
● RCA video and audio cables (Yellow, white and red cables).
After getting all that is listed above, follow these simple steps:
Step 1: Use the coaxial cable to connect the antenna output to the two-way splitter input.
Step 2: connect another two coaxial cables to the output on the two-way splitter.
Step 3: one of the coaxial cables should be connected from the two-way splitter into the coaxial input on the DTV converter box. Once finished, connect the other coaxial cable from the two-way splitter to the antenna input on your digital TV.
Step 4: Grab your RCA cables. Connect one end of the video and audio cable to the outputs that have similar colors on the back of your DTV converter box. After you have done this, connect the other end of the same RCA audio and video cable to the inputs on the back of your VCR. Do not forget you also need to connect them to the inputs with colors that match with the cables.
Step 5: You are not done with the RCA audio and video cable just yet. Get the other RCA audio and video cables and ensure they are connected to the output on the VCR that has matching colors. Once you are done with this process, connect the other end of the same RCA cable to the same inputs of similar colors, which is situated at the back of your digital TV.
Step 6: When this process is done, power on your TV. Use your remote to search for VCR or antenna on your digital TV.
Step 7: Hit the record button on your remote when you want to record any show of your choice.
Part 3. Record Digital TV on Set Top Box
A set top box can also be known as a cable box. It is an electrical appliance that generally contains a TV-tuner input and displays output to a television set and an external source of the signal, turning the signal source into content in a form that can then be displayed on the TV. Follow these simple steps to record your digital TV on a set-top box:
● Get a digital storage device. This can be gotten from a store that sells electrical appliances.
● After this, connect the storage device to your set-top box.
● When it has been connected successfully, a pop up will appear on the screen of your digital TV.
● Go through the information displayed on your digital TV and then select set up smart TV and click on YES.
● You can record shows on your set-top box by either selecting guide on your digital TV remote or press the smart TV button on your remote control. After that, click on OK. You can decide how you want to record, either by timing or by show titles.
Part 4. The Easiest Alternative to Digital Recorders to Record TV Shows on PC
If you find these options a little hard to use or you are having some difficulty in using it, then here is the easiest option that can be used instead of these digital recorders. Instead of using any other device, you can simply use an all in one toolbox named Wondershare UniConverter (originally Wondershare Video Converter Ultimate). You can easily record and convert your videos into any format that you wish. Also, it turns at a fast rate and is easily compatible with most of your devices. It produces high-quality videos and is one of the best available options while choosing a video recorder. It is widely famous across the globe. Around 50 million people use it and find it helpful.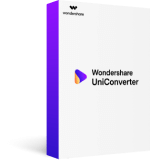 A screen recording feature makes it stand out
It has more than 1000 types of conversion formats and can easily convert videos from numerous devices.
It's very fast in every process with up to 30 times faster speed of recording or converting videos. It can help you to record and customize your videos easily.
The software has advanced editing features that can help you in enhancing your videos and making them stand out.
You can easily trim your video, crop your video, and apply additional effects.
You can add subtitles and watermarks to your video as your preferences and choices.
Supported OS: Windows 10/8/7/XP/Vista, macOS 11 Big Sur, 10.15 (Catalina), 10.14, 10.13, 10.12, 10.11, 10.10, 10.9, 10.8, 10.7, 10.6.
Security Verified,
5,942,222
people have downloaded it
Step 1

Launch screen recorder

Download, install and launch the toolbox on the computer. Then choose the Screen Recorder option.
Step 2

Capture area settings

After that, the toolbox will allow you to set the recording preference from a recording window just like the below image.
In this part, you can set the recording capture area settings and set the recording settings as needed.
Step 3

Start to record

After that, click on the Rec button to start the recording process. The recording will begin at a 5-second countdown.
Step 4

Stop recording

Finally, click on the Stop button from the recording taskbar, or you can tap the Esc button from your keyboard if you want to stop the recording. A popup window will open, which is named UniConverter Downloaded, where you'll check and play the video that you have just recorded.
Conclusion:
By the above various ways and steps outlined in this article, recording shows will no longer be a strenuous task for you. You can record shows and watch them at your leisure or free time, even while watching a completely different program. Any of these methods can help you with TV recording. The best alternative way of a digital video recorder for TV is UniConverter. So start using it now to get your favorite shows recorded on time.